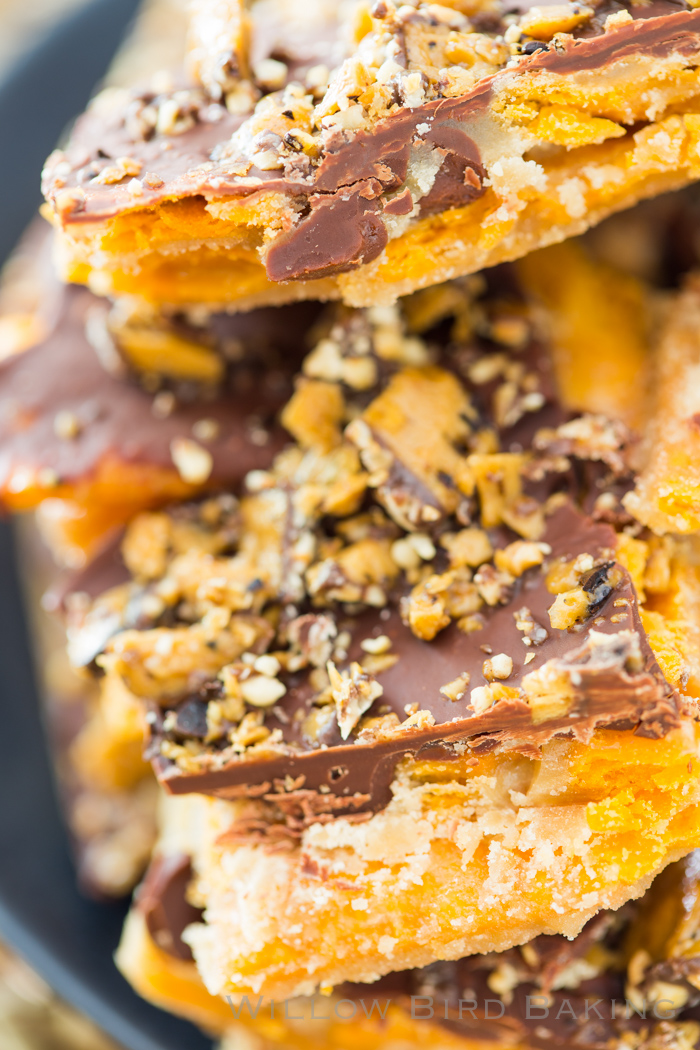 Cheese Cracker Saltine Toffee
Okay, you're gonna do TWO THINGS. I'm keeping it simple for you because I know you're like me and when you have 85 things to do, you sit and eat olives out of the jar while binge watching Hoarders. So there are only TWO THINGS for you to do.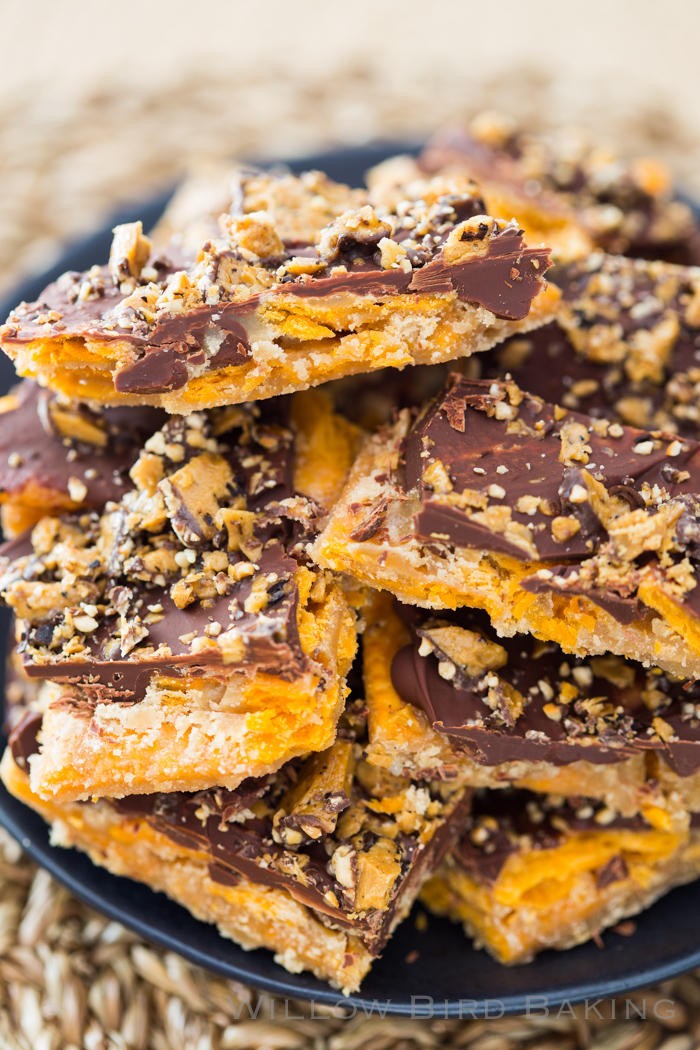 The first thing is go to this website and check out Mook and Pop's Culinary Delights. I went to the Hillcrest Farmer's Market here in San Diego for the first time last weekend with some friends and discovered Mook and Pop and I'm hooked.
First off, they're adorable and you should read their bio (married on Valentine's Day, y'all). Second off, MOOK CAN STRAIGHT UP BAKE. One of the things I tried was her Cheez-it Brickle, which I was sure was gonna be weird, and it was NOT WEIRD.
The cheddar and salt with the salty toffee and sweet chocolate was perfect. I purposely didn't recreate her version (which has peanut butter) because you need to buy it and try it for yourself (they ship!). Instead, I created another version inspired by hers . . . WHICH BRINGS ME TO YOUR NEXT TASK.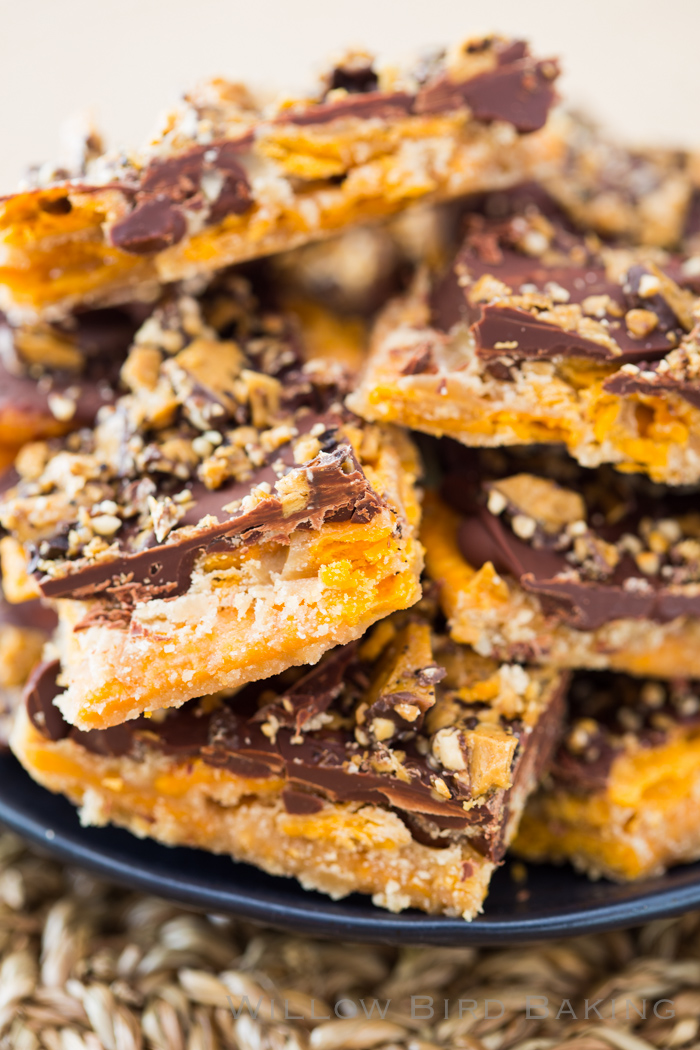 You need to make this Cheese Cracker Saltine Toffee! It's super easy, super quick, and super surprising! I couldn't find the Heath toffee bits I wanted for the top, so I used Almond Roca and it was delicious. But if you have the toffee bits, go for it. Expect some more brickle around here soon, because Mook and Pop has inspired me!
One year ago: Strawberry Snack Cake
Two years ago: Cajun Catfish (low-carb, gluten-free, and delicious!)
Three years ago: Five-Ingredient Pumpkin Protein Pancakes
Four years ago: Four-Ingredient Protein Pancakes
Five years ago: Skinny Mini Coconut Cakes
Six years ago: Quick & Easy Sides: Roasted Carrots and Asparagus with Garlic-Lemon Aioli
Seven years ago: Clementine Mousse Cheesecake
Eight years ago: Red Velvet Cheesecake
Nine years ago: Valentine's Truffle Heart

Cheese Cracker Saltine Toffee
Love the famous Saltine Cracker Toffee recipe? I KNOW it sounds kind of weird but TRUST ME, it's really really good with CHEESE CRACKERS as the base! Something about that salty toffee with the cheddar crunch is the perfect combination. You'll thank me later.
Author:
Willow Bird Baking
Ingredients
64 cheese crackers (like Cheez-Its)
1/2 cup butter
1/2 cup packed brown sugar
4 ounces semisweet chocolate chips (fair-trade only)
5 Almond Roca bars, chopped (or use Heath toffee bits)
Instructions
Preheat the oven to 350 degrees F. In an 8-inch square baking pan, create a a foil sling and spray it with cooking spray. Line the cheese crackers in a single layer over the bottom of the pan, breaking them in half to fill in spaces as needed.
In a heavy-bottom saucepan, melt the butter over medium heat. Add the brown sugar and bring to a boil. Cook, stirring constantly, for about three minutes. Pour over the cracker layer and work quickly to gently spread the mixture to the edges. Place the pan in the oven for 4 minutes. Remove and sprinkle chocolate chips evenly across surface and return to the oven for 2 minutes. Spread the chocolate chips into an even layer of chocolate across the top and sprinkle on chopped Almond Roca or toffee bits.
Chill for 30 minutes or until firm. Cut into squares and serve.