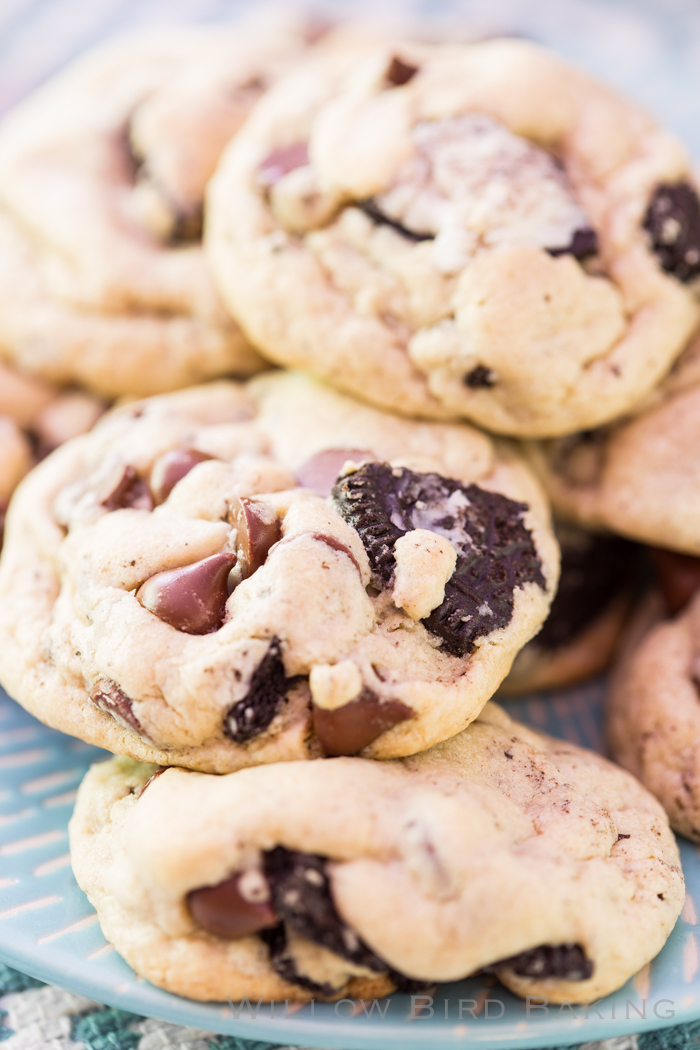 Cookies and Cream Pudding Mix Cookies
OKAY THIS IS OFFICIALLY THE BUSIEST WEEK OF MY LIFE BUT I'M STILL DROPPING IN TO THROW SOME COOKIES AND CREAM PUDDING MIX COOKIES AT YOU BECAUSE THAT'S JUST THE KIND OF BENEVOLENT PERSON I AM. Seriously I can barely breathe right now but HERE ARE SOME COOKIES YOU'RE WELCOME.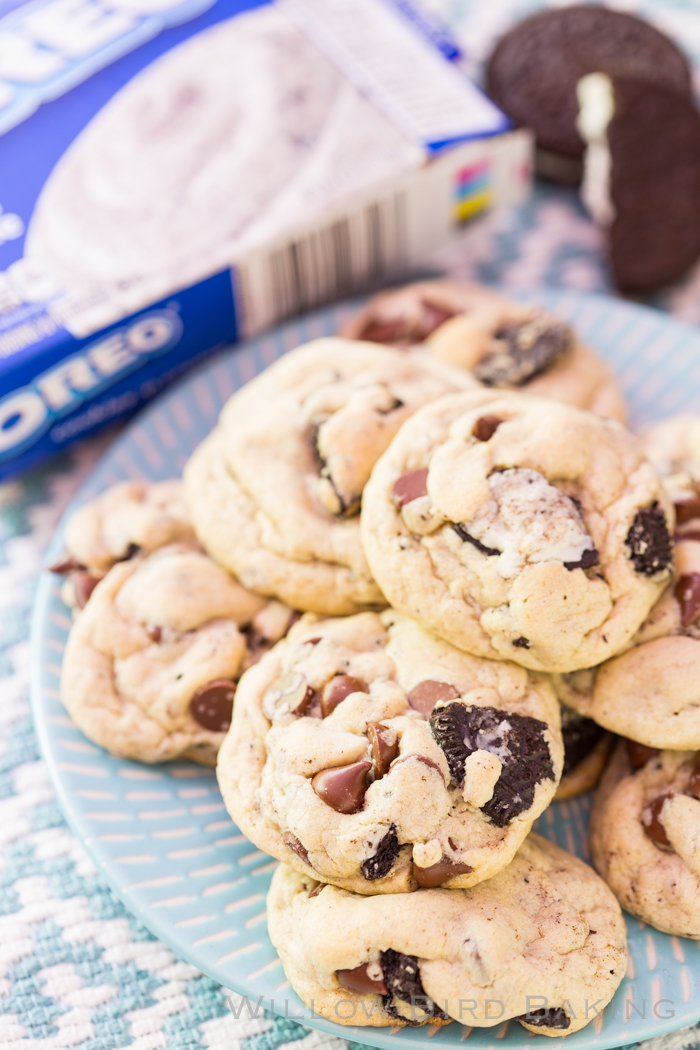 I could have kept these cookies all to myself but I don't like to be stingy. I don't know WHAT the pudding mix does but whatever it is it's kinda magic, because you get the same delicious chocolate chip cookies but SUPER SOFT and chewy.
Like seriously these have the best texture and I guess I'm supposed to know why because HERE I AM WITH THE BLOG OR WHATEVER but I don't, and we're just gonna keep it a marvelous mystery.
I wasn't content to make soft cookies and wanted COOKIES IN MY COOKIES, so I crushed up some Oreos and threw them in and that was a lovely decision. I highly recommend you make the same choice.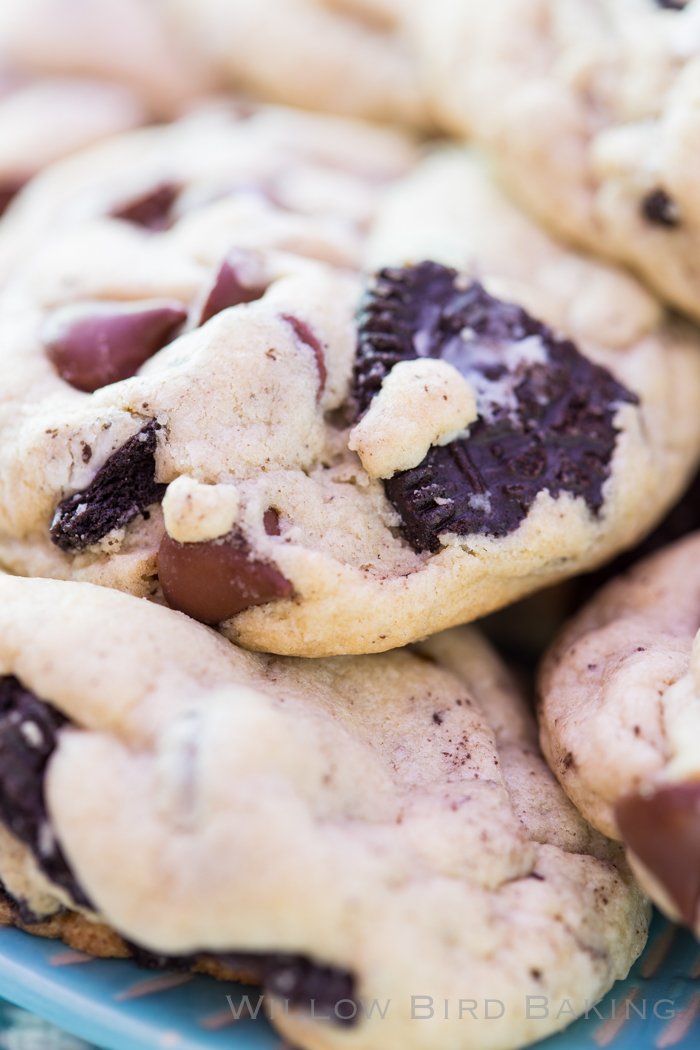 I can't wait to try these with different pudding mixes and different mix-ins! I have pistachio pudding mix in the bullpen (I don't know what a bullpen is but) READY for my next round of softest-cookies-ever experimenting.
Make these Cookies and Cream Pudding Mix Cookies now and I'll keep you posted!
One year ago: Sheet Cake with the BEST Cookies and Cream Whipped Icing Recipe
Two years ago: Coconut Cream Sugar Cookie Bars
Three years ago: Vanilla Bean Cheesecake
Four years ago: Lemon Cheesecake Kuchen Bars
Five years ago: Cherry Icebox Birthday Cake
Six years ago: Buttery Coconut Almond Pull-Apart Bread (with Heavenly Coconut Cream Glaze)
Seven years ago: Chocolate & Coconut Cream Pie Bars
Eight years ago: Bright, Fun Blackberry Trifle
Nine years ago: Vegan Pumpkin Nut Bread

Cookies and Cream Pudding Mix Cookies
These are the softest cookies you'll ever make! The pudding mix works some magic, and I kick them up a notch with crushed Oreos. Be prepared to fall in love with cookies again!
Ingredients
1 1/2 sticks (3/4 cup) butter, softened
3/4 cup packed brown sugar
1/4 cup sugar
6 tablespoons Oreo pudding mix
2 eggs
1 teaspoon vanilla
2 1/8 cup flour
1 teaspoon baking soda
1/2 teaspoon salt
1 cups chocolate chips
1 cup crushed Oreos
Instructions
Preheat the oven to 350 degrees F and spray two baking sheets with cooking spray. In a medium bowl, whisk together flour and baking soda. In a separate large bowl, cream together butter and sugars until light and fluffy, about 2-3 minutes.
Add in pudding mix and mix well. Add in egg and vanilla extract and mix until just combined. Slowly add in flour mixture, mixing until just combined. Stir in chocolate chips and crushed Oreos.
Roll the dough into 1-inch balls and place them on prepared baking sheets about 2 inches apart. Bake for 8-12 minutes or until just set. Cool on a wire rack.