Cheese Cracker Saltine Toffee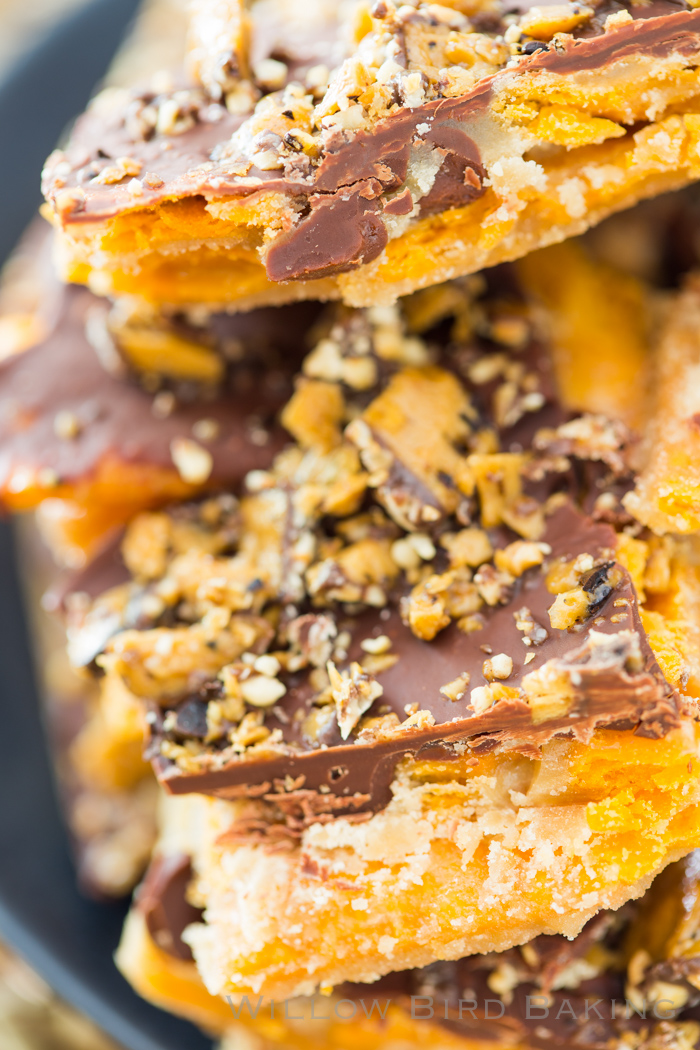 Author:
Willow Bird Baking
64 cheese crackers (like Cheez-Its)
1/2 cup butter
1/2 cup packed brown sugar
4 ounces semisweet chocolate chips (fair-trade only)
5 Almond Roca bars, chopped (or use Heath toffee bits)
Preheat the oven to 350 degrees F. In an 8-inch square baking pan, create a a foil sling and spray it with cooking spray. Line the cheese crackers in a single layer over the bottom of the pan, breaking them in half to fill in spaces as needed.
In a heavy-bottom saucepan, melt the butter over medium heat. Add the brown sugar and bring to a boil. Cook, stirring constantly, for about three minutes. Pour over the cracker layer and work quickly to gently spread the mixture to the edges. Place the pan in the oven for 4 minutes. Remove and sprinkle chocolate chips evenly across surface and return to the oven for 2 minutes. Spread the chocolate chips into an even layer of chocolate across the top and sprinkle on chopped Almond Roca or toffee bits.
Chill for 30 minutes or until firm. Cut into squares and serve.
Recipe by
Willow Bird Baking
at https://willowbirdbaking.com/2019/01/21/cheese-cracker-saltine-toffee/