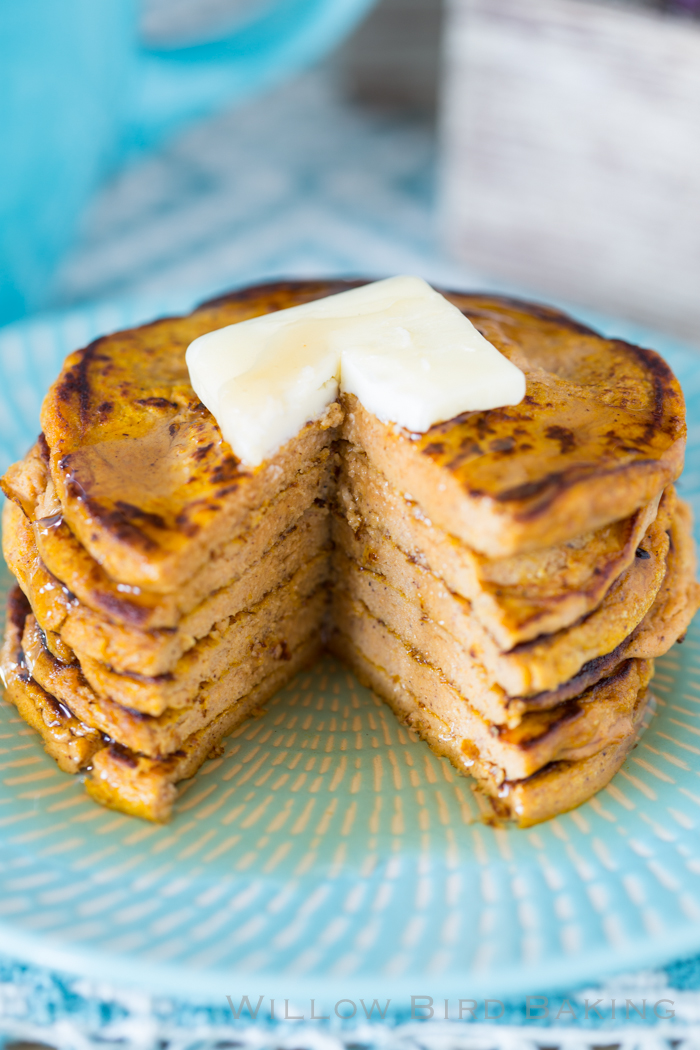 Five-Ingredient Pumpkin Protein Pancakes
Once upon a time I posted these banana Four-Ingredient Protein Pancakes that were low-carb, gluten-free, and refined sugar–free — and folks went a little bit nuts. Ten little protein-heavy breakfast pancakes at only 30 calories each? That could be made with just 2-4 ingredients? Yes, please.
So now, a year later, I was inspired to whip up a new version.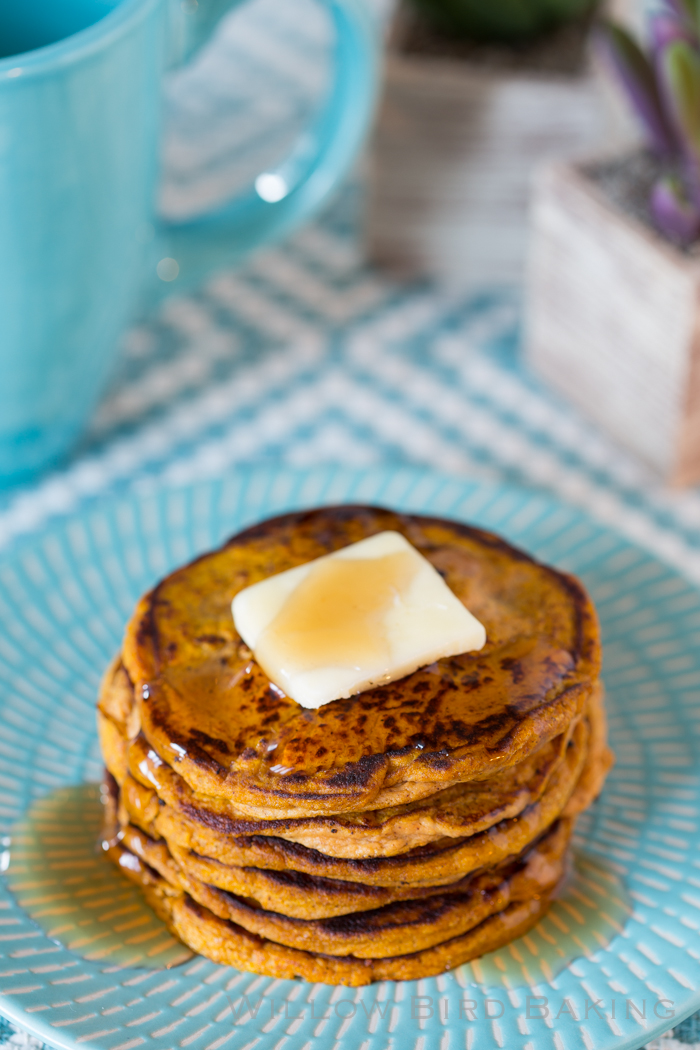 The previous version of these pancakes used banana and egg to create a magical pancake batter. The results aren't fluffy like your typical carby pancake, but are more like little crêpes. I remember thinking that I bet pumpkin would work as a substitute for the banana (I've never been a huge banana fan — unless we're talking caramelized bananas, that is — and you guys know how I feel about pumpkin.) Why it took me a year to finally try, I'll never know.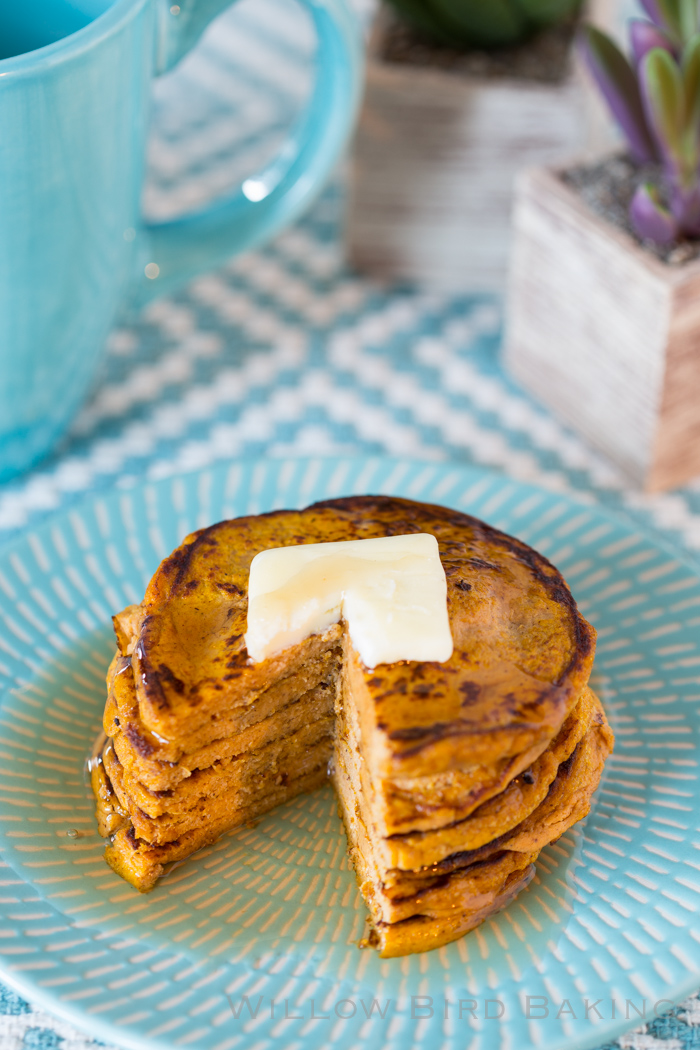 The good news is: it works! I added pumpkin pie spice this time around to create warm, pumpkiny little morning treats. I don't sweeten the pancakes themselves since I eat mine with sweetened (sugar-free) syrup, but you could also add a little sugar, Swerve, or Stevia and eat them without toppings. This version comes in at around 48 calories per pancake. Enjoy!
One year ago: Four-Ingredient Protein Pancakes
Two years ago: Skinny Mini Coconut Cakes
Three years ago: White Sheet Cake with Fluffy Whipped Icing
Four years ago: Caramelized Banana Upside-Down Coconut Cake With Coconut Whipped Cream
Five years ago: Red Velvet Cheesecake
Six years ago: Nanaimo Bars

Five-Ingredient Pumpkin Protein Pancakes (low-carb, gluten-free, refined sugar–free)
Unbelievable. These little "pancakes" can be made with just three ingredients, but I've added some baking powder and whey protein in this recipe. They're a super quick and healthy breakfast or snack. They come out with almost a crêpe texture. You can add sugar or other sweetener if you don't plan on using a sweet topping. You can also ditch the protein if you're not looking to supplement yours. Each little pancake is just around 48 calories!
Serves:
6-8 3-inch pancakes
Ingredients
1/2 cup pumpkin purée
2 eggs
1/2 teaspoon pumpkin pie spice
1/8 teaspoon baking powder (optional but recommended)
2 tablespoons vanilla whey protein powder (optional; you can also add a touch of vanilla extract instead)
Instructions
Place a medium skillet over medium heat on the stove. Let it heat up while you prepare the pancakes. It's ready when water dropped into the pan sizzles.
To prepare the pancakes, whisk the pumpkin, eggs, pumpkin pie spice, baking powder, and protein powder (if using) until well combined. Spray the skillet with nonstick cooking spray before adding in 2-3 tablespoons of the pancake mixture and spreading it into a pancake shape (NOTE: I used a sprayed metal ring to make mine so round — if you don't want to bother, they'll just be a little wonky shaped. And there's NO WAY your first one is gonna be cute. It's gonna be a hot mess just like every first crêpe/pancake in the history of crêpe/pancake-making, and you just have to live with that. It'll still taste good.)
Let the pancakes cook for 35-45 seconds before flipping and letting the other side cook for 25-35 seconds. Remove to a plate and serve with nut butter, sugar-free syrup, butter, fruit, or whatever you'd like!