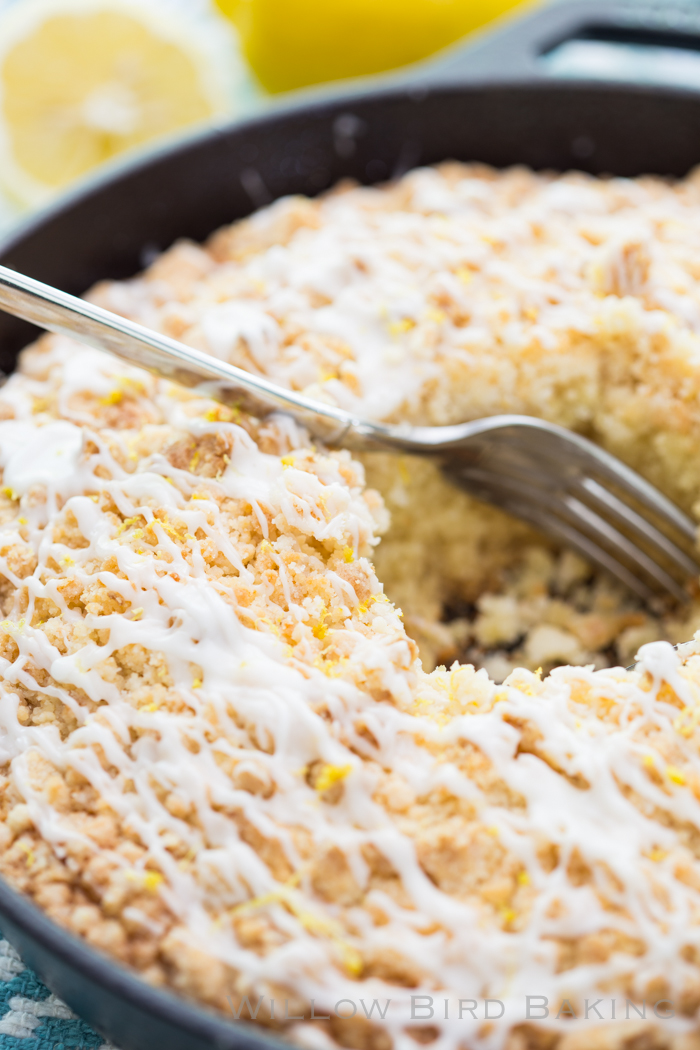 EASTER IS THE OFFICIAL LEMON CAKE HOLIDAY, I DON'T MAKE THE RULES.
Okay, I made that rule. But it's TRUE, don't you think? Don't you want a giant, buttery, streusely, moist lemon cake for Easter? One that takes 30 minutes to make but looks kinda fancy?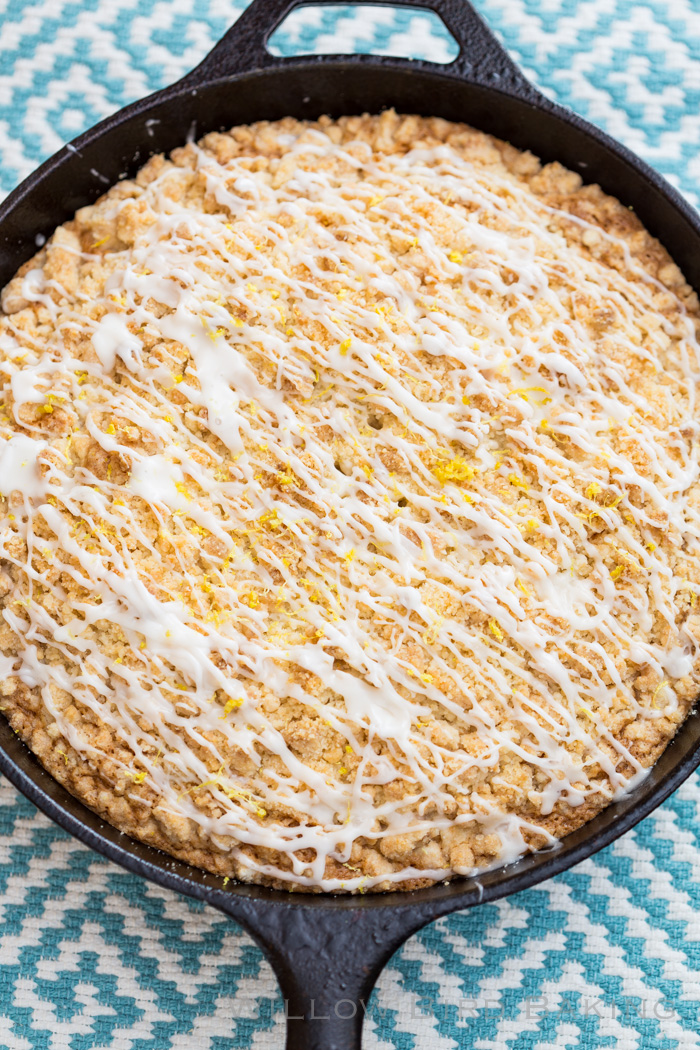 YOU DO.
And I've got you covered. I'm gonna try to put together even more of my lemon cake recipes for you so you have a ton to choose from for Easter, but even if 6th grade camp sucks all my brainpower (y'all, I'm at camp all week with 12-year-olds, halp), you've got ONE GREAT RECIPE FOR SURE.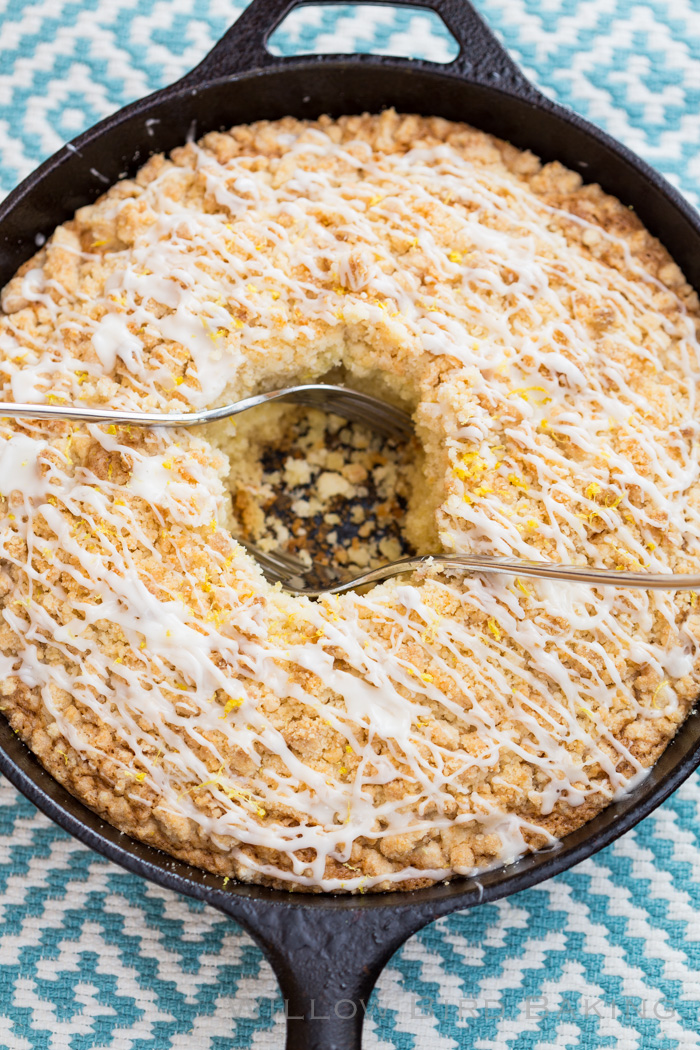 This Streusel Lemon Cake recipe started when I was like, "I want lemon cake, but I've already made all 800 versions of lemon cake known to humankind. How can I adapt lemon cake ONE MORE TIME so I can eat lemon cake ONE MORE TIME?"
Streusel, as is so often the case, was the answer. And this streusel is the GOOD KIND that has baking powder and so it puffs up into buttery fancy crumb goodness all over the top of the skillet cake.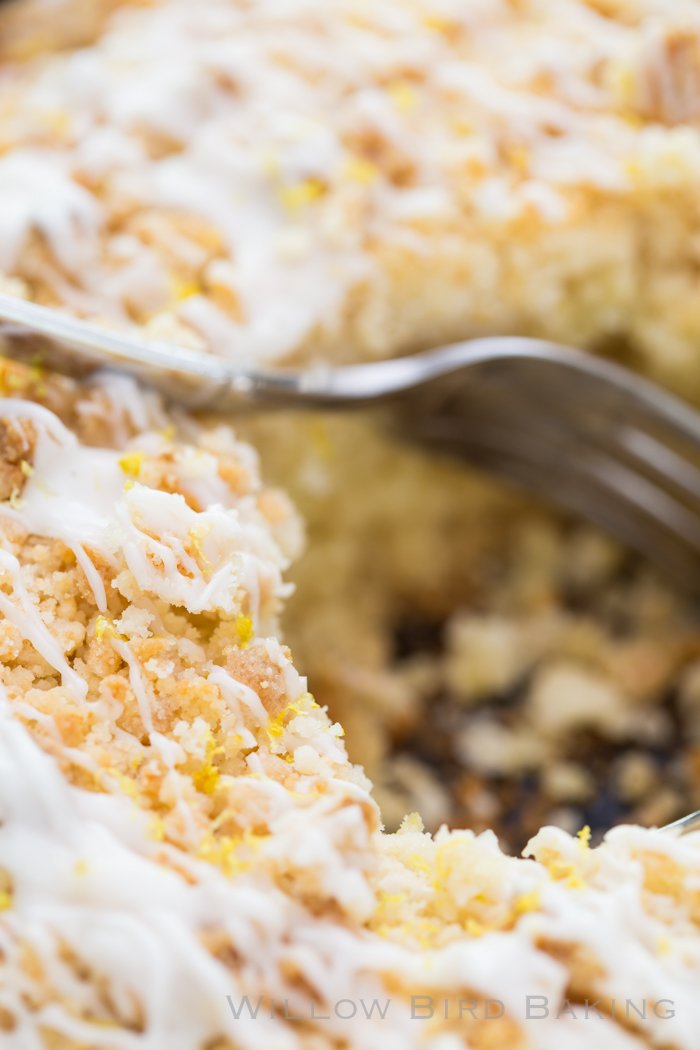 A little drizzle of icing never hurt anyone, either.
A word to the wise: this cake is easy to overbake! REALLY start watching it around 25 minutes in (put some loose foil over top if it feels like it's getting too brown), poking a toothpick in at regular 2 minute intervals. Pull it out when you see a few moist crumbs and don't wait for a clean toothpick!
Enjoy, fellow lemon cake lovers!
One year ago: Coconut Cake with Whipped Frosting (and My First Trip to Disneyland!)
Two years ago: Hot Buttered Rum Cake
Three years ago: Melty Falafel Quesadilla
Four years ago: Giant Skillet Lemon Sugar Cookie
Five years ago: Lemon Cream Pie Bars
Six years ago: Breakfast Stuffed Mushrooms (Portobellos Stuffed with a Leek and Gruyère Scramble)
Seven years ago: Hasselback Sweet Potatoes with Orange Rosemary Butter & Goat Cheese
Eight years ago: Three Safe-to-Eat Cookie Doughs: Chocolate Chip, Sugar, and Cake Batter!
Nine years ago: A&P Spanish Bar Cake


Streusel Lemon Cake
If you love lemon cake, get ready for STREUSEL LEMON CAKE, which is not only beautiful enough for your Easter dessert, but is also super quick and easy — and of course super delicious!
Author:
Willow Bird Baking
Ingredients
Streusel Ingredients:
1 1/4 cups flour
1/2 cup sugar
1 teaspoon baking powder
1/4 teaspoon salt
lemon zest
1 stick (1/2 cup), butter, melted
Cake Ingredients:
1/2 cup butter
1/2 cup water
1 1/8 cups cake flour
1 cup white sugar
1/2 teaspoon baking soda
1/2 teaspoon salt
1 egg, lightly beaten
1/4 cup sour cream
3/4 teaspoon lemon extract
1/4 teaspoon vanilla extract
1/4 teaspoon almond extract
Icing Ingredients:
1/2 cup powdered sugar
3 teaspoons lemon juice
1/2 tablespoon butter, melted
1/4 teaspoon lemon extract
lemon zest for topping
Instructions
Make the streusel: Combine flour, sugar, baking powder, salt, and lemon zest in a small bowl. Add the melted butter and mix. Set aside in the fridge.
Make the cake: Preheat the oven to 375 degrees and prepare a 10-inch oven-safe skillet sprayed with cooking spray.
In a medium saucepan over medium heat, bring the butter and water to a boil. In the meantime, in a separate large bowl, whisk together the cake flour, sugar, baking soda, and salt before whisking in the egg, sour cream, almond extract, vanilla extract. Mix to combine. While mixing, slowly pour in the boiling butter and water mixture. Mix to combine completely. Your batter will be very runny. Pour the batter into the prepared skillet. Crumble all of the streusel evenly over the top. Bake at 375 degrees for 30-33 minutes (covering loosely with foil if the top begins to brown too much) or until a toothpick inserted in several places comes out with a few moist crumbs. Don't wait until the toothpick is clean or the cake will be overbaked.
Make the icing: whisk together powdered sugar, lemon juice, melted butter, and lemon extract until smooth. Pour most of this mixture over the top of the cake, spreading it evenly over the entire surface. Top with lemon zest. Serve while warm.