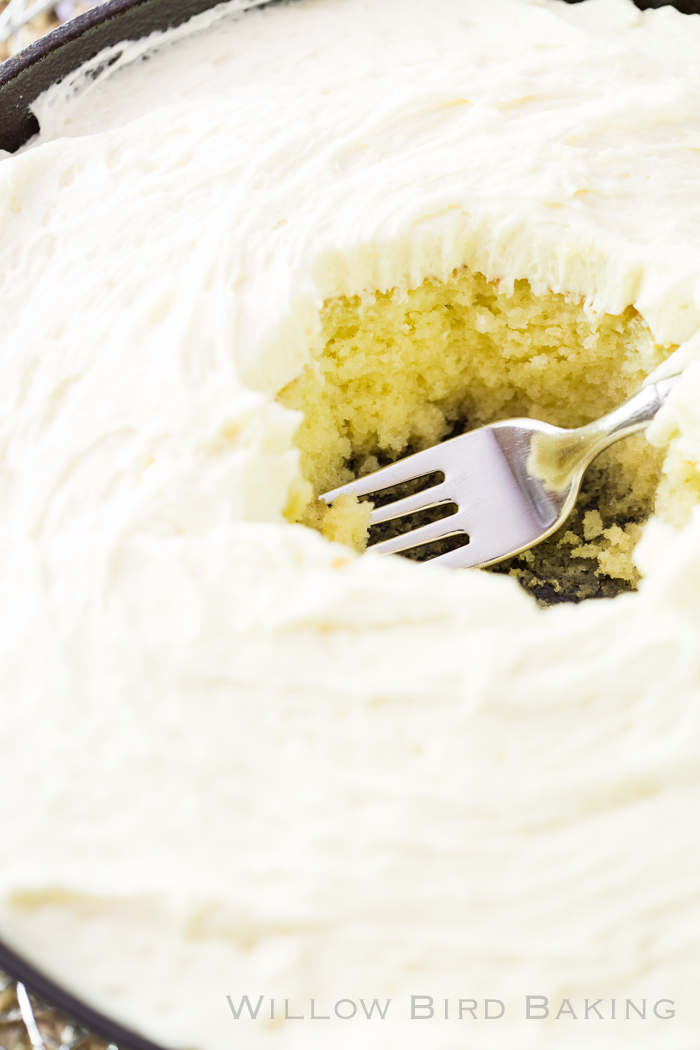 Snack Wedding Cake Recipe
Okay soooo how can we get a WEDDING CAKE up in here without having to go to a wedding? NO OFFENSE, I'M SURE YOUR WEDDING WAS FUN, it was probably one of those with a cupcake buffet or a donut wall or a photo booth with good props or a dog as the flower girl. I'M SURE IT WAS GREAT.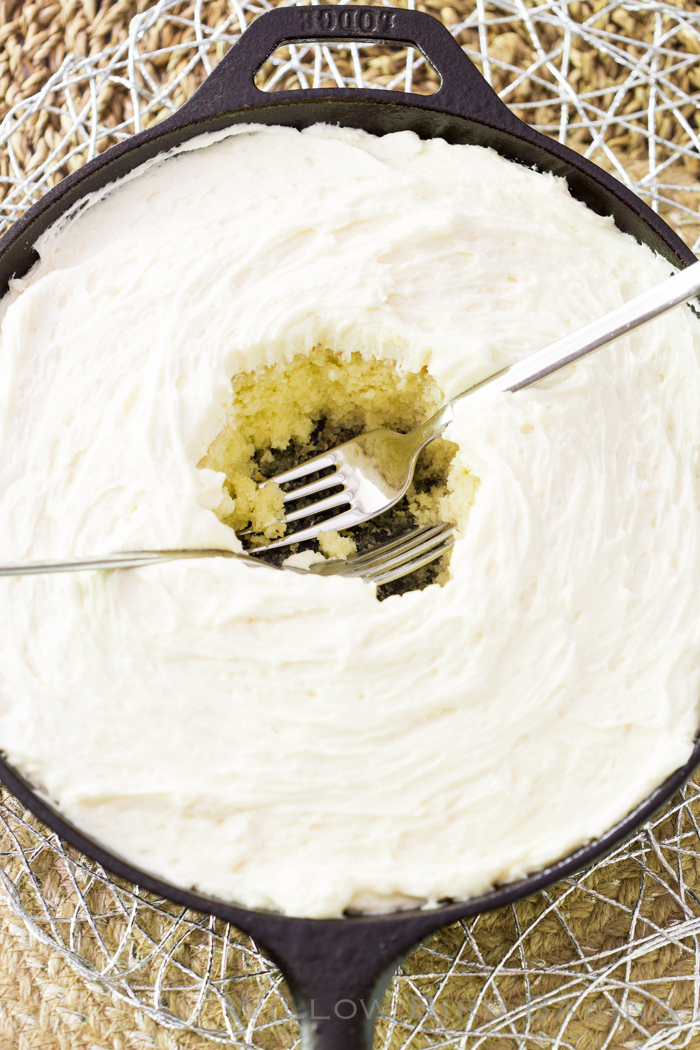 But like. You have to get dressed up for weddings. And you have to drive somewhere because no one wants to have a wedding in your tiny studio apartment no matter how comfy you insist it is.
And you have to buy a present and I LIKE GETTING PEOPLE PRESENTS I PROMISE, but it involves so much COORDINATION: you have to go to a store and choose an item and God forbid they don't wrap it for you because you don't seem to OWN TAPE, WHERE DID THE TAPE GO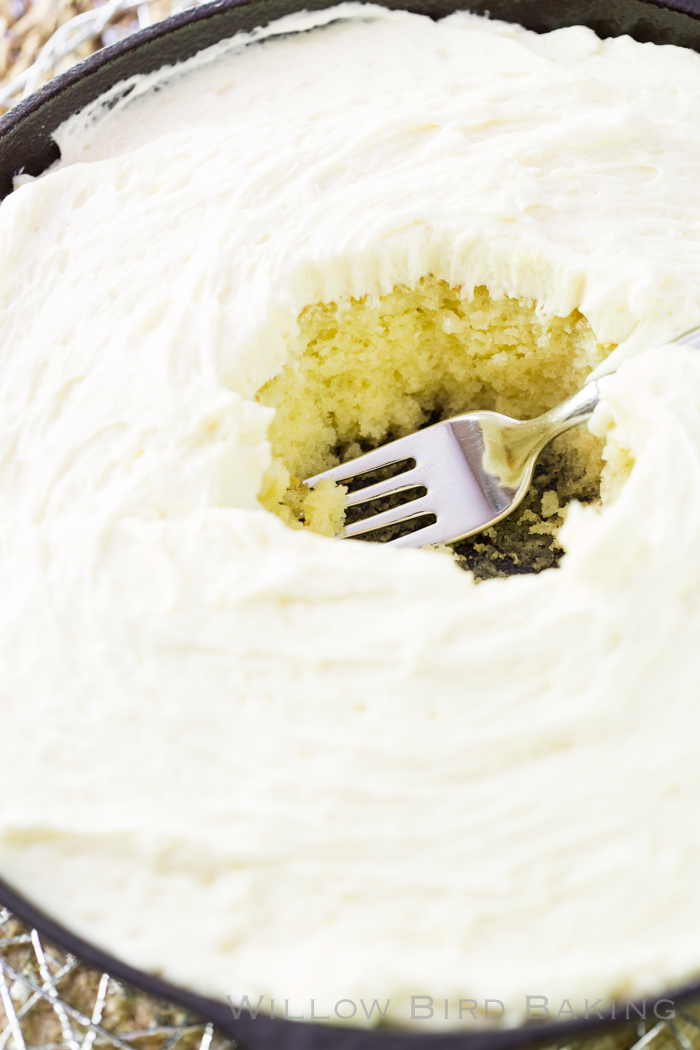 Anyway, weddings are fun but hard. And I'm JUST TIRED OKAY but also I still want wedding cake. So I thought I'd fix this little predicament for us. I MADE US A SNACK WEDDING CAKE RECIPE. I baked it up in my skillet because I knew I wanted to eat it straight outta the pan as I'm wont to do, but you could also bake it in an 8-inch square pan and it'll work great.
It's my fave moist yellow cake with a touch more almond extract than usual to give it that bakery-style flavor. Add in my favorite whipped icing – almond-scented also – and you're definitely gonna eat the whole cake.
No vows required.
One year ago: Milk Toast
Two years ago: Buckeye Peanut Butter Cookie Bars
Three years ago: Twice-Baked Sweet Potato Egg Boats
Four years ago: Hot Crab Dip in a Lemon-Garlic Baguette
Five years ago: Coconut Pudding Spoon Cake
Six years ago: Key Lime Pie Cheesecake with Sky-High Meringue
Seven years ago: Brie En Croute with Figs & Rosemary
Eight years ago: Quick Rosemary, Fig, and Goat Cheese Tarts
Nine years ago: Clementine Burst Cupcakes

Snack Wedding Cake Recipe
Wedding cake is the BEST: that lightly almond-flavored moist, dense bakery style cake with think delicious frosting. Now you can enjoy a wedding cake style cake in snack cake size! If you don't have a cast iron skillet, this cake bakes up just fine in an 8-inch square baking pan.
Author:
Willow Bird Baking, with cake adapted from The Girl Who Ate Everything
Ingredients
Cake Ingredients:
1/2 cup butter
1/2 cup water
1 1/8 cups cake flour
1 cup white sugar
1/2 teaspoon baking soda
1/2 teaspoon salt
1 egg, lightly beaten
1/4 cup sour cream
1/4 teaspoon almond extract
1/4 teaspoon vanilla extract
1/4 cup heavy cream
1/4 teaspoon almond extract
Whipped Icing Ingredients:
1 cup milk
5 tablespoons flour
1 1/4 cups granulated sugar (not powdered sugar)
1 teaspoon vanilla extract
1 teaspoon almond extract
1 cup butter, at room temperature
Instructions
To make the cake: Preheat the oven to 375 degrees and prepare a 10-inch oven-safe skillet sprayed with cooking spray. In a medium saucepan over medium heat, bring the butter and water to a boil. In the meantime, in a separate large bowl, whisk together the cake flour, sugar, baking soda, and salt before whisking in the egg, sour cream, almond extract, vanilla extract. Mix to combine. While mixing, slowly pour in the boiling butter and water mixture. Mix to combine completely. Your batter will be very runny. Pour the batter into the prepared baking pan. Bake at 375 degrees for 17-22 minutes or until a toothpick inserted in several places comes out with a few moist crumbs. While the cake bakes, prepare the cooked frosting mixture below. When you remove the cake from the oven, poke holes with a fork all across the surface. In a small bowl, whisk together heavy cream and almond extract. Pour evenly over the cake and set it in the fridge to cool completely.
Make the frosting: Heat the milk, flour, and granulated sugar together over medium heat, whisking constantly. Once it starts to boil, continue whisking and heating it for around 7 minutes or until it's very thick, like cake batter consistency. Remove the mixture from the heat and add the vanilla extract. Remove the mixture to a shallow pan and stick it in the fridge to cool completely. Once the mixture (and cake!) is completely cool, beat the butter in the bowl of a stand mixer until soft and fluffy. Add the completely cooled mixture and beat on high until you have fluffy frosting the consistency of stiff whipped cream (this takes several minutes, so be patient). Frost your completely cooled cake with a thick layer.