Comfort Works is providing me with materials at no cost so that I can share my experience recovering my Ikea sofa with you! All opinions are (always) my own.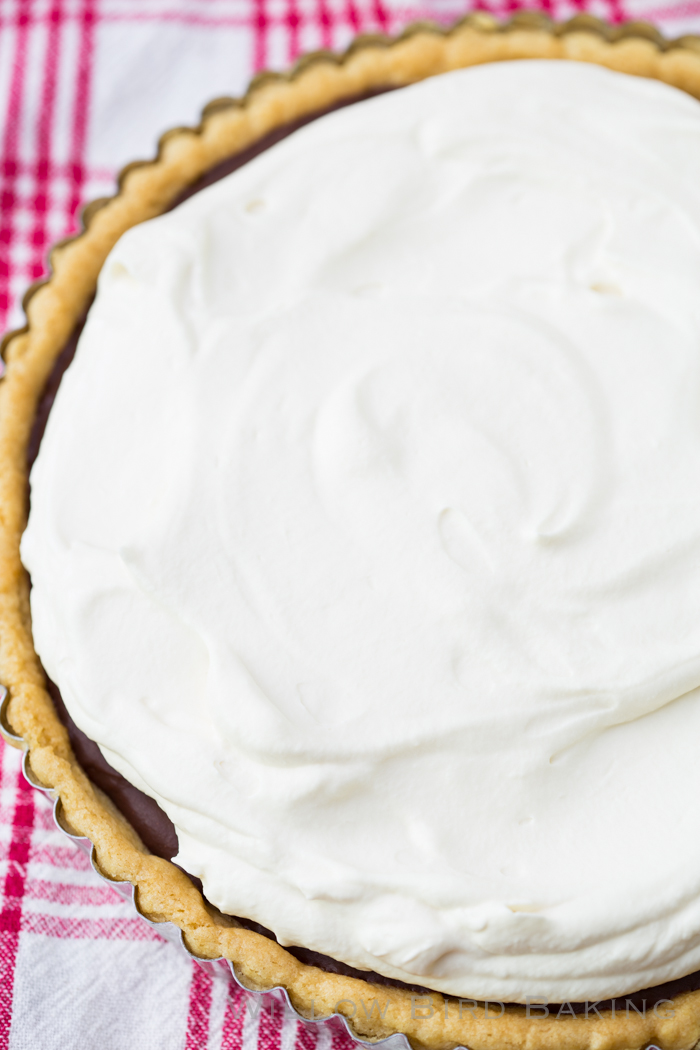 Bailey's Irish Cream Chocolate Tart
Ready for a sneak peek of what I've been working on lately? Well, besides 9,825,032,982,509 grad school assignments and this Bailey's Irish Cream Chocolate Tart?
Before I show you, I need to remind you that I'm the least crafty person in the universe. I know you probably think it's you. "I set my blouse on fire with a hot glue gun," you may be thinking. But trust me: it's me.
That's why I'm SO PROUD of how dang PROFESSIONAL my sofa looks right now, y'all.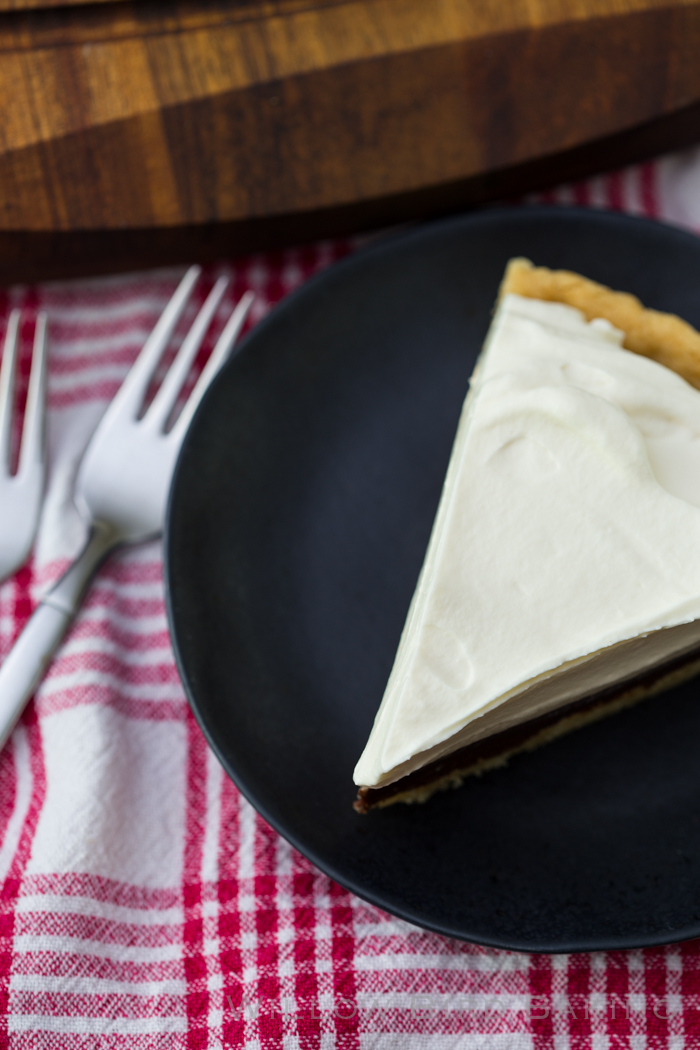 I gave you a little teaser back in February of my new home improvement project: updating my living room! Well, a big package from Comfort Works arrived here in La Mesa to spruce up my Ikea Karlstad sofa. I've been a busy bee collecting my favorite art, my favorite plants (mostly the fake kind — again, I'm terrible at this kind of stuff), and a few cute new pieces of furniture.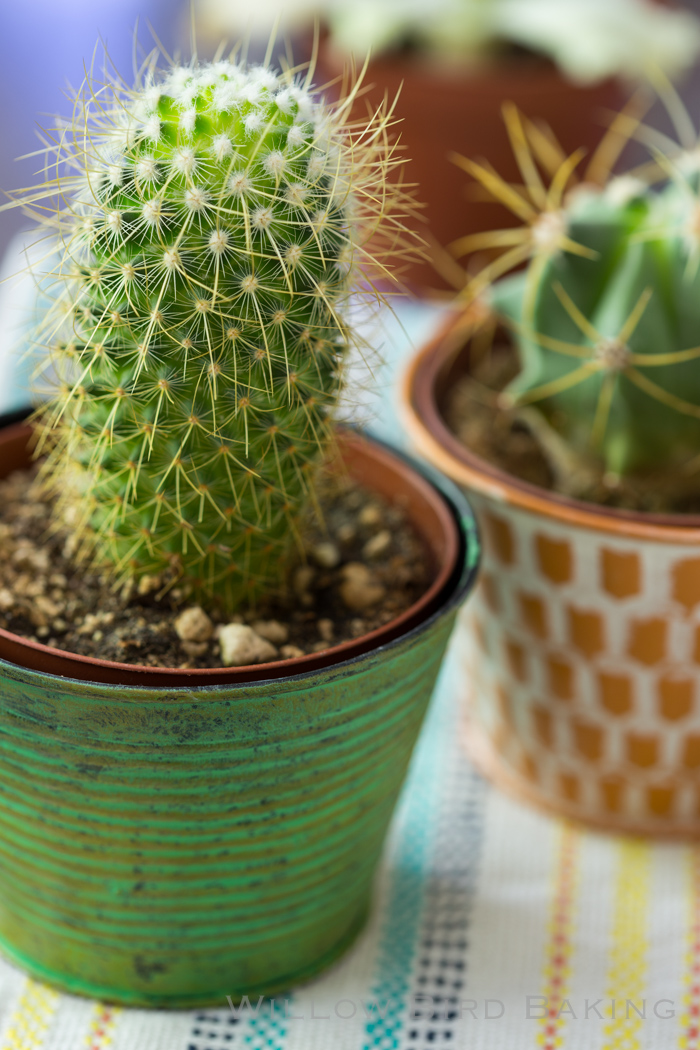 I'm not ready for the big reveal just yet, but I'm so close that I just had to give you a little peek. There's plenty of green in the room, like my pretty cacti.
And there's also some . . . pink?!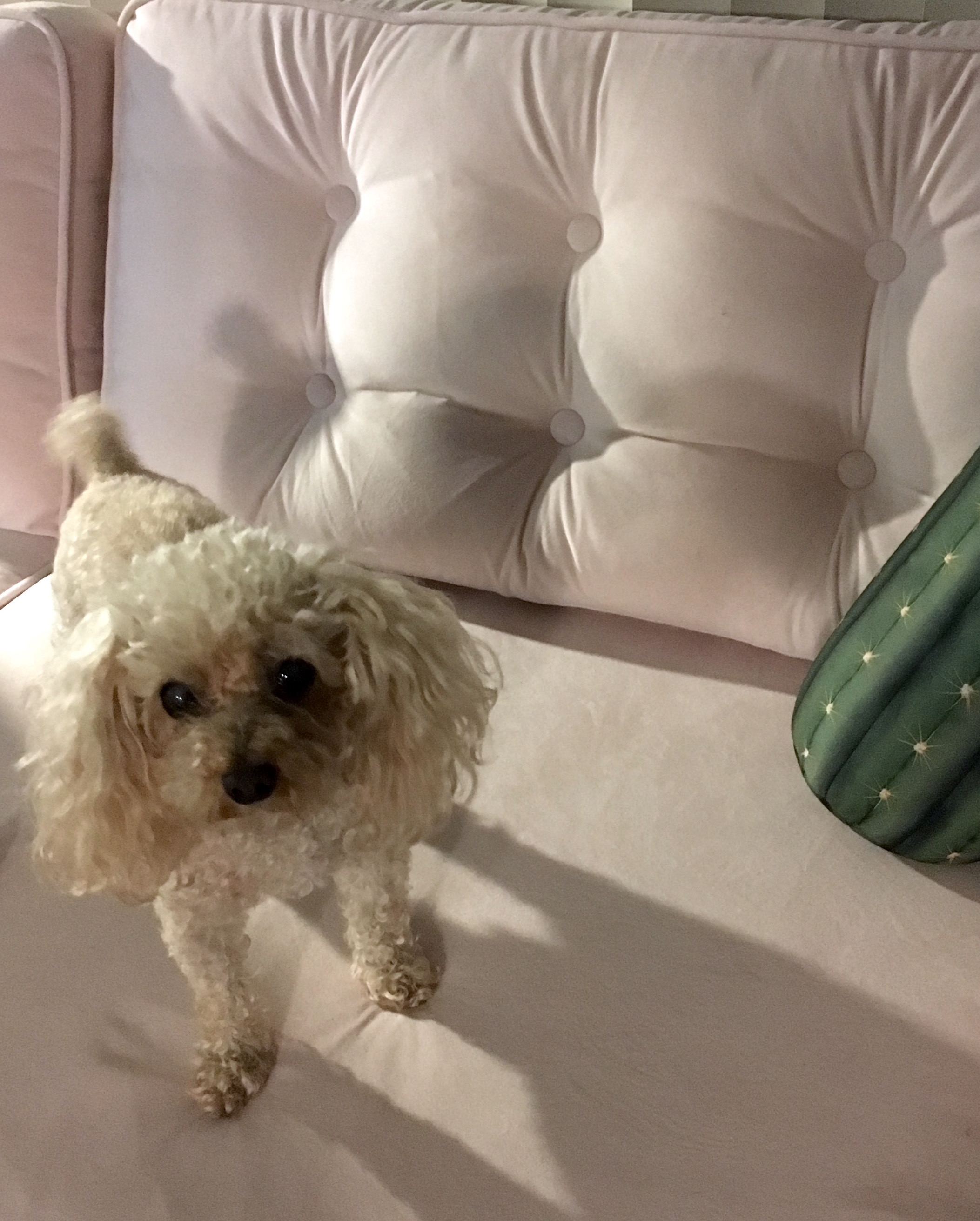 Mwaaahaha that's the only sliver you get to see so far!
One thing I'm so psyched about is that TUFTING. YOU GUYS, I DID NOT OWN A TUFTED SOFA. But I, the least crafty person in the universe, DID THAT MYSELF. Like, that is some real live DIY gold right there. I'm so proud.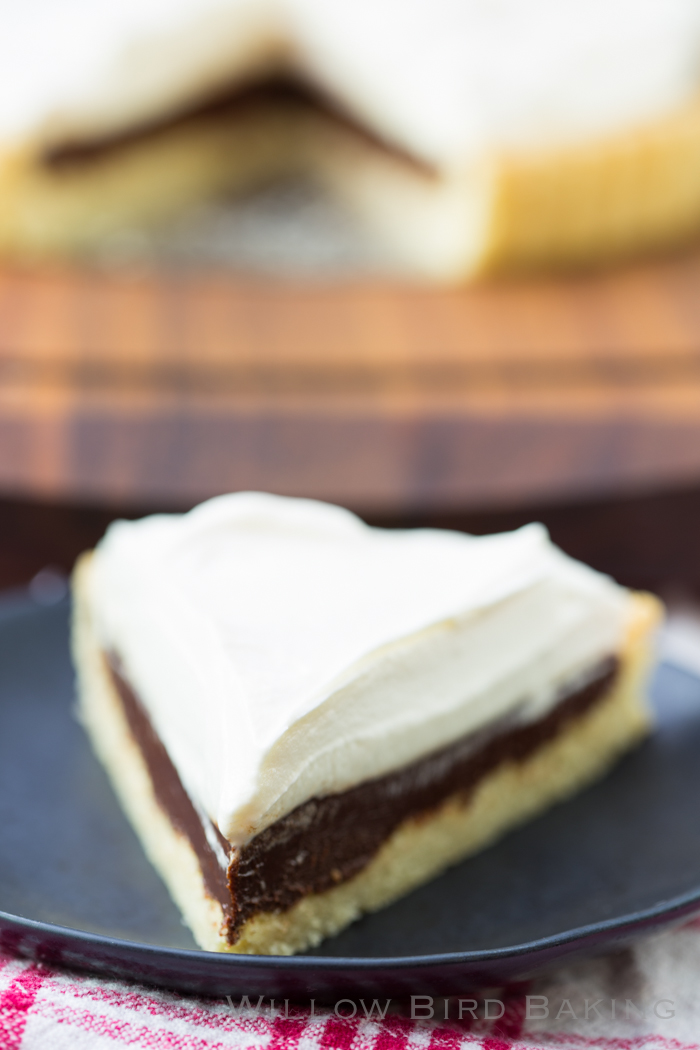 Wanna hear how I did it (and how you can too)? Wanna see the rest of the room? I'm only going to leave you in suspense a tiny bit longer while I put the finishing touches on the space. I can't wait!
In the meantime, so you're not too put out, I made you this delicious Bailey's Irish Cream Chocolate Tart. Actually, I made it for Mike's birthday (he loved it) but you get the benefit of the quick and easy recipe. Enjoy!
One year ago: Lemon Curd Cream Cake
Two years ago: Brownie Blackout Mousse Cake
Three years ago: Intense Chocolate Mocha Cake
Four years ago: Flan Tres Leches Cake
Five years ago: Chocolatey Red Velvet Pull-Apart Bread with Cream Cheese Glaze
Six years ago: Banana Coconut Cream Easter Cupcakes
Seven years ago: A&P Spanish Bar Cake

Bailey's Irish Cream Chocolate Tart
This easy Bailey's Irish Cream Chocolate Tart whips up in no time at all and tastes delicious! I used a sugar cookie crust for simplicity, but feel free to substitute a homemade tart shell if you'd rather. Here's a tart shell recipe I love.
Author:
Willow Bird Baking
Ingredients
1 roll (16.5 oz) refrigerated sugar cookie dough
2 cups chocolate chips
6 tablespoons heavy cream
1/4 cup plus 2 tablespoons Bailey's Irish Cream, divided
1 1/2 cups heavy cream
1/2 cup powdered sugar
1/4 cup Bailey's Irish Cream
Instructions
Preheat the oven to 350 degrees and lightly grease a round tart pan. Slice the cookie dough into even slices and lay them out in the pan. Press the dough into the pan and up the sides. Dock the middle of the dough well with a fork. Bake the shell for 15-20 minutes or until lightly browned. Remove to a cooling rack to cool completely.
Make the ganache: Bring the cream to a simmer in a medium saucepan (or heat in the microwave for about a minute, watching to ensure it doesn't boil). Place the chocolate in a medium bowl. Once the cream reaches a simmer, stir in 2 tablespoons Bailey's Irish Cream. Pour the cream mixture over the chocolate and let stand 1-2 minutes. Whisk in small circles until a smooth ganache has formed. Pour the ganache over the bottom of the sugar cookie crust.
Make the whipped cream: Beat the heavy cream, powdered sugar, and 1/4 cup Bailey's Irish Cream to stiff peaks. Spread over the ganache. Chill the tart until firm, slice, and serve.