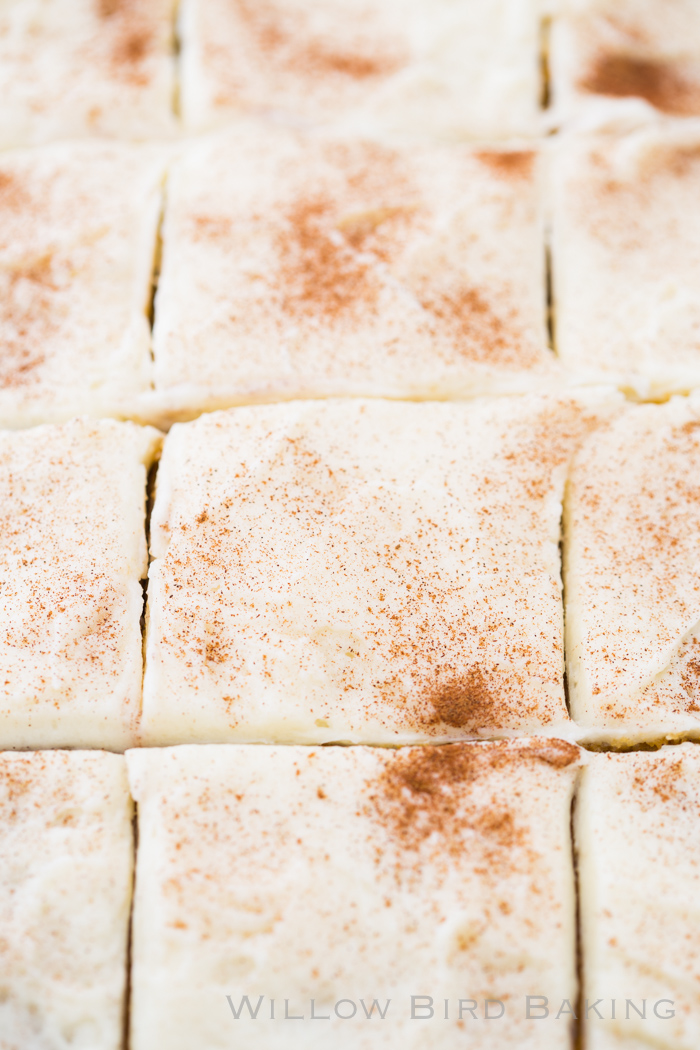 Pumpkin Bars with Whipped Chai Frosting
I haven't tried gratitude journaling because I feel like it'd become this weird empty obligatory list of everything I know I should be grateful for (air to breathe, the sun), which doesn't seem helpful.
Or it'd become this intense list of everything I'm so grateful for and terrified to lose (BYRRRRD. AND SQUIRT. AND FAMILY MEMBERS. AND), which doesn't seem helpful.
But Thanksgiving was a really hard time (gah this year was a really hard time, honestly) and I'm going to give this a try. Specifically, I want to note one thing I was thankful for that keeps coming out of the woodwork in times of need.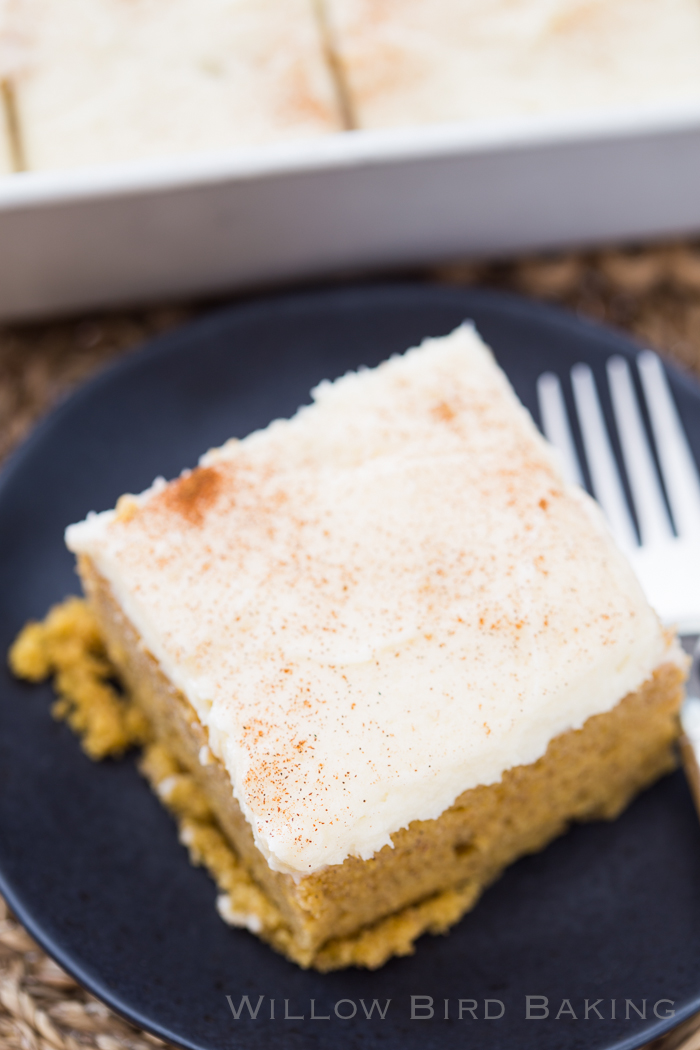 It seems pretty trite to say "friends." Yeah, your friends are there for you blah blah blah. But this year I've really felt it.
Over Thanksgiving, a student asked me if I had a place to go for Thanksgiving because she and her mother knew Mike had moved to San Francisco and wanted to be sure I wouldn't be alone.
Another friend invited me to her Thanksgiving with her family. Two friends invited me to Friendsgiving potlucks. Another friend texted to invite me to breakfast.
While I watched some things fall apart in this heartbreaking way, I also made a friend who texts me regularly to get shave ice and walk and talk by the ocean. I have a friend who invites me for PJ and boozy hot chocolate nights. I have a friend and almost-cousin who goes on coffee and beach walks with me.
This is newer for me. This is maybe a weird thing to say, but I've never been a friend person. I'm awkward and deeply convinced that it's a burden to spend time with me, and it's so much easier not to worry if I'm being fun enough or not. So Mike was one of my only in-person friends for years and years before moving to San Diego.
I didn't know it could be this way, where people keep reaching out and seem to enjoy spending time with you and — maybe — convince you, over time, that that's not a fluke. It's weird and very good.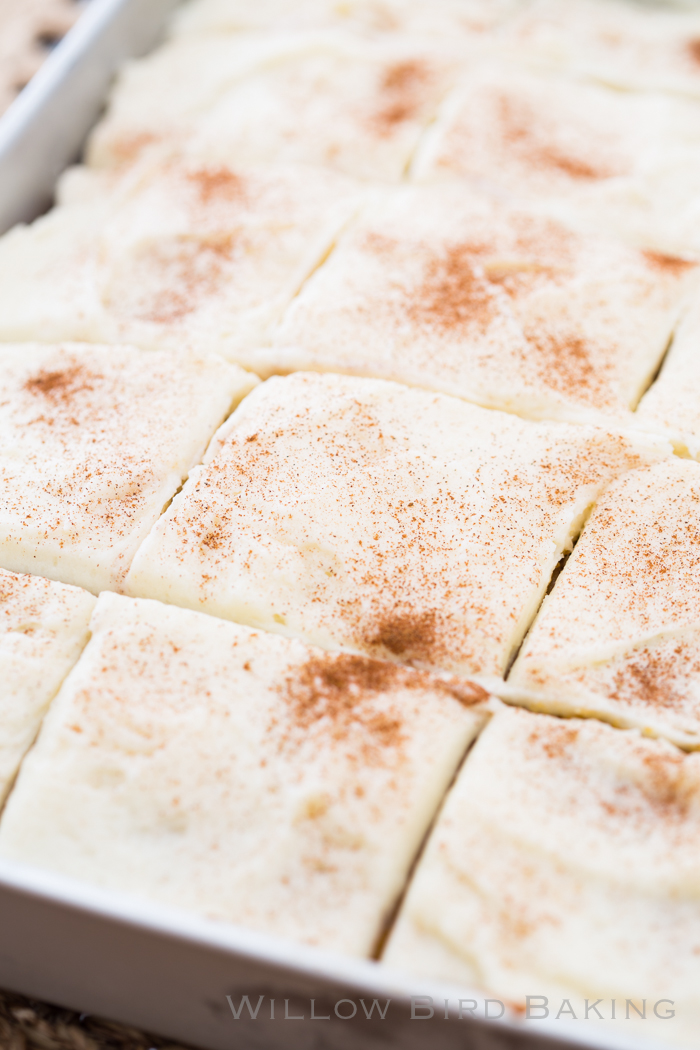 And I'm grateful for it.
Do you keep a gratitude journal? What are you grateful for right now?
One year ago: Abuelita Chocolate Pudding Cake
Two years ago: 4-Ingredient Apple Dump Cake
Three years ago: Double Chocolate Cream Cheese Brownies with Maldon Flake
Four years ago: Pumpkin Maple Pecan Rolls (with Pumpkin Cream Cheese Icing!)
Five years ago: Chocolate Poke Cake with Whipped Coconut Icing
Six years ago: Rosemary Thumbprints with Clementine Curd and The Day I Went to Ina Garten's Cookie Swap (What?!)
Seven years ago: Garlicky Peanut Noodles with Crunchy Vegetables
Eight years ago: Homemade Croissant Phototutorial
Nine years ago: Two Terrific Tarts: Chocolate and Raspberry Cream Cheese

Pumpkin Bars with Whipped Chai Frosting
These moist, delicious pumpkin bars belong on every holiday table. I added some chai flair to my favorite whipped frosting. Steep longer or add another tea bag for an even stronger flavor. Be sure to choose a chai you know you enjoy!
Author:
Willow Bird Baking, using pumpkin bars adapted from Paula Deen
Ingredients
Pumpkin Bars:
4 eggs
1 2/3 cups granulated sugar
1 cup vegetable oil
15-ounce can pumpkin
2 cups all-purpose flour
2 teaspoons baking powder
2 teaspoons ground cinnamon
1 teaspoon salt
1 teaspoon baking soda
Whipped Icing Ingredients:
1 cup milk
5 tablespoons flour
1 1/4 cups granulated sugar (not powdered sugar)
1/2 teaspoons vanilla extract
1/2 teaspoon almond extract
2 chai tea bags
1 cup butter, at room temperature
Instructions
Preheat the oven to 350 degrees F and spray a 9 x 13-inch baking pan with cooking spray.
In a large bowl, beat the eggs, sugar, oil, and pumpkin until light and fluffy. In a separate medium bowl, whisk together the flour, baking powder, cinnamon, salt, and baking soda. Add the dry ingredients to the pumpkin mixture and mix at low speed until thoroughly combined and the batter is smooth.
Spread the batter into the prepared pan. Bake for 22-26 minutes, or until a toothpick inserted into the center comes out with just a few moist crumbs. Let cool completely before frosting.
Make the frosting: Whisk together the milk, flour, and granulated sugar and drop in tea bags. Let them steep for a couple minutes cold. Then, gradually heat the mixture over medium heat, whisking constantly (careful whisking around the tea bags). When the mixture starts to thicken, remove tea bags. Once the mixture starts to boil, continue whisking and heating it for around 7 minutes or until it's very thick, like cake batter consistency.
Remove the mixture from the heat and add the extracts. Remove the mixture to a shallow pan and let the mixture cool completely (after a bit, I stuck mine in the fridge to hurry it along). Once the mixture is completely cool, beat the butter in the bowl of a stand mixer until soft and fluffy. Add the completely cooled mixture and beat on high until you have fluffy frosting the consistency of stiff whipped cream (this takes several minutes, so be patient). Frost your completely cooled bars with a thick layer. Sprinkle cinnamon over the top.