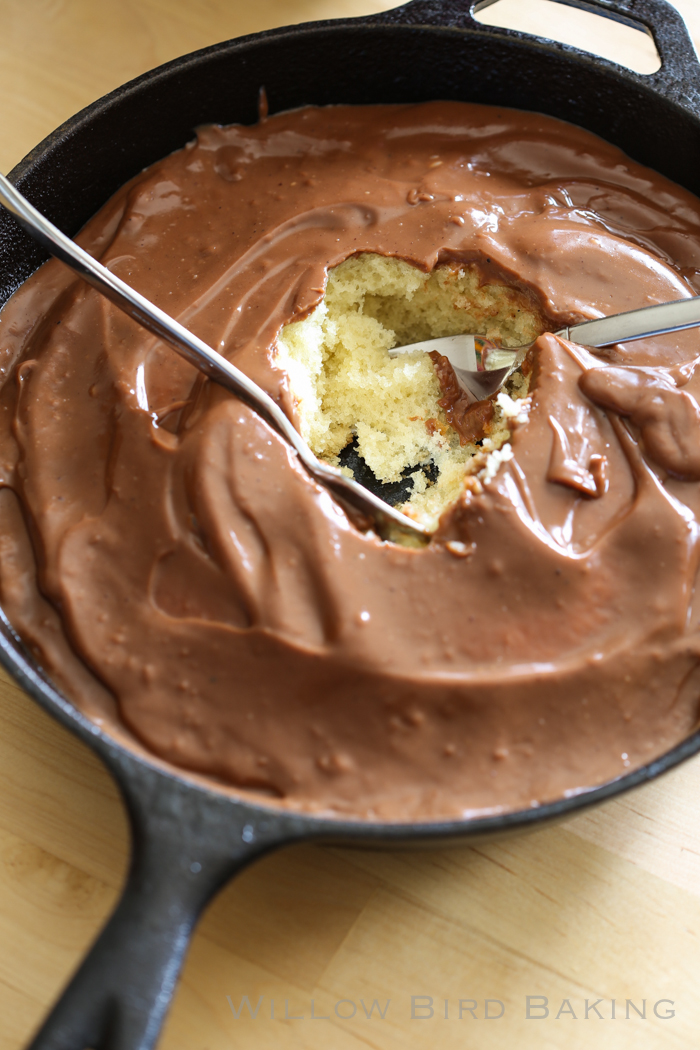 Abuelita Chocolate Pudding Cake
I've just made one of those terrible mistakes that ruins everything. The kind you can't take back and possibly can't repair, the kind that hurts people, the kind that demolishes friendships. It's the worst.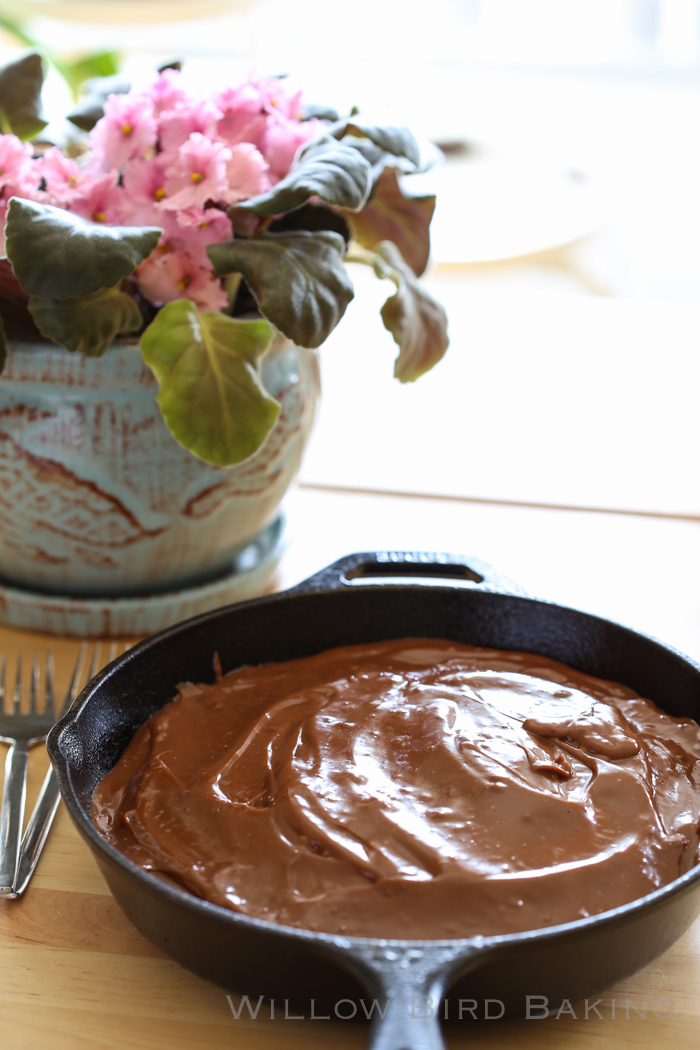 I'm in that space where I'm trying to take accountability and tolerate distress in a way that doesn't place more on anyone I've hurt and cope in healthy ways and stop catastrophizing about the future and avoid total panic and…
So far today all of that's involved a lot of opposite action: pushing myself through the most awkward and depressing Zumba class, working at a coffee shop, writing up this recipe post, forcing myself to watch stand-up comedy on netflix like an automaton. It's also included a lot of not-so-opposite action where I'm just crying on Mike a lot. I deserve all of this fallout and the people who were hurt by my actions emphatically didn't. I wish I hadn't built this mountain for everyone to climb.
This cake reminds me of much, much better times and important people. It also reminds me of my childhood: I got the idea for it from my family's recipe for milk toast (used here in my Hot Milk Toast Cake). It turns out putting warm pudding on a cake is a good, comforting thing to do.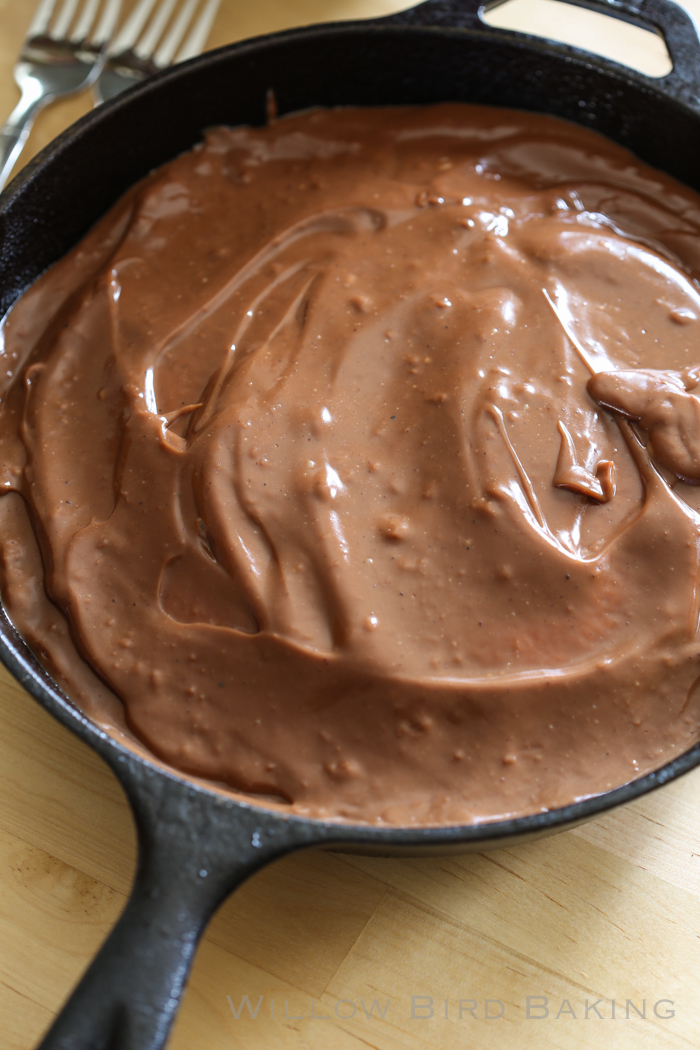 If you pray, I'd so appreciate a prayer that people and friendships will be healed, that I can repair what I've broken and do so much better moving forward. Thanks for always being here with me.
One year ago: Brown Butter Pumpkin Snack Cake with Crackle Icing
Two years ago: 4-Ingredient Slow Cooker Coconut Cake
Three years ago: Pumpkin Maple Pecan Rolls (with Pumpkin Cream Cheese Icing!)
Four years ago: Brown Butter Pecan Gooey Butter Cake with Spiked Whipped Cream
Five years ago: Moist Fluffy Coconut Cake
Six years ago: Pumpkin Streusel Swirled Cream Cheese Pound Cake
Seven years ago: Cinnamon Roll Cookies

Abuelita Chocolate Pudding Cake
A quick and simple recipe for Abuelita Chocolate Pudding Cake. If you love Abuelita chocolate, you need to try this buttery, moist cake topped with warm Abuelita chocolate pudding.
Ingredients
Cake Ingredients:
1/2 cup butter
1/2 cup water
1 1/8 cups cake flour
1 cup white sugar
1/2 teaspoon baking soda
1/2 teaspoon salt
1 egg, lightly beaten
1/4 cup sour cream
1/4 teaspoon almond extract
1/4 teaspoon vanilla extract
Abuelita Chocolate Pudding:
1/8 cup cornstarch
1/4 cup sugar
pinch salt
1 1/2 cups whole milk
3 ounces Abuelita chocolate, coarsely chopped
1/2 teaspoon pure vanilla extract
Instructions
Make the cake: Preheat the oven to 375 degrees. In a medium saucepan over medium heat, bring the butter and water to a boil. In the meantime, in a separate large bowl, whisk together the cake flour and sugar before adding the egg, sour cream, almond extract, vanilla extract, baking soda, and salt. Mix to combine. While mixing, slowly pour in the boiling butter and water mixture. Mix to combine completely. Your batter will be very runny. Pour the batter a 10-inch cast iron skillet (if you don't have one, this cake works just fine in a greased 8-inch square baking pan). Bake at 375 degrees for 17-22 minutes or until a toothpick inserted in several places comes out with a few moist crumbs.
Make the pudding: In a medium saucepan, whisk together the cornstarch, sugar, and salt. Slowly whisk in the milk so lumps don't form. Turn the heat onto medium-low and cook slowly, whisking occasionally and scraping the bottom of the pan. Place over medium-low heat and stir occasionally, scraping the bottom and sides. Use a whisk as necessary should lumps begin to form. The mixture will thicken after around 10 minutes and coat the back of a spoon. Add the chocolate and stir until it melts before cooking another 2-4 minutes, until the pudding is pretty thick. Remove from heat and stir in the vanilla. Run mixture through a fine-mesh strainer to remove any lumps. Pour the warm pudding over the cake and serve warm.