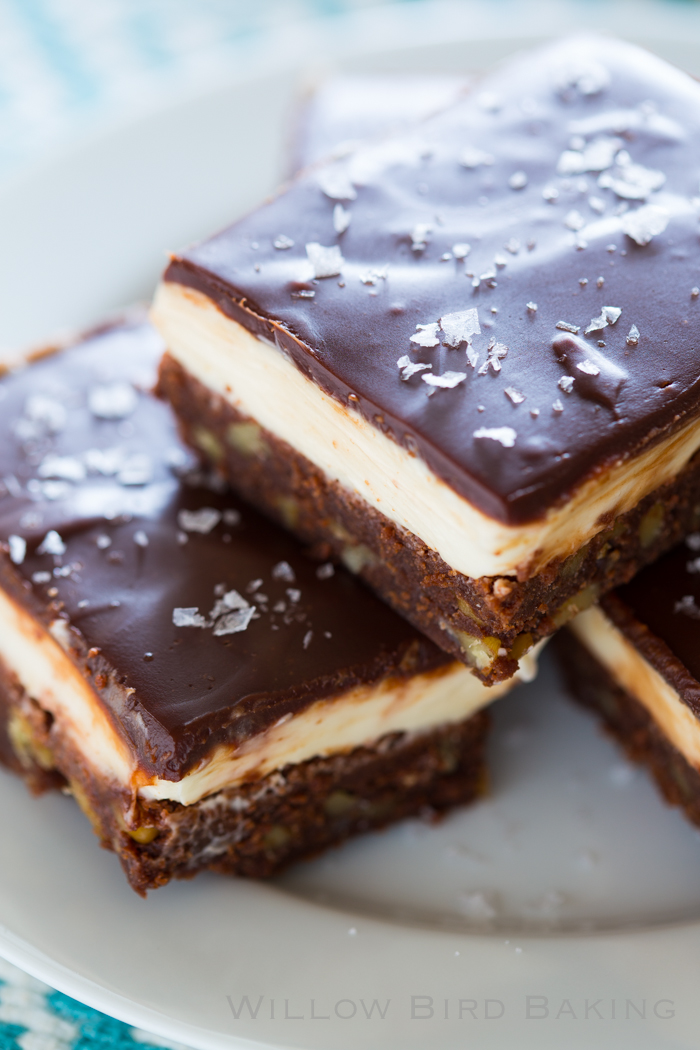 Double Chocolate Cream Cheese Brownies with Maldon Flake (and a review of Sea Salt Sweet!)
Hiiiiii brownies, hi! These Double Chocolate Cream Cheese Brownies are now my husband. My other husband doesn't mind because these brownies are now his husband too. We're all one big salted brownie family.
My friend Heather of SprinkleBakes just released her new cookbook, Sea Salt Sweet, which full of recipes just like this one: amazing, accessible desserts that use SALT to create the ultimate dessert experience. And I do mean ultimate. She sent me a free review copy and some sea salts to play with, and I've had so much fun! (And so much chocolate. Send help.)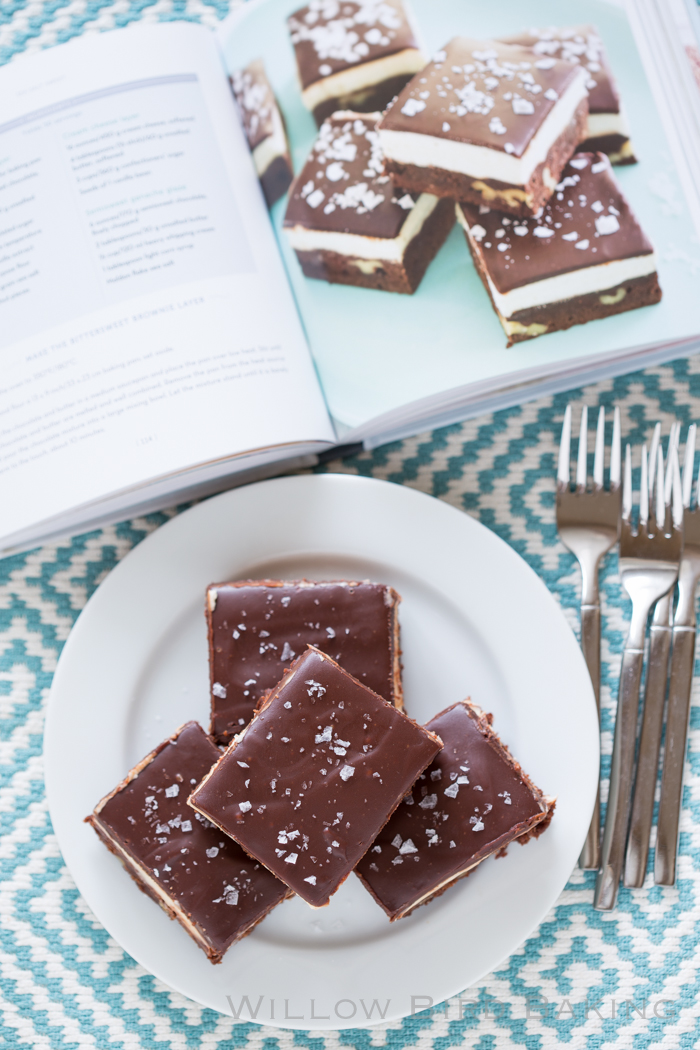 The book itself is simply gorgeous, with a light and airy aquamarine color scheme that reminds me of the ocean (how fitting for a book about sea salts, right?) If you've been a fan of SprinkleBakes for any length of time, you'll know Heather's photos and desserts are absolutely perfection, and this book is no exception. I'm the sort of person who will devour cookbooks as eye candy before bed, and this one is perfect for that if you don't mind being hungry!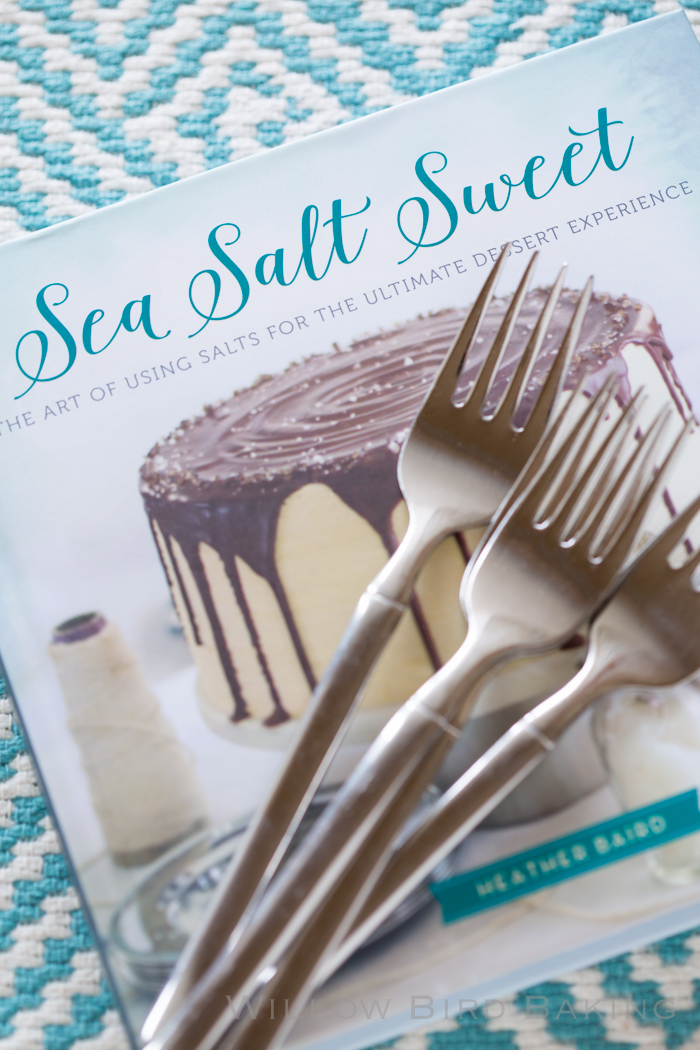 Besides how gorgeous it is, though, I love that this book is accessible. I'm a rustic dessert gal, so I get a little intimidated by Heather's incredible desserts on her blog (hello watercolor and gold leaf dream cake). That's one reason I'm so glad she wrote this book and asked me to review it: because it made me realize that I can make SprinkleBakes-worthy desserts (I mean, not that watercolor cake though, let's be real.) I was shocked to find that my brownies looked like hers and were definitely cute enough to wow guests. Don't you love when a great baker is also a great teacher, so their recipes make you look good? This book is full of those kind of recipes. Some of them even have video tutorials to accompany them!
Among the ones I can't wait to try are the Bourbon Brown Sugar Pound Cake and the Lemon Pie with Soda Cracker Crust! That latter would've been my first choice for this post, but Mike's been putting up with so much pumpkin lately that I decided I had to make some chocolate (his favorite!) for his sake. The sacrifices we make for our spouses…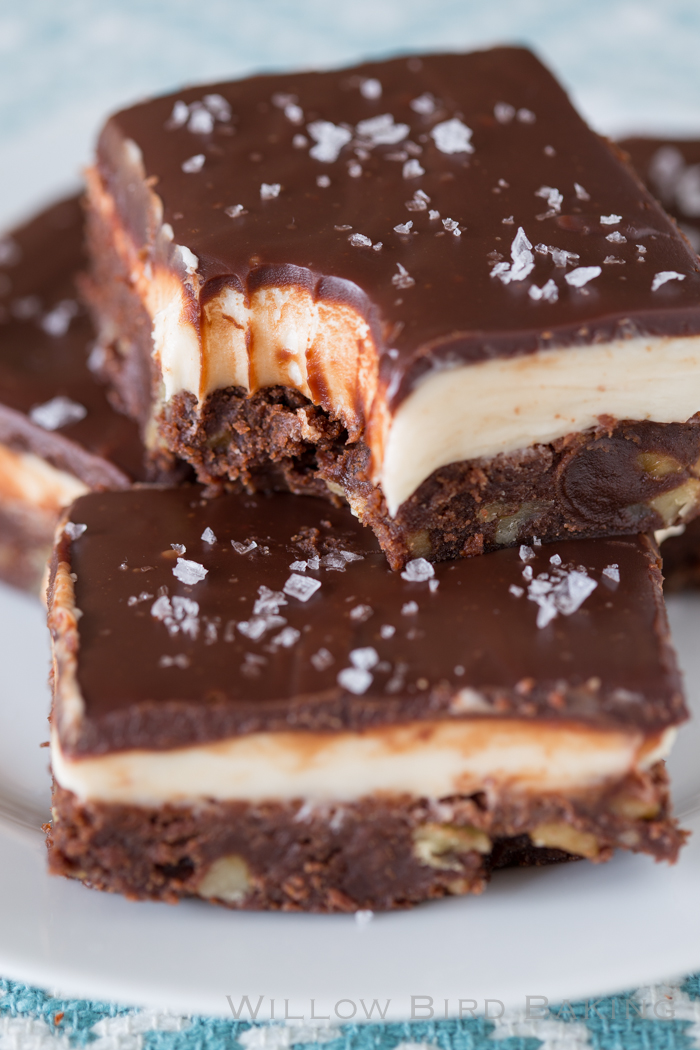 These brownies are nuts. Literally, there are walnuts in the bittersweet brownie base, but beyond that, the cream cheese layer and semisweet ganache topped with a zing of crunchy sea salt is heavenly. I almost halved the recipe and then came to my senses. If you bought the book just for this recipe, you wouldn't be missing out — but lucky us that there are so many more to choose from, too!
Want to win your very own copy of Sea Salt Sweet so you can get salty? Enter below and one of you will be chosen at random to get a free book!
And just in case writing this beautiful book isn't enough, Heather's also giving away a CIA Professional Series Vitamix (brushed stainless) on her blog today! Hop on over there to enter to win.
One year ago: Low-Calorie Portobello and Kale Pizza Bake
Two years ago: Baked Caramel Apple Cheesecake Dumplings
Three years ago: Broiled Pimiento Cheese
Four years ago: Naked Vegan Tacos with Corn Relish and Cilantro-Lime Slaw
Five years ago: Handmade Cheese Ravioli in Meaty Red Sauce
Six years ago: Cardamom Pumpkin Macarons

Double Chocolate Cream Cheese Brownies with Maldon Flake (and a review of Sea Salt Sweet!)
This recipe requires some planning ahead to accommodate chilling time, but it is so worth the wait! These are the ultimate, delicious potluck brownies, and the sprinkle of Maldon flake on top is the crowning touch.
Ingredients
Bittersweet Brownie Layer
Unsalted butter and flour, for baking pan
8 ounces (230 grams) bittersweet chocolate, coarsely chopped
6 ounces (1 1/2 sticks; 170 grams) unsalted butter, cubed
1 1/2 cups (300 grams) granulated sugar
4 large eggs, at room temperature
1 teaspoon pure vanilla extract
1 cup (120 grams) all-purpose flour
1/2 teaspoon fine-grain sea salt
1 cup (130 grams) walnut pieces
Cream Cheese Layer
16 ounches (450 grams) cream cheese, softened
4 tablespoons (1/2 stick; 60 grams) unsalted butter, softened
3 cups (360 grams) confectioners' sugar
Seeds of 1 vanilla bean
Semisweet Ganache Glaze
6 ounces (170 grams) semisweet chocolate, finely chopped
2 tablespoons (30 grams) unsalted butter
1/2 cup (120 milliliters) heavy whipping cream
1 tablespoon light corn syrup
Maldon flake sea salt
Instructions
Make the bittersweet brownie layer: Preheat the oven to 350 degrees F (180 degrees C). Butter and flour a 9 x 13-inch (33 x 23-cm) baking pan; set aside. Place the chocolate and butter in a medium saucepan and place the pan over low heat. Stir until the chocolate and butter are melted and well combined. Remove the pan from the heat source and pour the chocolate mixture into a large mixing bowl. Let the mixture stand until it is barely warm to the touch, about 10 minutes.
Stir the sugar into the cooled chocolate mixture with a large wooden spoon. Add the eggs, one at a time, stirring well between each addition. Stir in the vanilla. Add the flour and salt and stir until just combined. Gently fold in the walnuts. Pour the mixture into the prepared baking pan and smooth evenly with the back of the wooden spoon. Bake for 22 to 25 minutes or until a toothpick inserted into the center comes out mostly clan with a few moist crumbs clinging to it. Allow the brownies to cool completely in the pan.
Make the cream cheese layer: Combing the cream cheese, butter, and confectioners' sugar in a large mixing bowl. Beat on low speed with an electric mixer until just combined. Increase the speed to high and beat for 3 minutes, or until the mixture lightens in color. Add the vanilla seeds and beat for 1 minute longer. Spread the frosting evenly over the brownie layer and chill until firm, about 2 hours.
Make the semisweet ganache glaze: In a small saucepan, combine the chocolate, butter, and heavy whipped cream. Cook over low heat, stirring slowly and constantly with a whisk, until the mixture is smooth, 5 to 7 minutes. Remove the pan from the heat source and stir in the corn syrup. Let the glaze cool to room temperature, about 25 minutes. Pour the glaze over the set cream cheese layer and use an offset spatula to spread the glaze evenly to the corners of the pan.
Chill the brownies for 3 hours, or overnight (Julie's note: I recommend overnight! The flavors really meld so nicely!). Cut the chilled brownie slab with a sharp knife. Garnish each slice with a 2-finger pinch (meaning, pinch the salt between your thumb and 2 fingers) of Maldon salt; add more to taste. The brownies will keep, well covered, in the refrigerator for 5 days (Julie's note: let them sit out for about a half hour before eating them because they soften to a lovely texture! Okay, they're good cold too. But try to be patient!)