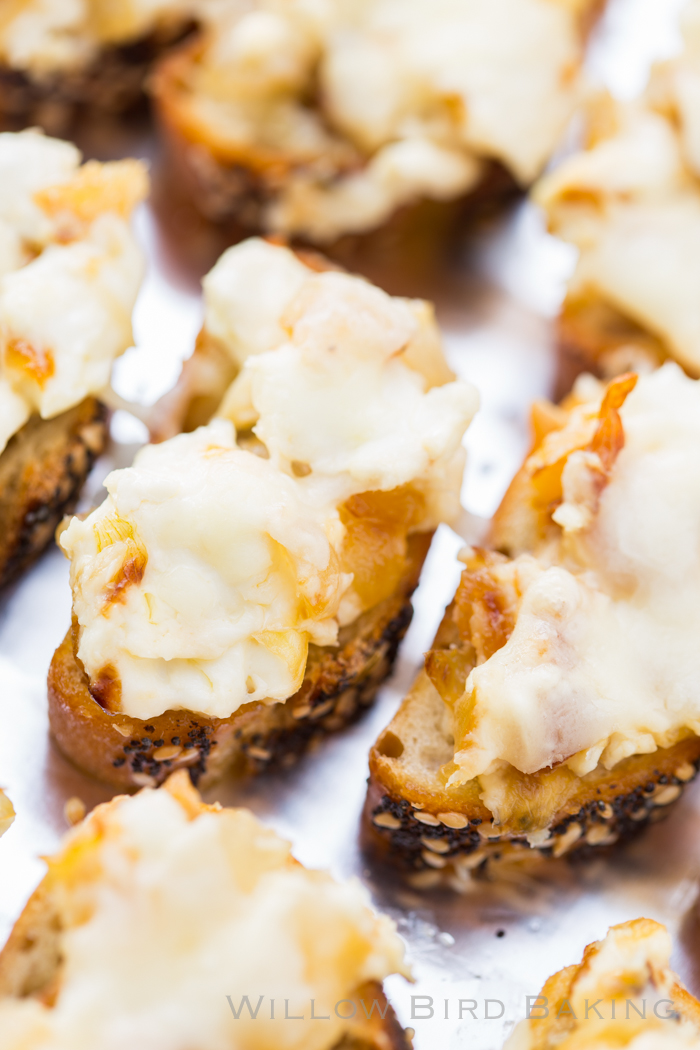 Sweet Onion Crostini
Audre Lorde is teaching me all the things lately via Sister Outsider. One of the things she said that struck me is how hard it was for her to write prose because her thoughts didn't seem to work like everyone else's. They were more feelings and intuition. Applying this linear order to those "thoughts" and using grammar to arrange and spread them was harder work given their natural state.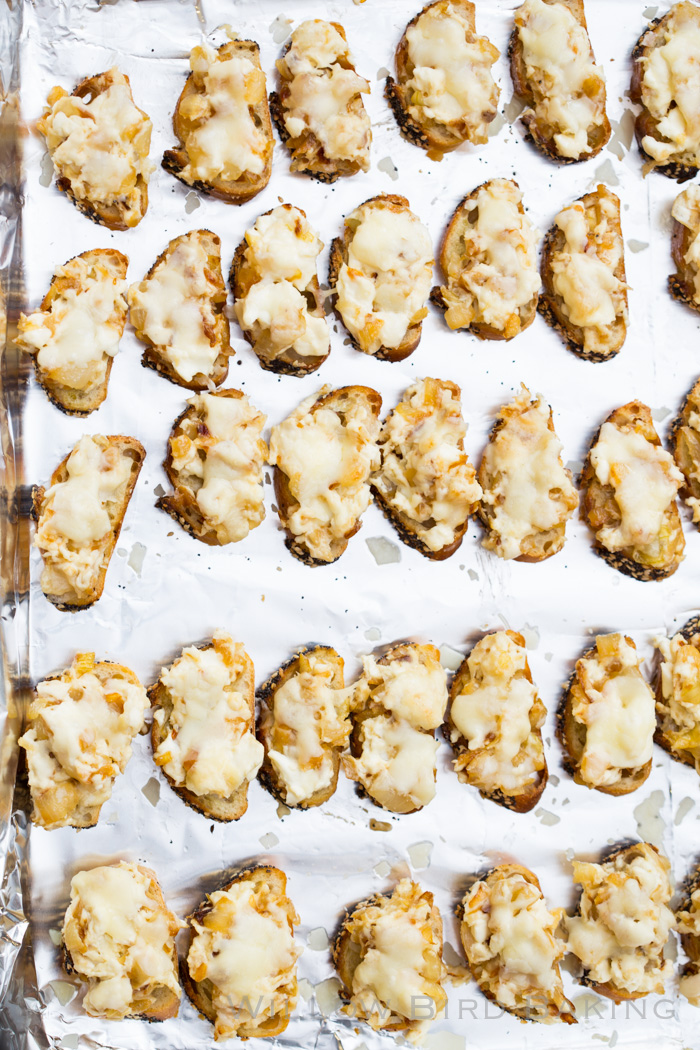 I just want a moment to thank her for putting THAT thought into organized words as someone whose language is also poetry. I know this is taking too much on my shoulders, is an oversimplification, but I feel like my calling involves organizing things erotic and poetic into sentences that could solve everything, could hold the key to equitable education and healing and world peace, if only I could write them well enough — but I never can.
These thoughts are brought to you by me sitting down to write something here (with crostini, as you do) about how we perform identity, or something about this weird personal journey I've been on lately, or something about our bizarre mental healthcare system, or something about my faith right now . . . and finding the usual deep well I can't pull sentences out of without so much work. I know I'll do the work, but for now I just want to appreciate Audre.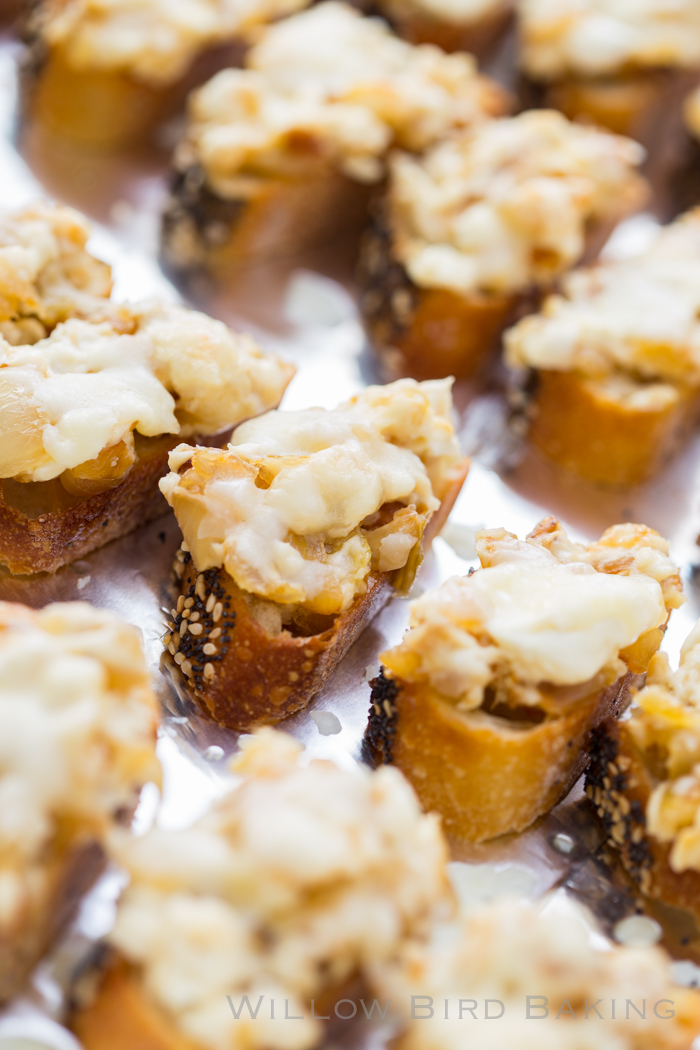 These Sweet Onion Crostini were inspired by a recent trip to a tea room with friends. It was Really Fancy, with one of those triple-tiered serving platters full of mini scones and finger sandwiches and all of the lovely things you might expect. One of the savory finger foods was sweet onion parmesan crostini that were delicious dipped in the leek soup they served alongside. I wanted to recreate them for you!
Caramelizing onions always takes quite a bit of time, but it's low maintenance time just stirring now and again. And the payoff is huge — they're so delicious, especially when combined with cream cheese and parmesan. Enjoy!
One year ago: Almond Cream Tart
Two years ago: Hot Milk Toast Cake
Three years ago: Hot Yellow Cake with Crackle Icing and a Blueberry Pile
Four years ago: Chocolate Doughnut Cake
Five years ago: Lobster Roll Salad
Six years ago: Brownie-Bottom Coconut Chocolate Cream Cake
Seven years ago: Banana Coconut Cream Cakes

Sweet Onion Crostini
This recipe for Sweet Onion Crostini makes a perfect 2-bite appetizer for your next dinner party or snacking dinner! They're creamy, sweet, and delicious. I used a seeded baguette this time around, but I think if I had it to do over I'd choose a plain one.
Author:
Willow Bird Baking
Ingredients
2 tablespoons butter
1 tablespoon olive oil, plus more for brushing crostini
2 large vidalia onions, chopped
1/4 teaspoon salt
1/2 teaspoon sugar
1 (8-ounce) package cream cheese, softened
2 tablespoons shaved parmesan cheese, plus extra for topping
1 tablespoon shredded romano pecorino cheese
1 (10-ounce) sourdough baguette, sliced into 1/2-inch slices
Instructions
Heat the olive oil and butter in a large skillet over medium-low heat and swirl to coat the bottom of the pan. Add the onions, salt, and sugar. Cook, stirring occasionally, for up to around 45 minutes or until the onions take on a deep caramel color.
If at any time the bottom of the pan starts to burn, feel free to add a little water. You may need to adjust the heat to ensure the onions aren't sautéing, but caramelizing slowly over low heat.
Place the cream cheese in a large bowl and add romano pecorino cheese. Pour the hot caramelized onions with all their juices over top of this and stir gently to combine all of the ingredients. Brush each slice of baguette with olive oil before spooning the onion mixture on top of each slice. Top each slice with more parmesan cheese and broil about 5 inches from the heating unit, watching closely, for about 5-7 minutes or until cheese is melted and bubbly. Cool for 5-10 minutes and serve warm.