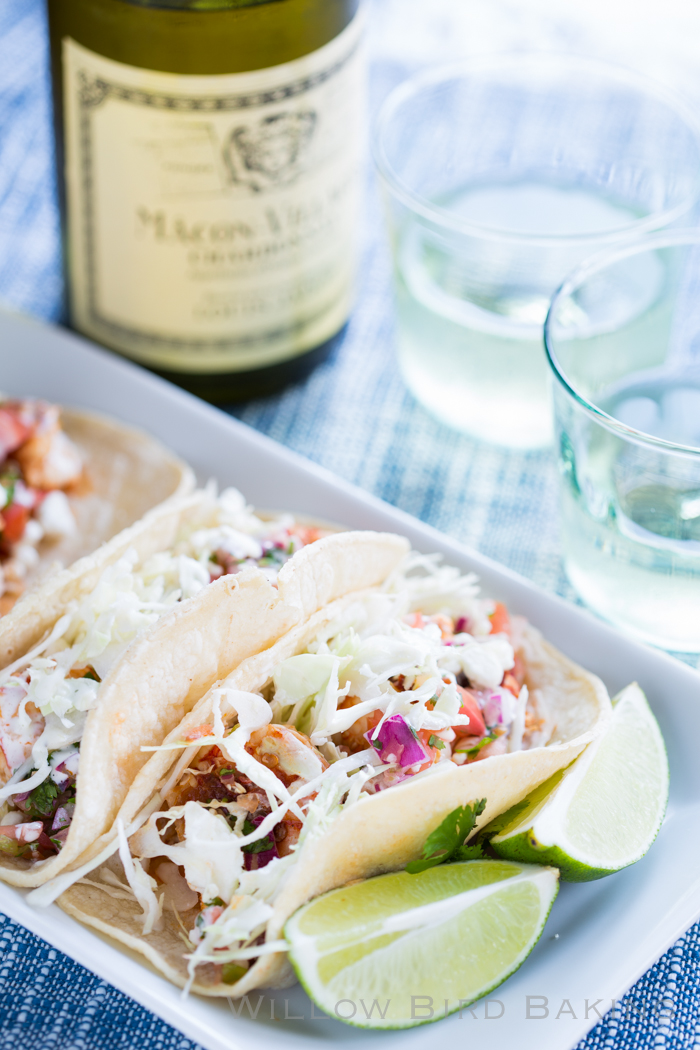 Chipotle Shrimp Tacos with White Sauce
This post was sponsored on behalf of Maison Louis Jadot Wines via One2One Network. All opinions stated are my own.
This summer things aren't really too summery around here. We spent two summers ago dining out on our balcony by candlelight and coming up with new summery drinks to sip. Last summer our balcony didn't see quite as much use, but we still managed to find time to enjoy our perfect summer playlist. This summer, with our upcoming move, has been the summer of boxes and craigslist sales and stress. In the midst of the chaos, we've had to carve out at least a few perfect summer moments to keep ourselves sane. Thankfully, there are tacos and there is wine.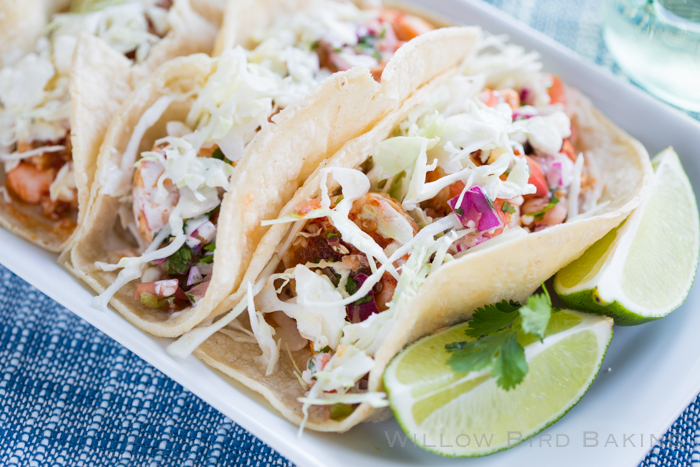 To try and celebrate our move to San Diego (trust me, we're excited — but we're in that space where we can't quite, uh, feel the excitement beyond all of the stress and terror just yet), we've been preparing our tastebuds. It's been a summer full of Chile-Lime Salmon and margaritas. When our Jadot wine (the full brand name is Maison Louis Jadot Mâconnais and Beaujolais, which you should probably not bother trying to say after a glass or two) came, I knew I wanted to break into shrimp taco territory.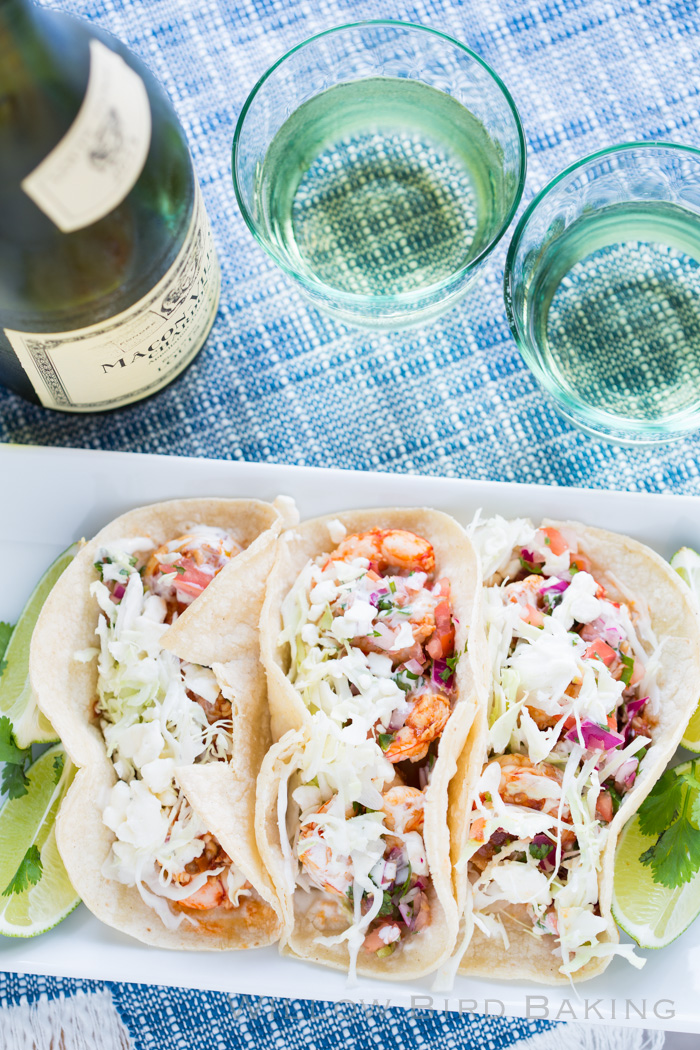 Maison Louis Jadot Wines are the #1 French brand of wines in the United States and the Mâcon-Villages Chardonnay immediately stood out to me as the perfect choice for a special summer moment. It's a dry wine with a citrusy scent ideal for pairing with seafood or big fresh salads. I made these delicious, spicy chipotle shrimp tacos with pico de gallo and a tangy white sauce to enjoy with the wine. The shrimp is cooked with a bit of the wine as well — my favorite trick for making a perfect pairing even more ideal. Sitting with Mike eating shrimp tacos and drinking Chardonnay — even if we were sitting on the floor in the middle of our disaster of a living room, using the coffee table as our dining table — made summer feel a little more real for us.
What makes summer feel like summer to you?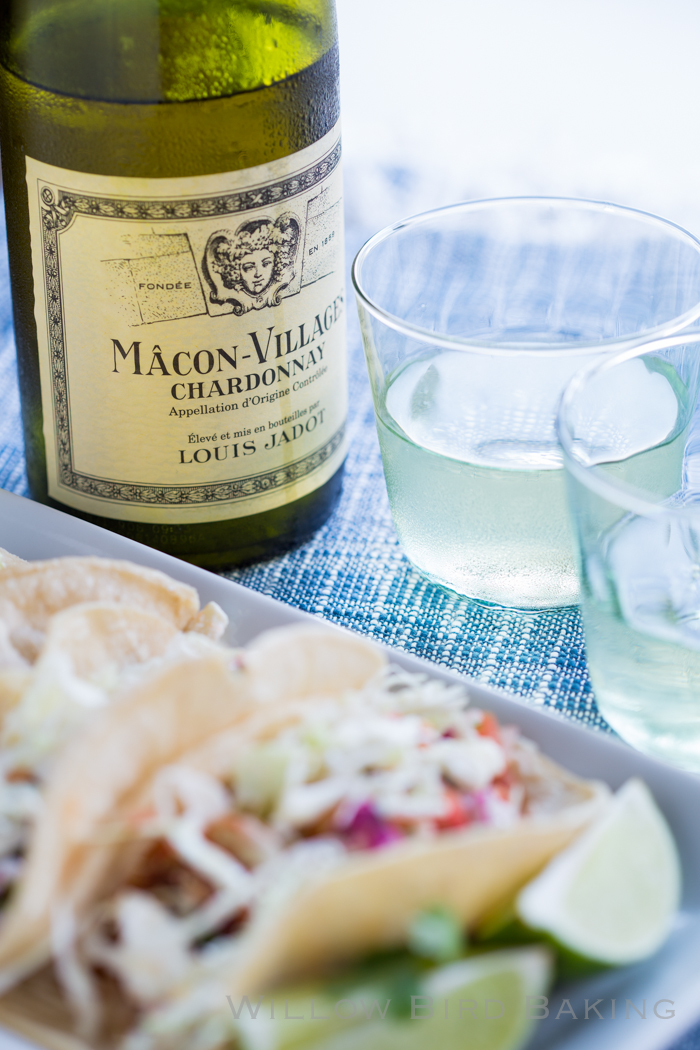 One year ago: Hot Strawberry Cake and Ice Cream
Two years ago: Strawberry Cobbler with Lemon Cream
Three years ago: Cherry Lemon Rosemary Shortbread Cookies
Four years ago: Lemon Raspberry Squares
Five years ago: Straw-Raspberry Basil Fruit Leather
Six years ago: Angelic Cherry Mousse Cloud Cake with Mascarpone Whipped Cream
Seven years ago: Peach Cobbler Cupcakes

Chipotle Shrimp Tacos with White Sauce
These tacos have spicy-sweet chipotle shrimp topped with pico de gallo, shredded cabbage, and a tangy white sauce! Pair them with a dry Maison Louis Jadot Mâcon-Villages Chardonnay for a perfect summer meal. The easiest way to prep these tacos is the "here and there" approach. Whip up the white sauce here, the pico de gallo there (both of these benefit from chilling awhile to let the flavors meld). Shred the cabbage here, pack up the tortillas for warming there. When you're ready to eat, just cook up the shrimp, assemble the tacos, pour the wine, and serve!
Ingredients
White Sauce Ingredients:
1 cup mayonnaise
1/4 cup milk
4 tablespoons lemon juice
1 teaspoon garlic salt
Pico de Gallo Ingredients:
3/4 medium red onion, diced (you should end up with about 1 cup)
4 Roma tomatoes, diced
2/3 cups chopped fresh cilantro leaves
1 jalapeño, seeded and diced very finely
lime juice from one small lime
salt, to taste
Chipotle Shrimp ingredients:
1/2 (7-ounce) can chipotle peppers in adobe sauce
1 pound large shrimp, deveined with tails and shells removed
1 tablespoon minced garlic
3 tablespoons olive oil
salt, to taste
2 tablespoons fresh lime juice
2 tablespoons Maison Louis Jadot Mâcon-Villages Chardonnay
2 tablespoons unsalted butter
Other Bits and Pieces:
thinly shredded Napa cabbage
lime juice
fresh cilantro
queso blanco
8 corn tortillas
Instructions
Make white sauce: Whisk together mayonnaise, milk, lemon juice, and garlic sauce. Stick in the refrigerate to chill and let the flavors meld for at least a half hour.
Make the pico de gallo: Toss tomato and onion together with the finely diced jalapeño and cilantro in a medium bowl. Add the lime juice and salt (remember you can always add more but can't take it away, so start small). Mix and taste, adjusting the amounts of salt, lime, and jalapeño as needed. Set aside in the fridge for at least a half hour, tossing occasionally. I then pulsed mine through a food processor a few times because I like a finer pico de gallo on my tacos.
Warm the tortillas: Preheat the oven to 350 degrees F. Wrap two stacks of 4 tortillas each in aluminum foil and warm them for 15-20 minutes or until soft and warm.
Make the Chipotle Shrimp: Process the chipotle peppers and sauce in a food processor until smooth. Place the puree, shrimp, and garlic together in a zip-top bag and gently work the bag around until the shrimp are well coated. Place the shrimp in the refrigerator for 20 minutes to marinate. Heat the olive oil in a large skillet over medium heat until it shimmers. Pour the shrimp and sauce out into the prepared skillet. Sprinkle with salt, lime juice, and wine. Cook for around 4 minutes, tossing the shrimp as needed, until the shrimp are cooked through. Remove from the heat and gently mix in the butter.
Assemble the tacos: Top each corn tortilla with three chipotle shrimp, a spoonful of pico de gallo, some shredded cabbage, a spritz of lime juice, fresh cilantro, queso blanco, and a drizzle of white sauce. Serve immediately.