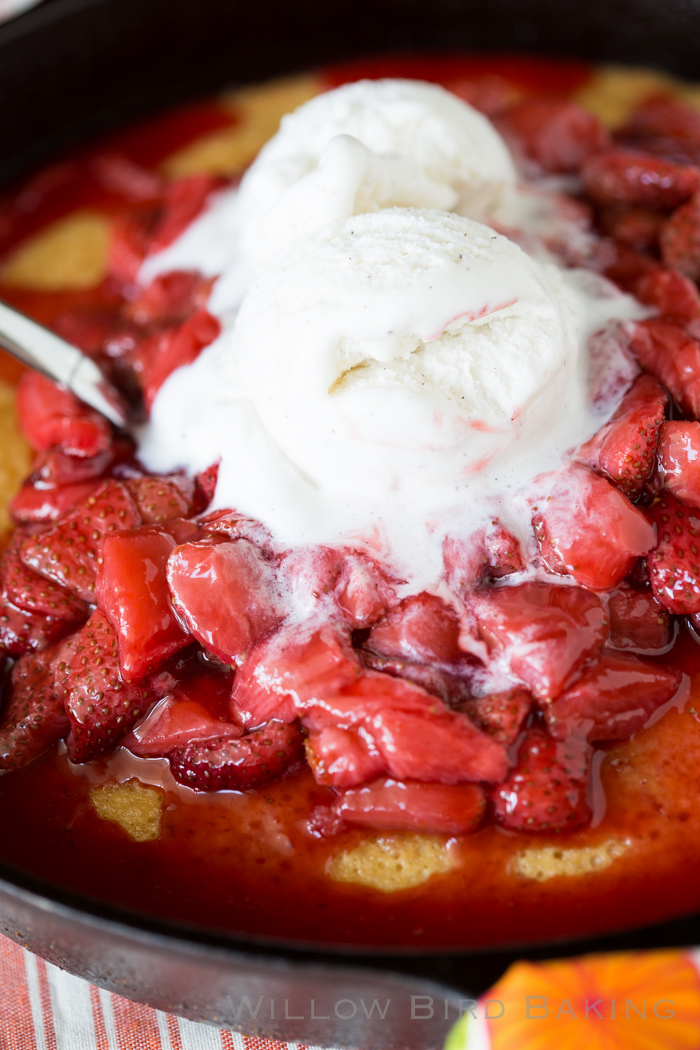 Hot Strawberry Cake with Ice Cream
No, YOU've made 80 different versions of the same cake because you care more about eating cake than you do about seeming creative.
One of many awesome things about being a food blogger is that I can do whatever I want. I'm my own boss. I can make 800 variations on this cake because it's amazing and delicious and I want to eat 800 variations of it. I can use this space to tell the stories I want to tell and share the food I want to share.
But I've noticed around the interwebz that some people seem confused about what blogs are and whether blogs are the right choice for their food/reading needs. Some people would actually be better served by recipe websites like Food Network or AllRecipes. So I'm going to help you out.
Here's how to tell if you should be using a BLOG or a RECIPE WEBSITE: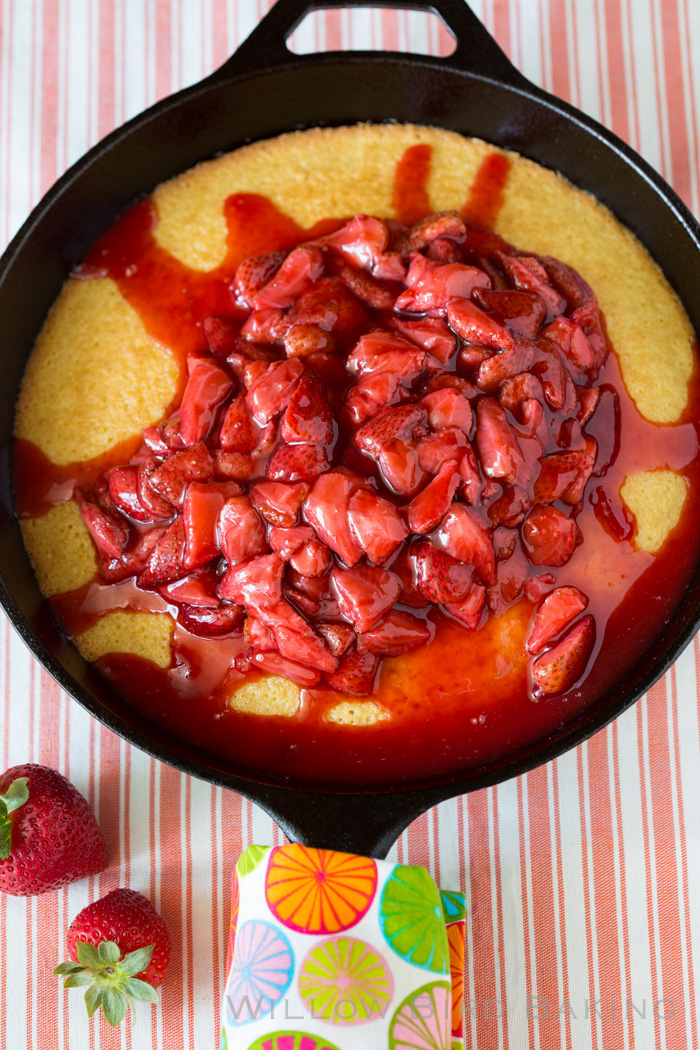 You should use a RECIPE WEBSITE if: you're going to whine about there being a story before the recipe. Apart from the fact that it's super simple to scroll past a story if you're not interested, this is the defining feature of a blog. Blogs are a place to share writing (or sometimes photographs). It's cool if you don't want to read that, because that means you probably aren't the target audience anyway. But please don't be one of those people who complains about blogs having stories.
You should use a BLOG if: you connect with the personality, recipes, and words/photos of the blogger. Read blogs if you care BOTH about seeing what dessert they come up with next AND what they're thinking about or writing about lately. In their ideal form (in my opinion, though you can find counterexamples galore), blogs are about sharing yourself as a person, not just about churning out recipes. (Pro-tip: it's also okay if you love a blogger's recipes and aren't always interested in their stories, as long as you can scroll down without complaining. No problem.)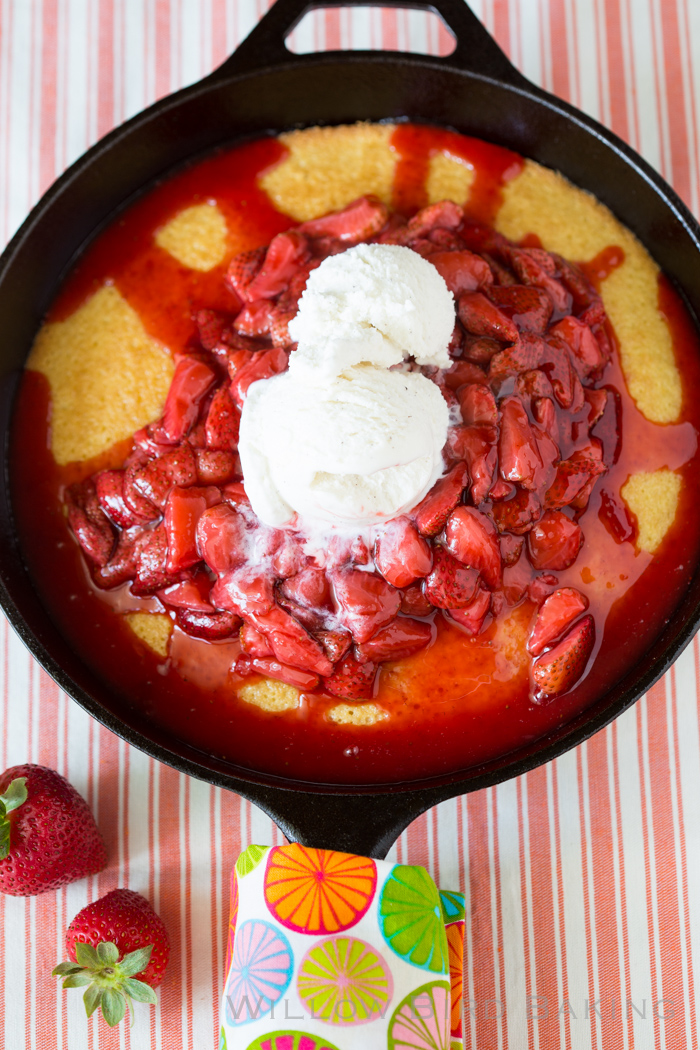 You should use a RECIPE WEBSITE if: you want recipes that have been tested by dozens of people with comments and reviews. AllRecipes, Saveur, Food Network, and Epicurious will sometimes have hundreds of reviews with all sorts of advice about making a single recipe. They're great resources if you want a high level of certainty that a recipe will work for you (just be sure to actually read those reviews and comments.)
You should use a BLOG if: you trust that blogger's work in the kitchen, either because you've used their recipes successfully, they have a good reputation, or their recipes seem promising and you're willing to test them out in hopes of finding a great new resource.
Anyone can start a blog. I love that because it democratizes the world of food and creates a platform for people all around the world to share their great ideas. But it also means that folks with bad taste or questionable motives can post recipes. Because quality can vary drastically from blog to blog, blogs require more vetting. It's worth it to me because you're not just getting recipes: you're also getting entertainment, ideas, and often a relationship with a person. A foodie friendship, if you will. But you have to weigh your personal needs.
As for trusting this blog? I'm a home cook and I don't run a professional test kitchen. However, I thoughtfully create recipes that I'm confident will work in people's homes. I use components to create those recipes that I have tested numerous times (for instance, this recipe is made from a strawberry technique I've used once before, a thickening technique I've used several times before, and a cake recipe that I've tested 800 times because I love it so much that it's basically my husband.) I hope everything you try will work perfectly for you, and if it doesn't, I hope you'll let me know so we can troubleshoot together.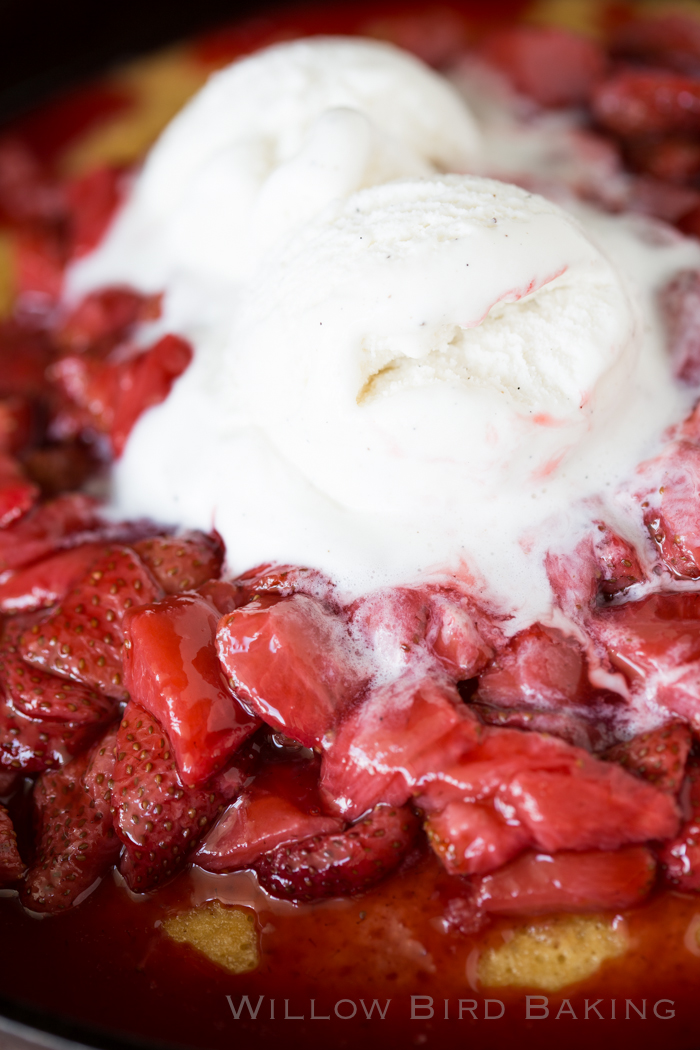 You should use a RECIPE WEBSITE if: you want a vast, varied database of recipes for every taste, special diet, and occasion. It's just a matter of numbers: when you have a billion recipes at your fingertips, you're more likely to find the one that exactly suits your needs.
You should use a BLOG if: you connect with the blogger's personal taste and style and want to receive an ongoing stream of recipes tailored to that taste and style. For instance, you might sign up to get new Willow Bird posts in your inbox or on your RSS feed reader if you love simple, delicious dessert recipes (with the occasional challenge recipe mixed in); if you love using your cast iron skillets; or if you're obsessed with coconut, lemon, or pumpkin. You might sign up to follow Minimalist Baker if you love healthy recipes that can be made with just a few ingredients in a short amount of time. You might follow Eats Well With Others if you love creative, delicious vegetarian dinners. You might follow Sprinkles Bakes, Sweetapolita, and Sugar Hero if you want #bakinggoals: exquisite, creative desserts that offer a huge payout for an investment of time and effort. You follow blogs for a regular flow of recipes of your "type." (Or a flow of writing of your "type" — I follow tons of blogs that I've never made a single recipe from.)
* * *
These are generalizations. There are million blogs these days, including plenty that seem to function as recipe websites in a blog format, which always confuses me. But whatev — I'm gonna let those people live their lives. In general, these tips should help you determine if you should be reading blogs or if you actually hate them and should stay away. Like, if I see one more person whining about having to "scroll past the annoying story" to get to my recipes, I'mma lose it. LOSE IT. Because if you're one of my loyal readers, you know those "annoying stories" are the main reason I blog. The cake is the icing on the cake!
Speaking of, this may be the 800th version of this cake I've made, but I hope you're not sick of it yet. In fact, I hope it says something to you about how slammin' this cake is that I want to eat it every single weekend.
The whole time I was roasting strawberries for this version, I was riddled with self-doubt. Shouldn't I just use plump, fresh berries in the middle? Tasting the roasted berries was all the reminder I needed: roasted strawberries are DELICIOUS. Be careful not to roast them until they're shriveled and useless; roast until they've released about half of their juice but are still bursting when you bite them. When you first drain off their juice to thicken it, they will look puny and you'll wonder if you made a mistake. But when you mix their thickened juice back in and pour them over this tender cake, your trust in me will be renewed! Enjoy!
One year ago: Radishes with Whipped Butter, Anchovy, and Parsley
Two years ago: Strawberry Coconut Cream Pie
Three years ago: Crisp Baked Sweet Potato Fries with Basil Salt and Lemon Garlic Dipping Sauce
Four years ago: Blueberry Cream Cheese Almond Braid
Five years ago: Lemon Triumph Cake

Hot Strawberry Cake with Ice Cream
A gorgeous, easy, surprisingly delicious hot yellow cake recipe topped with sweet roasted strawberries and vanilla bean ice cream. A must-make recipe for summertime on the patio!
Ingredients
Cake Ingredients:
1/2 cup butter
1/2 cup water
1 1/8 cups cake flour
1 cup white sugar
1/2 teaspoon baking soda
1/2 teaspoon salt
1 egg, lightly beaten
1/4 cup sour cream
1/4 teaspoon almond extract
1/4 teaspoon vanilla extract
Topping Ingredients:
2 pounds strawberries, hulled and quartered
5 tablespoons sugar
lemon juice
1 tablespoon cornstarch
vanilla bean ice cream
Instructions
Roast strawberries: Preheat the oven to 400 degrees F. Spray a large 9 x 13-inch baking dish with cooking spray. Toss the strawberries with the sugar and spread them out in a single layer in the baking dish. Roast the strawberries for around 30 minutes, tossing a time or two. You're looking for the berries to be slouchy and releasing syrup but not entirely broken down. Remove them from the oven, spritz with lemon juice, and gently toss. Gently drain the berries in a strainer set over a saucepan so that you can thicken the strawberry juice (set the berries aside in a bowl to cool as you do so).
Thicken the sauce: Heat the juice over high heat to bring it to a boil. Remove about 1/2 cup of the berry juice to a small bowl and whisk in the cornstarch. Add this slurry back into the juice, reducing the heat to bring it down to a simmer. Simmer for about 10-15 minutes, whisking constantly, until the sauce is reduced and thickened. Pour the sauce into a bowl (through a fine-mesh sieve if there are any cornstarch clumps) to cool, whisking every now and then to prevent a skin from forming.
Make the cake: Preheat the oven to 375 degrees and prepare a 10-inch oven-safe skillet sprayed with cooking spray. In a medium saucepan over medium heat, bring the butter and water to a boil. In the meantime, in a separate large bowl, whisk together the cake flour, sugar, baking soda, and salt before whisking in the egg, sour cream, almond extract, vanilla extract. Mix to combine. While mixing, slowly pour in the boiling butter and water mixture. Mix to combine completely. Your batter will be very runny. Pour the batter into the prepared baking pan. Bake at 375 degrees for 17-22 minutes or until a toothpick inserted in several places comes out with a few moist crumbs.
Assemble: Gently toss the strawberry sauce in with the roasted strawberries. Hollow out the middle of your hot cake (no judgment if you do this by shoveling it into your mouth) and dump the strawberries and sauce in the middle. Don't fret if they don't stay put in the center -- there are a LOT of strawberries by design. Top with vanilla bean ice cream and serve hot.