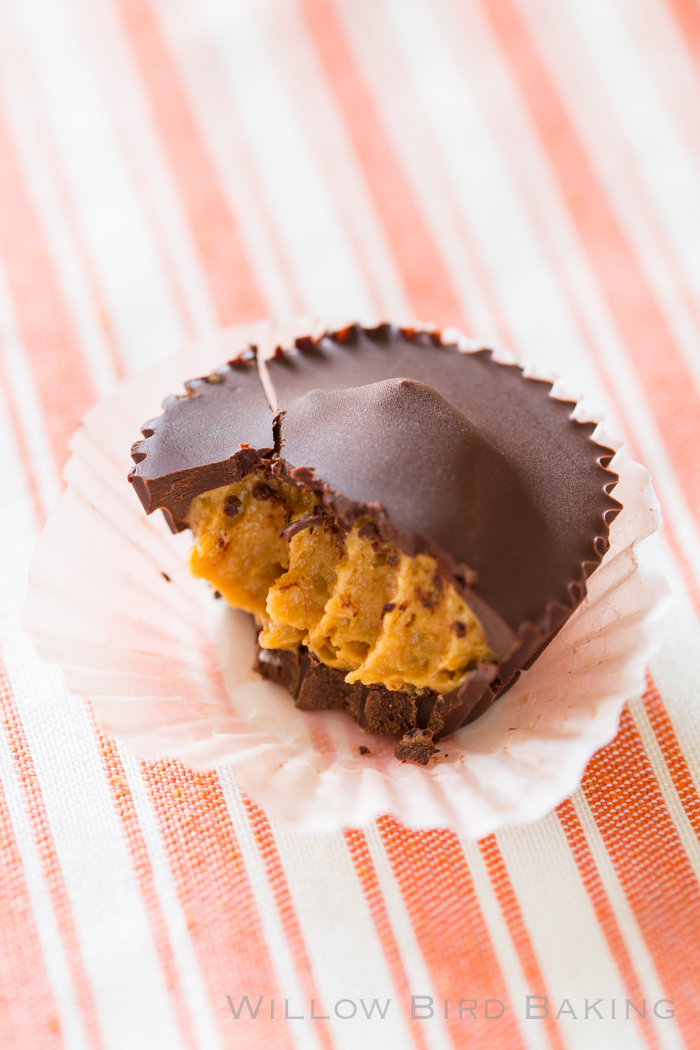 Chocolate Peanut Butter Cups (Low-Carb, Gluten-Free)
Which holiday has the best seasonal candy? Christmas has candy canes and Halloween has candy corn, so they obviously lose. Halloween does get props for all the trick-or-treat candy on the shelf, though — especially mini-Twix. Mini-Twix almost make up for candy corn. But you can't really make up for candy corn.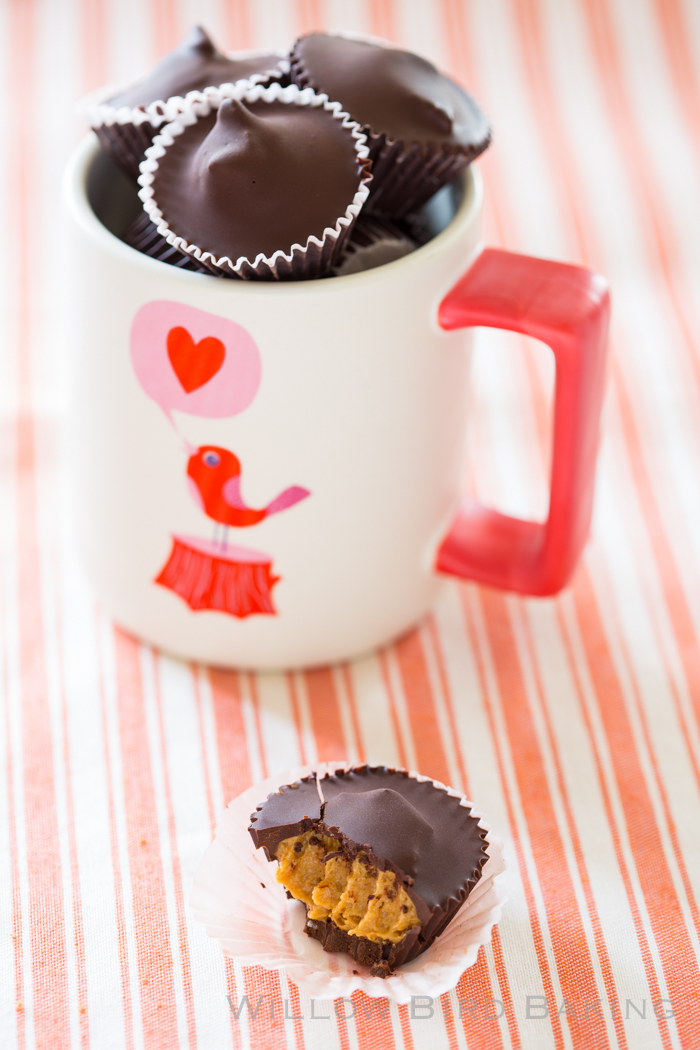 Valentine's Day has big hearts o' chocolate, and that's pretty awesome, but it also has conversation hearts, and I think we really have to dock a few points for grammatically tragic chalk masquerading as candy.
Independence Day isn't associated with any candy that I can think of (maybe pop rocks?), nor is New Year's, Thanksgiving (what, all that pumpkin pie isn't enough?), or any of the memorial holidays. Right? Am I missing something? Anyone know of any Labor Day candy? St. Patrick's Day has Shamrock Shakes and lots of green glittery marshmallow crap that I don't think is a real threat. Chocolate coins? Eh.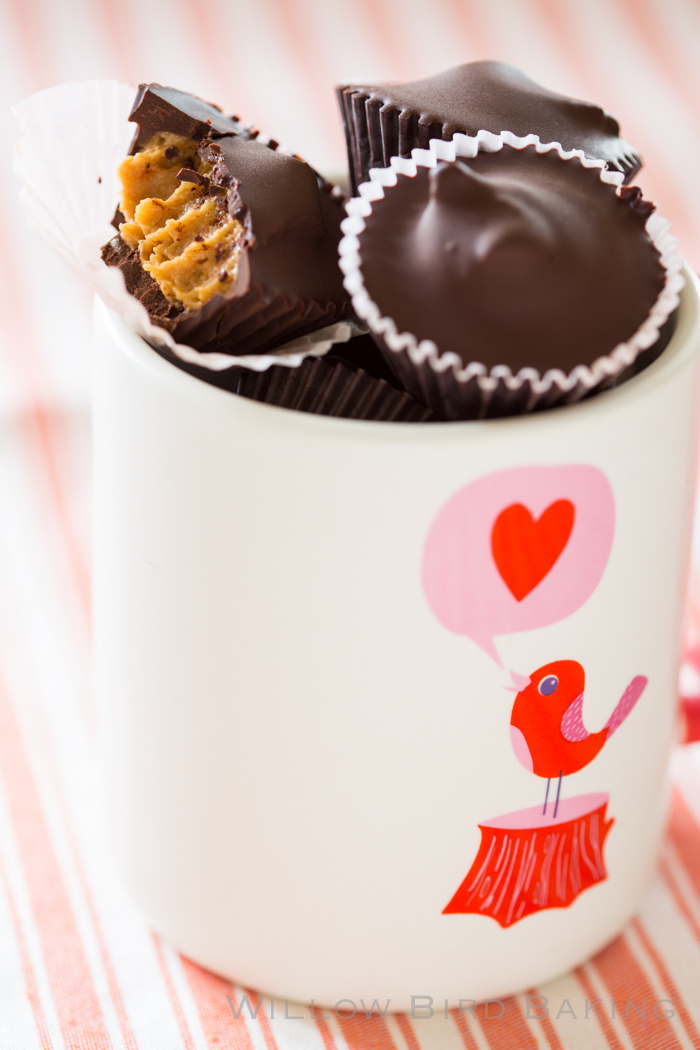 EASTER WINS. What I'm trying to say is EASTER WINS. Creme eggs and jordan almonds and those little pastel sprinkled mints and giant chocolate mammals and PEANUT BUTTER EGGS. We'll forget about the unfortunate existence of jelly beans for a moment. Because PEANUT BUTTER EGGS. Reese's finally realized what's up and made blobby peanut butter shapes (um, with varying success) for other holidays too, because they're the best.
BUT because we can't just sit here and eat 800 peanut butter eggs (can we?), I made us a substitute. These little treats are low-carb and low-calorie, gluten-free, and made with fair-trade chocolate to be healthier for the world, too. I store a batch in an airtight container in my fridge and pull one out now and again for a sweet treat.
What holiday do you think has the best candy?
One year ago: Giant Skillet Lemon Sugar Cookie
Two years ago: Lemon Cream Pie Bars
Three years ago: Bailey's Hazelnut Chocolate Tiramisu (and Photographing FOOD)
Four years ago: Hasselback Sweet Potatoes with Orange Rosemary Butter & Goat Cheese
Five years ago: Mini Apple Pies with Cheddar Crusts
Six years ago: Chocolate Sheet Cake

Chocolate Peanut Butter Cups (Low-Carb, Gluten-Free)
Getting stabby about all the Reese's peanut butter eggs you want to eat but shouldn't? These little candies are the perfect treat to sub in: dark chocolate, lightened up peanut butter, and maple syrup. I keep mine in an airtight container in the fridge for easy snacking.
Author:
Willow Bird Baking
Ingredients
Chocolate Cup Ingredients:
4 ounces fair-trade unsweetened baking chocolate
2 tablespoons Swerve Sweetener (Confectioners' Style)
1 1/2 teaspoons coconut oil
Filling Ingredients:
1 1/2 cups PB2 Powdered Peanut Butter
3/4 cup sugar-free maple syrup
Instructions
Line a mini-muffin tin with 12 mini muffin liners. In a medium bowl, mix the PB2 and maple syrup until it forms a paste. Transfer it to a zip-top bag with the corner cut off.
Fill the bottom of a double boiler with water to 1/2 inch below the upper pan or bowl. Place the double boiler over high heat. Place the chocolate, Swerve, and coconut oil in the top pan or bowl of the double boiler and stir the regularly until the chocolate is melted and smooth. Remove the double-boiler from the heat but leave the chocolate in it so the residual heat will keep it melty as you use it. Pour 1 teaspoon of chocolate into the first muffin liner, lifting it and tilting/turning it to coat the inside of the liner with chocolate. Replace it in the muffin tin and repeat this with each other liner. Freeze the pan for about 15 minutes.
Fill each chocolate cup with peanut butter right to the brim. Top the peanut butter with another teaspoon of chocolate and swirl the cup around until the top is well coated. Freeze the cups for another 30 minutes or until solid. Store in an airtight container in the fridge.