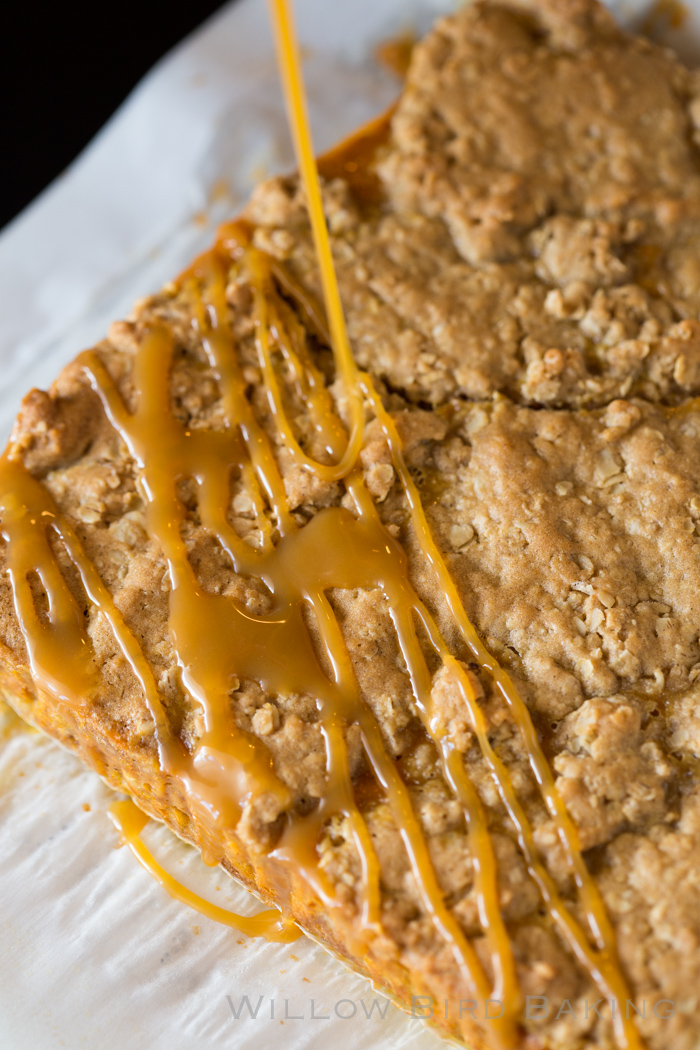 Pumpkin Pie Carmelitas
I'm one of those old people who tells the same morality tale to middle schoolers so many times that eventually the mere utterance of the first line elicits impressive eye rolls. One of them is the Tale of the Forgotten Essay, which I don't think any of my classes hear fewer than three times. The other is the Tale of Lindsey Hudson.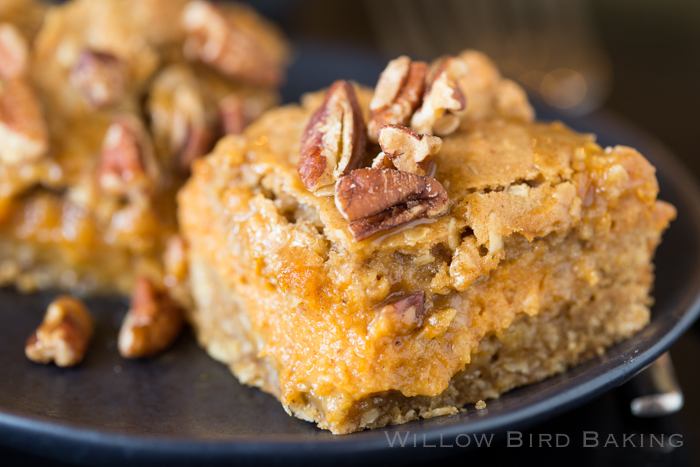 I spent the entirety of my time in college totally overwhelmed. I would start an essay the morning it was due and work frantically to finish before parking illegally on campus and running full-tilt to my professor's office to turn it in, hoping she wouldn't notice that it was three minutes late. This wasn't laziness on my part — far from it. It's just that all the days I could've been working on that essay, I was working on other imminently due work: meeting up with a group to hack through chemistry problem sets, staying up all night studying for calculus tests, putting in hours in the biology lab, and wading through hundreds of pages of reading.
One night during exam week, I found myself sitting at my desk in the wee hours of the morning studying in a panic, eating hot cocoa mix straight from the canister. At this point in the story, my students usually interrupt to ask, "Why cocoa mix?!" and the answer is simply that the only other things in my dorm room were a block of cheese and some sugar-free jello, and frankly cocoa mix didn't seem like the worst option.
I made good grades and was successful at nearly everything I tried during college (side eye at genomics), but at such a cost. Exhaustion, stress, and meltdowns were my every day reality.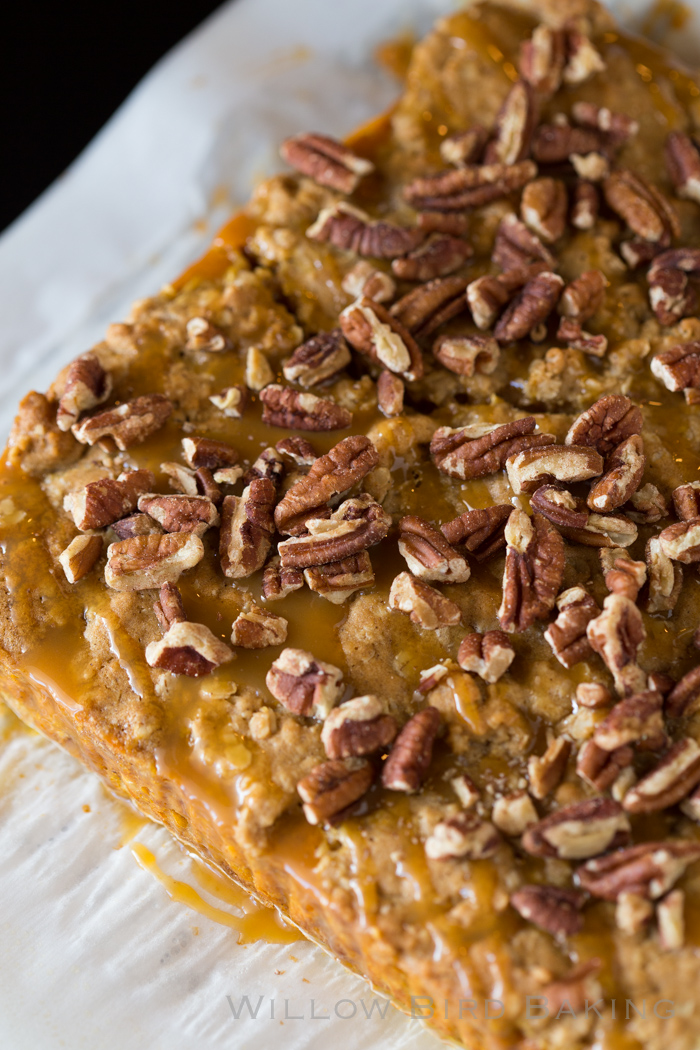 Contrast this with Lindsey Hudson. Lindsey was a dear friend in college who had it ALL together. She was the kid who had her essays completed two weeks before their due date, who ate three healthy meals per day, who exercised every morning. She was in bed before 10 pm every single night. Her grades were better than mine. Everything she did seemed effortless.
I loved that girl but I also hated her (not really, but you know what I mean). She was and still is my #lifegoal. And I tell my students my #teachergoal is to teach them how to be Lindsey Hudson NOW — learning time management and organization skills, developing a savvy work flow, and experimenting with planners — so they never find themselves eating cocoa mix straight from the canister in the wee hours of the morning.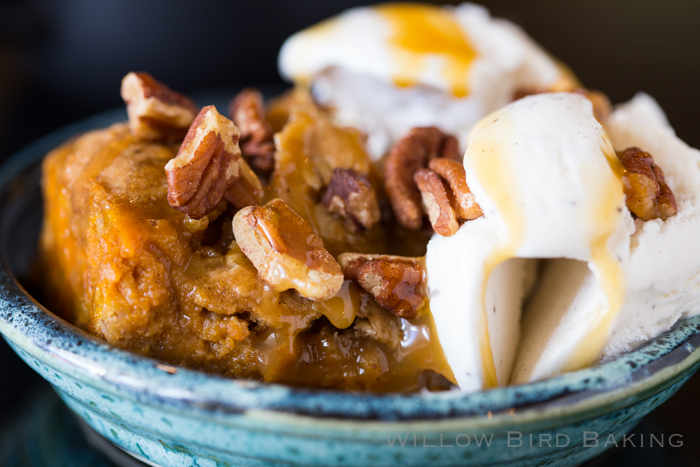 My old habits died hard (and some of them are still hanging on). I was finally diagnosed with ADHD at 31 years old, but so far I haven't found the right medication for me. I'm relying instead on the coping skills I've pieced together over three decades: redundant alarms and reminders, lists, and routines. Even still, I manage to forget that plants need water to stay alive and to lock my keys in my car on a regular basis.
Let's chat (over some delicious Pumpkin Pie Carmelitas, perhaps)? What are your favorite time management and organization tricks? What keeps you on track with your to-do list?
One year ago: Pumpkin Cheesecake Cinnamon Rolls
Two years ago: Easy Homemade Peach Cobbler
Three years ago: Vanilla Custard Soaked Pumpkin Poke Cake
Four years ago: Pumpkin Spice Pull-Apart Bread with Butter Rum Glaze
Five years ago: Assorted Donut Muffins
Six years ago: Mini-Pies: Pumpkin, Peach Crisp, and Sour Cream Apple

Pumpkin Pie Carmelitas
All the gooey, oatmeal goodness of regular carmelitas with a delicious pumpkin twist for fall! These are so delicious warmed up with a big scoop of vanilla bean ice cream.
Author:
Willow Bird Baking
Ingredients
Carmelitas Ingredients:
1/2 cup butter, softened
3/4 cup packed brown sugar
1/4 cup packed dark brown sugar
1 egg
1 teaspoon vanilla
1/2 teaspoon baking soda
1/2 teaspoon cinnamon
1/8 teaspoon salt
1 1/4 cups all purpose flour
1 1/2 cups quick-cooking rolled oats
1/2 cup chopped pecans
caramel sauce (store-bought or homemade)
Filling Ingredients:
1/4 cup plus 2 tablespoons granulated sugar
1/2 teaspoon ground cinnamon
1/4 teaspoon salt
1/4 teaspoon ground ginger
1/8 teaspoon ground cloves
1 egg, lightly beaten
3/4 cup plus 2 tablespoons pumpkin puree
3/4 cup evaporated milk
Instructions
Preheat the oven to 350 degrees and line a baking sheet with foil. Line a 9-inch square baking pan with parchment paper, leaving an overhang that will help you to pull the bars out later. Spray the paper a little with cooking spray.
Toast the pecans by spreading them on the foil-lined baking sheet and baking for around 6-7 minutes, tossing occasionally, until fragrant. Set them aside.
Beat the butter in a large mixing bowl until fluffy. Add the brown sugars and cream until fluffy, 2-3 minutes, scraping down the bowl as needed. Beat in egg, vanilla extract, baking soda, cinnamon, and salt. Add the flour slowly, mixing until just combined, and then stir in the oats. Press about 2/3 of the dough into your parchment-lined pan, covering the bottom.
In a small bowl, whisk together the sugar, cinnamon, salt, ginger, and cloves. In a large bowl, whisk together the egg, pumpkin, and this sugar mixture. Gradually whisk in the evaporated milk. Pour this mixture over the prepared base. Take pinches of the rest of your oat mixture and flatten them into "shingles" in your hands, laying them over top of your pumpkin and caramel filling until it's roughly covered.
Bake the bars for 32-35 minutes. If your top crust begins to get brown, cover the pan with foil for the last bit of baking. Let the bars cool in the pan until they are room temperature (at least two hours). Drizzle them with caramel sauce and top with toasted pecans. You can store them in an airtight container in the fridge until you're ready to serve them -- and at that point, I recommend heating them up and adding a big scoop of vanilla bean ice cream!