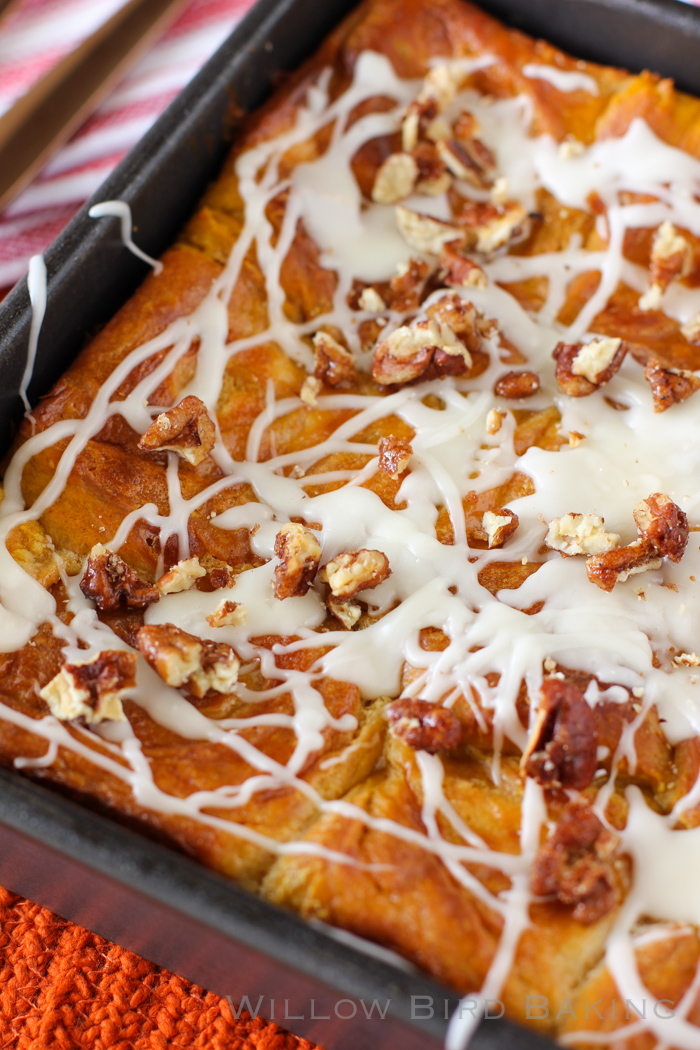 Pumpkin Cheesecake Cinnamon Rolls
I think there's a rule somewhere that you're not allowed to share all of your admirable ideologies without also sharing some embarrassing missteps, so here you go.

A woman and I entered the elevator of my apartment complex together the other day. She was in a wheelchair. We said hello to one another and she was very kind and chatty.
After a few exchanges she said, "This is new, so I'm still getting used to it!" I didn't know what she meant, but my brain immediately assumed she meant her wheelchair. It was at the forefront of my mind, so why wouldn't that be what she meant?
I said, "Oh, nice. Did you have a similar one before?" She gave me a puzzled look. My heart sped up a tad. I prepared one of my feet for mouth-sticking.
"Oh. You . . . what's new? You didn't mean your chair?"
No. No, she didn't mean her chair.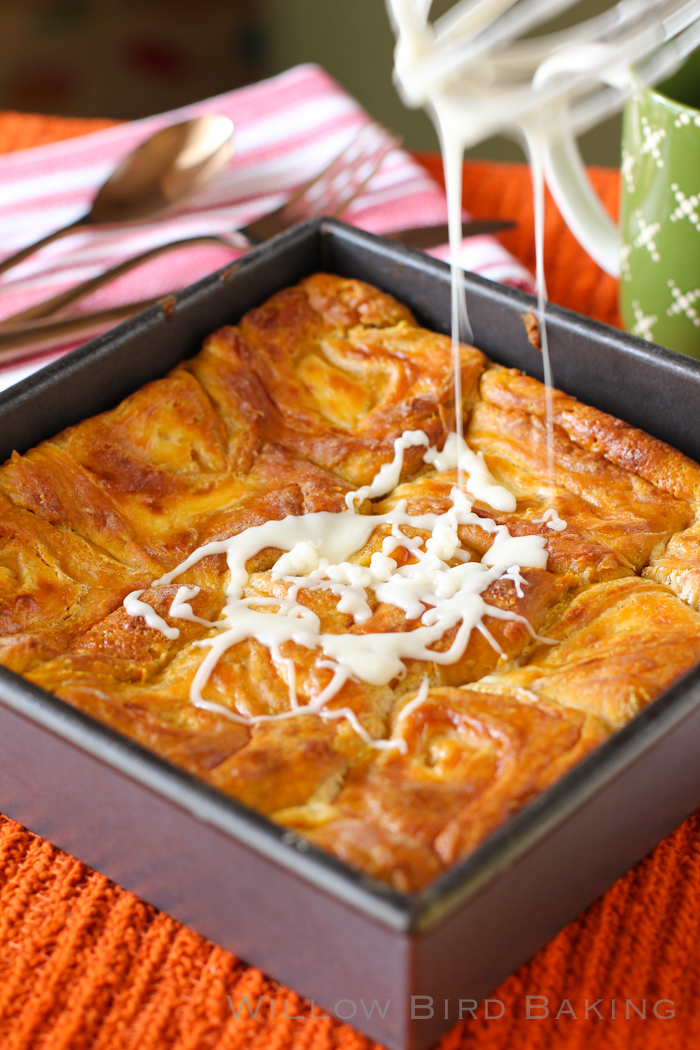 "Oh, no. The apartment complex is new to me!" she smiled sweetly, not seeming the slightest bit annoyed by my assumption.
"Oh, welcome! We love it here!" I said, adding a hasty goodbye when I got to my floor. I proceeded to die of embarrassment in the hallway outside my door.
It was an honest mistake and it wasn't the end of the world. Who knows? She might not have thought twice about it. But it did reveal a hidden thought process in my mind that I want to adjust: a thought process that assumes that people's different abilities are their only story. Oops. I appreciate her generosity towards me, but I still recognize the need for some reflection on my part.
We're always works in progress, right?
* * *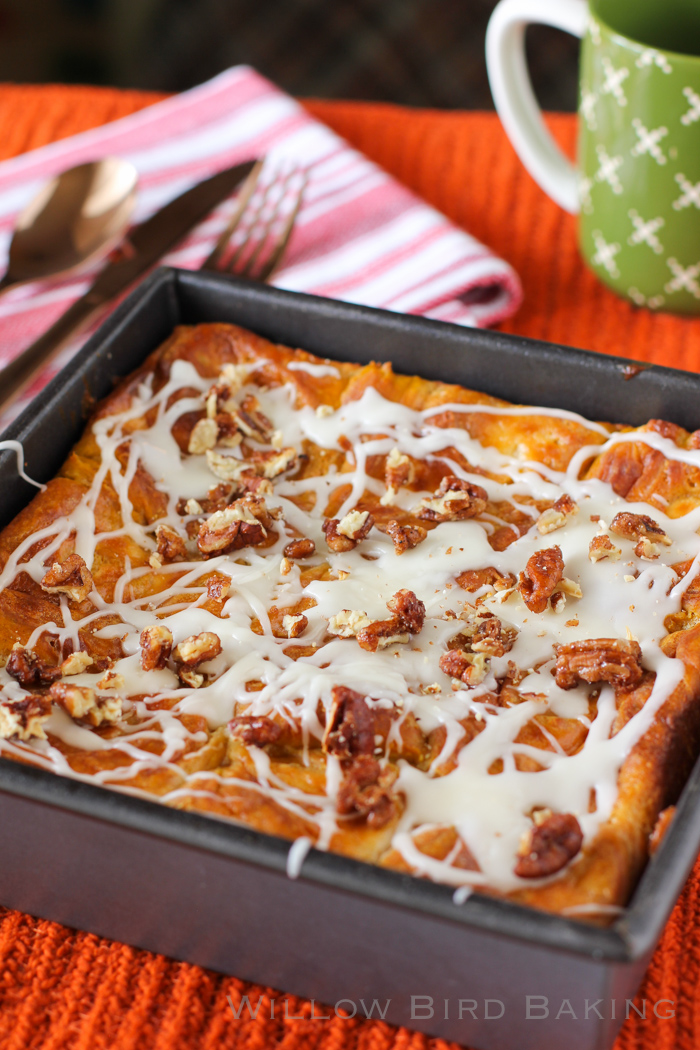 Let's put these cinnamon rolls in our mouths instead of our feet, shall we? Pumpkin tastes much better than feet.
These Pumpkin Cheesecake Cinnamon Rolls are all gussied up for fall. They start with a pumpkin yeast dough that gets filled with a thick cheesecake mixture before being rolled up, baked, glazed, and topped with Maple Candied Pecans, because why not? Enjoy!
When have you found your foot in your mouth recently?

One year ago: Sausage & Corn Chile Con Queso Taco Ring
Two years ago: Vanilla Custard Soaked Pumpkin Poke Cake
Three years ago: Pumpkin Spice Pull-Apart Bread with Butter Rum Glaze
Four years ago: Chocolate Peanut Butter Bliss Cheesecake
Five years ago: Mini-Pies: Pumpkin, Peach Crisp, and Sour Cream Apple
Pumpkin Cheesecake Cinnamon Rolls

---


Recipe by: Willow Bird Baking
Yield: around 24 rolls

PUMPKIN CINNAMON ROLLS WITH CHEESECAKE FILLING. That is all. OH WAIT, plus maple candied pecans! Okay, that is all.

Roll Ingredients:
1 package (2 1/4 teaspoons) active dry yeast
1/4 cup warm water (100-110 degrees F)
2 tablespoons white vinegar
2 cups milk minus 2 tablespoons, room temperature
2/3 cup cold shortening
3 tablespoons sugar
1 teaspoon salt
1 teaspoon baking soda
1 teaspoon baking powder
1 tablespoon ground cinnamon
1 teaspoon fresh ground nutmeg
1/4 teaspoon allspice
1/8 teaspoon ground cloves
1 (15-ounce) can pumpkin puree
6 cups flour
2 tablespoons butter, melted, for after baking

Filling Ingredients:
2 (8-ounce) packages cream cheese, softened
1/2 cup sugar
1 egg, room temperature
1 stick salted butter (or 1 stick unsalted butter and 1/4 teaspoon salt), melted

Glaze Ingredients:
4 tablespoons butter
2 cups powdered sugar
1 teaspoon vanilla extract
3 to 6 tablespoons hot water
Maple Candied Pecans, for topping

Directions:
Note on proofing: This yeast dough proofs for a couple of hours after you mix it up, and then the assembled rolls proof in the fridge overnight, so allow for this when planning to make this recipe. With most cinnamon rolls recipes you could switch this and proof in the fridge overnight and then assemble and proof on the countertop, but I opted to switch that method with these because I didn't want the cream cheese filling sitting out too long.

Note on yield: I don't recommend halving yeast recipes; instead, if you don't want 24 rolls at once, consider freezing some for later.

Note on freezing: To freeze some of the unbaked rolls, just wrap them well before the second rise and freeze them. Once frozen, pop them out of the pan all together and store in the freezer, wrapped in plastic wrap and in a zip top bag or wrapped in foil. When you want to bake them, stick them back in a greased pan, thaw them in the fridge overnight, proof for the instructed amount of time, and bake like usual.

Make dough and do first proof: Mix the warm water and yeast in a medium bowl and let the yeast foam for about 10 minutes. Put 2 tablespoons white vinegar in a measuring cup and then add milk up to the 2 cup line. Set this aside. In a separate large bowl (or the bowl of a mixer fitted with a dough hook), whisk together flour, sugar, salt, baking soda, baking powder, cinnamon, nutmeg, allspice, and cloves and cut the shortening into the mixture with two knives or a pastry cutter until the shortening looks like small peas. Stir yeast mixture, milk mixture, and can of pumpkin into the dry ingredients and mix well, kneading just a few turns. Transfer the dough to a bowl lightly sprayed with cooking spray, cover tightly with plastic wrap, and proof in a warm, draft-free place (such as a closed, turned-off oven), for around 2 hours or until doubled in size.

Prepare filling: After proofing the dough, lightly spray a 9 x 13-inch baking dish (glass works best) with cooking spray. Cream the softened cream cheese in a medium bowl until fluffy before adding sugar and egg. Mix together until well combined.

Roll and assemble: Turn the dough out onto a floured surface and roll it into a large rectangle about 1/8-inch thick (I carefully cut the dough in half and worked with half at a time to make it more manageable; if you do this, just spread on half of the filling ingredients for each half you roll). Spread the melted butter over the surface of the rolled dough. Dollop the cream cheese mixture all across the surface, spreading gently to create an even layer (I use the back of two spoons to help spreading.) Gently roll the dough up into a spiral (I find using a bench scraper to encourage the dough to roll up during this process incredibly helpful) and cut it into 2-inch rolls, placing them close together in your prepared baking dish (at this point, you could wrap and freeze the rolls for later if you wanted.)

Proof and bake: Cover the rolls let them rise in the fridge overnight (they will have nearly doubled.) When you're ready to bake, preheat the oven to 400 degrees F, letting the rolls rise on top of the preheating oven covered by a clean dish towel for around 1 hour. Bake them for about 25-30 minutes or until lightly browned on top (don't underbake or they'll still be doughy in the center, but be ready to cover them with a sheet of foil in case the cream cheese layer starts to brown.) Brush with 2 tablespoons melted butter and return to the oven for 1 more minute. Whisk together the melted butter, powdered sugar, and vanilla for the glaze. Add water 1 tablespoon at a time until you reach desired consistency. Drizzle over slightly warm rolls. Top with Maple Candied Pecans.