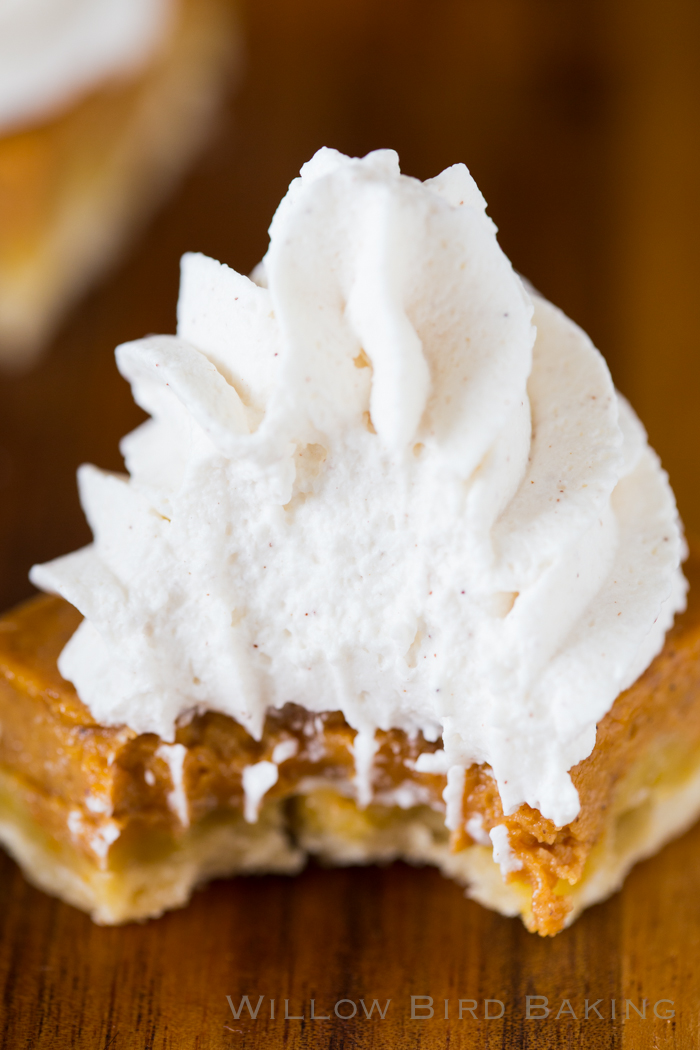 Pumpkin Pie Shortbread Bars with Maple Cinnamon Whipped Cream
I love pumpkin so much that it's basically my husband, but honestly? I don't get pumpkin pie. What's with that stuff? There's always way too much custard to taste any crust. And the crust is usually just a soggy mess anyway. The whipped cream is always a tragically tiny dollop. And this is a Thanksgiving staple? It's just sad.
So I fixed it for you.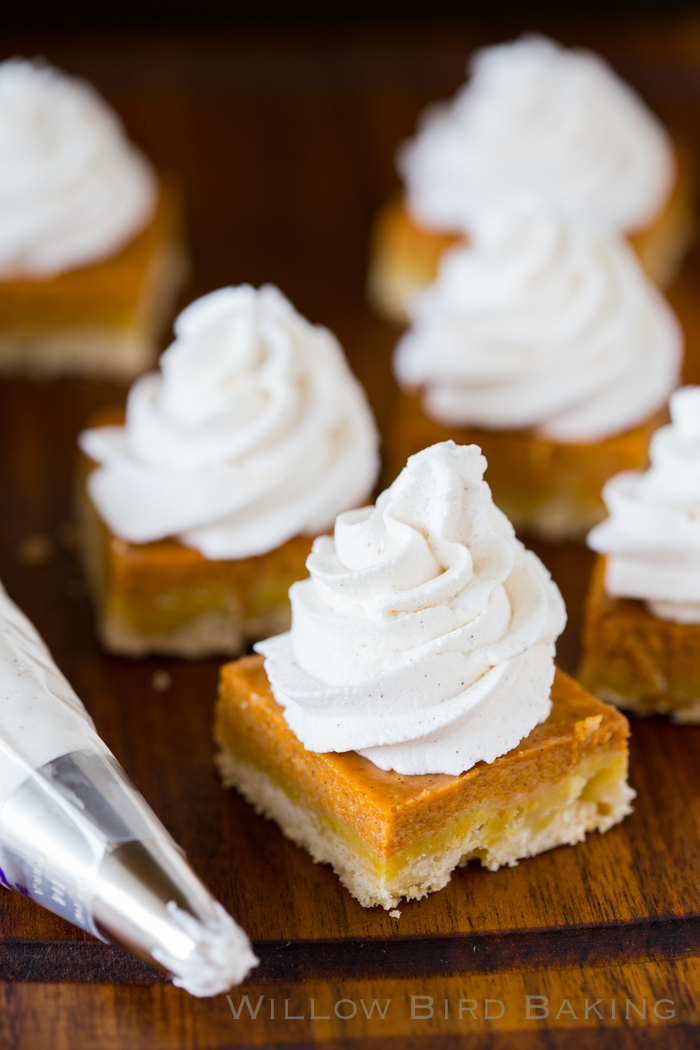 First, I fixed the proportion issue. I wanted to beef up the crust so you get more of that buttery, flaky wonderfulness. Shortbread was the obvious choice! A thick shortbread crust holds its own in this dessert.
Next, I halved the pumpkin custard. You can enjoy how it complements the crust now that there's not a gallon of it.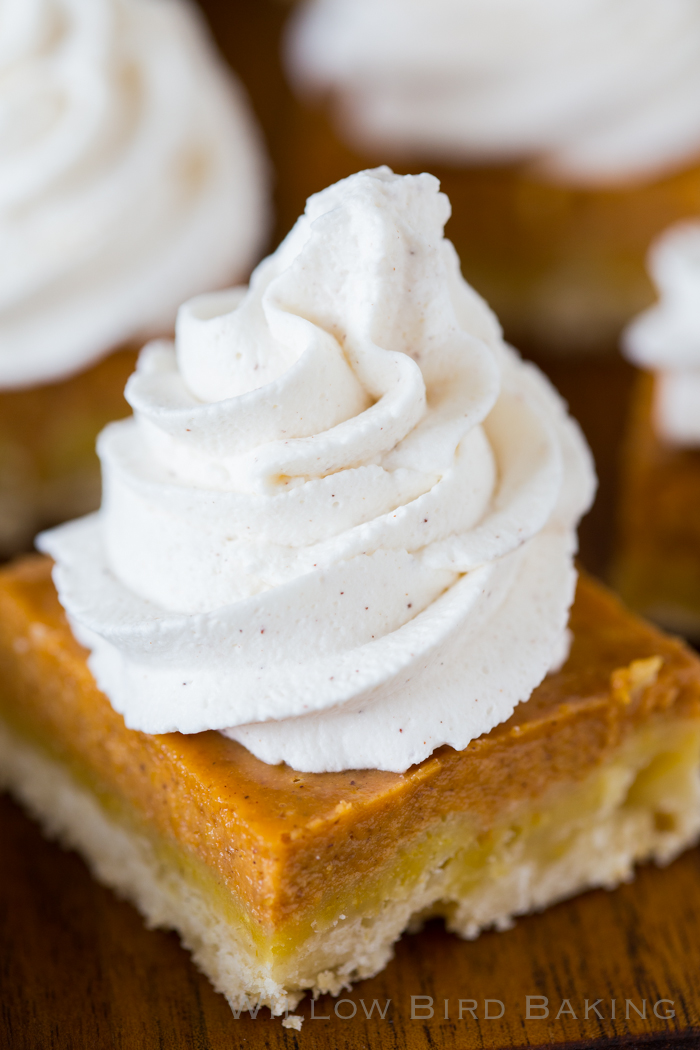 Finally, I topped the whole dessert with this insane Maple Cinnamon Whipped Cream. The recipe below makes about twice what you need, but trust me when I tell you that you should make all of it. You'll want the extra to eat alongside your bars, even if they're piled high like mine! It is SO GOOD. It'd be amazing on a pumpkin cheesecake, pumpkin waffles, a pumpkin spice latte, apple fritters — you name it. (By the way, I found my maple extract at Target, but I'm sure you can also find it online.)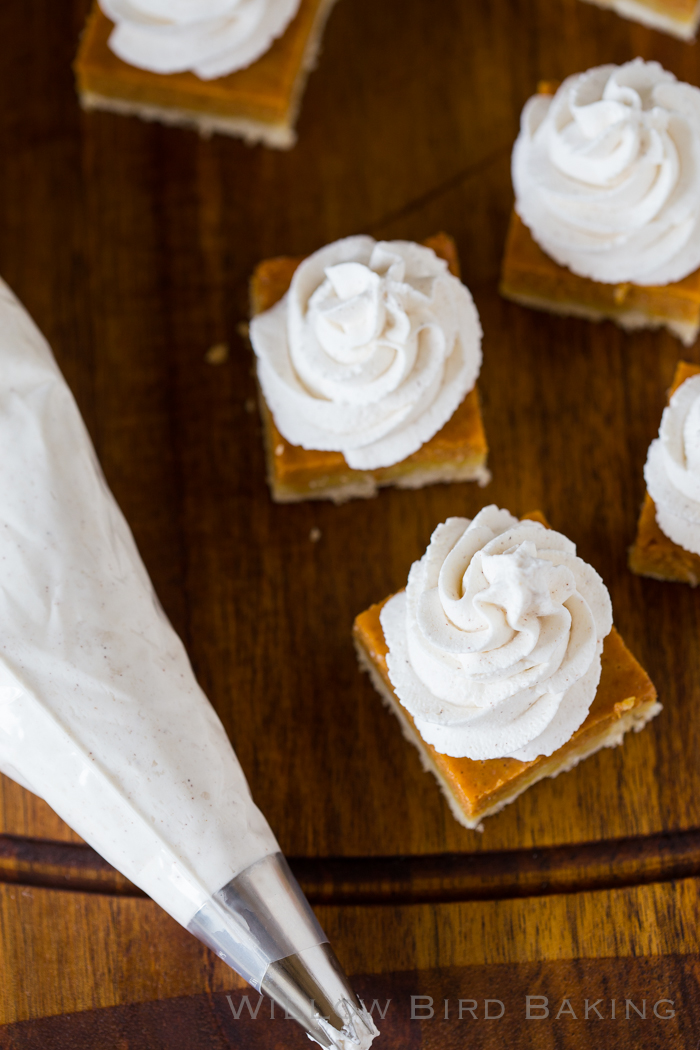 There you have it: my pumpkin pie makeover! I can't count how many times someone has told me that they love pumpkin, "just not pumpkin pie." This recipe is for those people. And frankly, even if you love pumpkin pie, I'm betting you'd love this version too. Enjoy!
One year ago: Pumpkin Maple Pecan Rolls (with Pumpkin Cream Cheese Icing!)
Two years ago: Pumpkin Cheesecake Pillow Popovers
Three years ago: Gooey "German" Pumpkin Skillet Cake
Four years ago: Cheap and Simple Taco Pockets
Five years ago: Gulab Jamun with Caramelized Bananas
Six years ago: Homemade Puff Pastry and Vol-au-vents

Pumpkin Pie Shortbread Bars with Maple Cinnamon Whipped Cream
Boring old pumpkin pie has too much pumpkin custard, a soggy crust, and a sad dollop of whipped cream. These bars fix the mixed-up proportions, pairing a buttery shortbread crust with an equal amount of pumpkin custard. A mountain of incredible maple cinnamon whipped cream rounds out the fall dessert you won't be able to get enough of!
Author:
Willow Bird Baking
Ingredients
Shortbread Crust Ingredients:
1 cup all-purpose flour
1/4 cup powdered sugar
pinch of salt
1/2 cup butter
Filling Ingredients:
1/4 cup plus 2 tablespoons granulated sugar
1/2 teaspoon ground cinnamon
1/4 teaspoon salt
1/4 teaspoon ground ginger
1/8 teaspoon ground cloves
1 egg, lightly beaten
3/4 cup plus 2 tablespoons pumpkin puree
3/4 cup evaporated milk
Maple Cinnamon Whipped Cream Ingredients:
2 cups heavy whipping cream
1/2 cup powdered sugar
1/2 teaspoon cinnamon
1 teaspoon maple extract
Instructions
Make the shortbread. Preheat your oven to 350 degrees F. Line an 8-inch square baking pan with a foil sling. Process the flour, powdered sugar, and salt together for a few seconds before adding in the chunks of cold butter. Cut the butter into the flour mixture with about 6-8 pulses or until it looks like small peas. Press the mixture into the baking dish with the flat bottom of a glass or small dish. Bake for 20 minutes or until very lightly browning.
While the shortbread bakes, make the pumpkin pie filling. In a small bowl, whisk together the sugar, cinnamon, salt, ginger, and cloves. In a large bowl, whisk together the egg, pumpkin, and this sugar mixture. Gradually whisk in the evaporated milk. Pour this mixture over the prepared shortbread crust. Bake at 350 degrees for 32-35 minutes or until pumpkin custard reaches 160 degrees on an instant-read thermometer. Cool for at least 2 hours (I put mine in the fridge after 30 minutes).
When your bars are cool, make the maple cinnamon whipped cream. Combine whipping cream, powdered sugar, cinnamon, and maple extract in the bowl of an electric mixer and whip to stiff peaks. Lift bars out of the pan using the foil sling and cut into 16 squares. Pipe a big puff of maple cinnamon whipped cream on each one. Serve bars with extra maple cinnamon whipped cream on the side.