Pumpkin Pie Carmelitas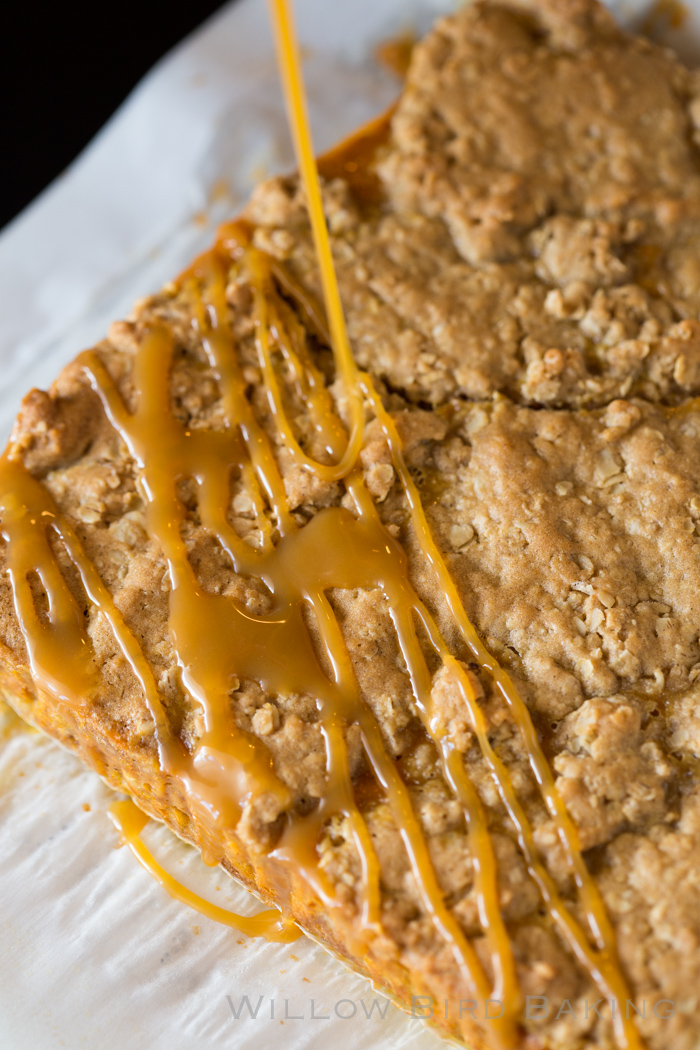 Author:
Willow Bird Baking
1/2 cup butter, softened
3/4 cup packed brown sugar
1/4 cup packed dark brown sugar
1 egg
1 teaspoon vanilla
1/2 teaspoon baking soda
1/2 teaspoon cinnamon
1/8 teaspoon salt
1 1/4 cups all purpose flour
1 1/2 cups quick-cooking rolled oats
1/2 cup chopped pecans
caramel sauce (store-bought or homemade)
1/4 cup plus 2 tablespoons granulated sugar
1/2 teaspoon ground cinnamon
1/4 teaspoon salt
1/4 teaspoon ground ginger
1/8 teaspoon ground cloves
1 egg, lightly beaten
3/4 cup plus 2 tablespoons pumpkin puree
3/4 cup evaporated milk
Preheat the oven to 350 degrees and line a baking sheet with foil. Line a 9-inch square baking pan with parchment paper, leaving an overhang that will help you to pull the bars out later. Spray the paper a little with cooking spray.
Toast the pecans by spreading them on the foil-lined baking sheet and baking for around 6-7 minutes, tossing occasionally, until fragrant. Set them aside.
Beat the butter in a large mixing bowl until fluffy. Add the brown sugars and cream until fluffy, 2-3 minutes, scraping down the bowl as needed. Beat in egg, vanilla extract, baking soda, cinnamon, and salt. Add the flour slowly, mixing until just combined, and then stir in the oats. Press about 2/3 of the dough into your parchment-lined pan, covering the bottom.
In a small bowl, whisk together the sugar, cinnamon, salt, ginger, and cloves. In a large bowl, whisk together the egg, pumpkin, and this sugar mixture. Gradually whisk in the evaporated milk. Pour this mixture over the prepared base. Take pinches of the rest of your oat mixture and flatten them into "shingles" in your hands, laying them over top of your pumpkin and caramel filling until it's roughly covered.
Bake the bars for 32-35 minutes. If your top crust begins to get brown, cover the pan with foil for the last bit of baking. Let the bars cool in the pan until they are room temperature (at least two hours). Drizzle them with caramel sauce and top with toasted pecans. You can store them in an airtight container in the fridge until you're ready to serve them -- and at that point, I recommend heating them up and adding a big scoop of vanilla bean ice cream!