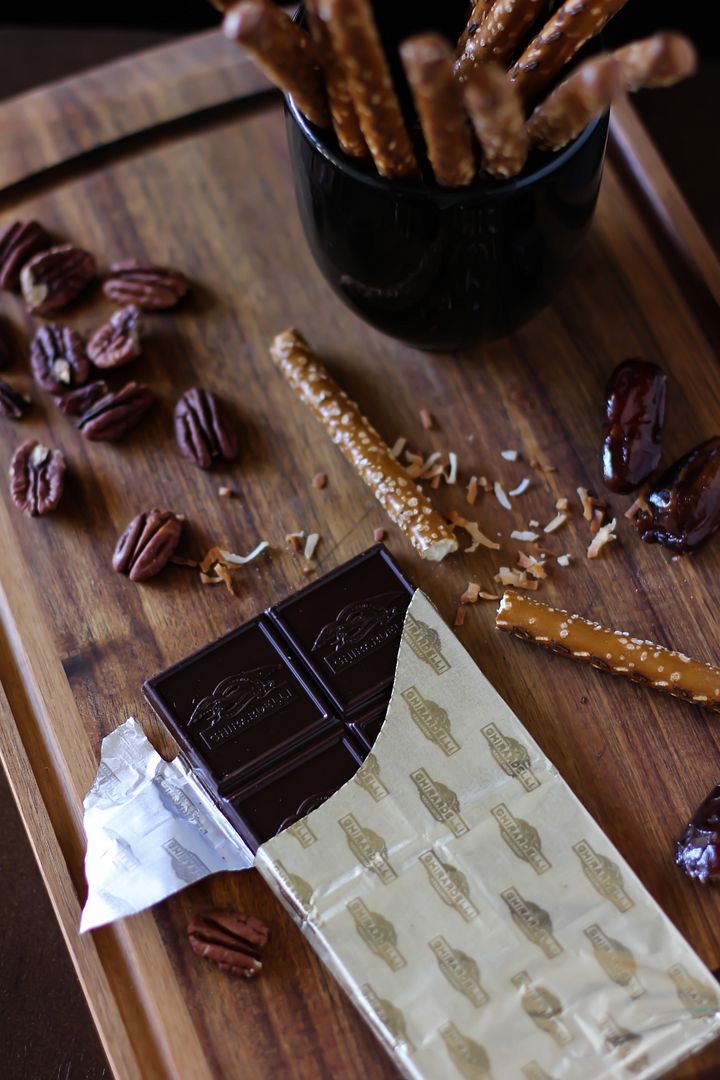 Have we talked about how I turned down the most gorgeous faucet known to humanity? No? Let me complain for a moment, then: I received an email offering me a free faucet. I get these sort of emails all the time — they offer free products to review. I usually ignore them or politely decline. And a faucet would've sounded decidedly pedestrian to me until I had my own residence to furnish. But it just so happened that when I got this particular email, I was knee-deep in decorating my new apartment with hip art prints and succulents. And this faucet — this gorgeous faucet! — had the supple curves of a swan's neck, a built-in hidden sprayer, and a broad array of snazzy finishes.
OH, the faucet!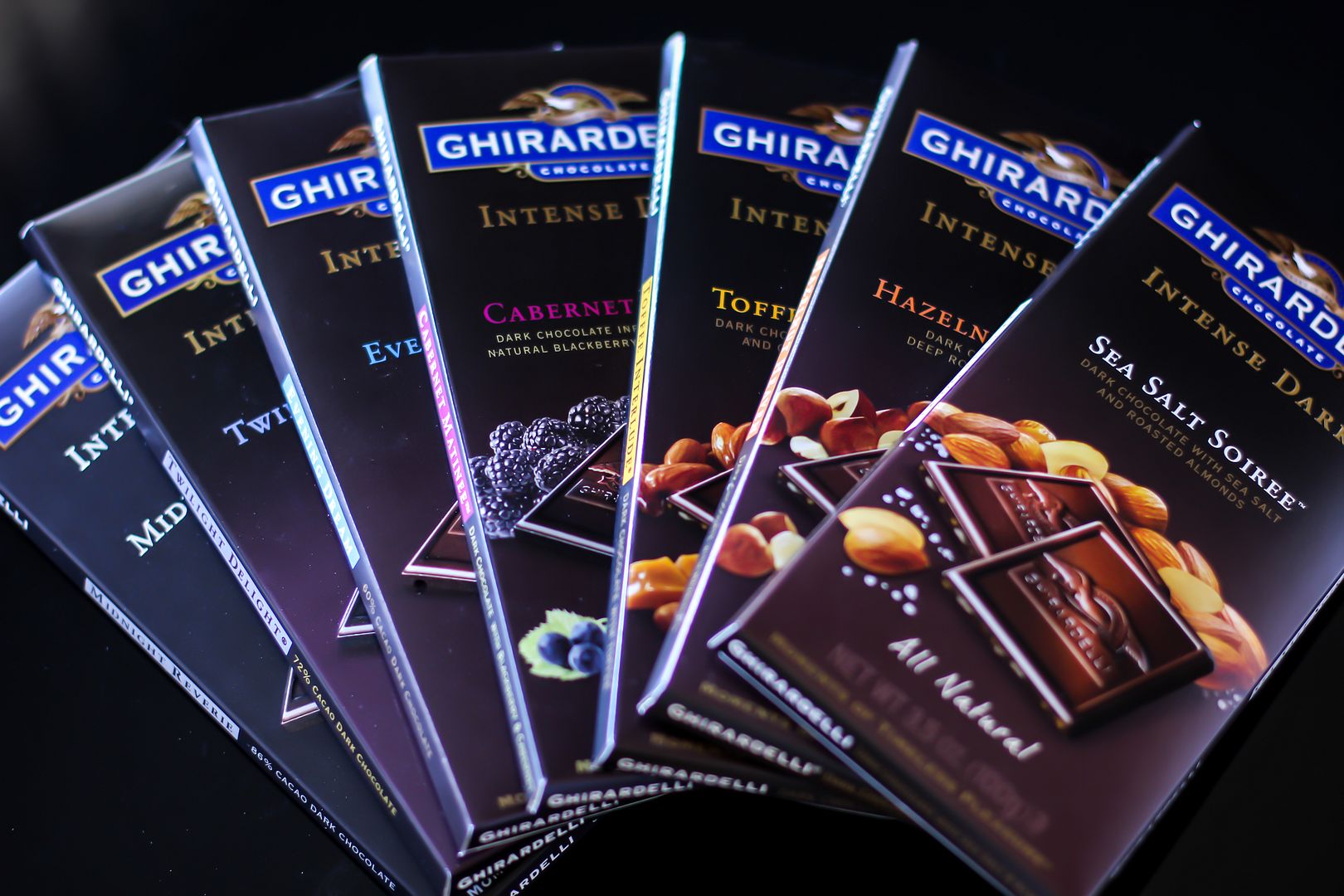 My current faucet has a rusty, bent aerator and makes a squeaky noise every time you turn it on. Just as a frame of reference. Just so you fully understand my desire for this glorious, free, swan's-necked-snazzy-finished faucet.

my favorite!
But (a few tears shed on my behalf would be welcome here) I turned down the offer. I would've had to review it here on Willow Bird Baking, and since I didn't already use that brand and wouldn't have had an opportunity to compare it to others (besides my rusty-bent-squeaky one, anyway), I didn't feel like it would be a very balanced review. And even though it was a beautiful faucet, Willow Bird Baking is about food, community, life lessons, and kitchen confidence. When some of the blogs I've loved in the past began to look more like review sites, littered with products and sponsored posts, I lost interest. It seemed less personal, less important, and less authentic.
I say all this so that when I start squealing like a fangirl about Ghirardelli in a moment, you know that it's coming from me, Julie, who doesn't do product reviews without a really great reason (and who may or may not have stress-eaten about 3 of these Ghirardelli Intense Dark Chocolate bars before my first Willow Bird Baking Challenge hangout the other week. No comment.)
But seriously, I'm an old-school Ghirardelli lover. After watching America's Test Kitchen choose their 60% cacao chips in a taste-test years ago, I tried them for myself and was hooked. I now use them in almost every recipe calling for chocolate. That's pretty normal. Taking touristy photos of their Willy-Wonka-esque factory in San Francisco like I was on a flippin' pilgrimage probably isn't.
Regarding that stress-eating, by the way . . . Ghirardelli wants me to tell you about how the Ghirardelli Intense Dark Chocolates can help you to create a perfect moment in your day. The moments I can tell you about are as follows:
-Um, that stress-eating incident.
-When Mike and I stood at the counter and taste-tested every. single. one. of the seven chocolate bars Ghirardelli sent me. And then retested them repeatedly like they were incorrigible schoolchildren.
-That one night when Mike and I piled a truckload of ice cream into a bowl with some Ghirardelli Intense Dark Chocolate squares so that I could prove to him that they were better when not combined with something cold (what, you've never proven something by contradiction? I suffer for science.)
-The morning where I didn't have anything left for breakfast so I ate a metric ton of chocolate, pretzels, dates, and leftover toasted coconut and pecans.
These aren't exactly your typical "perfect" moments. They're more your typical frazzled-schoolteacher-with-a-few-minutes-to-eat-as-much-chocolate-as-possible moments.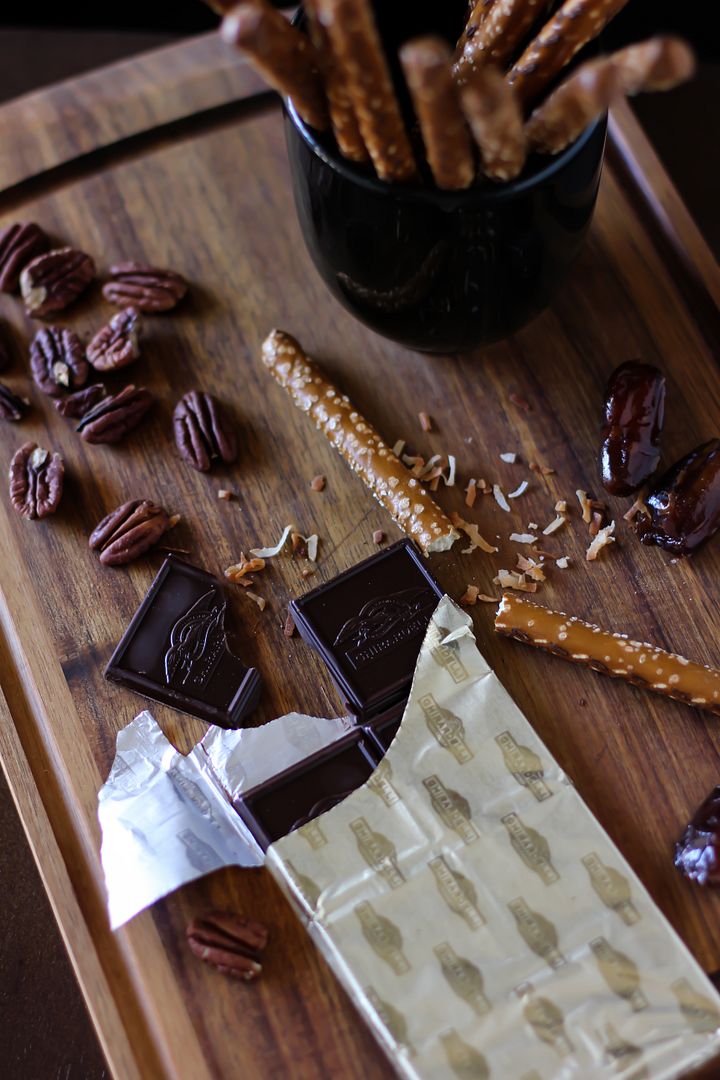 However imperfect the moments might have been, the chocolate was perfect. Smooth and rich, the taste lingers on your tongue (as long as it's warm, Mike) and pairs perfectly with so many different treats. I guess that's why the chocolate itself can serve as an oasis in the midst of a chaotic day. A moment of perfection even within the imperfection, you might say?
I can't wait to use the rest of my Ghirardelli Intense Dark Chocolates in lots of amazing recipes. In the meantime, here's a fun way you can enjoy them: paired with salty pretzel rods, juicy dates, toasted coconut, and toasted pecans. Breakfast of champions…?
Dessert Smörgåsbord with Ghirardelli Intense Dark Chocolates

---


Recipe by: Willow Bird Baking
Yield: as many servings as you'd like!

I call this a dessert smörgåsbord, but if I'm going to be real, I had this for breakfast the other day. The point is, these foods pair beautifully with Ghirardelli Intense Dark Chocolates any time of day.

Ingredients:
Salted pretzel rods
dates
toasted coconut
toasted pecans
a Ghirardelli Intense Dark Chocolate bar (I prefer the 60% cacao Evening Dream, but Hazelnut Heaven, Toffee Interlude, and Sea Salt Soirée are close behind!)

Directions:
Hunt and peck your way through the dessert smörgåsbord, combining and alternating flavors. I always advise to eat Ghirardelli chocolate with a warm drink or none at all — cold foods/drinks drastically change the experience by preventing some of the melt that occurs when you chew. That's where all the flavor is! So avoid cold milk and ice cream with your dessert buffet.

Illustrating my love for Ghirardelli's 60% Cacao chocolate: here are all the recipes where I've mentioned it on Willow Bird Baking!

---


1. German Chocolate Cheesecake
2. Fauxstess Cupcakes
3. Chocolate Coconut Cream Pie Bars
4. Chocolate Pumpkin Truffles
5. Coffee Mousse Filled Double Chocolate Chunk Cookie Sandwiches
6. Magic Bars
7. Cannoli
8. Brownie-Bottom Coconut Chocolate Cream Cake
9. Chocolatey Red Velvet Pull-Apart Bread with Cream Cheese Glaze
10. Salted Caramel Mocha Hot Chocolate

This post is brought to you by Ghirardelli Intense Dark™ Chocolate. While I was compensated for my time and groceries and provided with lots of delicious chocolate, I never, ever share products with you that I'm not personally exuberant about, and that's a promise!
If you liked this post, please:
–Subscribe to Willow Bird Baking
–Follow Willow Bird Baking on Twitter
–Follow Willow Bird Baking on Facebook