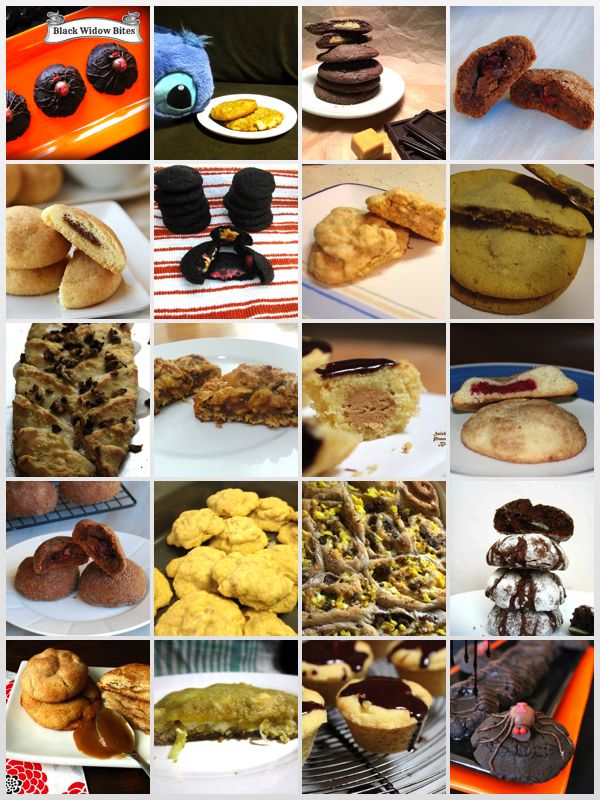 Willow Bird Baking Challenge is a 5-week series wherein I introduce a new challenge each week. The challenges require you to get creative and innovative in the kitchen. You create your dish, bake it, and send me a photo before the following weekend, when I show off the masterpieces on Willow Bird Baking!
Challenge #3 was to innovate stuffed cookies. Picky Palate first turned me on to stuffin' cookies with her insane Oreo Stuffed Chocolate Chip Cookies — always the most popular among the middle school students in my cookie baking camp! My challenge to you was to take this awesome idea and run with it, stuffing cookies with candy, truffles, or even other cookies! The results take cookies to a whole new level of creativity and deliciousness. See for yourself!
---
Paula
Paula Made: Snickerdoodle Peanut Butter Bites (see more at her blog, Vintage Kitchen Notes)
Comments:"This is my first time baking and tasting snickerdoodles. Whoever came up with that name? It's funny yet the dough of these cookies is interesting since it has oil and it creates a beyond-tender cookie.
Last week I joined Julie of Willow Bird for a weekly baking challenge that has me innovating on a recipe. I made the most amazing chorizo and mozzarella braid which was very, very well received by everyone stopping by. Today I made snickerdoodle bites filled with peanut butter and drizzled with chocolate."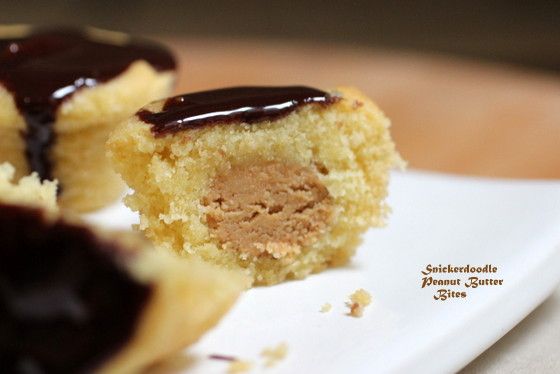 ---
Nance
Nance Made: Tiramisu Sandbakelser
Comments: "We equate chocolate chip cookies, peanut butter cookies and Oatmeal cookies as being All-American. To a Swede when we think of cookies what comes to mind are Peparkakor, Spritz and Sandbakelser's. I am not a sweets eater. Things like chocolate chips will not pass my lips. But I do love a good tiramisu. I bet you are saying to yourself, 'But there is chocolate involved in a tiramisu,' and you would be correct, but that is what I have my husband for. Even before I take one bite his job is to scrape that EVIL chocolate off the top for me. But it did get me thinkin' what if you you STUFFED a Swedish cookie with your favorite dessert? Only I think to stay in the Swedish tradition, I will stuff my cookie with a couple of lingonberries from my Christmas jar of Lingonberry sauce."
---
Shanna
Shanna Made: Filled Sachertorte cookies (see more at her blog, Pineapple and Coconut)
Comments: "These filled cookies were a challenge to make, but I really liked the end result. Something fun about biting into a big, rich chocolaty cookie to find a surprise filling of more chocolate and cherries. A fun twist on a traditional cookie that's made at Christmastime in my family."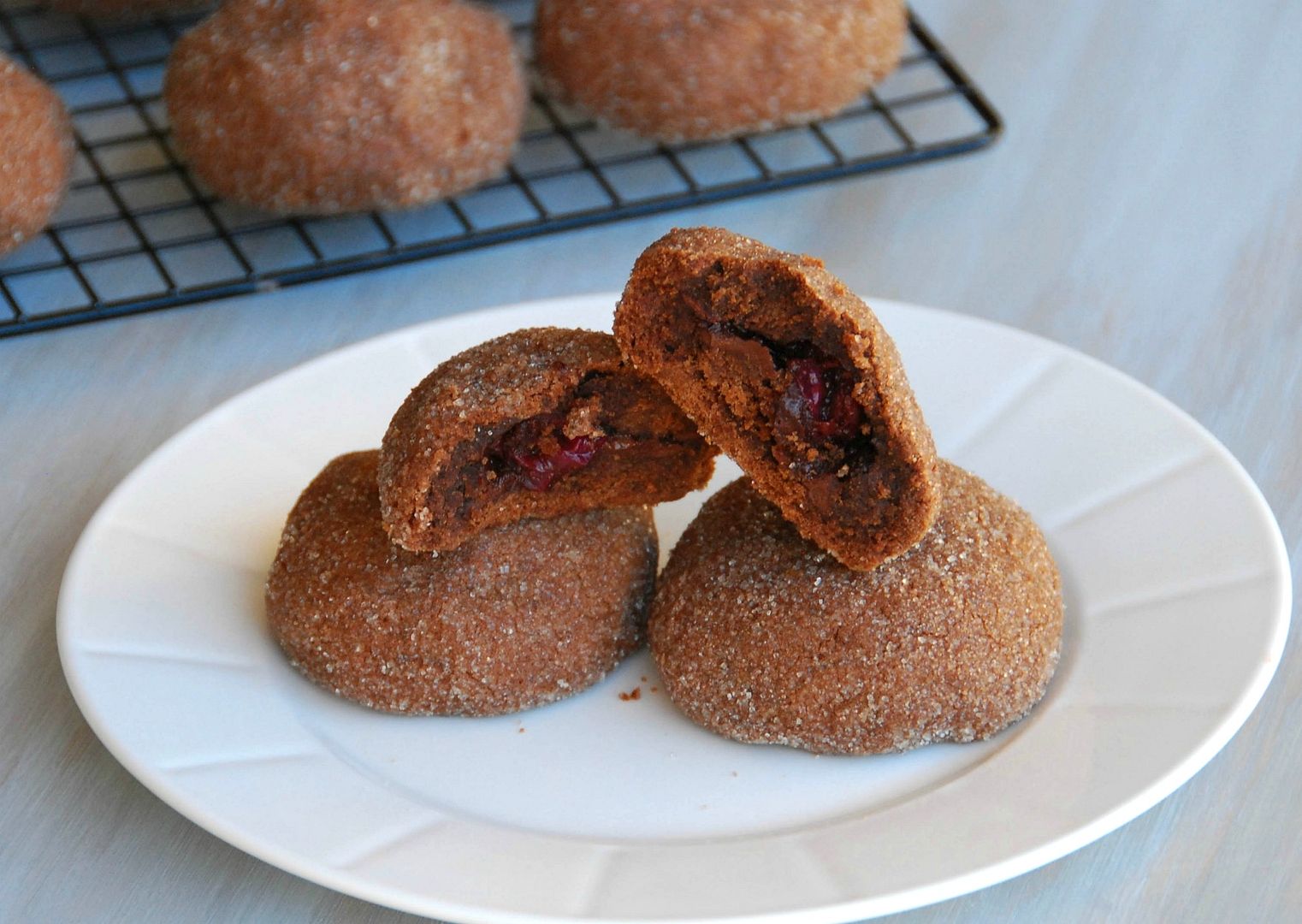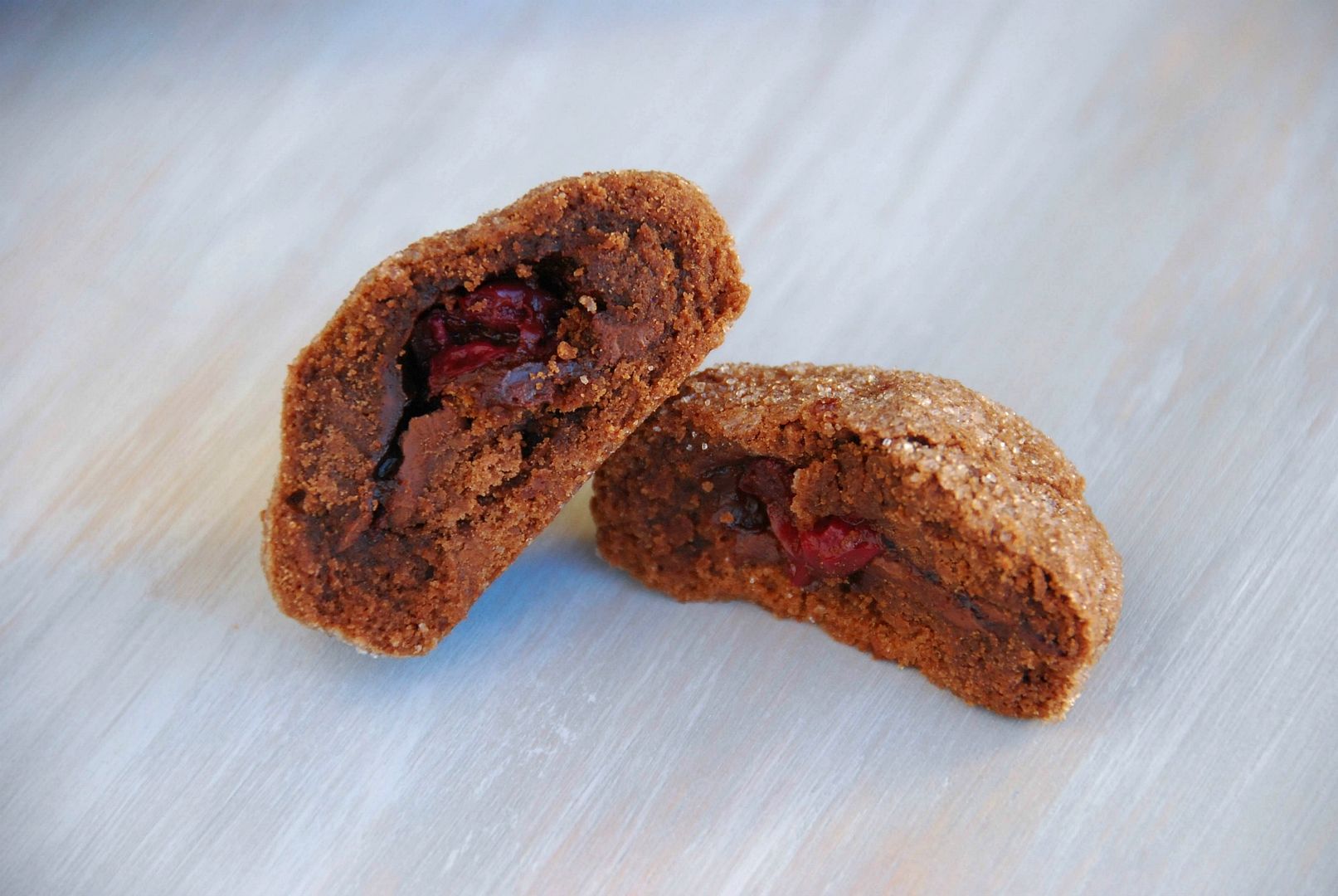 ---
Nathan
Nathan Made: Lemon Cayenne Maple Cookies
Comments: "After you said you couldn't do a savory cookies, I set out to find something different. I got the lemon cayenne cookie recipe from grownupcookies.com and stuffed them with maple cream cookies. My friends and co-workers all enjoyed the cookies, and one person specifically mentioned the stuffed cookie as his favorite part. Warning: These cookies were very spicy, so if you make them you might want to cut back on the cayenne a bit."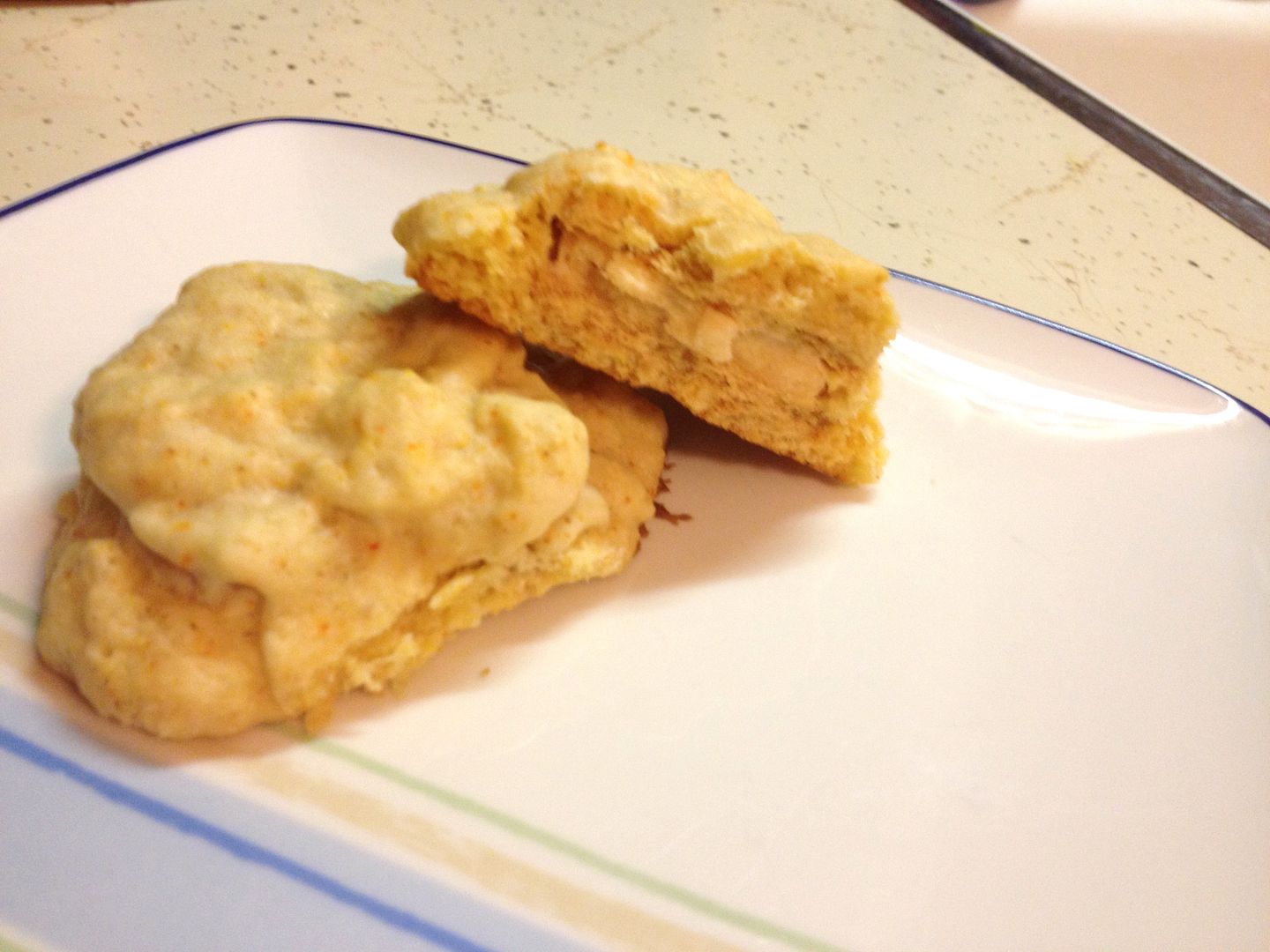 ---
Evangeline
Evangeline Made: Peanut Butter Cup Stuffed Cowgirl Cookie
Comments:"I'm a big fan that has been following your blog for a while. I have always loved to cook, but having a full-time day corporate job and being mom to a busy toddler often limits how much time I get to 'play' in the kitchen! The Baking Challenge has been the push I needed! I innovated the chocolate chip cookie dough recipe you suggested and made a 'Cowgirl' cookie (oats, toffee chips, mini choc chips & crushed salted pretzels) then I stuffed it with a peanut butter cup."
---
Ala
Ala Made: Pina Colookies (with a Cheesecake Surprise!) (see her blog Wallflour Girl)
Comments: "There may have been a tad more guilt involved in the making of this amazing amalgamation, which was entirely in keeping with the theme of Stitch's rather mutant, unknown history. And really, what better way to celebrate a fictional account of an alien apocalypse in Hawaii than to make a fun, tropics-themed dessert?"
---
Heather
Heather Made: Samoa Stuffed Sugar Cookies (see more at her blog Bake Run Live)
Comments: "I love Samoa's (Girl Scout cookies) for their delicious combination of caramel, coconut, and chocolate. So, I decided that was going to be the "stuff" in my stuffed cookies! A simple, but delicious sugar cookie allows the filling to really shine!"
---
Robyn
Robyn Made: Chocolate Peanut Butter Caramel Cookies (see more at her blog, Almacucina)
Comments: "With Halloween less than two weeks away I wanted to take my cue from all the candy I'm seeing everywhere. Chocolate, caramel and peanut butter first came to mind. But do I do a vanilla cookie and fill it with chocolate and peanut butter? Or a peanut butter cookie filled with caramel and chocolate. Or, maybe, a chocolate cookie filled with peanut butter and caramel!? I could only try."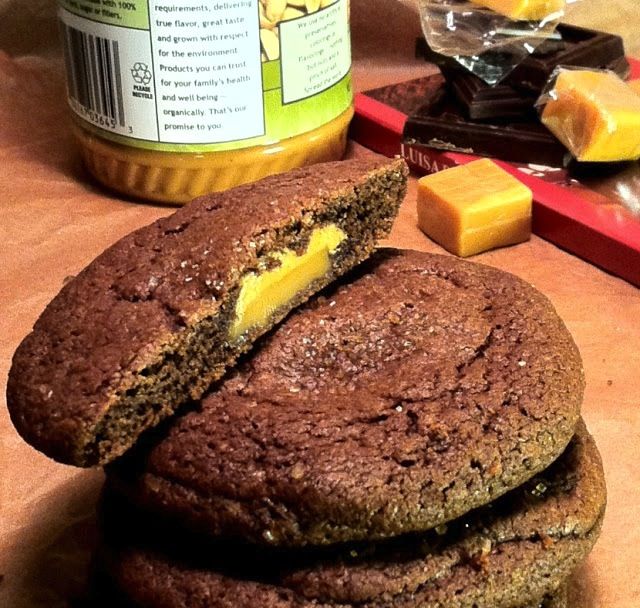 ---
Trudy
Trudy Made: Red Velvet Stuffed Snickerdoodles
Comments: "Stuffed cookies are definitely a personal favorite. I too think snicker doodles are perfect for stuffing. I made red velvet stuffed cookies, and they're delicious."
---
LeAndra
LeAndra Made: Dulce de Coco Stuffed Snickerdoodles (see more at her blog, Love & Flour)
Comments: "For this challenge I used the provided Snickerdoodle recipe and stuffed them with Dulce de Coco. Simmering coconut milk with brown sugar and a pinch of salt gives you this thick syrupy concoction that is fine for stuffing cookies. It also mixes in nicely with cream cheese. I will say the Dulce de Coco alone lent an overall new taste to the cookies as opposed to giving the sensation of biting into an obvious filling. The filling aspect was a little more noticeable with the thicker cream cheese mixture. "
---
Kelly
Kelly Made: Chocolate cookies stuffed with either: peanut butter and guava jelly, a rum-soaked cherry, strawberry cheesecake, or funfetti cheesecake!
Comments: "First, let me just say that it's Trudy's fault why I have more than one filling. Also, I'm very indecisive.I don't have to make a decision if I use all my options. Here you have chocolate cookies stuffed with peanut butter & guava jelly, a rum soaked cherry, strawberry cheesecake and funfetti cheesecake. Thanks for the cookie challenge! I've convinced myself that I am not good at cookies so they are the last things I ever bake. I can probably count the number of times that I've made cookies."
---
Shelley C.
Shelley Made: Caramelized Banana Stuffed Oatmeal Cookies (see more at her blog, C Mom Cook)
Comments: "I figured I'd go a little different from the candy-bar and truffle inspired ideas that first came to mind, and I chose oatmeal. I tried to base my idea on some breakfast cookies that I've tried before, but I went with the challenge dessert version with these sweet caramelized banana stuffed oatmeal cookies."
---
Loretta
Loretta Made: Cranberry Braid with Chocolate Drizzle (see more at her blog, A Finn in the Kitchen)
Comments: "I was so excited to hear you were doing a stuffed cookie challenge because I had a perfect cookie in mind to start up the Christmas baking. And for something so easy, it's incredible delicious! I went with a classic chocolate crinkle cookie because the chocolate goes so perfectly with mint and it looks so gorgeous. Who can honestly resist that crinkly top? It's a great choice to bake now, maybe even a double batch and throw in the freezer for when those inevitable parties start up!"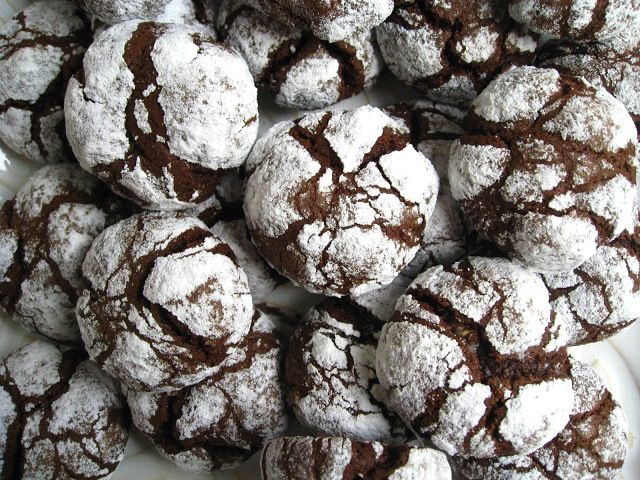 ---
Dianna
Dianna Made: Black Widow Bite Cookies (see more on her blog, The Kitchen Prep)
Comments: "Since I've yet to make anything 'Halloween-y' for my blog this month, I used your challenge as an opportunity to squeeze in some themed baking. I also discovered that I have absolutely no patience for such a thing! Give me a rustic dessert anyday… individually adhering 'eyeballs' to chocolate spiders is not my idea of a fun time! These dark chocolate cookies are 'stuffed' with raspberry jam for the perfect Halloween special effect and, if you get lazy like me, they make perfect raspberry-filled thumbprints."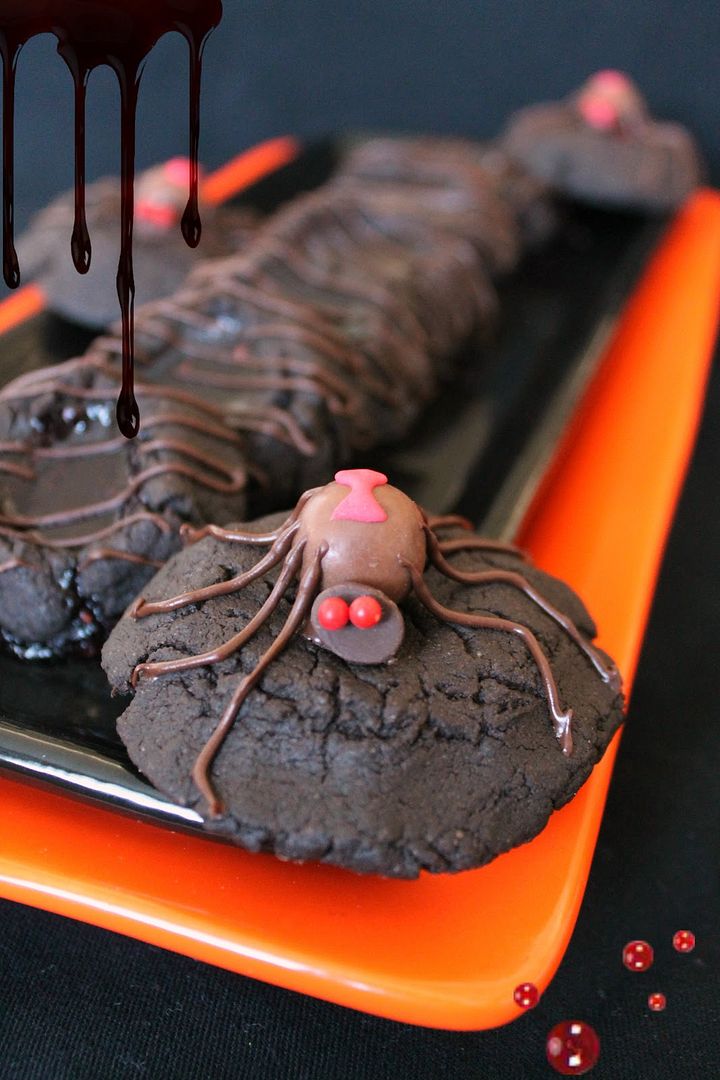 ---
Natalie
Natalie Made: Biscoff Stuffed Snickerdoodles (see more at her blog Life Made Simple)
Comments: "As some of you have probably noticed, my latest obsession is Biscoff spread. I absolutely love baking with it! So when Julie announced that the next Willow Bird Baking challenge was all about stuffed cookies, I knew exactly what to make (thanks to my mom who had just recently made snickerdoodles, both Stephen and I were craving them)."
---
And here are some innovated "cinnamon" rolls and braids left over from Challenges 1 and 2!
---
Amanda
Amanda Made: Sausage, Egg, & Cheese Rolls and a beautiful Peach, Ginger, & Cardamom Braid (see more on her blog, Treasures of the Phoenix, here and here)
Roll Comments: "Nom! These were delicious. I omitted the extra butter in the filling, and these could have used a little more something. I think that if I were to do these again – I mean when I make these again, I would drizzle them with a cheese sauce instead of a glaze. I loved the wheat blend in the flour. They came out like an breakfast sandwich in roll/bun form."
Braid Comments: "Yum! This is great breakfast food. I don't think I overworked the dough at all, and it still didn't come out airy and flaky, more like a pie crust consistency, which really works for this recipe. The addition of almond extract and the cream cheese also makes it a very full-tasting dough."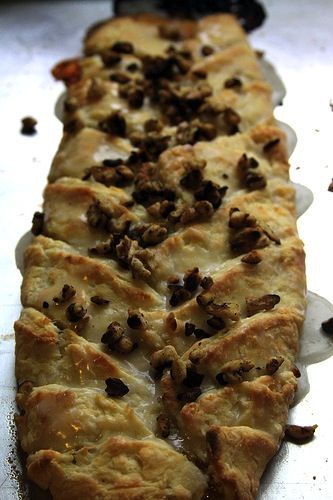 ---
Ready for Challenge #4?
Last night, Erin and Kelly jumped on Google Hangout with me to introduce Challenge #4, and here it is!
You can find some cupcake recipes here to get you started! Remember that your cupcake (or cupfake) must have a "cake" (or cake-like) base, a filling, and a frosting. Send a photo and some comments to me at julie 'at' willowbirdbaking 'dot' com by next weekend. Let's get baking!
Congratulations to all of the participants of Challenge #3 for their fantastic work!
If you liked this post, please:
–Subscribe to Willow Bird Baking
–Follow Willow Bird Baking on Twitter
–Follow Willow Bird Baking on Facebook