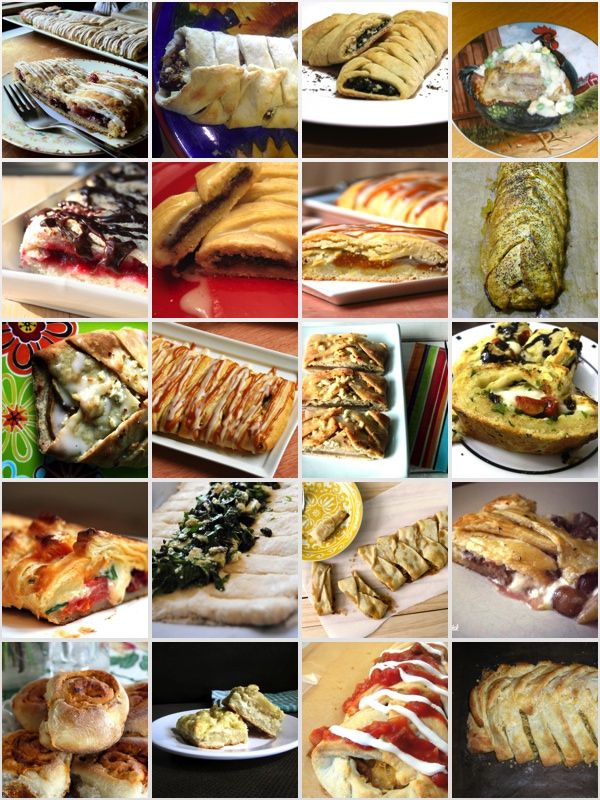 Willow Bird Baking Challenge is a 5-week series wherein I introduce a new challenge each week. The challenges require you to get creative and innovative in the kitchen. You create your dish, bake it, and send me a photo before the following weekend, when I show off the masterpieces on Willow Bird Baking!
Challenge #2 was to innovate breakfast braids. This gorgeous cream cheese dough is so easy to work with, but comes out looking beautiful and fancy. I couldn't believe all the gorgeous fillings and toppings you guys used — there were so many lovely savory and sweet braids!
---
Paula
Paula Made: Chorizo and Mozzarella Danish Braid (see more at her blog, Vintage Kitchen Notes)
Comments:"Sometimes a moment of doing nothing, idly opening a blog, reading about a challenge, going over and checking it out on another blog is just that. Another moment. But there comes a time when that same chain of events leads to an innovated recipe that blows your hat off. This is that recipe. And it left me hatless and with a crooked bow."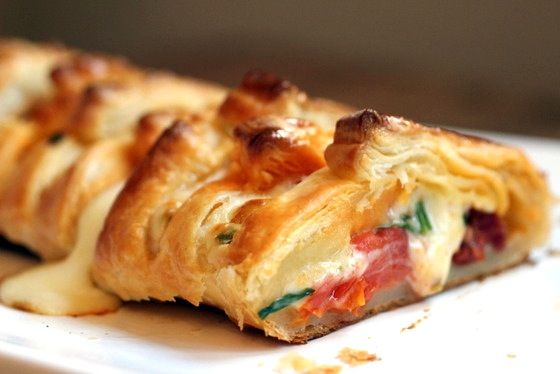 ---
Eric
Eric Made: Bruschetta Braid (see more on his Google Doc, here)
Comments: "As soon as I heard about Challenge #2, I knew what the plan was! Bruschetta Braid! Now, I know it's not really bruschetta. The whole thing that makes bruschetta bruschetta is the toasted bread. With things on top, if you want to get fancy. But basil, tomatoes, cheese, and garlic! Yum! No. No garlic. You're using a cream cheese base, you don't get to use garlic. You know how hard that is for me? I love that stuff. Seriously, if I had to pick a team, I'd have to be on Team whoever-the-werewolf-is, because the vampires sure would never get near me."
---
Amy H.
Amy Made: Cheese Onion Bacon Date Braid (see more on her Google Doc, here)
Comments: "I decided on a sort of onion bacon date filling, with blue cheese to cut the sweetness of the dates. I made a feta bread as well for the blue cheese haters in my house, and so far all the blue cheese lovers who have tried both prefer the feta version as well! Both are good, but the tangy feta wins."
---
Trudy
Trudy Made: Spinach, Ricotta and Bacon 'Mini' Braids
Comments: "Ever since Kelly made the braid last year I wanted to try it too but it just seemed so daunting I never got around to it. Man, making these braids brought me back to prep school when I would make friendship bracelets! I absolutely loved this challenge. It was so easy I feel like I totally missed out for not having done them sooner. I'll definitely have these on my breakfast menu in future."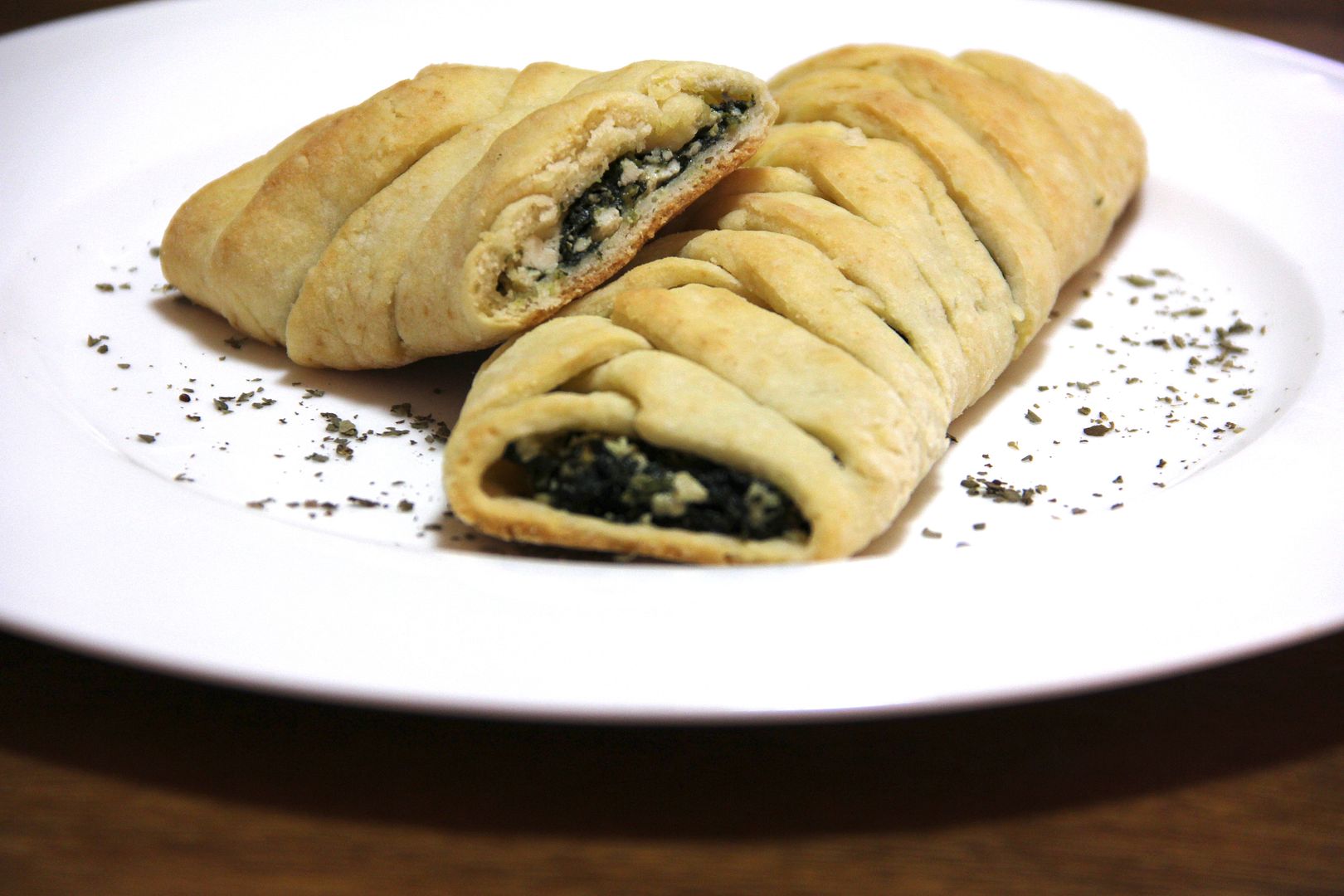 ---
Shanna
Shanna Made: Pumpkin Butter And Brown Sugar Ginger Poached Pear Braided Pastry with Spiced Caramel and Vanilla Glazes (see more at her blog, Pineapple and Coconut)
Comments: "I had recently made a batch of pumpkin butter with leftover roasted sugar pie pumpkin puree I had made for a previous recipe and was trying to think of what it would go with, besides just a spoon headed straight for my mouth. When I saw this challenge posted on twitter I knew the pumpkin butter would be perfect as a filling, but I wanted something more than just that. I had also just gotten a bag of gorgeous fresh pears in my latest CSA box this week and thought the combo of the pumpkin and pear would go awesome together in a pastry. I didn't want to just slice up the pears and add them in, I wanted to give more depth of flavor, so they were poached with brown sugar, fresh ginger and cinnamon stick. I then went a step further and reduced the poaching liquid and made the spiced caramel glaze with it. These flavors scream 'fall' in one delicious, light and not too sweet pastry. My family gave me rave reviews and my 8 year old nephew even asked for seconds."
---
Heather
Heather Made: Nutella Breakfast Braid (see more at her blog, Bake, Run, Live)
Comments: "This was a really easy dough to make and to assemble. It goes together quickly and bakes quickly too! I plan on making these again, but making individual sized ones."
---
Ala
Ala Made: Pineapple Custard Coconut "Bun" Breakfast Braid (see her blog Wallflour Girl)
Comments: "For those of you who have never eaten a pineapple bun: first, we need to fix that. Second, the bun gets its name from the pineapple pattern this layer forms on the bun post-baking, rather than any actual pineapple ingredient in the bun itself. I usually peel this part off and eat it while sneaking away in triumph. It is, unquestionably, the best part of the pastry."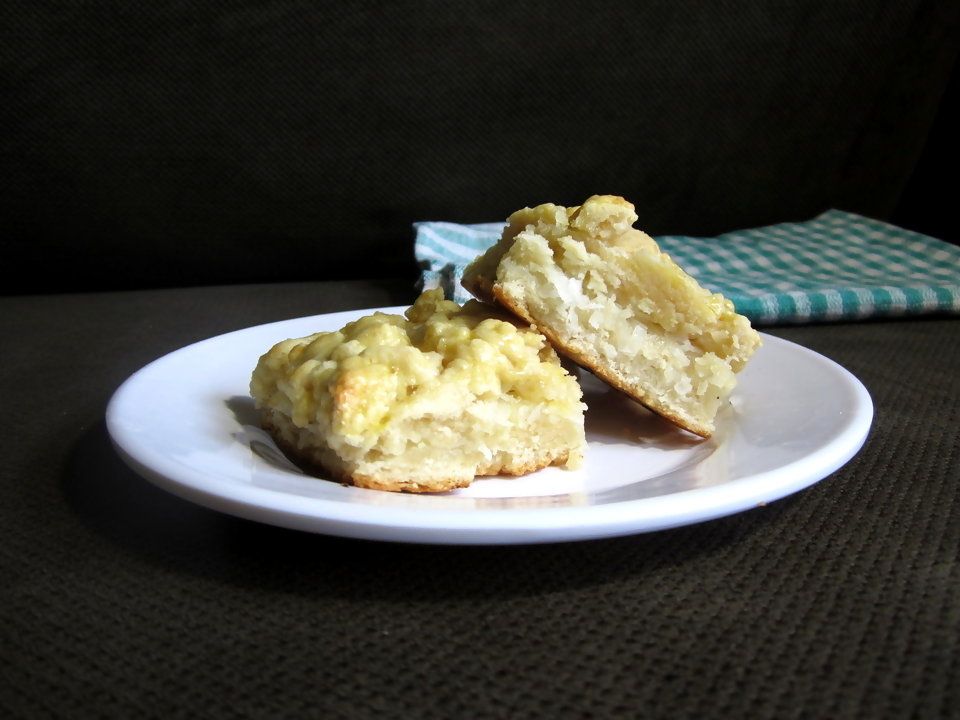 ---
Robyn
Robyn Made: Mock Cherry Braid (see more at her blog, Almacucina)
Comments: "Well, I had so much fun in the Willow Bird Baking Challenge #1 that I couldn't wait to start on Challenge #2. Julie again provided another stellar dough recipe. And this time I went with a Mock Cherry filling. I've been hankering to make a mock cherry pie anyway so I was excited to see how it would work in Julie's cream cheese pastry."
---
LeAndra
LeAndra Made: Pear, Ginger, Cinnamon, & Feta Braid drizzled with honey (see more at her blog, Love & Flour)
Comments: "I filled this braid with slices of a pear tossed with honey, ginger and cinnamon. I sprinkled a little feta cheese in the braid and on top. When it came out of the oven, I drizzled some extra honey over the braid. I got the idea from some baked pears I made long ago. Since I had been wanting to try those again, I just figured I would incorporate them into this braid.
I have thought of so many different things I want to try in a braid now, it's ridiculous. I am definitely looking forward to seeing what everyone came up with this round."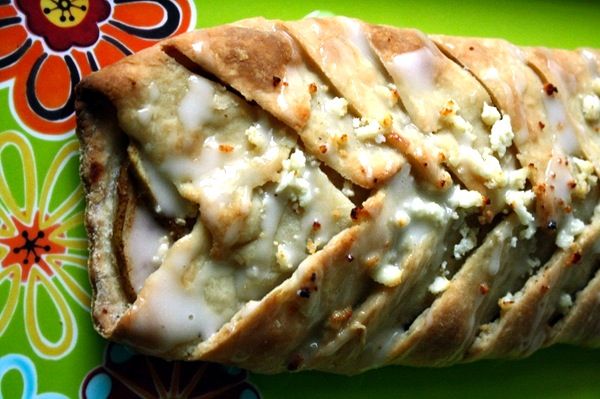 ---
Kelly
Kelly Made: Spicy Chicken Salad Braid
Comments: "After all the guava & white chocolate last week, it was time for some vegetables. I made an extremely spicy chicken salad braid. It has chicken, kale, carrots, tomatoes, cream cheese, scotch bonnet peppers, red pepper flakes & cayenne plus a bit more cheese on top. It's extremely spicy and extremely delicious. I'll definitely do this filling again for some baked samosas."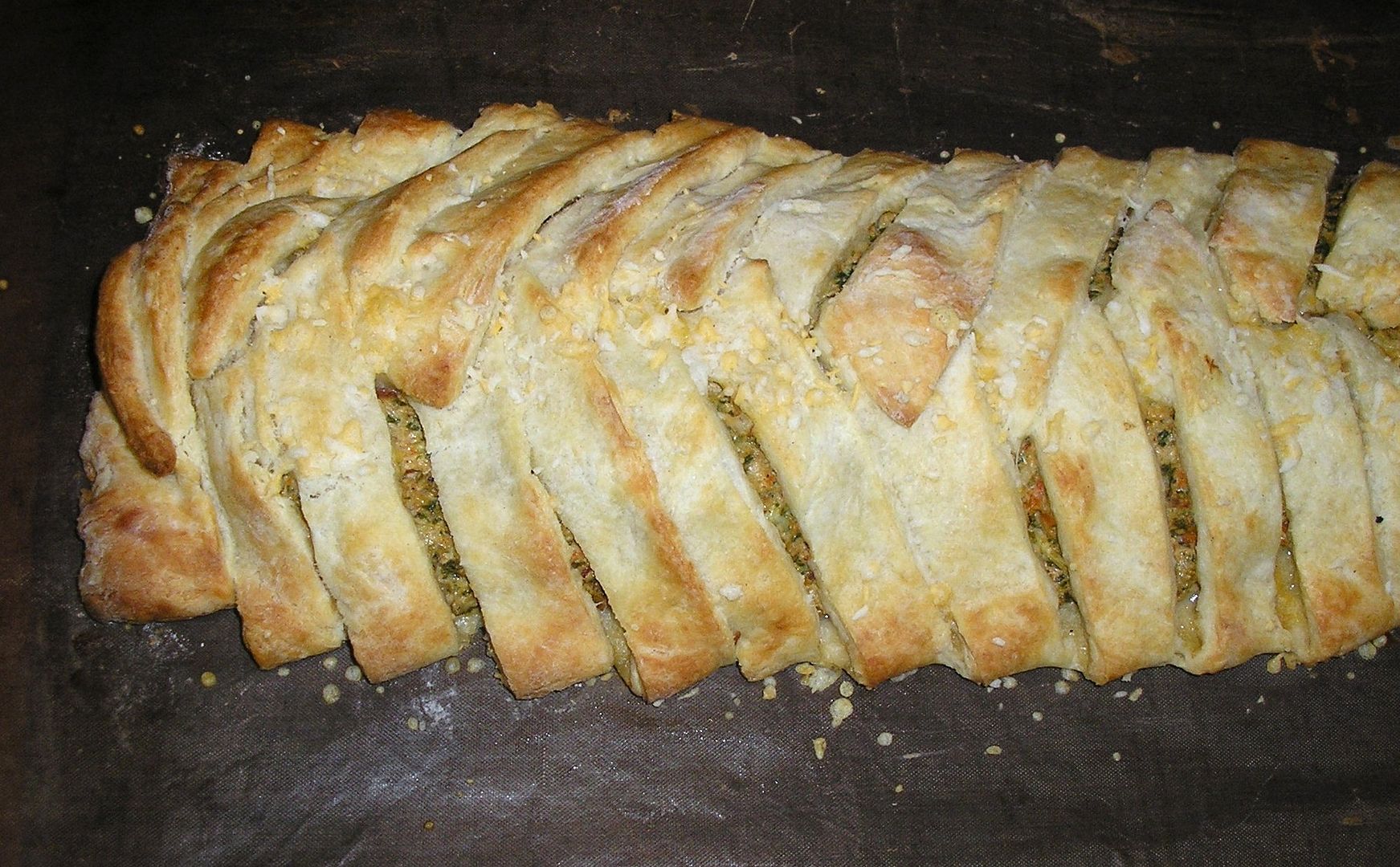 ---
Shelley C.
Shelley Made: Chicken Taco Braid (see more at her blog, C Mom Cook)
Comments: "Well, you've done it again! Another awesome challenge! I didn't think I was going to have a chance to participate this week, due to some total craziness going on around here, but I just couldn't NOT. And with how simple this dough is, Oh. My. Gosh. I am so glad I did. I chose to make a chicken taco braid, with seasoned, shredded chicken and cheddar cheese as the filling and salsa and sour cream as my 'glazes.' This dough was so flaky and delicious, and so quick and easy! I can't wait to make tons and tons of variations of this, sweet, savory, breakfast, dinner – anything! I am super excited to see all the amazing versions in the roundup."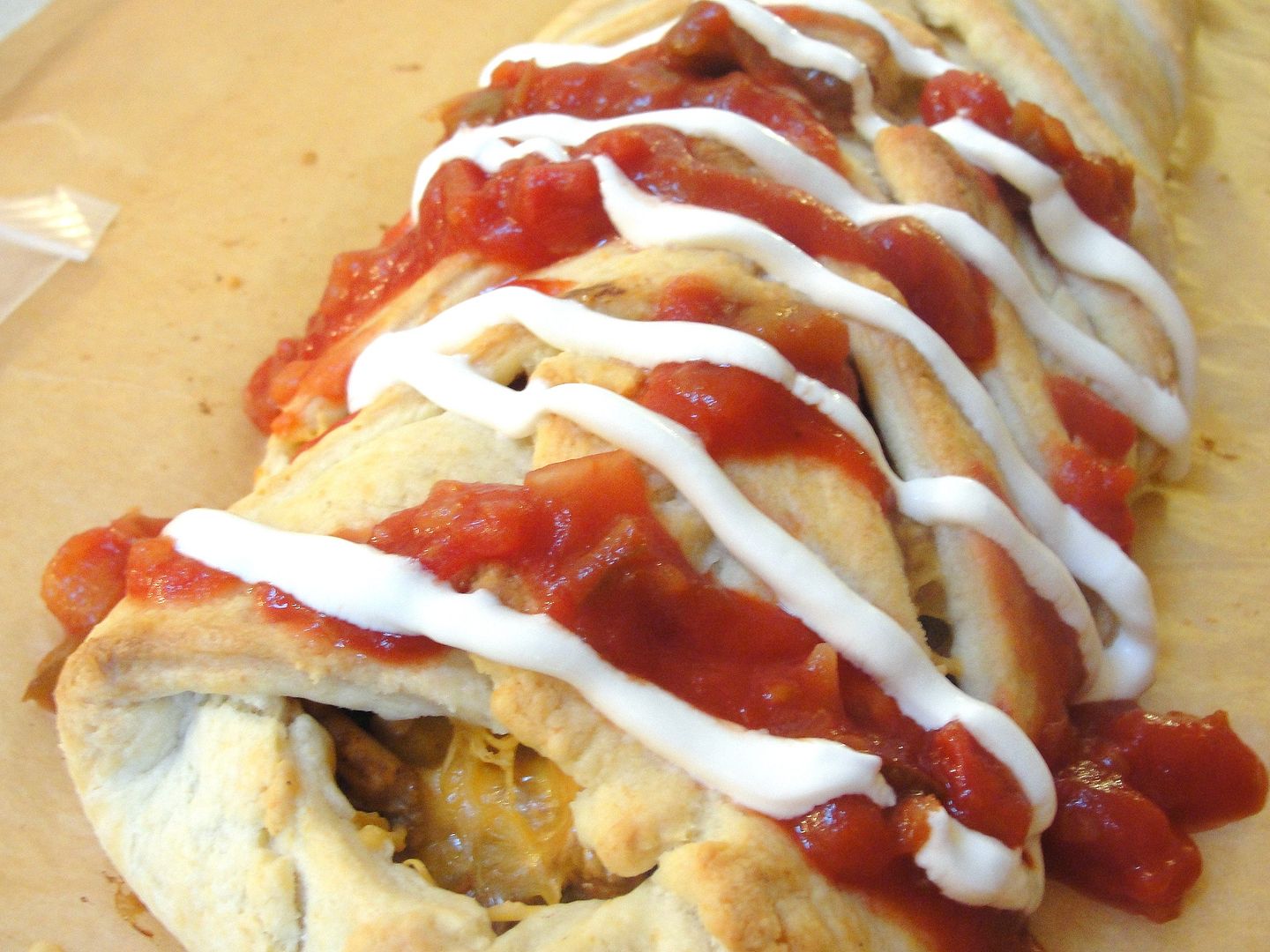 ---
Abby
Abby Made: Cranberry Braid with Chocolate Drizzle (see more at her blog, Seaweed & Sassafras)
Comments: "Thank you so much for hosting these challenges! It's been some much needed inspiration for me and I love that you're pioneering the way of google hang outs 🙂 I've never made a braid before and I held my breath the whole time haha, but it came out great! I made a cranberry braid with chocolate drizzle, completely decadent. Using fresh cranberries to make a sauce for the filling and well…what's better than chocolate for a topping?! It's a great mix of flaky, buttery crust, tangy filling and then a sweet chocolate finish."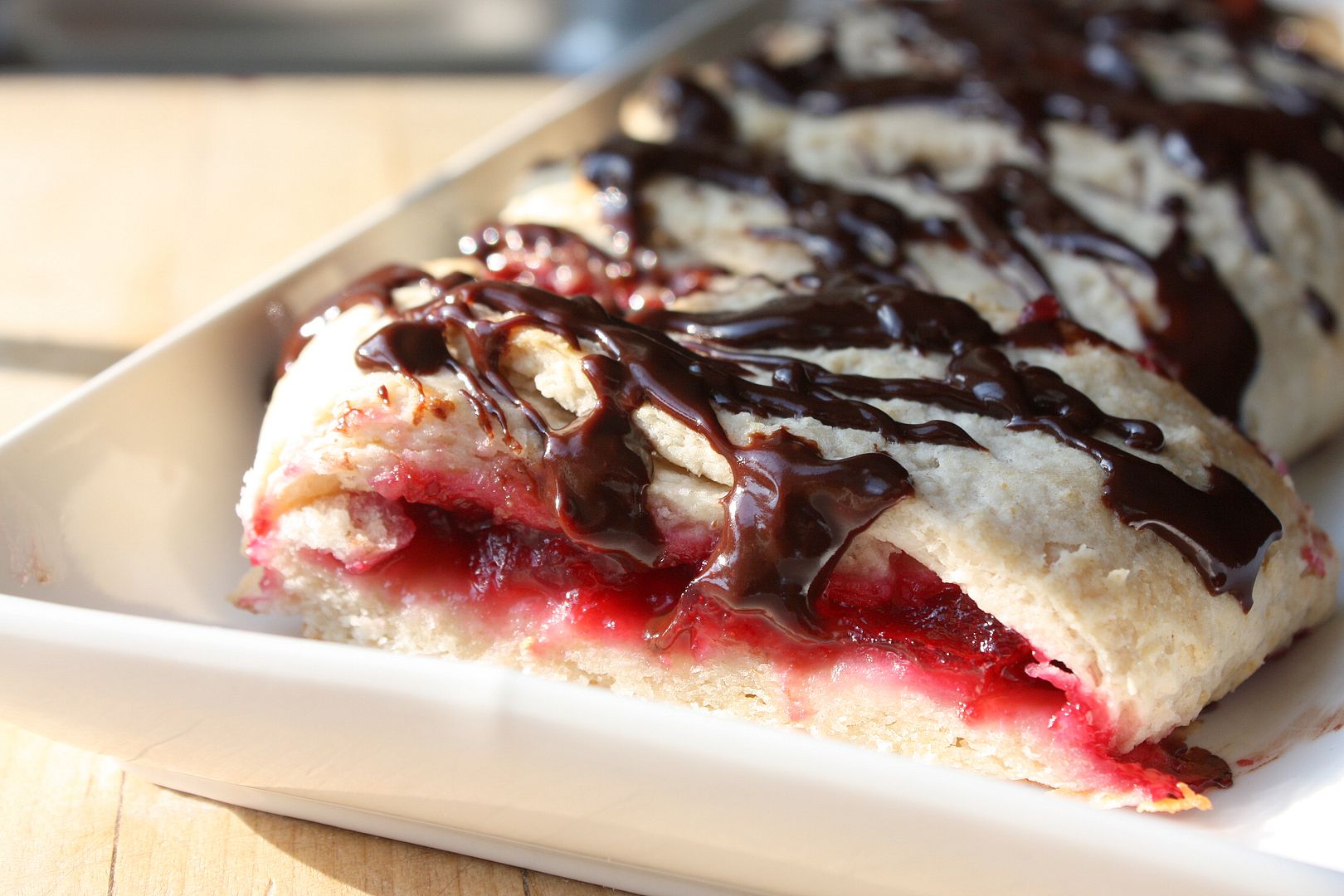 ---
Dianna
Dianna Made: Brie & Jam Braid with Candied Walnuts (see more on her blog, The Kitchen Prep)
Comments: "I wasn't even sure I was going to participate in this round, but I just couldn't resist! I'm really glad I did because this is probably one of the tastiest things I've made in a while and I think it will be perfect for sharing with family & friends around the holidays."
---
Jenni
Jenni Made: Roasted Grape Braid (see more at her blog The Gingered Whisk)
Comments: "Good choice in the cream cheese braid! I did an interpretation of this one for Christmas (did citrus and cranberry) so I already knew this was a great one to reinvent! I've been seeing roasted grapes everywhere lately, and have been itching to try them. Since cream cheese braids are typically done with some sort of preserve, I thought it would be fun to throw in the roasted grapes instead of a preserve. I paired the cream cheese filling with ricotta, and then after baking the braid I poured a honey thyme glaze on top. It was delicious – sweet without being too rich, and I loved the combination of the flavors!"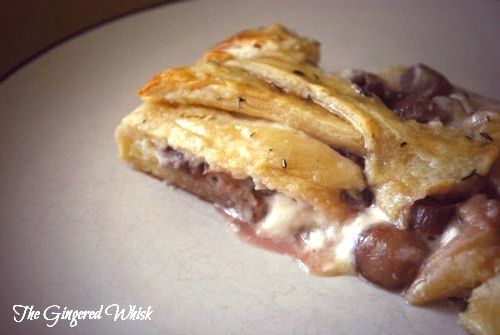 ---
Amy
Amy Made: Spinach, Feta, & Olive Braid with Myzithra (see more at her blog Snozzberries? Who Ever Heard of a Snozzberry?)
Comments: "Thank you for this, I've never used braided dough before, but it was WAY easier than I thought and SO yummy!"
---
Nance
Nance Made: Sausage and Gravy Braid: An Homage to Flo's Cafe (see more on her document here)
Comments: "They serve biscuits, topped with country style hash browns, 2 fried eggs, then DRENCHED in there sausage gravy. Buts its the gravy that I've never been able to figure out. The cream gravy was WHITE not discolored from the sausage drippings and they made there own sausage. Oh how I miss that place. […] Just took [my braid] out of the oven, asked my husband what he thought. He never just says good or bad, he feels that I'm asking for a critique so he'll say, 'Cookies make too many crumbs' or something. I'll have to badger him if it's a make again or don't bother. This time all he said was 'It's a 10!'"
---
And here are some innovated "cinnamon" rolls left over from Challenge 1!
---
Abby
Abby Made: Sun Dried Tomato Pesto Swirl Rolls (see more on her blog, Seaweed & Sassafras)
Comments: "I'm going out on a big limb here…but I think these make the cut…and will be on our Thanksgiving table this year. I know I'd be excited to see a plate of these rolls waiting next to the mashed potatoes and bowl of olives. But you don't have to save them for a special occasion either. I have to warn you they won't last long, I think my guy ate 3 the first day, I had 2. Yea..that reminds me I need to go to yoga tomorrow morning."
---
Ready for Challenge #3?
Last night, Trudy and Kelly jumped on Google Hangout with me to introduce Challenge #3, and here it is!
You can find some cookie recipes here (1, 2, 3) but the filling is up to you! Let's get baking!
Congratulations to all of the participants of Challenge #2 for their fantastic work!
If you liked this post, please:
–Subscribe to Willow Bird Baking
–Follow Willow Bird Baking on Twitter
–Follow Willow Bird Baking on Facebook