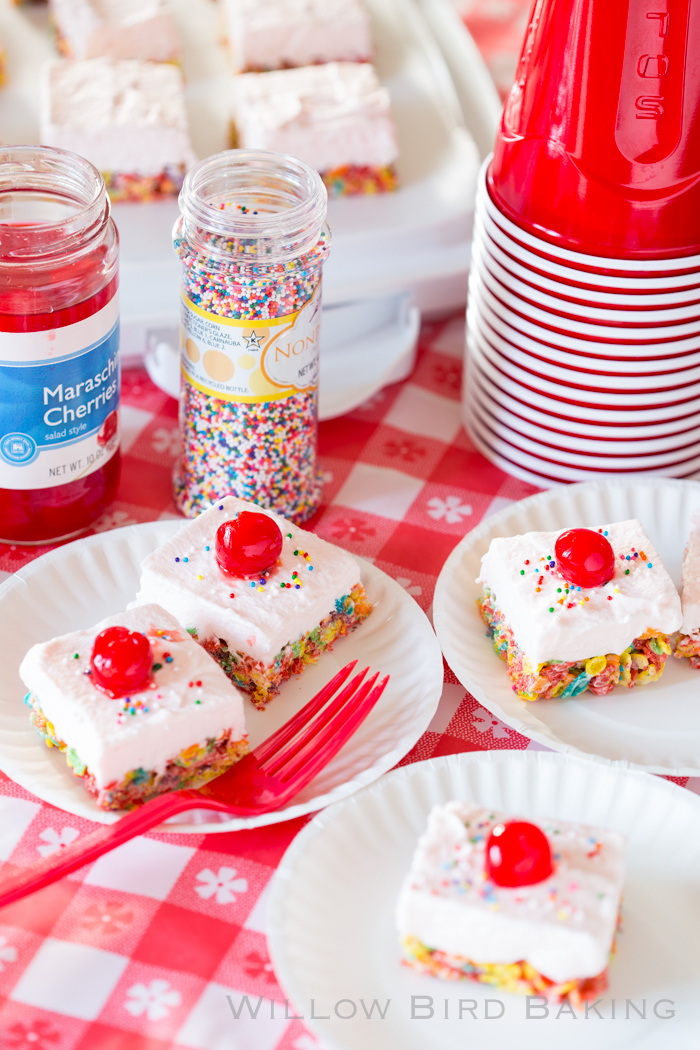 Cherry Cream Fruity Pebbles Bars
Thanks to Post Cereals for sponsoring this post!
Perhaps you've lost your taste for tailgating at this point since my team has been pounding away mercilessly on your team. Sorry about that. Maybe these adorable tailgating treats will help.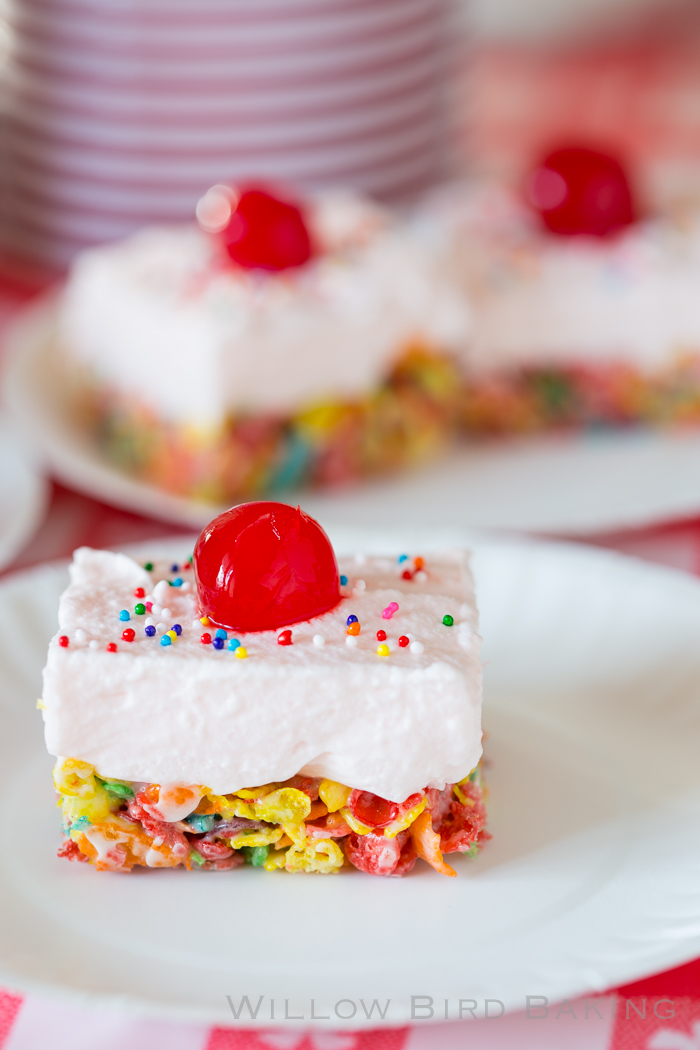 To be honest, I'm a fair-weather fan. I do love the Panthers and I'll cop to that anytime you ask, but if it's an off year, I'm probably not watching the games. But when things get exciting, it's so fun! Lots of memes, t-shirts, dabbing. And tailgating! Football food is arguably the best part of football season, am I right?
Some of my favorite savory football-watching treats are Insane Chili Cheese Dip, Easy Cheesy Artichoke Dip in a Baguette, and Hot Cheesy Shrimp Dip. Can you tell I like cheese?
But you also have to save a corner of your tailgating table for sweet treats. I love Lemon Blueberry Shortbread Cheesecake Dip and of course, these sweet little Cherry Cream Fruity Pebbles Bars!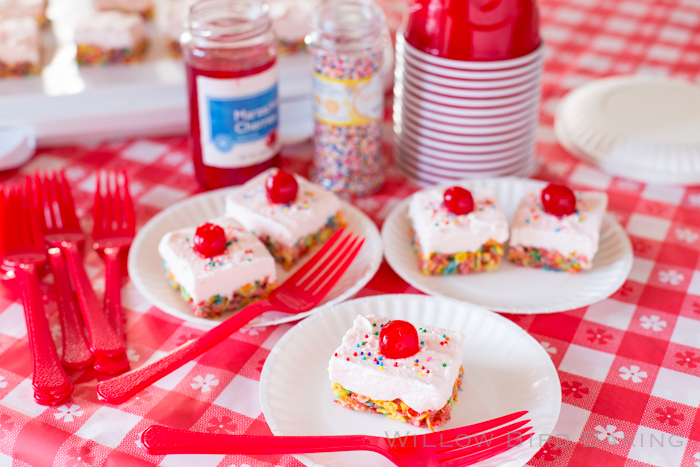 If you're still keeping the faith in your team — or if you're at least still tailgating for the food — you have to try these. These Cherry Cream Fruity Pebbles Bars start with a marshmallow and Fruity Pebbles base. They're topped with a fluffy cloud of cherry mousse with a little boozy tailgating zing. Just leave out the alcohol if you're serving children. And if you're tailgating instead of homegating, just transport the naked bars and add the cherries and sprinkles when you arrive at your venue. Enjoy — and keep pounding!
One year ago: Gingerbread Gooey Butter Cake Ice Cream Sundae
Two years ago: Spiked Mocha Mousse Bars
Three years ago: Biscoff Spread Sandy Buddies (Cinnamon Muddy Buddies!)
Four years ago: Make-Ahead Gingerbread Coffee Cake with Cranberry Pecan Streusel
Five years ago: Southern Pimento Cheese with Lavash Crackers
Six years ago: Cinnamon Roll Cookies

Cherry Cream Fruity Pebbles Bars
Ingredients
Fruity Pebbles Treats Ingredients:
3 cups Fruity Pebbles cereal
3 tablespoons butter
2 cups miniature marshmallows
Cherry Cream Ingredients:
1 tablespoons cold water
heaping 3/4 teaspoon unflavored gelatin
1 cup well-chilled heavy cream
1 tablespoon maraschino cherry juice (from the jar)
2 tablespoons Kirsch (cherry-flavored liquor; omit if serving children)
6 tablespoons powdered sugar
maraschino cherries and sprinkles (for topping)
Instructions
Line an 8-inch square pan with a parchment paper sling sprayed with cooking spray. Spray a spoon and spatula with cooking spray so they're ready to take on your sticky cereal mixture in a moment! Place Fruity Pebbles into a large bowl and set aside. In a saucepan over low heat, melt the butter. Add the marshmallows and cook, stirring constantly, until they are melted. Pour the marshmallow mixture into the bowl of Fruity Pebbles and mix until the cereal is fully coated. Press the coated cereal into the prepared pan using a sheet of wax paper. Allow to cool completely.
Place cold water in a small bowl and sprinkle the gelatin evenly over the top. Let it soften for 2 minutes. Heat the bowl in the microwave for 15 seconds or so, watching carefully to be sure it doesn't boil over. Whisk to dissolve the gelatin. Whip the heavy cream, cherry juice, Kirsch, and powdered sugar together in the bowl of an electric mixer until it reaches stiff peaks, adding the dissolved gelatin about halfway through. Pour the whipped cream mixture over your Fruity Pebbles base and chill the bars for a few hours. Lift them out of the pan using the parchment paper sling and slice them into 16 bars. Top with sprinkles and maraschino cherries and serve immediately.