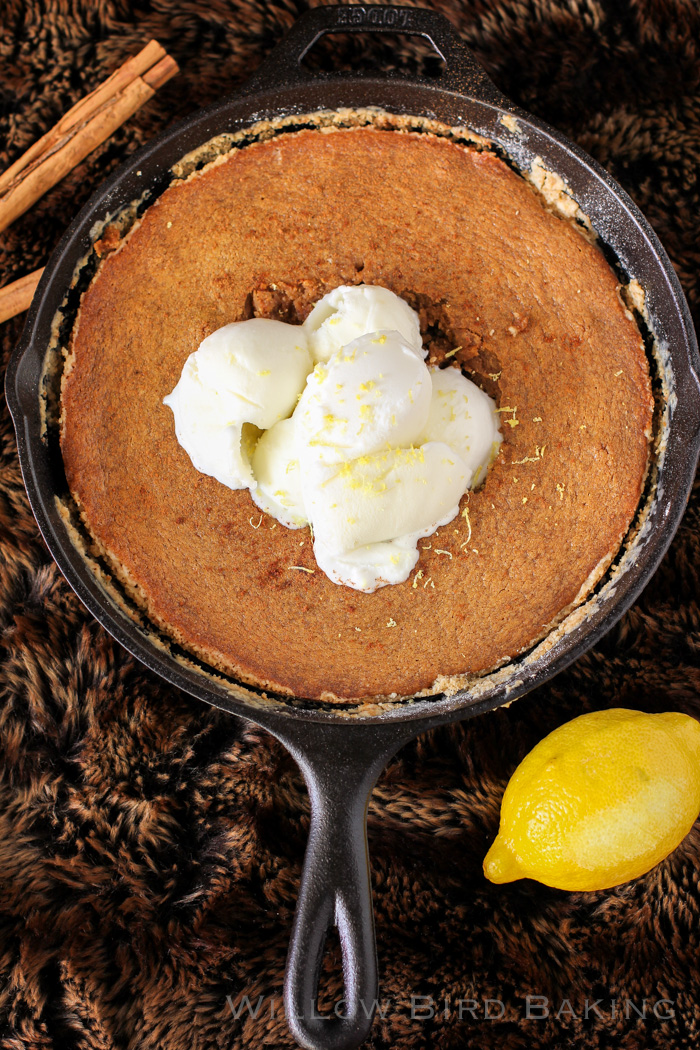 I wrote this post as part of the Plugrá Butter Brigade. Thanks, Plugrá, for sponsoring the development of this Gingerbread Gooey Butter Cake Ice Cream Sundae recipe and for making my favorite butter!
My current working hypothesis is that every family has a stellar-gift-giver and a terrible-gift-giver. My brother- and sister-in-law are my family's stellar-gift-givers. Plenty of people give great gifts, but their gifts are stellar: the perfect blend of thoughtful, fun, useful, slightly poignant. Mike's dad was a Marine, and after picking up on a couple of nostalgia stories, they paid his way to the shooting range so he could fire an M4 again. They bought Mike's grandmother a real tumbleweed. I know that doesn't sound like a good present (actually, it sounds like it could rival coal for the new naughty-list gift) but she loves the southwest and it fit perfectly with her eclectic home decor. Who thinks of this stuff?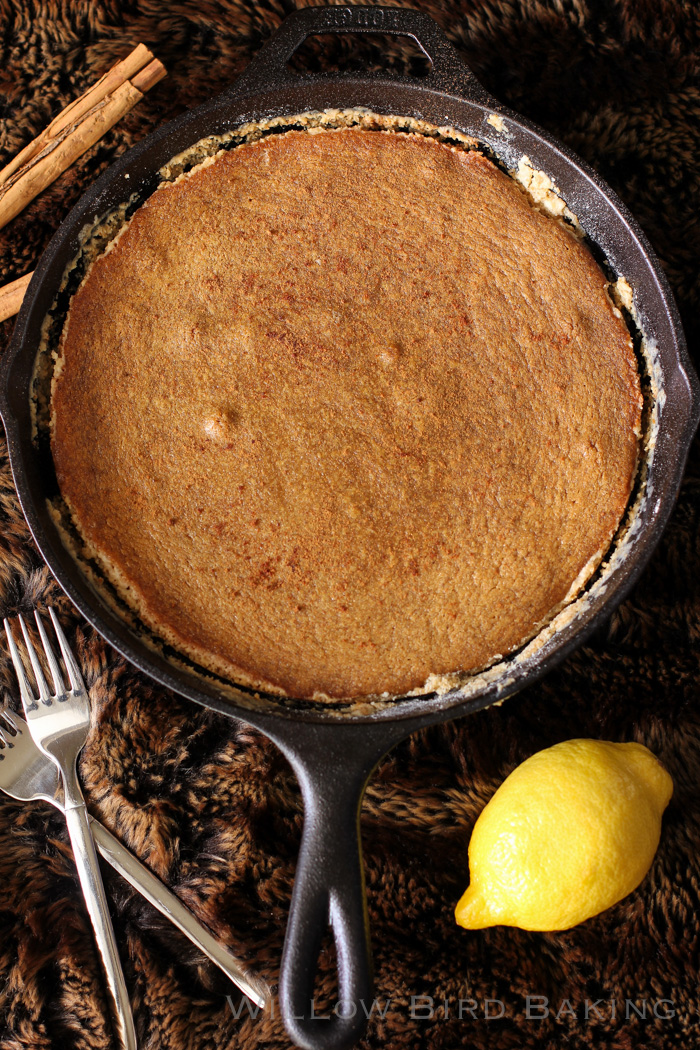 Hi, I'm the terrible-gift-giver of the family. I'm the one who gives you gift cards all the time, and usually to the same place as last year. You probably think this is the result of laziness, but actually, it's the result of giant angsty feedback loop. First, I search for weeks to find an item you might enjoy. Once I do find one, I make myself crazy wondering if you already have it. I switch ideas 857 times. I decide to get you something safe and generic like flowers or a candle. I wonder if you're allergic to flowers or candles. I settle in a huff on the exact same gift card as last year, reasoning with myself that at least you seemed to enjoy it? Unless you were pretending?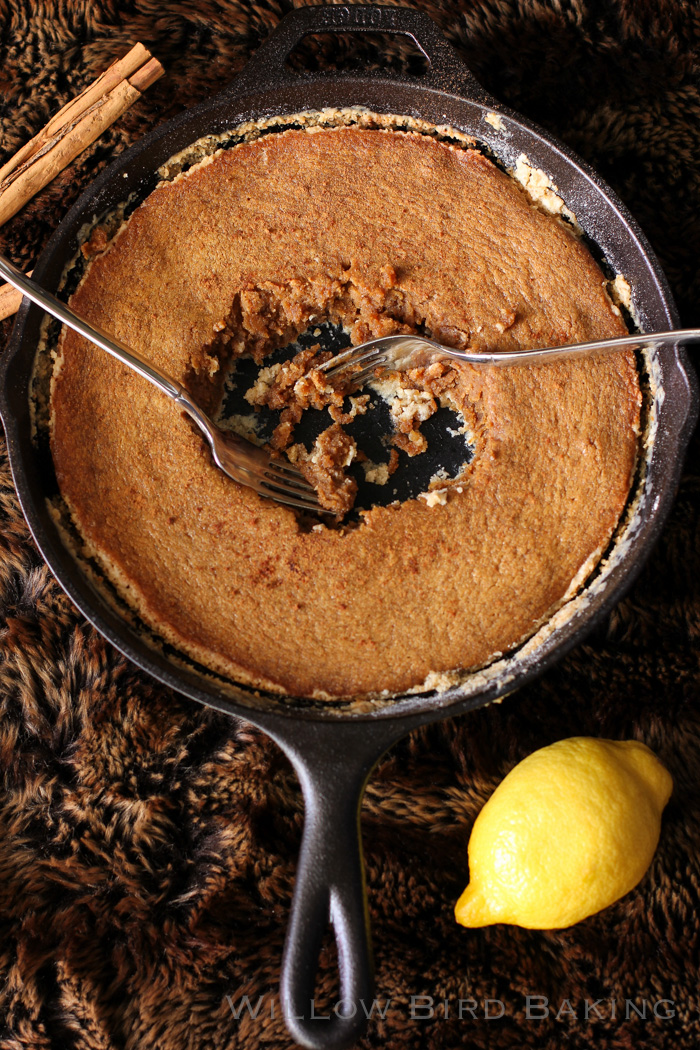 The times I do collect my courage and give an actual gift, it usually turns out pretty weird. Mike will get me some special thing that shows real thought and I'll get him a set of pillows or something. And you can try to play it off like there was some special reason pillows were a really sweet gift ("Remember that time we had a pillow fight and it was so romantic and hilarious? No? Okay.") but it's apparent to everyone that you're just the terrible-gift-giver. Apart from that, I never have any reasonable combination of wrapping paper and accoutrements, so my gifts are usually wrapped in mangled tissue paper and lethargic curly ribbon, with TO/FROM labels written in festive sharpie.
Maybe this year I'll give everyone cake and be done with it.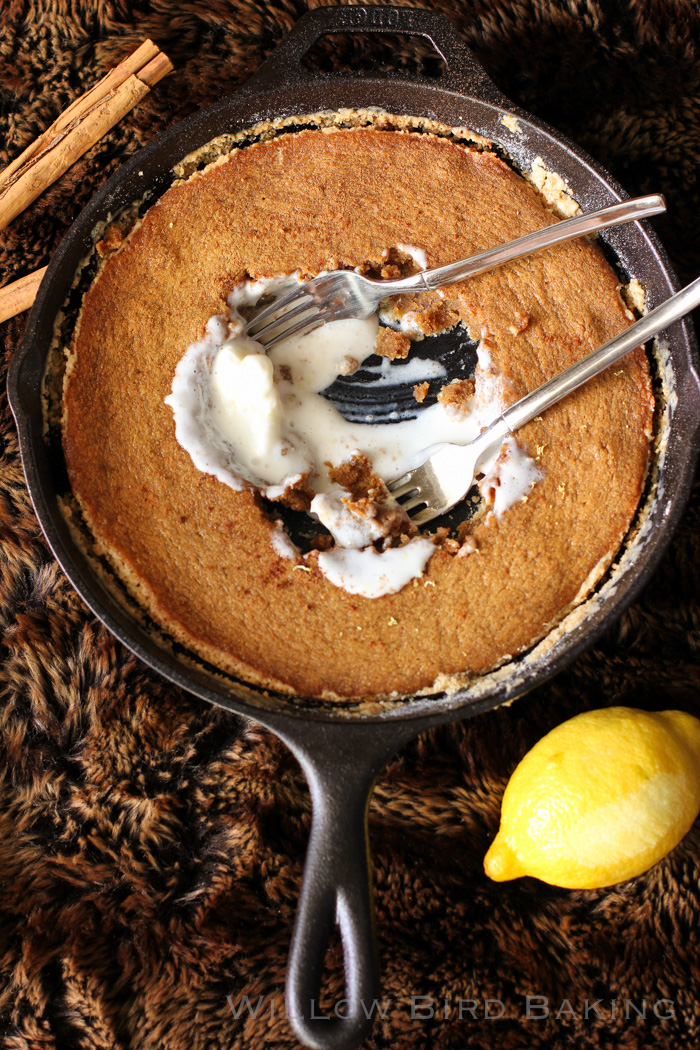 This cake would make a slammin' Christmas present. I've heard that gingerbread and lemon were perfect together a million times, but I admit that I didn't believe it. It seemed like a weird flavor combination to me. I'm happy to say that this cake corrected my misconceptions. It was amazing. With apologies to St. Louis, I took their beloved gooey butter cake and made a gingerbread version! It's gooey and spicy and incredible. I then piled it high with creamy lemon ice cream and ate it straight from the skillet. We don't have to bring plates into this.
Bonus points if you eat it under a newly erected Christmas tree! And bonus bonus points if you send me photos.
All you stellar-gift-givers, how do you think of the perfect thing? Teach me your art.

One year ago: Brown Butter Pecan Gooey Butter Cake with Spiked Whipped Cream
Two years ago: Rosemary Thumbprints with Clementine Curd
Three years ago: Salted Caramel Mocha Hot Chocolate
Four years ago: Southern Pimento Cheese with Lavash Crackers
Five years ago: Cannoli
Gingerbread Gooey Butter Cake Ice Cream Sundae

---


Recipe by: Willow Bird Baking, using gingerbread spice ratio from Averie Cooks
Yield: 4-6 servings

I've heard a million times that gingerbread and lemon is a perfect flavor combination, but I didn't really believe it until I was eating a gingerbread slice at Starbucks one day and tasted the lemon note. REVELATION. I will never eat gingerbread without lemon again.

This gooey butter cake is my favorite thing I've made recently. The gingerbread flavor is Christmassy and delicious, and the pile of crisp, tart lemon ice cream is the perfect complement. Be sure to grab some really amazing lemon ice cream somewhere, because it definitely makes a difference.

Crust Ingredients:
1 cup cake flour
3 tablespoons brown sugar
1/3 cup (5 1/3 tablespoons) Plugrá butter, softened

Filling Ingredients:
1 1/4 cups brown sugar
3/4 cup (12 tablespoons) Plugrá butter, softened
1 egg
1 cup all-purpose flour
2/3 cup evaporated milk
1/4 cup unsulphered light molasses
3 teaspoons ground ginger
2 teaspoons cinnamon
1 teaspoon ground cloves
1 teaspoon ground nutmeg
pinch salt
1 teaspoon vanilla
lemon ice cream (optional)
lemon zest (optional)

Directions:
NOTE: If you don't have a skillet, I believe you can bake this in a greased 9-inch square baking dish (I'd use a glass one if you have it, and check it early and often. Remove when there's some jiggle left.) At least one reader has tried this and said it worked well!

Make the crust: Preheat oven to 350 degrees F. Whisk together cake flour and brown sugar in a medium bowl. Cut in the butter with a pastry cutter or two knives until the mixture resembles fine crumbs and starts to cling together. Press the mixture into the bottom and up the sides of a 10-inch cast iron skillet (this step is a lot harder than it sounds, but be patient and use the back of a spoon to help spread/press the mixture down. I also stuck mine in the fridge for a bit to make the butter less sticky).

Make the filling: Cream together the butter and brown sugar until fluffy (about 2-3 minutes). Mix in the egg until just combined. Alternate adding the flour and evaporated milk, mixing after each addition. Mix in the molasses, spices, salt, and vanilla. Pour the filling into the crust and level it a bit with a spatula. No need to be too fussy.

Bake and assemble the cake: Bake for 30-35 minutes or until cake is nearly set (mine was ready around 30). Some jiggle is fine — do not overcook! It'll finish setting up as it cools. Let it cool in pan for 30 minutes or so before piling it high with lemon ice cream, sprinkling on lemon zest, and serving immediately! I like to eat it straight from the skillet, 'cause I'm classy.