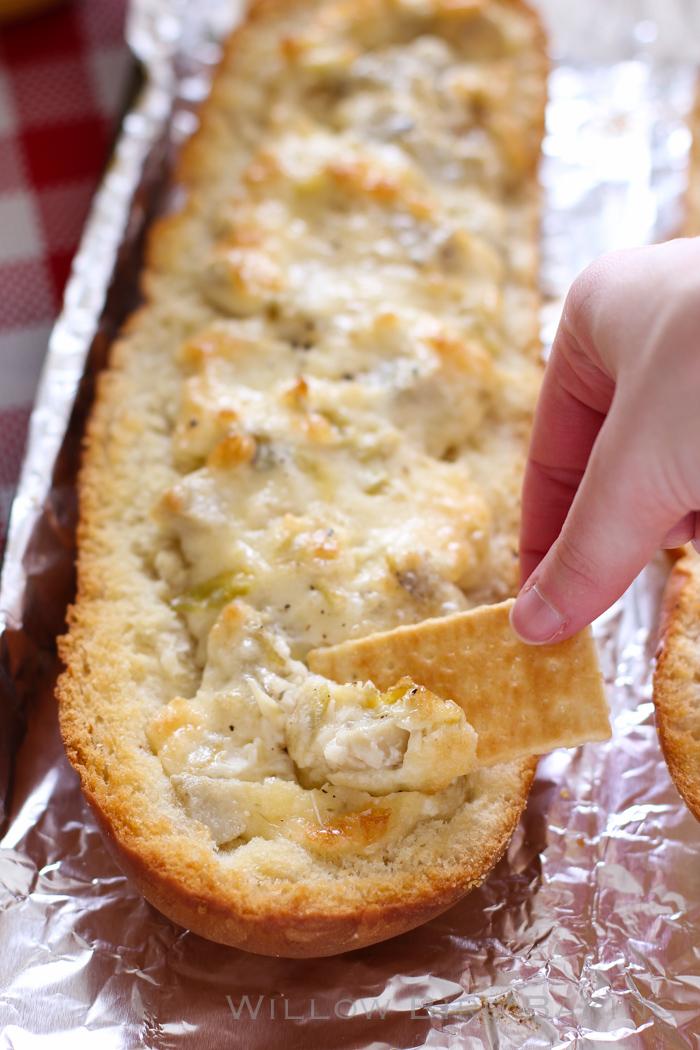 Easy Cheesy Artichoke Dip in a Baguette
If you're getting ready for Memorial Day festivities, this Easy Cheesy Artichoke Dip in a Baguette needs to be on your table. It's incredible and so quick to prepare. Along with the recipe, I thought I'd share some stories from my recent trip to Rome, Florence, and Paris, beginning with this account of the Roman metro.
The Colosseum, the Eiffel Tower, and the Sistine Chapel were staggering, yes. But one of the most surprising cultural experiences for me during my two-week travels in Europe was riding on the metro (cue the Berlin song.)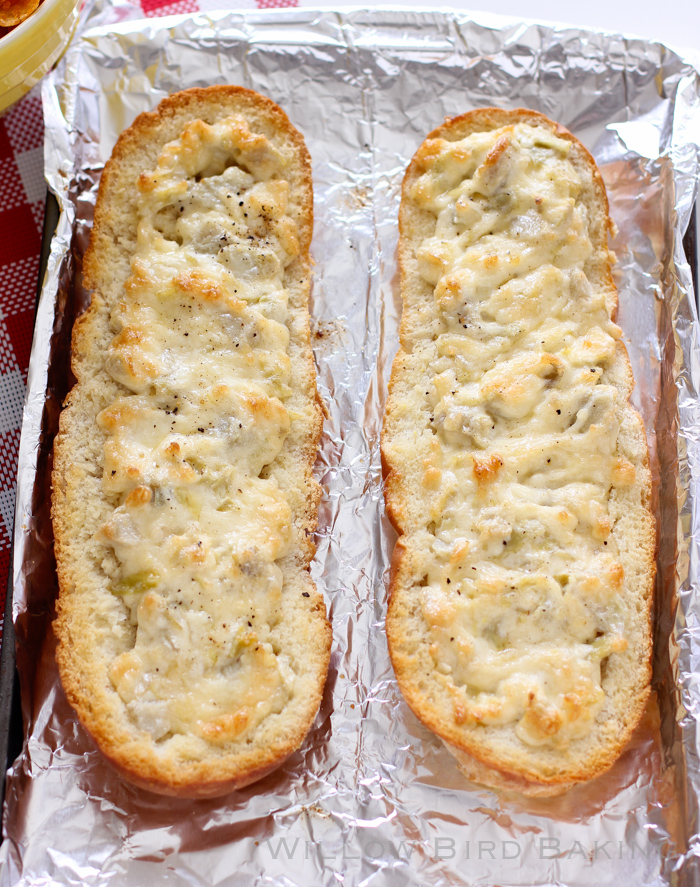 Despite living in a city with limited public transportation options, I'm not a total metro newb. I've ridden the metro in San Francisco, Washington D.C., and… well, okay, maybe that's it. But still, those are big cities! I wouldn't expect to be too surprised by a subway system at this point. However, I've never experienced anything like the metro in Rome.
In Rome, people press together like sardines (or like a panino? Bad Italy joke?) to fit into the train car in the morning. I don't just mean they're crowded: I mean they're PRESSED TOGETHER, body-on-body, tall people hovering over short people, like a subterranean human jigsaw puzzle.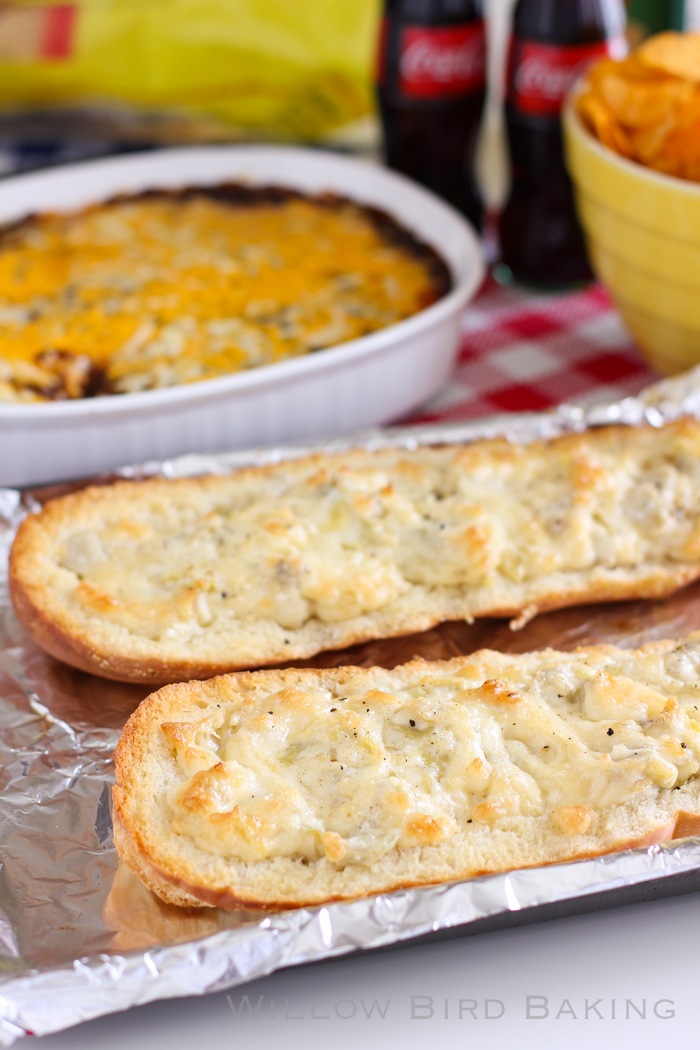 My first hint that the Roman metro was going to be a unique experience came when a train pulled up and the doors opened to reveal a nearly overflowing car. Two girls walked right up and inexplicably merged with this wall of people to get onboard.
I thought these two women were just particularly driven (late for work, maybe?), but when we got on the next train, a sea of people pushed in behind us. Like, full-body pushing against full body. I had a few moments where I wondered if anyone had ever fallen and been trampled on the Roman subway (something to Google? Maybe I better not) before I was shoved into the back of a nicely suited Italian businessman. Later, when the train had emptied a bit and I had peeled myself away, he would avoid eye contact as I shot him apologetic glances. I guess this was an everyday occurrence for him? He was handsome, at least.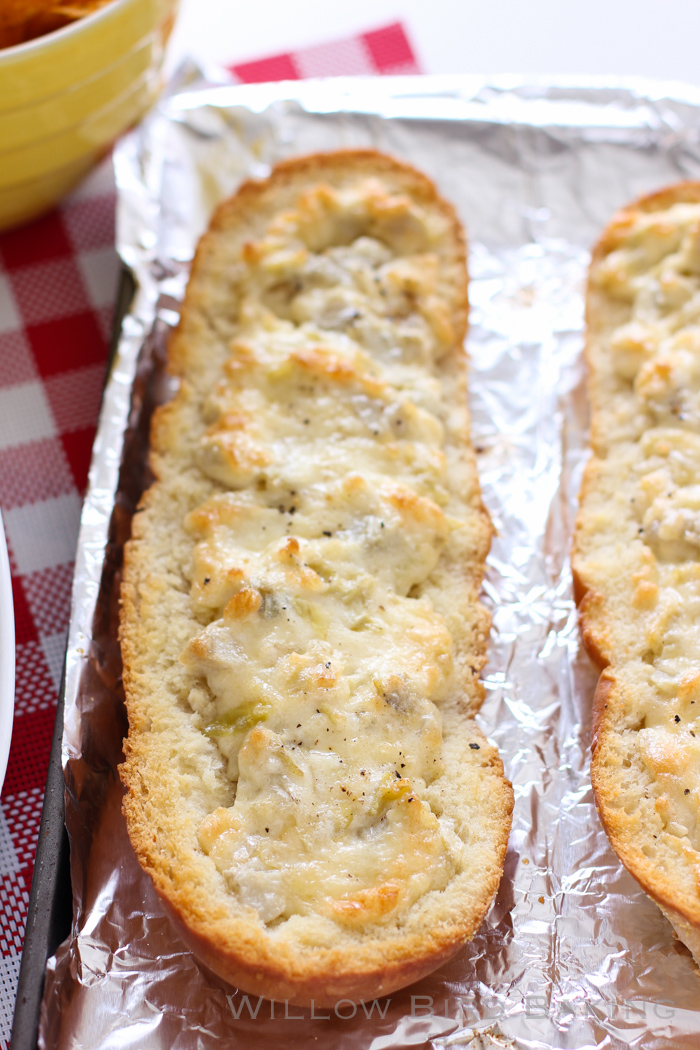 Even after I was able to unglue myself a few stops in, I spent the rest of the ride clinging to a pole, virtually in the armpit of a tattooed gentleman that was thankfully also handsome and well-groomed. I'd like to extend a very hearty thank you to him for using deodorant that day, and for choosing interesting skin art for me to enjoy during my ride. Also, thank you to Rome as a whole for providing me with such an entertaining experience.
One year ago: Biscoff Spread Gooey Butter Cake
Two years ago: Eggs à l'Oignon
Three years ago: Coffee Mousse Filled Double Chocolate Chunk Cookie Sandwiches
Four years ago: Lemon Raspberry Cake
Easy Cheesy Artichoke Dip in a Baguette

---


Recipe by: Willow Bird Baking
Yield: 6 servings

My mother-in-law makes the best artichoke dip with only 3 ingredients! I stuffed it into a baguette for easy eating. It makes the perfect party food, and you'll be amazed by how good it is!

Ingredients:
1 loaf French bread (mine was about a foot long and 3″ wide)
3 tablespoons melted butter
1 cup mayonnaise
1 (8-ounce) can chopped artichokes
1 cup shredded Parmesan cheese
salt and pepper to taste

Directions:
Preheat the oven to 350 degrees F and line a baking sheet with aluminum foil. Slice the French bread lengthwise into two halves and gently tear out excess bread, forming a well down the center of each half. Brush both halves with the melted butter and place them on the prepared baking sheets. In a medium bowl, mix mayonnaise, artichokes, and cheese. Salt and pepper to taste. Fill both loaf halves with the mixture and bake for 20 minutes or until melted and browning. Serve immediately by slicing into 1-inch slices (or you can serve with buttery Club crackers, or both!)