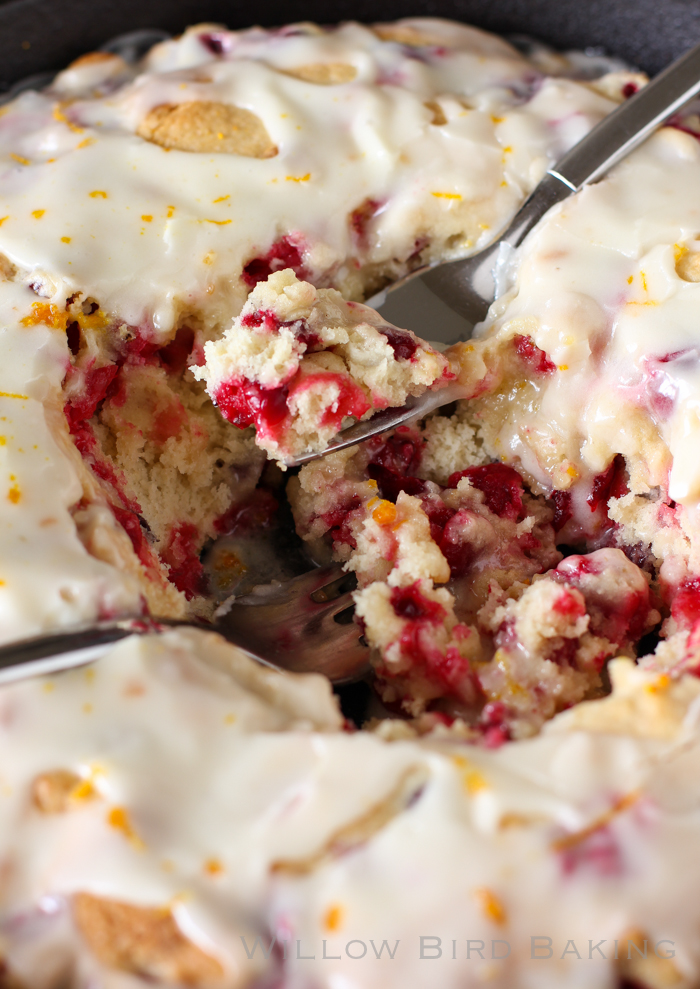 Hot Cranberry Orange Cake
On the last day of school before winter break, the entire middle school sits around in jammies, performs holiday skits, and exchanges white elephant gifts. Last year around this time I was still trying to find my place in a new city and a new school. I hadn't been a new teacher in so long that I'd forgotten how kids don't immediately love you. They don't get your jokes. They don't know with what weight to interpret your reactions. They don't know if it's cool to want to be around you. You spend a lot of time strategizing about where to sit, what to do, and what to say to introduce yourself day after day. Even once the kids choose you as their own, you must continue to nestle into the fabric of your colleagues and learn the culture of the school. All this while you're struggling to manage the simplest things: trying to find the closest gym or the best route to work. It was a hard year.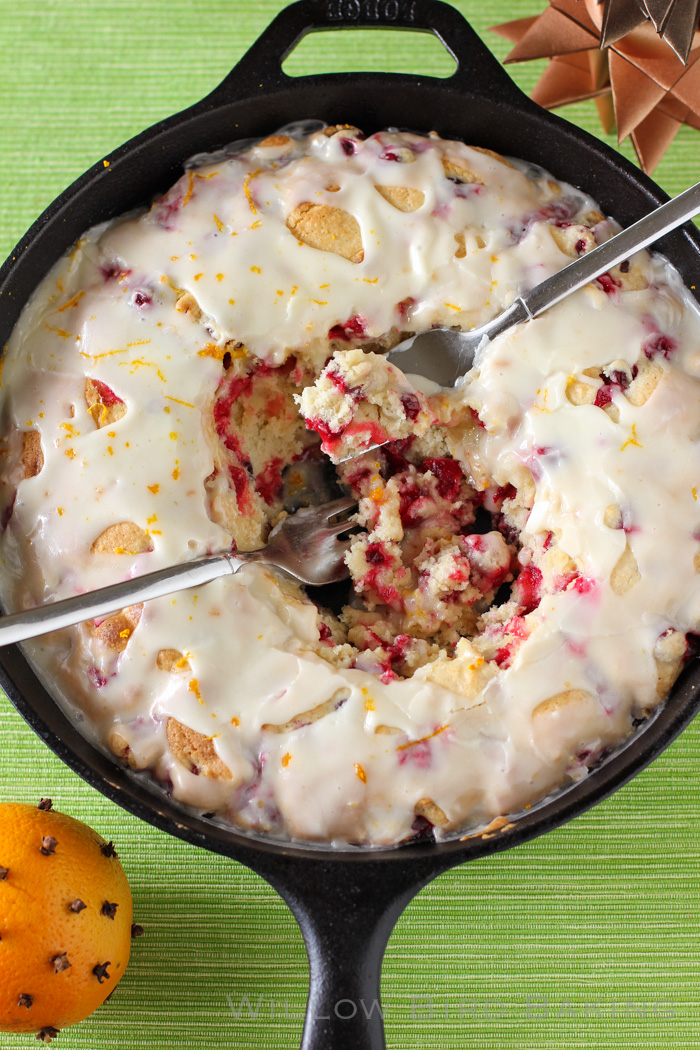 Hot Cranberry Orange Cake
It's another hard year for a lot of reasons, but on Friday I noticed something. D.P. joked with me that he was going to sneak away from school to go get Duck Donuts, which we'd eaten on a field trip earlier in the year. M.S. and S.L. asked me to join in their skit performing "Grandma Got Run Over By a Reindeer" (I was Grandma). R. performed with us, too, and took photos of me lying on the floor outlined in masking tape. D.C. updated me on when he was finally going to be able to see the new Hobbit movie. K.M. stole my gift in the white elephant exchange and then felt adorably guilty despite my repeated assurances that I didn't mind. C.H. filled a whole card with one of the sweetest notes a student has ever written me, followed by a reminder that she's waiting for me to watch "A Very Potter Musical" on YouTube so we can discuss. L.A. made me a monogrammed clipboard. J.L. helped me troubleshoot issues with my speakers. C.S. gave me a big hug like always, and recruited me onto her team for Scattergories.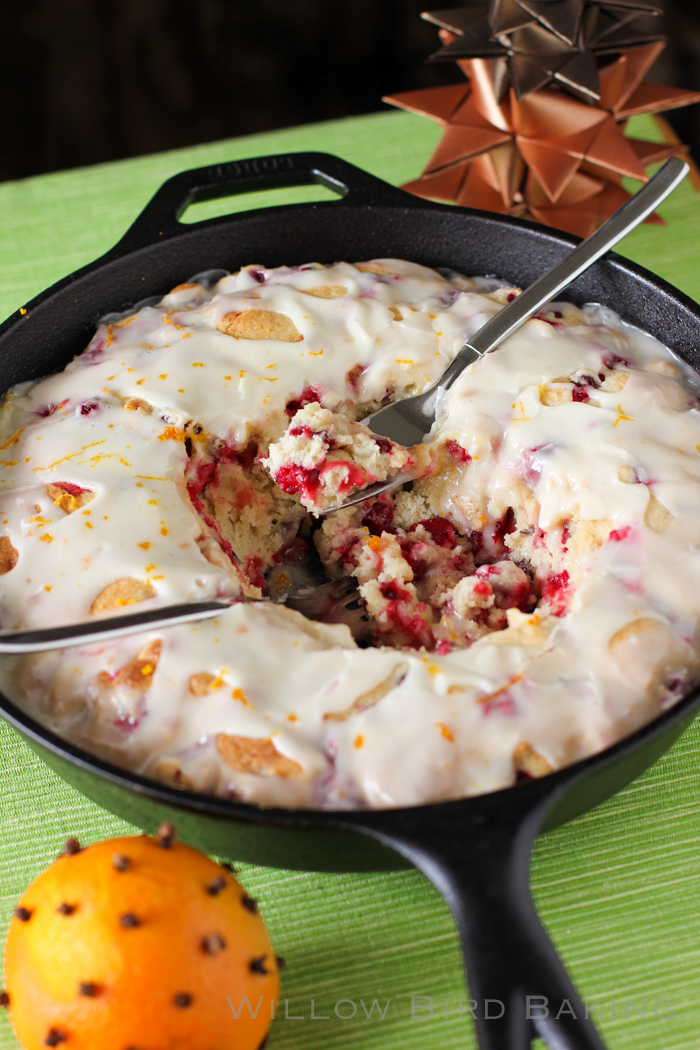 Hot Cranberry Orange Cake
It's another hard year for a lot of reasons, but on Friday I noticed that among my students, I'm finally home.
I hope you are home, wherever and whatever that is, for the holidays. To help make sure, I made you this comforting and beautiful Hot Cranberry Orange Cake. It's super quick to whip up, so there's still time to add it to your Christmas breakfast or dessert menu! It strikes the perfect balance of tart cranberries and sweet orange glaze. I wouldn't judge you if you decided to add some vanilla bean ice cream to the top!
One year ago: Christmas Breakfast Recipes
Two years ago: Brown Butter Gooey Butter Spice Cake with Sparkling Cranberries and Cream
Three years ago: Gingersnap Cheesecake Stuffed Snickerdoodles
Four years ago: Magic Bars
Five years ago: Oreo Truffle Snowmen
Hot Cranberry Orange Cake
This beautiful and simple cake is glazed right out of the oven. It's the perfect balance of tart and sweet, and would be ideal for Christmas breakfast or dessert.
Ingredients
Cake Ingredients:
2 cups flour
2 teaspoons baking powder
1/4 teaspoon salt
1/4 teaspoon cinnamon
1 cup sugar
1/4 cup butter, softened
1 large egg
1/2 teaspoon vanilla extract
1/2 teaspoon orange extract
1/2 cup buttermilk
3 cups frozen cranberries (do not thaw)
Glaze Ingredients:
2 cups powdered sugar
2 tablespoons orange marmalade
1/8 teaspoon vanilla extract
1/8 teaspoon orange extract
milk to thin (I used around 3 tablespoons)
orange zest for topping
Instructions
Preheat the oven to 375 degrees F. In a medium bowl, whisk together the flour, baking powder, salt, and cinnamon. Reserve about 1/4 cup of this mixture in a small bowl.
In a large bowl, cream together the butter and sugar. Add the egg and extracts and blend until just combined. Add the flour mixture and buttermilk alternately, beginning and ending with the flour. Toss the cranberries in the 1/4 cup reserved flour and then fold them (and the rest of the reserved flour) into the batter. (The dough is quite stiff, so be patient as you're folding in the berries. It'll seem like it's mostly berries, but just trust me. It'll be awesome.)
Spread the batter into a 10-inch skillet (I used the back of two spoons to work it around.) Bake for 25-35 minutes, until a toothpick inserted in the center of the cake comes out with a few moist crumbs (cooking time in a cast iron skillet can be variable, so check early and often.) While the cake is still hot, purée the jam and extracts together in a food processor. Slowly add the powdered sugar as you process. Add milk slowly to get the desired consistency — I ended up adding about 3 tablespoons. Pour your glaze over the hot cake. Top with orange zest and serve while warm.