The next few days hold the possibility of many bright, full moments: cutting into my mom's annual pan of fresh cinnamon rolls, watching my niece and nephews swashbuckling their way through jungles of Christmas wrapping paper with their foam swords, the beautiful Christmas afternoon nap. But there were also some shining moments in the past few days that made this holiday a special one. Moments like this one, for example:
[youtube=http://www.youtube.com/watch?v=JfHijA5PjA8&hl=en_US&fs=1&]
In case you couldn't tell — what, my shaky hands and shrieking aren't helping? — that's Mike graduating from college with a BS in Mathematics. His family and I were sitting about a mile high in the stands, just as proud as fresh-plucked plums. Afterward we got a closer view of his handsome cap and gown.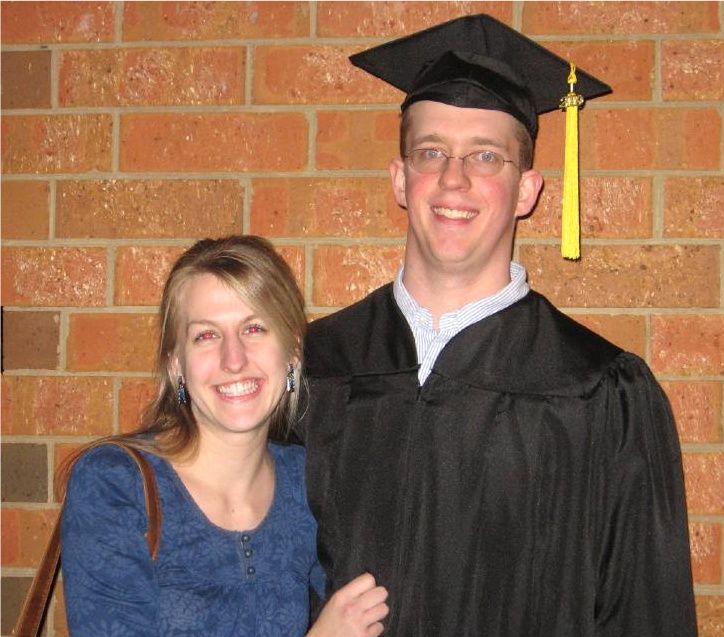 Mike and a proud, plum-like Julie.
All of these special moments — the holiday celebrating my Savior's birth, the coming new year, and the culmination of Mike's undergraduate studies — warranted some special treats. I got a little crafty with some golden oreos, cream cheese, white candy melts, fruit roll ups, melted chocolate, and sprinkles. Okay, I bet you're confused by now. Why don't I just show you?
Voilà, oreo truffle snowmen! What do you think — would Bakerella, queen of cuteness, be proud? Personally, I was as tickled as a hungry hyena in a flock o' flamingoes. Which is why, despite numerous setbacks, I persevered for about 13 hours to make, decorate, and photograph these little snow sweeties. I did take frequent breaks when things were going particularly bad to watch Ballet Shoes (don't bother with the movie, but the book is cute), drink coke zero, mourn, sing Christmas carols, and dance around with Byrd. She doesn't mind a bit when we're up 'til 5 a.m. because of baking shenanigans. More time to play!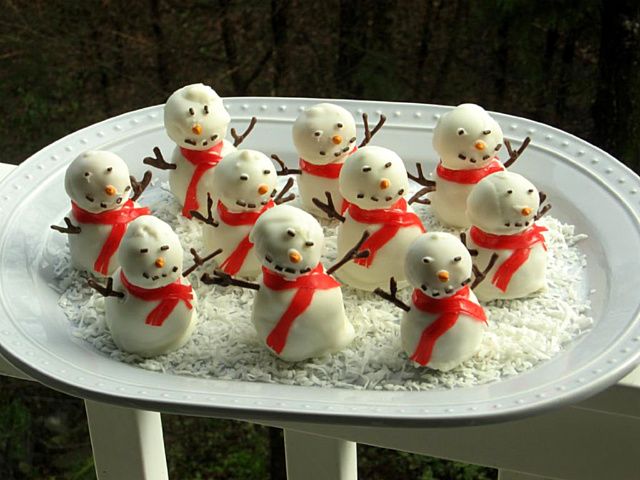 Why were these so time consuming? Well, I think the fat/moisture content in the oreo truffles this time around caused my candy melt to crack and ooze repeatedly. I redipped a gazillion times before finally realizing that refrigerating my snowpeople stopped the ooze. If I'd made that revelation sooner, these might have been relatively simple. Well, other than cutting out the little scarves from fruit roll ups, piping little branch arms, and sorting multicolored sprinkles. Okay, so these aren't the treats for you if you're in a hurry. But you have to admit, they are somethin' special!
Not just appearance-wise, either. This happens to be a delicious group of snowfolks. I love golden oreo truffles even better than their chocolate cousins, and the vanilla flavored candy melts (I use CandiQuik) with chocolate accents was the perfect flavor addition. Mike said he might even love these more than red velvet cake balls — and that's saying a lot! Speaking of Mike, of course I had to do a little something special to honor his special day. How about something like this:
Want to make these cuties? The recipe below includes notes I wish I'd known the first time around. Clear yourself an afternoon (and evening), put on some Christmas carols, and enjoy! Happy holidays!
Oreo Truffle Snowmen

---

Recipe By: Kraft Food & Family Fall 2006 (adapted, with decorating ideas by Willow Bird Baking)
Yields: About 15 large snowmen

Oreo Truffle Ingredients:
2 packages golden oreo cookies (divided; use cookie including the cream center)
2 8-ounce package cream cheese (softened)
white candy coating or candy melts (I use CandiQuik)

Decorations:
multicolored or chocolate sprinkles
candy-coated chocolate kiss sprinkles
strawberry fruit roll ups (or fruit by the foot)
chocolate (for melting)

Directions
1. Finely crush all but 14 cookies in a food processor or place them in a ziploc bag and crush into a fine consistency. Note: As for the extra 14 cookies, just eat them. Or, if you have extra dipping chocolate, make some chocolate covered oreos.
2. Stir in softened cream cheese. Use the back of a large spoon to help mash the two together.
3. Roll the mixture into 2″ balls (for the bodies) and 1″ balls (for the heads) and place on a cookie sheet covered with wax paper. Make sure you have enough heads for your bodies!
5. It helps to put the uncoated balls in the freezer for a few minutes to keep the mixture from starting to fall apart when you drop into the melted chocolate. Note: I refrigerate mine for an hour or two in lieu of the freezer. I've heard folks say that if they get too cold, they can crack.
6. Melt candy coating as directed on package and then dip balls one at a time into candy coating. Let excess coating drain off onto wax paper covered cookie sheet to dry. Note: Dipping is often the most difficult part. Find what works for you. Let your kitchen be your playground. Look through your utensils for useful tools, and be creative. I used a grill fork to hold my "bodies" while spooning coating over them, and then redipped the bottoms separately. For the heads, I usually skewered them with a toothpick, dipped them, and then wriggled them off onto the wax paper after draining excess coating.
7. As soon as each body and head is dry (which usually only takes a couple of minutes) transfer it to the refrigerator immediately to prevent cracking/oozing. If it does crack, blot with a paper towel, redip, dry, and then refrigerate.

To decorate:
1. Take a head and body out of the fridge, and "glue" them together using melted candy coating (I used a sharp paring knife here to whittle away some of the excess coating around the bottom of the heads).
2. Use melted coating to "glue" on chocolate sprinkles for eyes, mouth, and buttons if desired. "Glue" on an orange candy-coated chocolate sprinkle (or a regular orange sprinkle) for a carrot nose.
3. Cut a strip of strawberry fruit roll up, and snip "fringe" into each end. Wrap around snowman's neck and "glue" together with melted candy coating.
4. Melt chocolate and pipe out tree branch arms. Using a bamboo skewer or a toothpick, carve out a hole in each side of the snowman. Gently slide a "branch" into each hole to serve as arms.
4. Refrigerate snowmen in an airtight container.
5. Immediately before serving, you can create a snowy scene with coconut and/or glistening sugar sprinkles. Optional but pretty!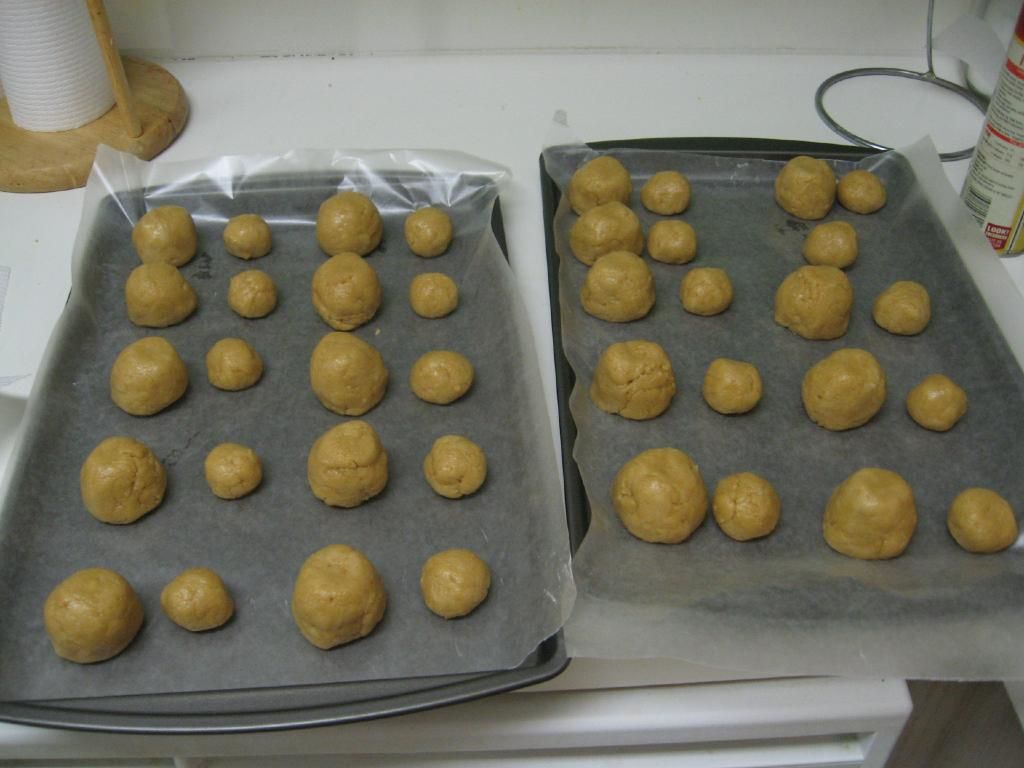 Mixing up the golden oreo truffles and shaping snowman parts.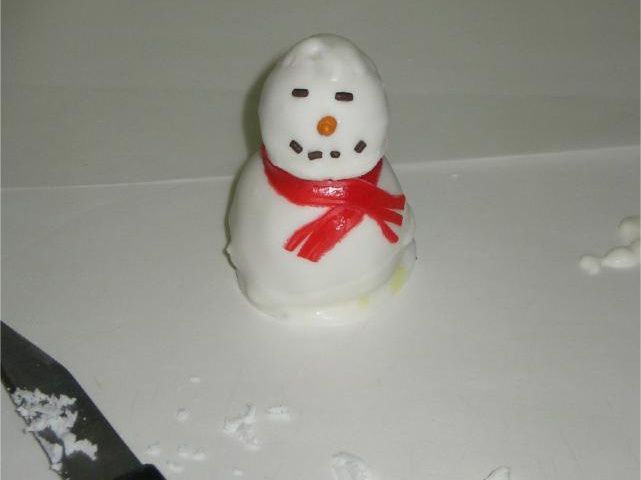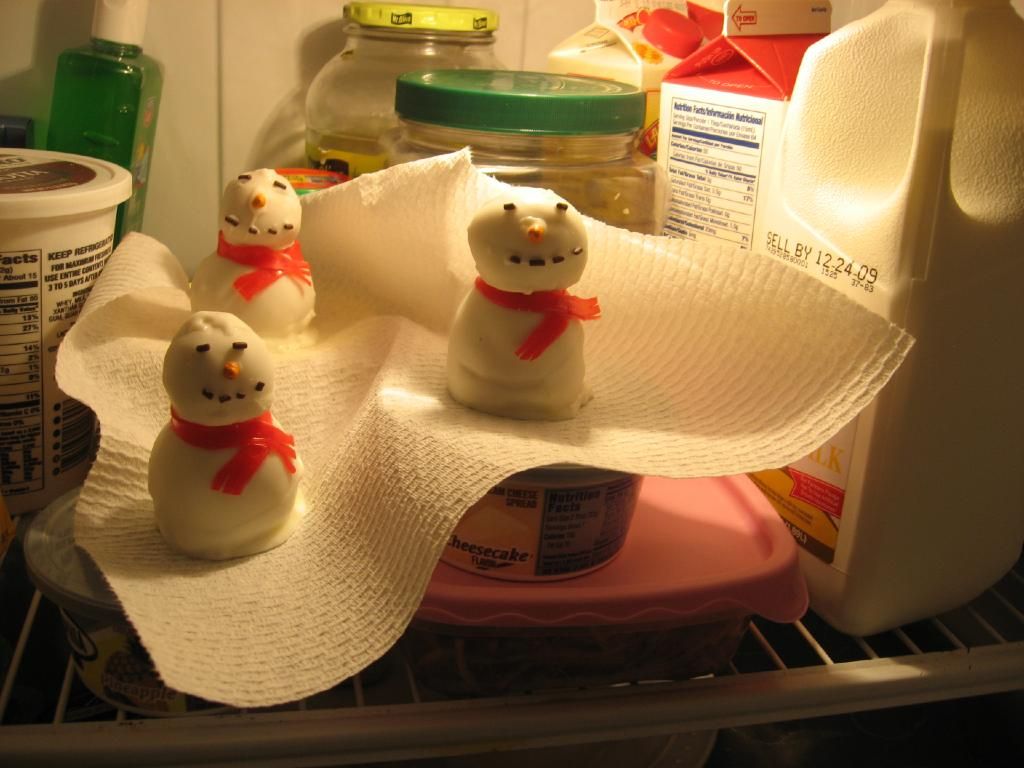 My very first snowman, and then three chilling out in the fridge.




All the snowmen decorated, and then finally receiving arms!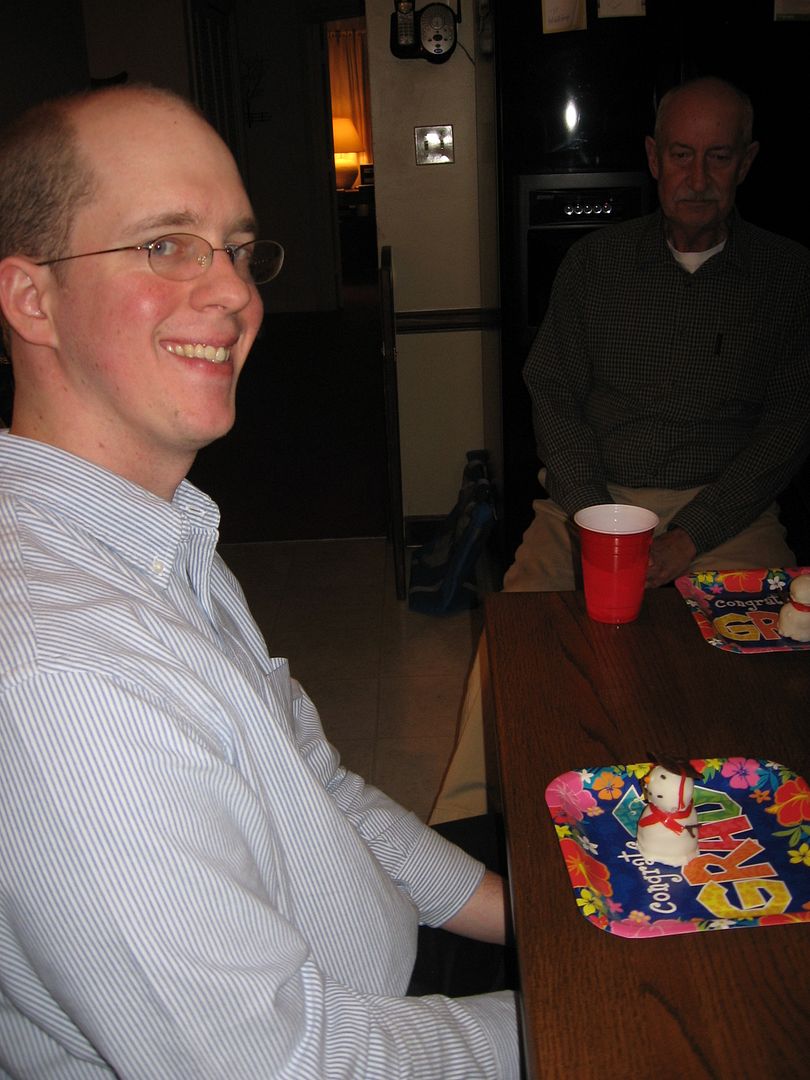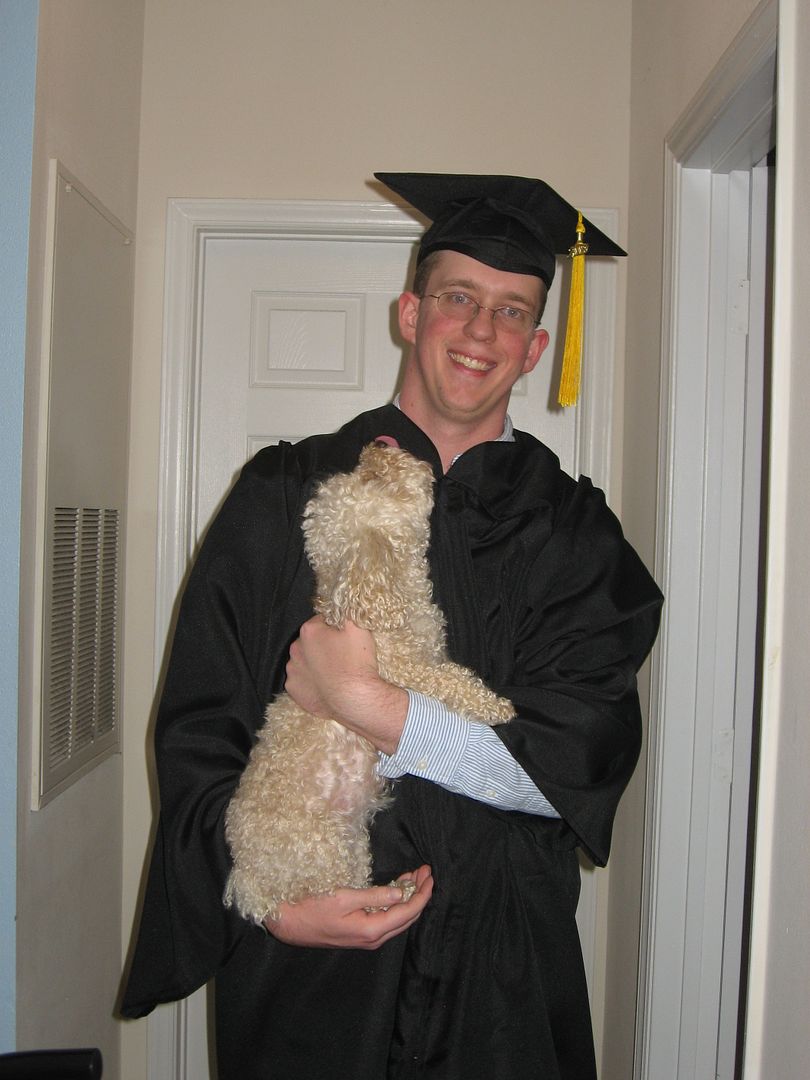 Mike seeing his "surprise" snowman and Byrd giving her daddy graduation kisses.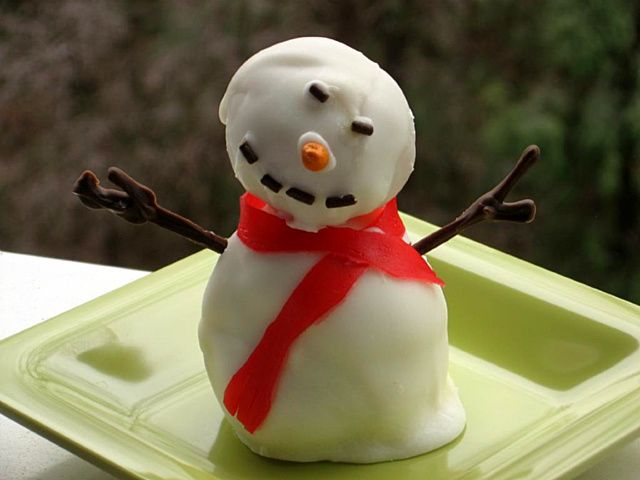 My favorite snowman! Happy as can be!
Share this post with friends!