Hot Cranberry Orange Cake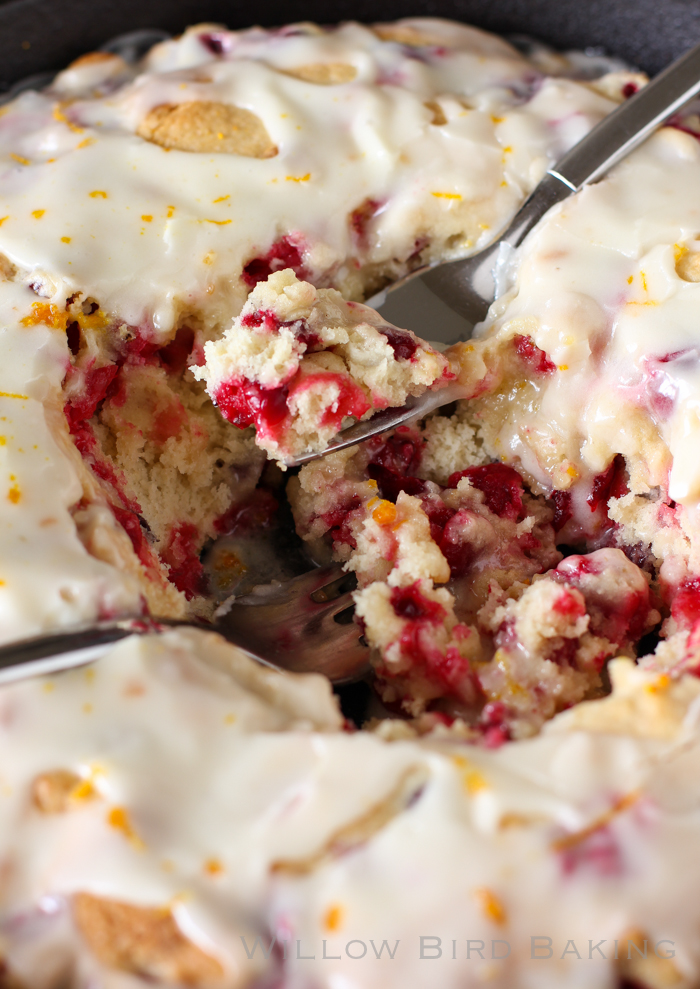 2 cups flour
2 teaspoons baking powder
1/4 teaspoon salt
1/4 teaspoon cinnamon
1 cup sugar
1/4 cup butter, softened
1 large egg
1/2 teaspoon vanilla extract
1/2 teaspoon orange extract
1/2 cup buttermilk
3 cups frozen cranberries (do not thaw)
2 cups powdered sugar
2 tablespoons orange marmalade
1/8 teaspoon vanilla extract
1/8 teaspoon orange extract
milk to thin (I used around 3 tablespoons)
orange zest for topping
Preheat the oven to 375 degrees F. In a medium bowl, whisk together the flour, baking powder, salt, and cinnamon. Reserve about 1/4 cup of this mixture in a small bowl.
In a large bowl, cream together the butter and sugar. Add the egg and extracts and blend until just combined. Add the flour mixture and buttermilk alternately, beginning and ending with the flour. Toss the cranberries in the 1/4 cup reserved flour and then fold them (and the rest of the reserved flour) into the batter. (The dough is quite stiff, so be patient as you're folding in the berries. It'll seem like it's mostly berries, but just trust me. It'll be awesome.)
Spread the batter into a 10-inch skillet (I used the back of two spoons to work it around.) Bake for 25-35 minutes, until a toothpick inserted in the center of the cake comes out with a few moist crumbs (cooking time in a cast iron skillet can be variable, so check early and often.) While the cake is still hot, purée the jam and extracts together in a food processor. Slowly add the powdered sugar as you process. Add milk slowly to get the desired consistency — I ended up adding about 3 tablespoons. Pour your glaze over the hot cake. Top with orange zest and serve while warm.
Recipe by
Willow Bird Baking
at https://willowbirdbaking.com/2014/12/24/hot-cranberry-orange-cake/