Thank you for sponsoring this Healthy Three-Ingredient Banana Ice Cream recipe, FitJoy!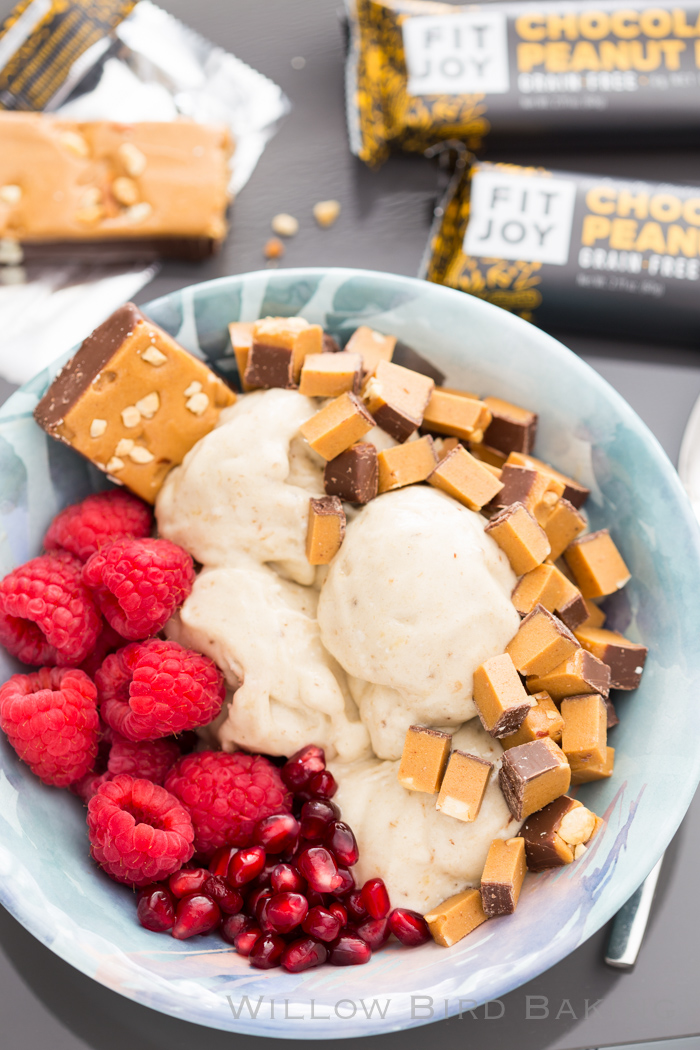 Healthy Three-Ingredient Banana Ice Cream
August is going to be a little stressful, so if you're available to come sedate me for roughly a month or like throw me into the ocean or something, I'm down for that! Good news, though: it's stressful for GREAT reasons, because there are big changes coming up that I'm excited about!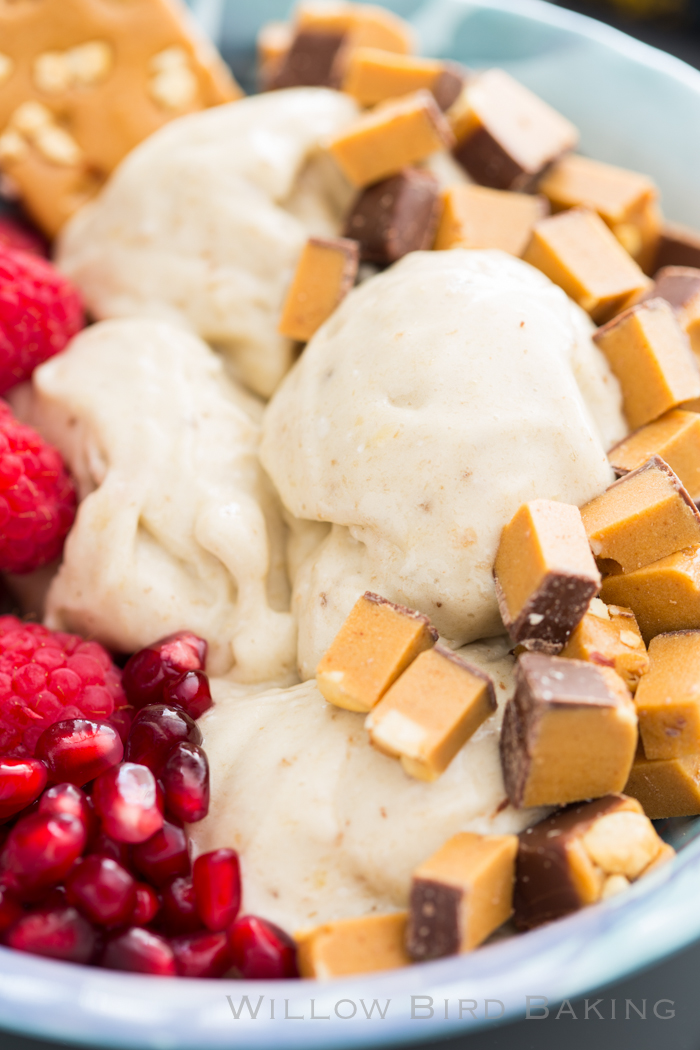 The Big News
Namely, I'm moving! Thank God it's not a long-distance move this time: I'm moving from La Mesa to downtown San Diego. I can't wait to show you my new place!
But even though it's a shorter distance, moving anywhere still means downsizing, packing, organizing, and dismantling the turtle tank. You know how I feel about this.
I've been stress-eating ice cream every single night and I'm not sorry. But it IS probably time to switch over to a healthier dessert. This Healthy Three-Ingredient Banana Ice Cream is the perfect solution!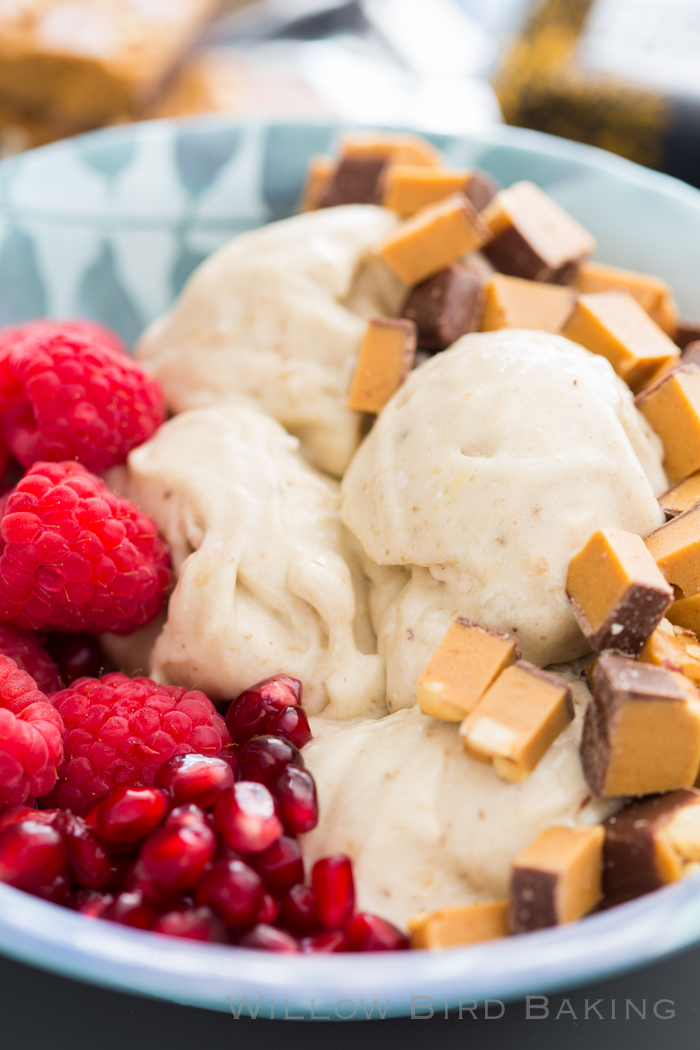 Banana Ice Cream
This magical dessert can literally be made with JUST bananas (I add 1-2 tablespoons of coconut cream because I love myself) and once blended, it has the exact texture of soft serve ice cream.
I've been demolishing FitJoy protein bars lately and the Chocolate Peanut Butter bars were begging to be added to a big bowl of this banana ice cream. The protein bars are grain-free and gluten-free, free of artificial flavors and sweeteners, and super chewy and delicious. They also come in "fun size" bars (about 1/3 the size of the regular bars) in case you want a smaller portion.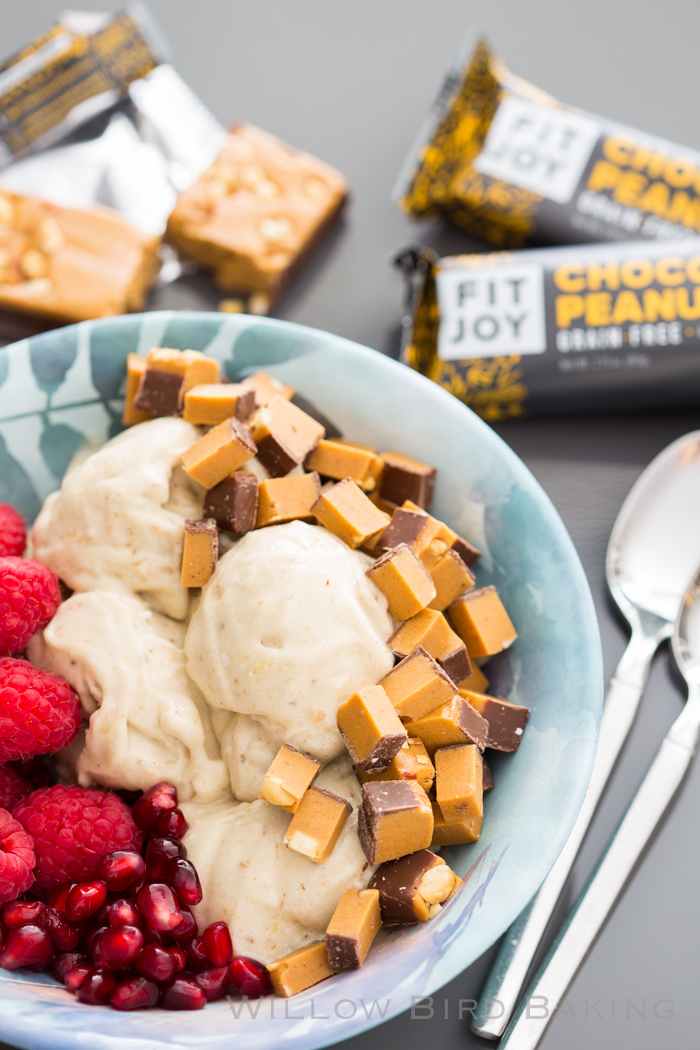 The combo of salty and sweet (and chewy and crunchy with the real peanut topping!) of the FitJoy Chocolate Peanut Butter protein bars seemed perfect to pair with banana, but I've also got some of the Cookie Dough Brownie bars in my kitchen waiting to top my next batch.
Want to try some flavors for yourself? Use my coupon code WILLOW15 to get 15% off on your order. They also make the first ever grain-free pretzels, which is next on my list to try!
I also top my ice cream with raspberries and pomegranate seeds, but any berries or nuts or granola would be delicious. Enjoy!
One year ago: Key Lime Pie Sheet Cake
Two years ago: Caramelized Pineapple Parfaits
Three years ago: 4-Ingredient Blueberry Cobbler Dump Cake
Four years ago: Cheesy Chipotle Shrimp Sweet Potato Coins
Five years ago: Shortbreads with Dark Chocolate Frosting
Six years ago: Strawberry Lemonade Cheesecake Bars with a Shortbread Crust
Seven years ago: Lemon Raspberry Squares
Eight years ago: Chocolate Pistachio Cream Cupcakes
Nine years ago: Angelic Cherry Mousse Cloud Cake with Mascarpone Whipped Cream
Ten years ago: Milan Cookies
Healthy Three-Ingredient Banana Ice Cream
I finally tried the banana "ice cream" that's been circulating around the internet and it's true: the texture is amazing! This healthy treat is so easy to make and is made even more delicious by the addition of a FitJoy Chocolate Peanut Butter protein bar and some fresh berries!
Author:
Willow Bird Baking
Ingredients
3 very ripe bananas (look for ones that are getting pretty brown on the outside)
1-2 tablespoons coconut cream
1 FitJoy Chocolate Peanut Butter Protein Bar, chopped
raspberries and pomegranate seeds (optional)
Instructions
Chop the bananas into 1/2-inch slices and lay them out on a parchment-lined baking sheet. Stick these in the freezer for at least a few hours. Once they're frozen, you can transfer the bananas into a ziplock bag and store them in the freezer, so I froze a couple of batches of these for future ice cream making!
When the bananas are frozen, stick them in a food processor or blender. Pulse a few times until they're in crumbles. Use a spatula to shuffle them around a bit so they'll chop evenly. Add the coconut cream. Continue processing, stopping every 30 seconds or so to stir. It'll look like they're just going to stay a crumbly mess, but keep pulsing and the magic will happen! You'll see the bananas start to take on a creamy, soft serve texture.
Transfer to a bowl and top with chopped FitJoy Chocolate Peanut Butter Protein Bar, fresh berries, and pomegranate seeds.