Thanks to Miracle-Gro for sponsoring this post! All opinions are my own.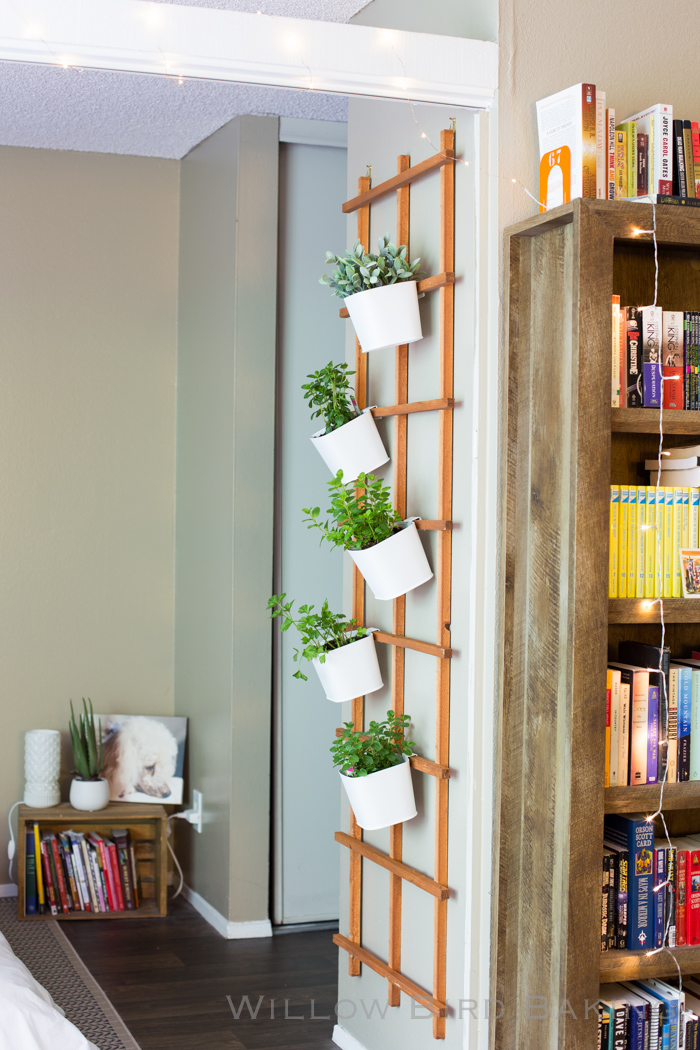 How to Create a Cute Edible Garden in a Tiny Studio Apartment
Hi, my name is Julie and I can kill a plant in three days flat. NO SERIOUSLY: some people joke that they have a black thumb but then you find out they have cute little succulents thriving all around their cute little apartment. LIES.
Meanwhile my last struggling cactus keeled over a month ago. In the words of Demetri Martin: I am less nurturing than a desert.
UNTIL NOW. I'm turning over a new leaf, y'all. Maybe. I hope.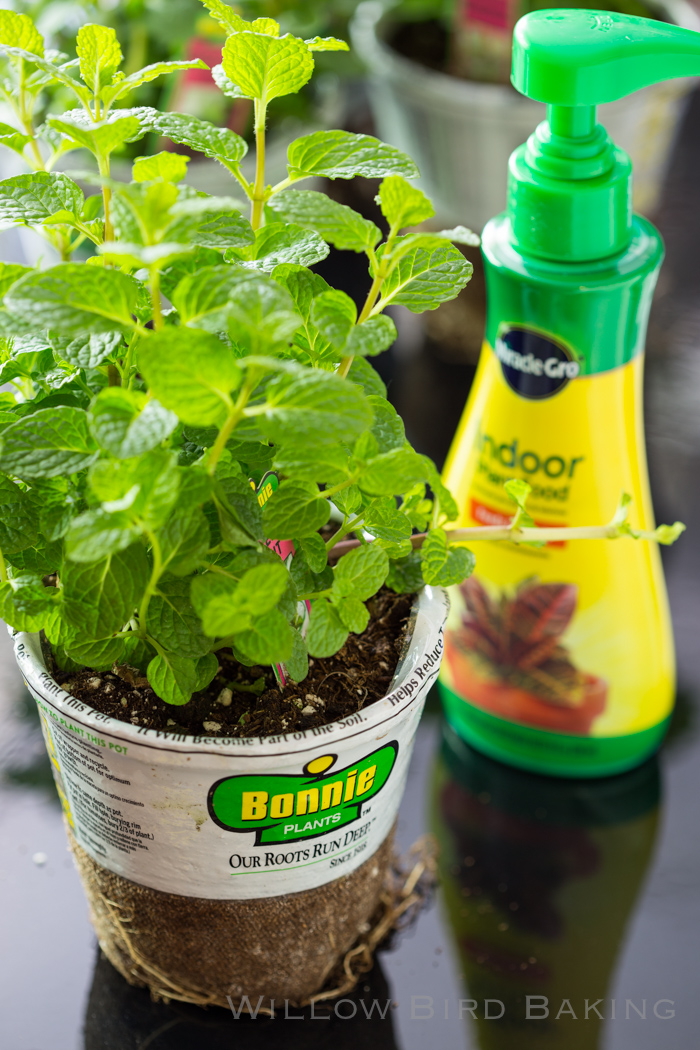 BECAUSE I MADE THIS BEAUTIFUL THING.
I've been wanting to give plants another shot because I see these beautiful living spaces on Pinterest full of gorgeous green foliage and I'm green with envy (haaaa, get it? Sorry, prepare for plant puns). I also bake a lot (I don't know if you noticed!) and always wish I had a green thumb to add fresh herbs to my food.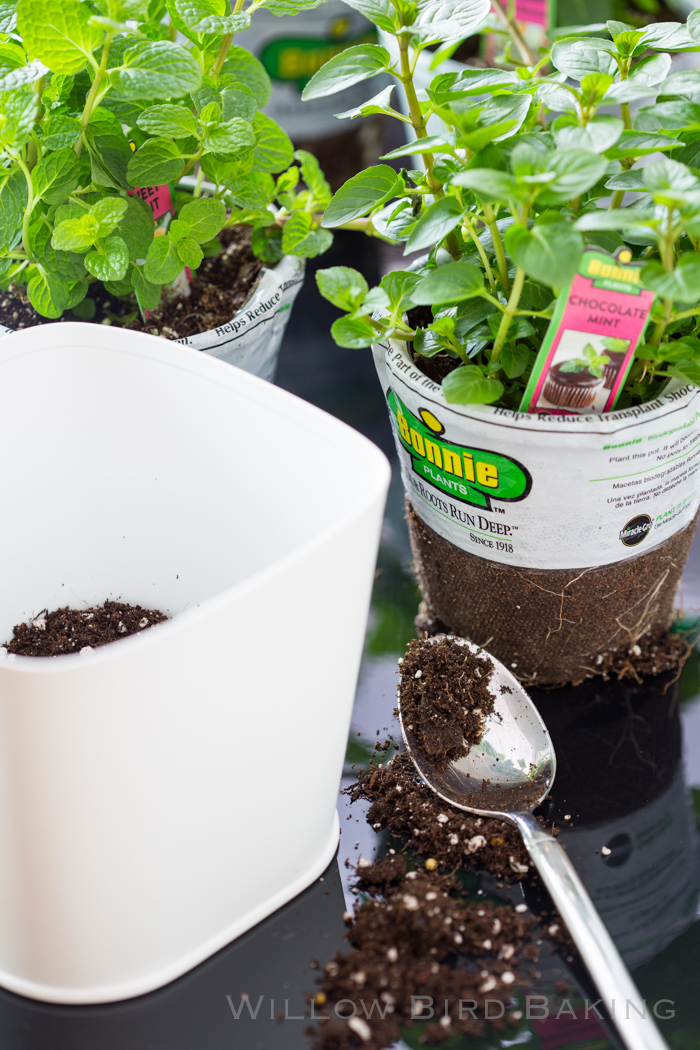 In addition to having the WORST plant luck ever, I also have a tiny studio apartment. How could I create a cute edible garden? I partnered with Miracle-Gro and Bonnie Plants to find out.
My past planting experience has gone something like this: I grab a plant, stick it in some soil, forget to water it, whine when it dies, and finally embrace my epic failure. This time, I'm going a different route.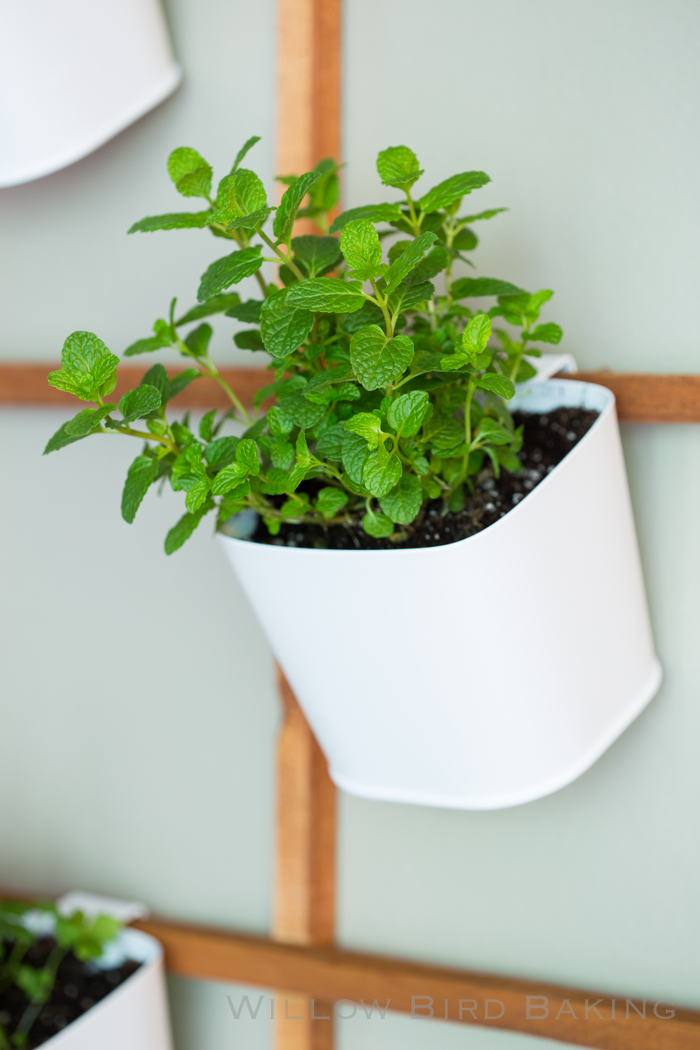 This time, I actually took note of the light conditions each plant needed. I would've loved to grow some basil or cilantro, but my apartment is a shaded little hobbit hole, so I decided instead to grow some plants that can tolerate partial light. I grabbed an array of mints perfect for my desserts: chocolate mint, spearmint, and sweet mint. I also grabbed a flat-leaf parsley plant perfect for adding flavor and garnish to savory dishes.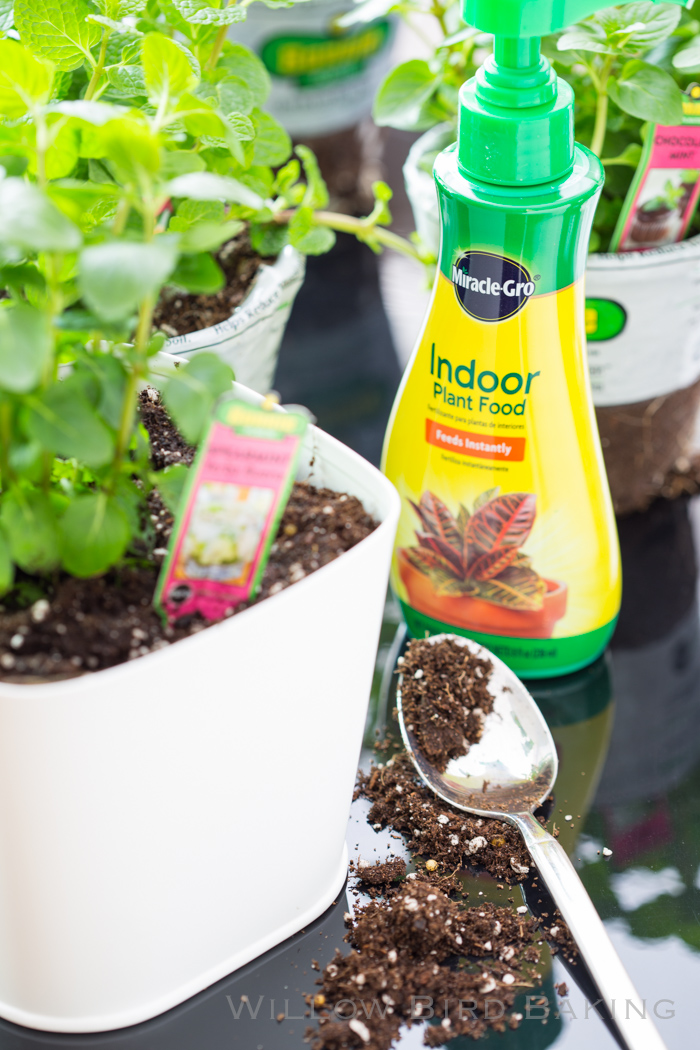 Besides doing a little background research, I found some Miracle-Gro Potting Mix and Miracle-Gro Plant Food at Walmart. I've never used Miracle-Gro before, but it grows plants twice as big (versus unfed) and feeds for up to 3 months. I'm excited to try actually feeding my plants this time around!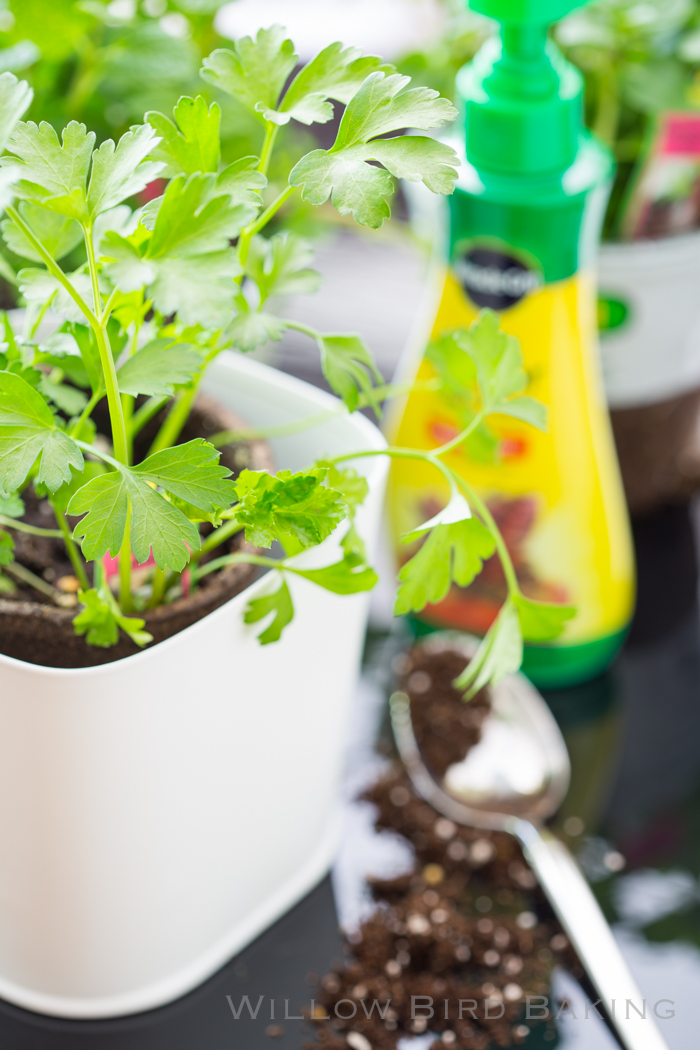 To solve my tiny studio apartment dilemma, I decided to make my cute edible garden VERTICAL! I grabbed a $15 trellis and mounted it to the wall (make sure you use drywall anchors so that it will hold the weight of your plants). I bought cute little planters with hooks attached and planted each of my Bonnie plants in the Miracle-Gro potting mix in the planters.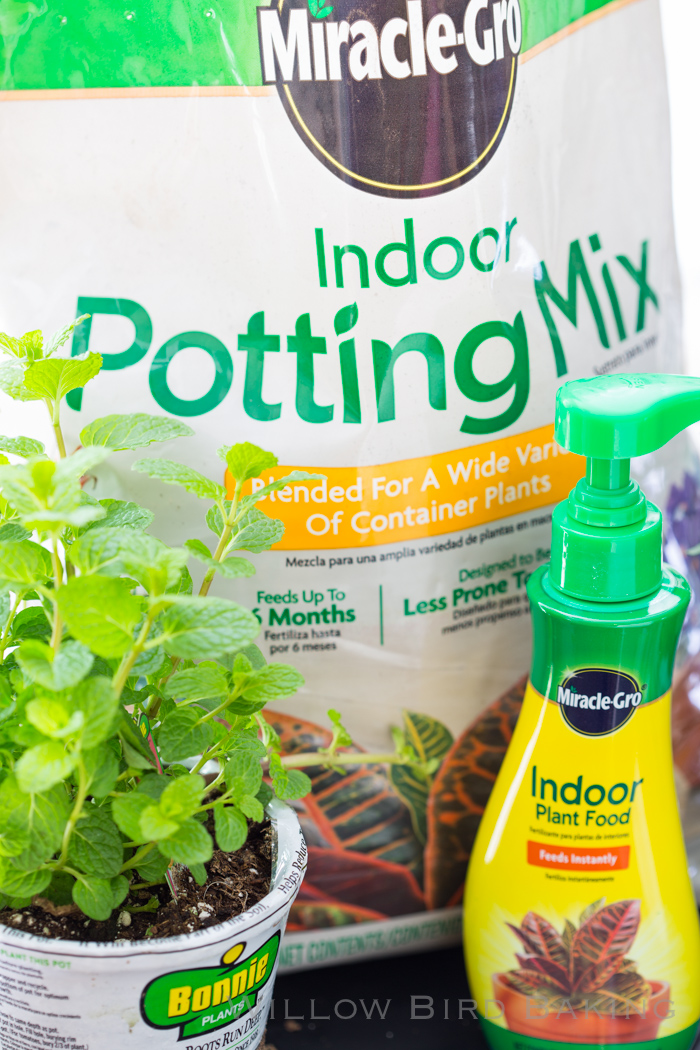 The Bonnie plants, Miracle-Gro Potting Mix, Miracle-Gro Plant Food, trellis, planters, and hanging hardware all totaled about $70 — pretty inexpensive to create such cute edible garden!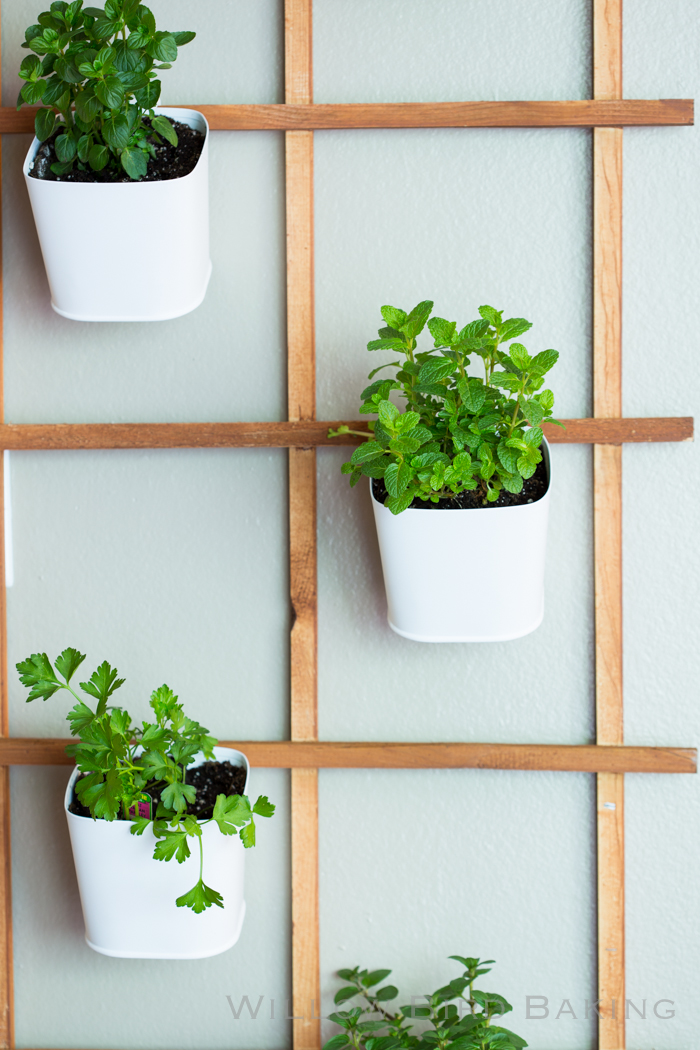 NOW TO KEEP IT ALIVE. Send me all your tips, tricks, and hints for how I can keep my plants from dying before I get to cook with them!
One year ago: Easy Lemon Cream Sugar Cookie Bars
Two years ago: Vanilla Bean Cheesecake
Three years ago: Four-Ingredient Protein Pancakes
Four years ago: Lemon Cream Pie Bars
Five years ago: Breakfast Stuffed Mushrooms (Portobellos Stuffed with a Leek and Gruyère Scramble)
Six years ago: Thick Chocolate Cake with a Big Red (Velvet!) Heart
Seven years ago: Chocolate Sheet Cake