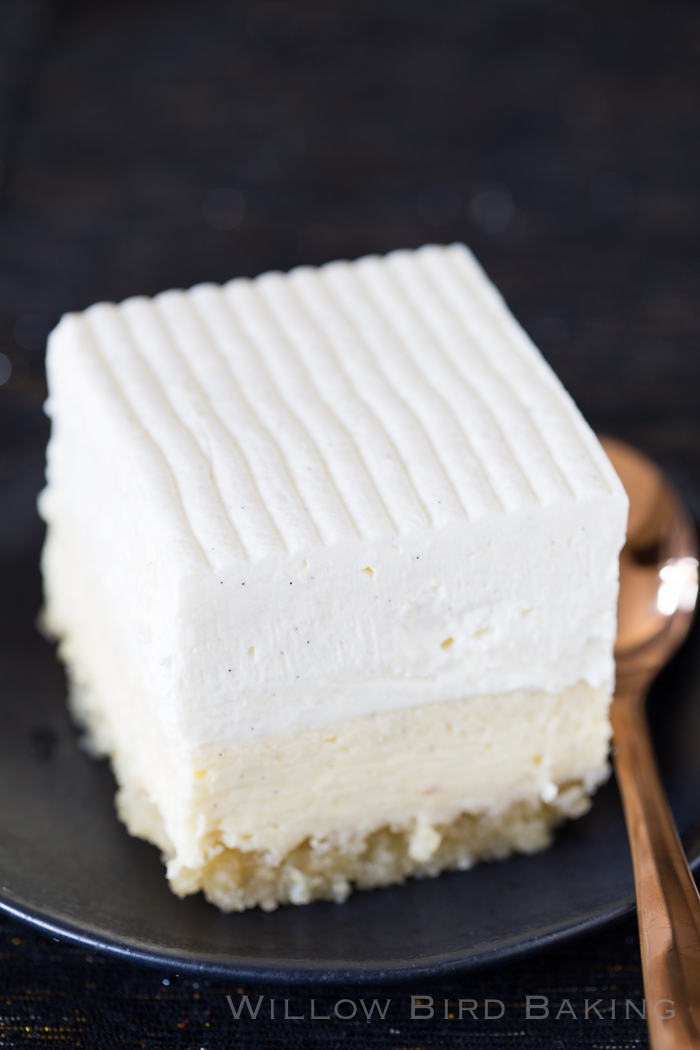 Vanilla Bean Cheesecake
Last week my students and I took a break from our regular academic program to participate in what we call Intersessions: a weeklong immersion into a new skill or area of curiosity. A colleague and I have worked together for the last few years to host Kitchen Nightmares (apologies to Gordon Ramsay), an Intersession during which kids ask, "How do you find and make great recipes?"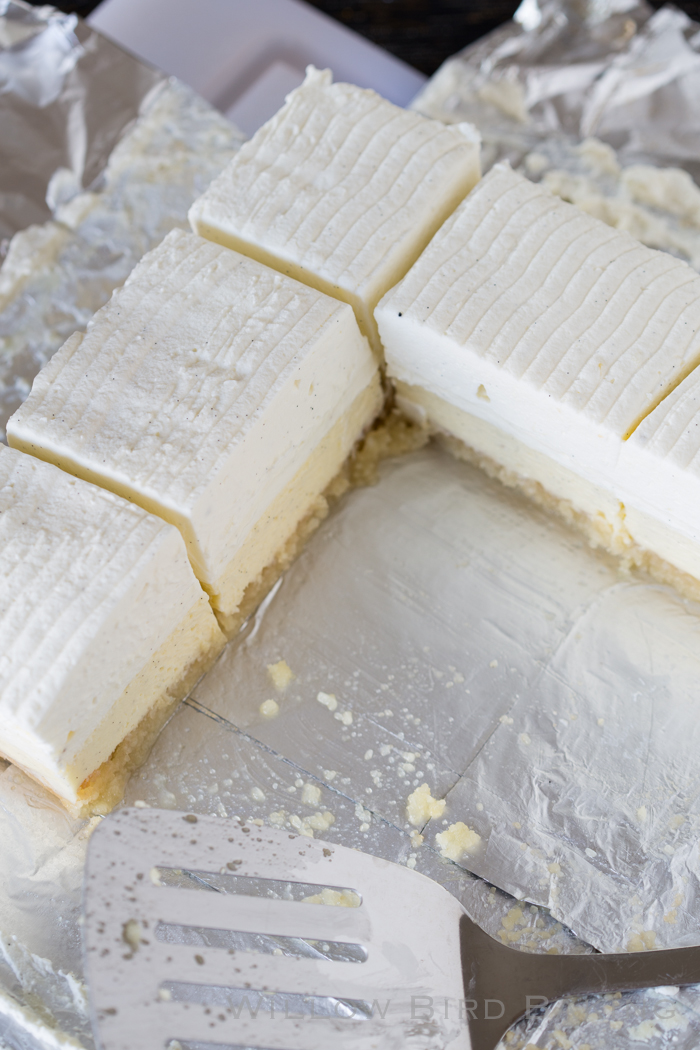 The students started the week making provided recipes, learning about kitchen safety, and discovering the magic of mise-en-place. After this first run with training wheels, they built independence in the kitchen by choosing their own recipes. One group learned the hard way to read recipes all the way through before choosing. It turns out their biscuit recipe was made to be cooked over hot coals!
Their recipe adaptation skillz and creativity were challenged in a middle school favorite: Cupcake Wars! They chose filling, frostings, and toppings to dress up cupcakes. We ended up with Lemon Colada, Strawberry Choco-Cheesecake, and Orange Delight cupcake flavors. Finally, we ended the week with a true test of their proficiency in the kitchen: CHOPPED. They could use anything in the kitchen to make . . . well, anything! Judges were treated to fried chicken with a side of cabbage salad, lemon mousse profiteroles, and cookies and creme whoopie pies. All of it was cooked to perfection, and talk about an impressive difficulty level! It's so gratifying to watch them bloom from kids who aren't sure about the difference between a tablespoon and a teaspoon to little master chefs. It's also something that just teaching and demos really can't do — to learn, they have to get in the kitchen and rise and fall on their own.
We celebrated with a trip to a local Japanese steakhouse where the staff wink-winked us into declaring it a student's birthday, meaning free cheesecake all around. What lovely memories. And just look at their own estimation of how they grew: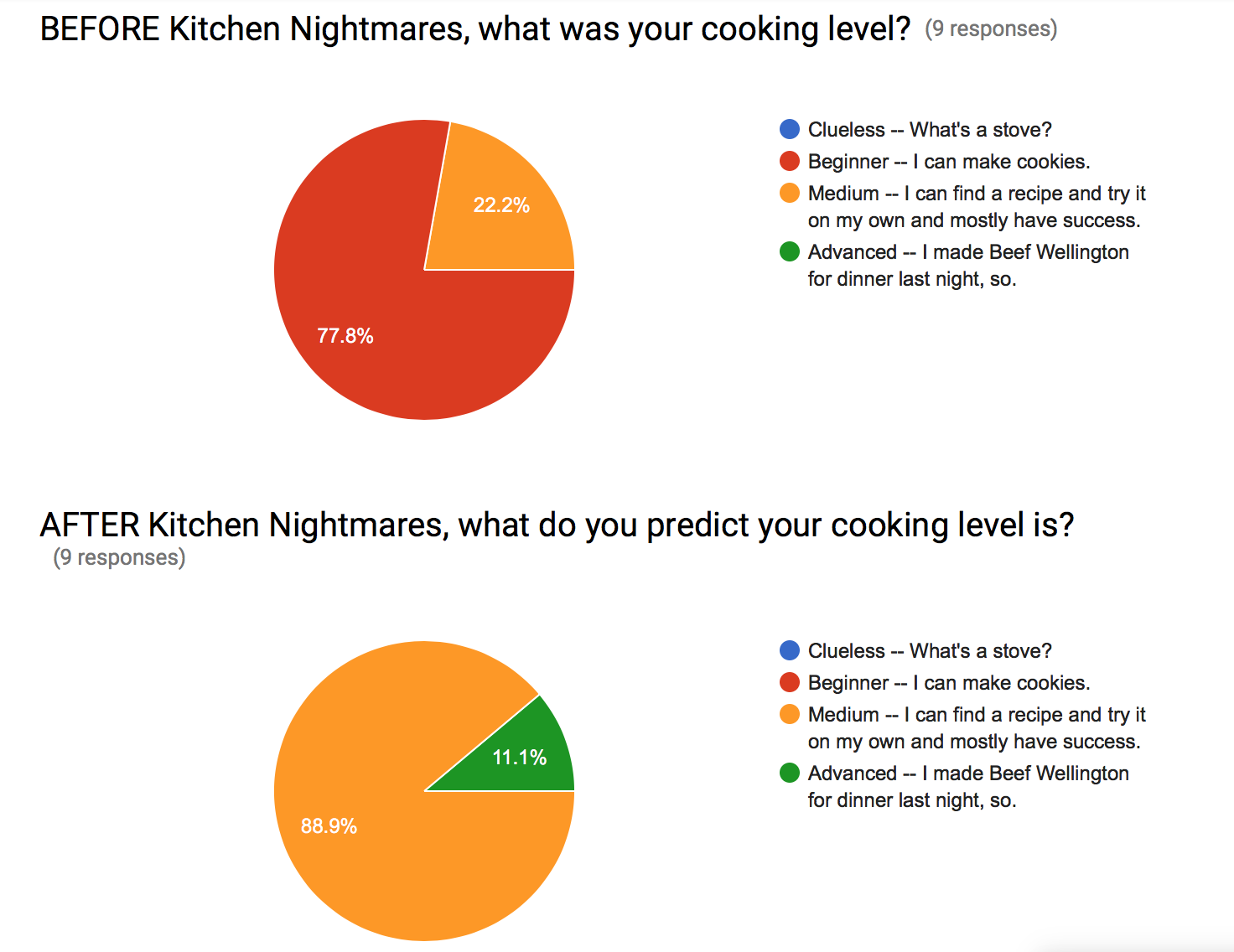 One of my favorite parts of reading their reflections on the week is how they interpreted their own mistakes. Students can sometimes feel like getting the right answer is the goal of every process, but a huge part of cooking (and, okay, life) is how you handle messing up. One kid noted, "A mistake I made was not reading through how much powder sugar we needed and we ran out, so I had to make some from sugar and corn starch. I learned to read over everything first before jumping in." Another revealed, "I think something that was important that I learned was how to work with others and communicate with them too. I think a big problem my group had was talking to each other and listening to each other."
Wise words resulting from what, to outsiders, may look like just a chaotic week of cooking and eating way too many fried pickles — am I right?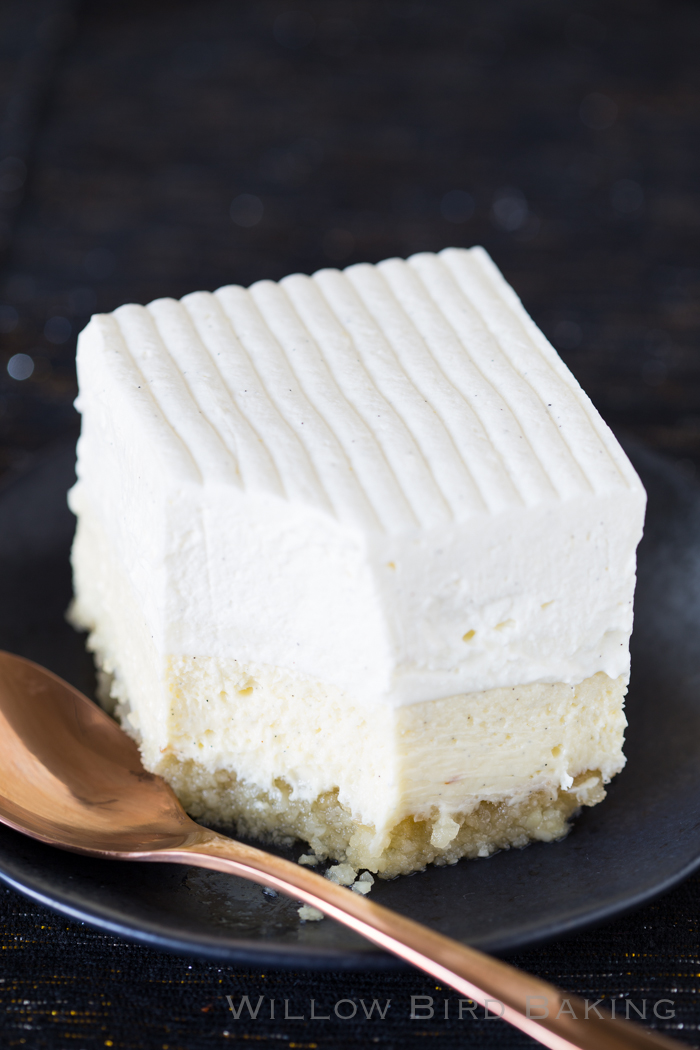 I think my students would have no trouble tackling this week's recipe, even though it requires a good read-through before beginning. This delicious, decadent, company-ready dessert consists of a buttery macadamia nut crust, a creamy layer of vanilla bean cheesecake, a tangy vanilla bean sour cream topping, and finally a cloud of vanilla bean whipped cream mousse. In short, it's a vanilla lover's dream.
The crust was a new endeavor for me and it certainly is buttery and less stable than I'm used to, but after chilling it held up just fine and the taste is NUTS. Pun intended. So I'm sharing it with you with the note that if nuts aren't your thing, this cheesecake would also be perfectly delicious on a regular graham cracker crumb crust or a shortbread crust like this recipe uses. Enjoy! And don't forget your mise-en-place.
One year ago: Brownie Blackout Mousse Cake
Two years ago: Bailey's Mint Oreo Icebox Cake
Three years ago: Buttery Coconut Almond Pull-Apart Bread (with Heavenly Coconut Cream Glaze)
Four years ago: Tres Leches Coconut Cake Trifle
Five years ago: Soft Pretzel Dogs
Six years ago: Ice Cream Cupcakes

Vanilla Bean Cheesecake
This cheesecake is a vanilla lover's dream: a buttery macadamia nut crust, creamy vanilla bean cheesecake, tangy sour cream topping, and a fluffy vanilla bean whipped cream mousse. I love making this as bars because they're so simple. The crust is looser than you might be used to because macadamia nuts don't grind up as fine as, say, graham crumbs, the taste is worth it! Plan in advance for this recipe: this dessert is best after it's chilled for 6 hours or more.
Author:
Willow Bird Baking
Ingredients
Macadamia Nut Crust Ingredients:
1 1/2 cups raw macadamia nuts
1/4 cup powdered sugar
1/4 teaspoon salt
6 tablespoons butter, melted
Vanilla Bean Cheesecake Ingredients:
2 (8-ounce) packages cream cheese, softened
1/2 cup sugar
2 tablespoons cornstarch
seeds scraped from 1 vanilla bean
2 eggs, room temperature
Vanilla Bean Sour Cream Topping Ingredients:
1 1/2 cups sour cream
seeds scraped from 1/4 vanilla bean
1/4 cup sugar
Vanilla Bean Whipped Cream Ingredients:
1 tablespoon cold water
1 teaspoon gelatin
2 cups heavy whipping cream
seeds scraped from 3/4 of a vanilla bean
1/2 cup powdered sugar
Instructions
Make the macadamia nut crust: Preheat your oven to 350 degrees F. Line an 8-inch square baking pan with a foil sling. Pulse the macadamia nuts, powdered sugar, and salt together until the macadamia nuts are finely ground. Add the melted butter and pulse to mix. Press the mixture into the prepared baking pan with the flat bottom of a glass or small dish. Bake for 12-14 minutes or until very lightly browning. Leave the oven preheated.
Make the cheesecake: While the crust bakes, make the cheesecake. Beat 1 package of cream cheese, half the sugar, and the cornstarch together on low speed for 3 minutes until creamy. Add the other package of the cream cheese and mix to combine. Increase the mixer speed to medium and beat in the rest of the sugar and the vanilla bean seeds. Add in the eggs one at a time, beating until well combined after each. Pour the cheesecake over your prepared crust. Situate the pan down into a larger pan and fill the outer pan with hot water to a depth halfway up the side of the cheesecake pan. Bake for 28-30 minutes or until the cheesecake filling barely jiggles, indicating that it's set up. Remove to a wire rack for 5 minutes.
Make the topping: Beat together the sour cream, vanilla bean seeds, and sugar together until combined. Pour over your cheesecake starting at the outer edges and moving to the center. Use an offset spatula to spread it evenly over the cheesecake. Return the cheesecake to the oven for 10 minutes before removing it to the refrigerator to chill for at least 6 hours.
Make the whipping cream: Put 1 tablespoon cold water in a small bowl and sprinkle the gelatin evenly over the top. Let it soften for 2 minutes before microwaving it for 30 seconds and whisking to dissolve the gelatin. Using a chilled bowl and beater, whisk the 2 cups of heavy cream, vanilla bean seeds, and powdered sugar together until the cream forms stiff peaks, stopping to add gelatin mixture about halfway through. Dollop the cream over your bars and gently spread it around. Spread the mixture evenly over the cheesecake bars. Use the foil sling to remove the bars to a cutting board. Cut into squares and serve.