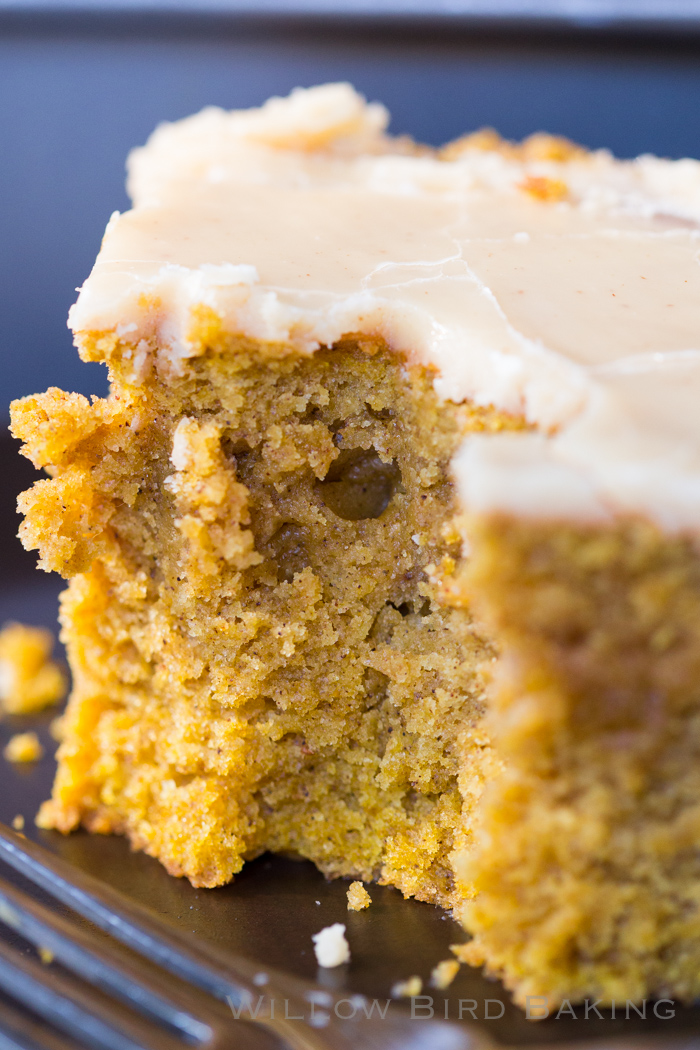 Brown Butter Pumpkin Snack Cake with Crackle Icing
BROWN BUTTERRRR is good enough, y'all. Good enough to make this Brown Butter Pumpkin Snack Cake with Crackle Icing INCREDIBLE. But there's this other amazing trick I learned that makes this cake one of the best I've EVER eaten . . .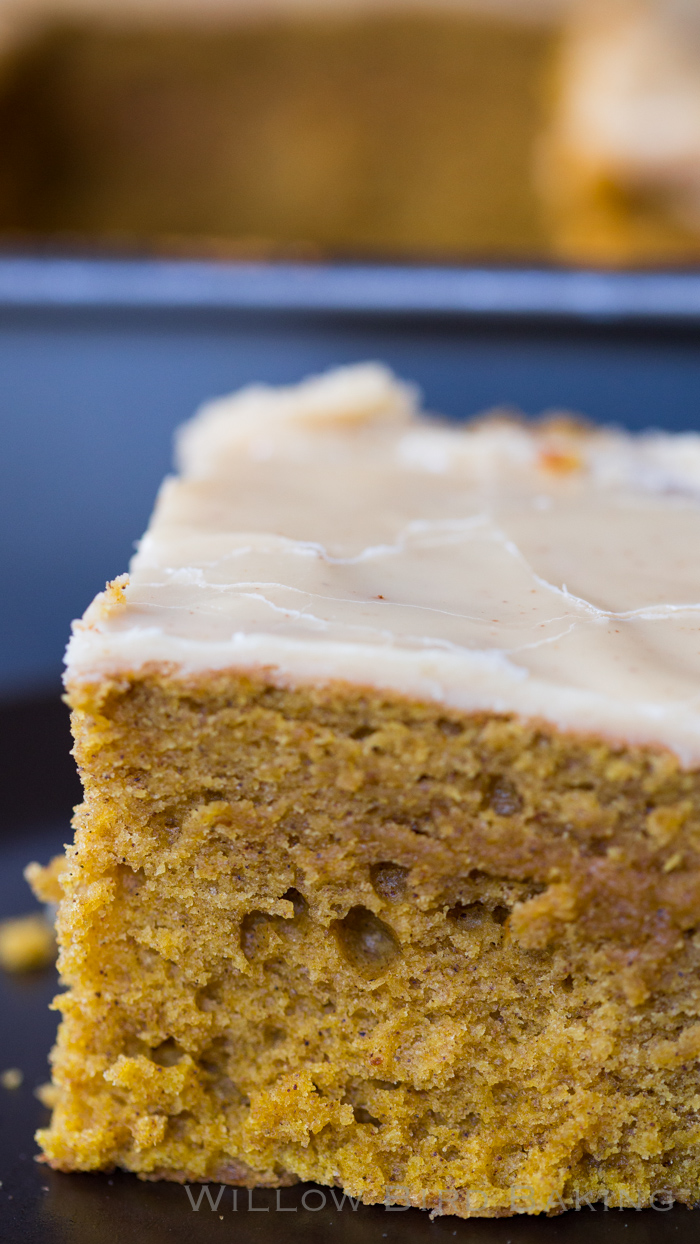 I love the nuttiness of brown butter, which is just butter cooked until all its moisture evaporates and its milk solids toast. It requires a little stovetop babysitting since it can burn quickly, but it's so worth it.
But the trick I learned is to BLOOM YOUR SPICES. If you saw my Carrot Cake Waffle recipe, you already know what an impact this can have!
Blooming spices means toasting them in fat (like oil, ghee, or butter — or in this case, brown butter!) to release more of their flavor. Ground spices burn quickly, but a quick bloom for around 15 seconds does wonders for this cake's final flavor!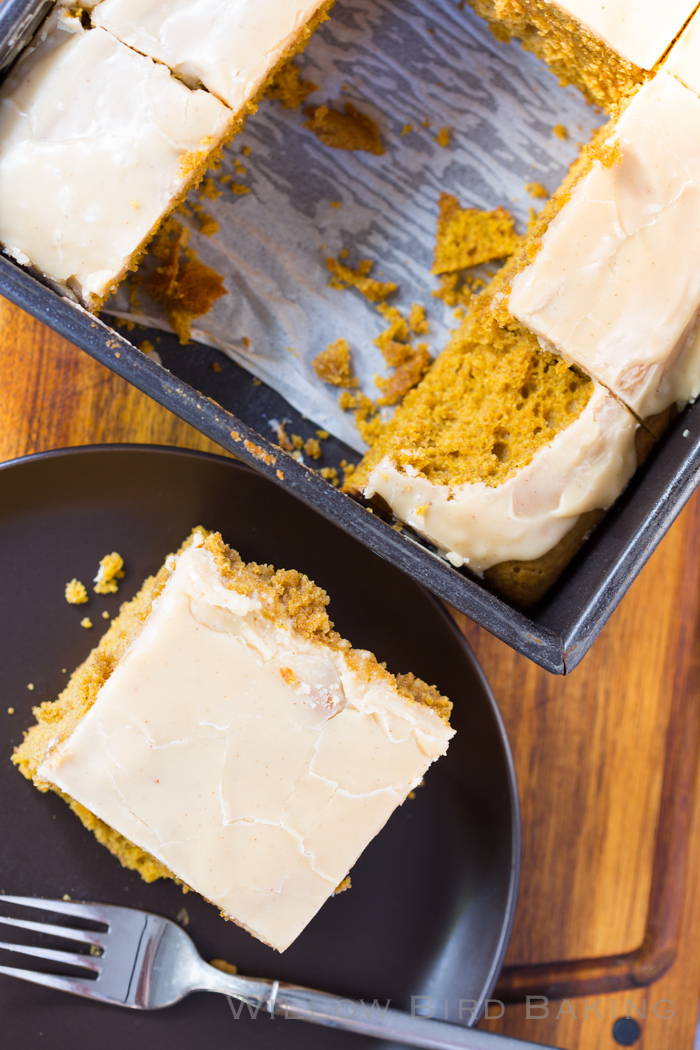 Brown butter + bloomed spices + my beloved PUMPKIN + a sweet crackle icing = ONE OF THE BEST CAKES YOU'VE EVER EATEN. And the easiest too! You don't even have to let this cake cool before you pour the icing right on and enjoy.
Trust me, if you love pumpkin, this cake (and the blooming technique!) is your new BFF.
One year ago: Chewy Gingerbread Bars with Pumpkin Cream Cheese Frosting
Two years ago: Pumpkin Cheesecake Cinnamon Rolls
Three years ago: Chocolate Poke Cake with Whipped Coconut Icing
Four years ago: Broiled Southern Pimiento Cheese
Five years ago: Naked Vegan Tacos with Corn Relish and Cilantro-Lime Slaw
Six years ago: Individual Cranberry & Pecan Croissant Bread Puddings
Seven years ago: Two Terrific Tarts: Chocolate and Raspberry Cream Cheese

Brown Butter Pumpkin Snack Cake with Crackle Icing
This is simply THE BEST and THE EASIEST little pumpkin cake you could make this fall! If you love pumpkin, do not pass go and do not collect $200 -- get in the kitchen and make this RIGHT NOW!
Author:
Willow Bird Baking
Ingredients
Cake Ingredients:
3/4 cup butter
2 teaspoons cinnamon
1/2 teaspoon nutmeg
1/2 teaspoon ginger
1/4 teaspoon allspice
1/4 cup vegetable oil
3/4 cup granulated sugar
1/4 cup firmly packed light brown sugar
1 teaspoon vanilla extract
2 eggs
1 cup pureed pumpkin
2 1/8 cups all-purpose flour (1/8 cup is 2 tablespoons)
1 teaspoon baking powder
1/2 teaspoon baking soda
1/2 teaspoon salt
Caramel Crackle Icing Ingredients:
1/2 cup sugar
1/4 cup butter, cut into chunks
1/3 cup evaporated milk
pinch of salt
1/2 teaspoon vanilla extract
vanilla bean ice cream (optional, for serving)
Instructions
Preheat the oven to 350 degrees F and grease an 8-inch square baking pan (I also place a greased sheet of parchment in the bottom for extra assurance.)
Brown the butter and bloom the spices: Heat the butter in a saucepan over medium heat until melted, 1 to 2 minutes. Continue to cook, swirling pan constantly, until butter is light brown and has faint nutty aroma, 2 to 4 minutes. Add spices (cinnamon, nutmeg, ginger, allspice) and continue to cook, stirring constantly, 15 seconds. Pour the butter into a large bowl and allow it to cool.
Once the butter has cooled, whisk in the vegetable oil, sugars, vanilla extract, eggs, and the pumpkin. In a medium bowl, whisk together the flour, baking soda, baking powder, and salt. Whisk these into your wet ingredients to combine. Pour the batter into the prepared baking pan and smooth out the top. Bake for 28-32 minutes or until a toothpick inserted into the middle of the cake comes out with just a few moist crumbs.
Make the icing: When the cake comes out of the oven, while it's still hot, prepare the icing. Bring the sugar, butter, evaporated milk, and salt to a boil over medium-high heat. Reduce the heat and simmer, whisking constantly, for 10 minutes. The frosting will bubble like caramel most of the time and you'll notice it start to pull away from the sides of the pan as it nears the 10 minute mark. Remove the icing from the heat and whisk in the vanilla extract. Pour the icing over the hot cake and spread quickly, because it begins to set immediately. Cut and serve the cake immediately.