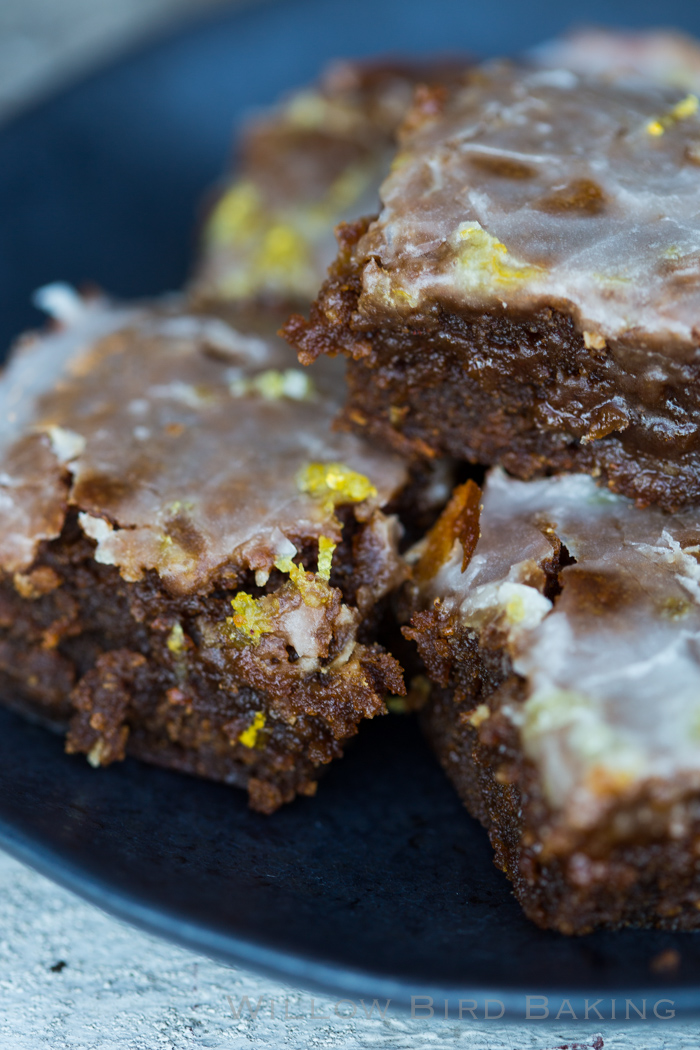 Warm Lemon-Glazed Gingerbread Bars
Apparently a "yoga journal" is a thing? Where people keep notes about their practice and how many inversions they've done and how much inner peace they've established? I love this idea but also here's my yoga journal from class today: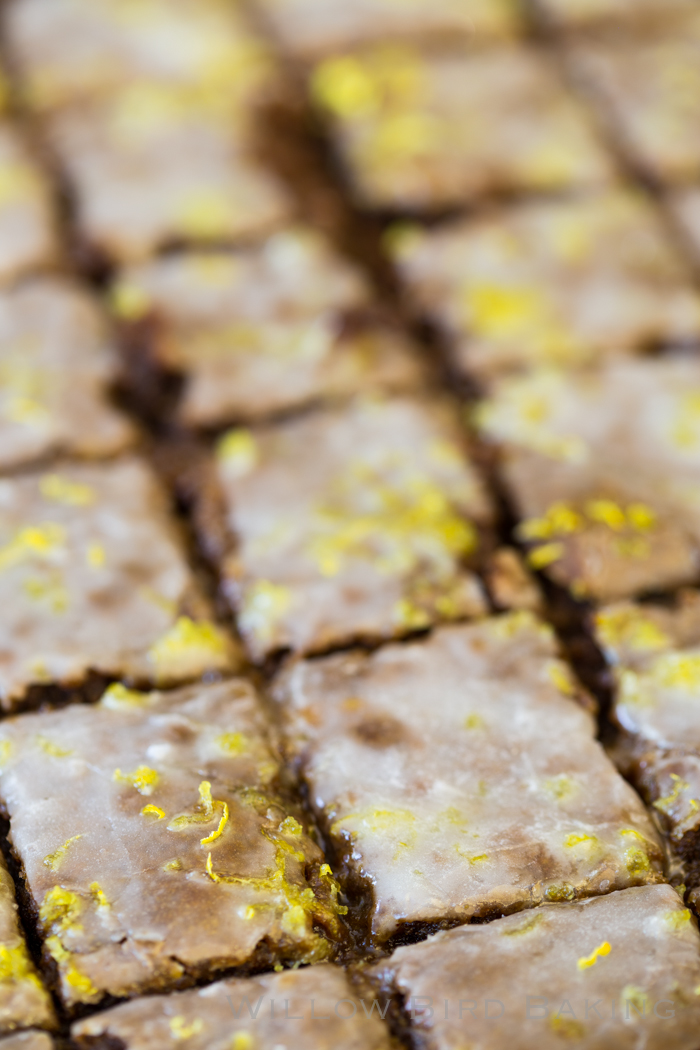 I am stuck on my left side in happy baby, and my peace turns briefly to panic as I realize I'm about to have to flail out of a restorative pose. I wiggle frantically to try and right the ship. I realize I am this alligator.
We are attempting something called flying pigeon. My instructor tells me I need to curl my toes, which are somewhere up by my eyebrows, just a bit more. I can't even access control over my toes at this moment. They have mutinied. This is my current status.
My instructor starts to help me with the pose and then eventually gets quiet and lets me writhe around hopelessly. She knows when to call it.
Some people sweat a LOT in hot yoga. I have no judgment, but when I step in this sweat putting my blocks away, I do hate everyone and everything. I request another shavasana to manage these afflictive emotions.
Hot yoga makes me hungry.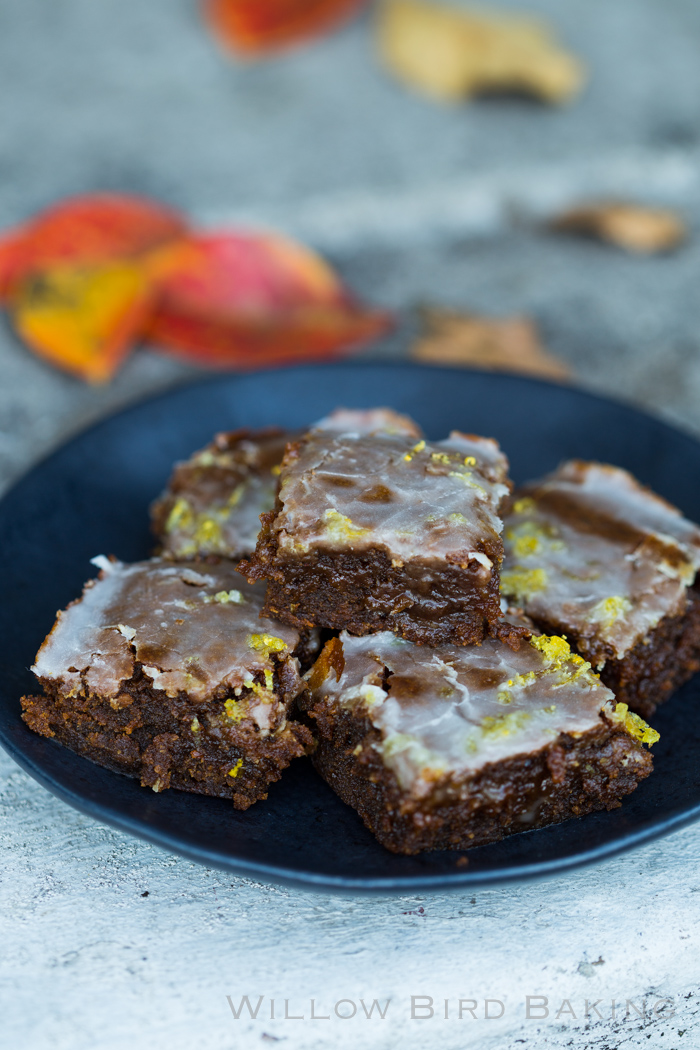 Warm yourself up this winter with some hot yoga . . . or maybe some heat from within. These spicy, warm gingerbread bars are soft and warm. The lemon glaze make them taste just like Christmas morning! As a bonus, they're also super quick and easy to whip up. Enjoy!
One year ago: Spoon-Up Homemade Eggnog
Two years ago: Maple Cream Snickerdoodle Bars
Three years ago: Spiked Mocha Mousse Bars
Four years ago: Moist Fluffy Coconut Cake
Five years ago: Salted Caramel Mocha Hot Chocolate
Six years ago: Secret Garden Recipe: Two Exquisite Tea Sandwiches
Seven years ago: Oreo Truffle Snowmen

Warm Lemon-Glazed Gingerbread Bars
These warm, spicy, moist Warm Lemon-Glazed Gingerbread Bars are so easy and BEYOND delicious. It will feel like you're using a TON of spices and may seem like a mistake, but it's not -- these are perfectly spiced for serious gingerbread fans! Whip this dessert up for the gingerbread lovers in your life!
Author:
Willow Bird Baking
Ingredients
Gingerbread Ingredients:
1 cup unsalted butter, melted
2 tablespoons ground ginger
4 teaspoons cinnamon
2 teaspoons ground cloves
2 teaspoons ground nutmeg
1/8 teaspoon salt
2 eggs
2 cups light brown sugar, packed
1 cup unsulfured blackstrap molasses (or use light if you prefer less intensity)
2 tablespoons vanilla extract
2 1/2 cups all-purpose flour
Lemon Glaze Ingredients:
1 lemon, juiced and zested
1 1/2 cup of powdered sugar
Instructions
Preheat the oven to 350 degrees F and line a 9 by 13-inch baking pan with parchment paper, leaving some overhang, sprayed with a little extra cooking spray.
Melt the butter in a large bowl in the microwave for a minute. Let it cool a bit so it doesn't cook the eggs. Whisk in the ginger, cinnamon, cloves, nutmeg, salt, eggs, brown sugar, molasses, and vanilla extract. Stir in the flour until just combined. Pour the batter into your prepared pan and bake for 28-32 minutes, rotating the pan once halfway through, until a toothpick inserted into the middle cookie cup comes out with moist crumbs but no liquid batter. Be careful not to overbake. Set out on a cooling rack while you prepare the lemon glaze.
In a small bowl, whisk together the powdered sugar and lemon juice. Pour over the gingerbread bars. Garnish with lemon zest if desired. Slice and serve while warm.