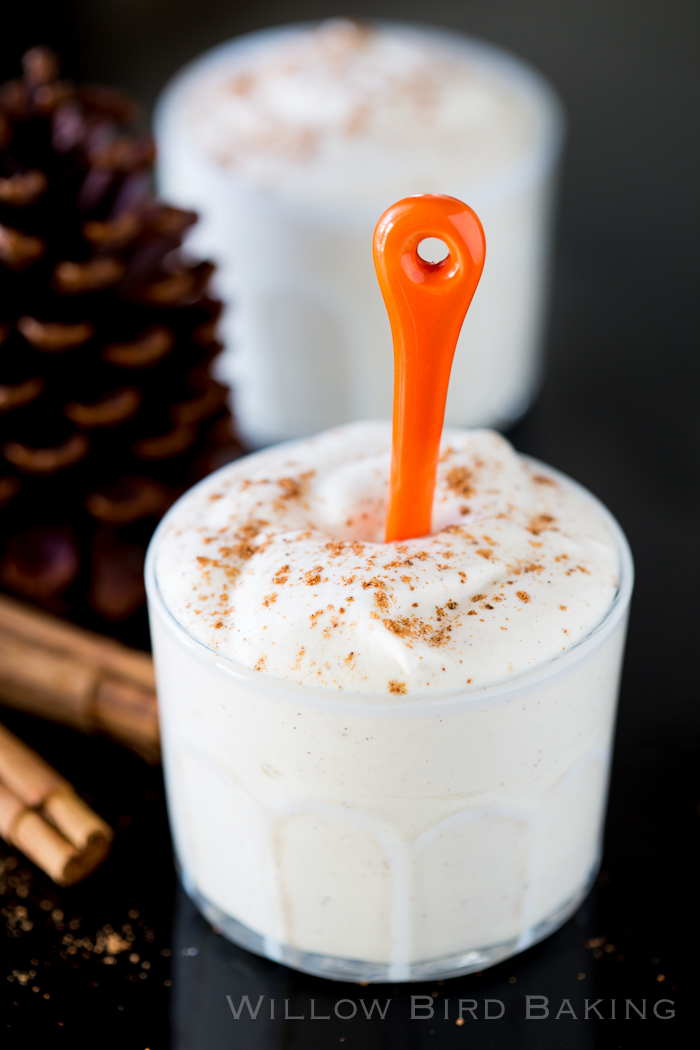 Spoon-Up Homemade Eggnog
Who even am I, you guys? Just this past week, I've taken up a craft, put up two items that could be considered Christmas decor in my apartment, and made homemade eggnog for the first time. I'm basically Martha Stewart now. Except for the multimillion dollar empire. Whatev.
One of the things I love about the middle school where I teach is that the students learn how to be entrepreneurs by running their own business. We have dedicated time every week called Marketplace where they produce and price inventory they will sell at the Farmers' Market on Saturday. We raise chickens and bees to sell eggs and honey, make pottery, produce a literary journal, and create a whole host of crafts to sell. I'm in charge of the literary journal, since I've never had a crafting bone in my body — until now!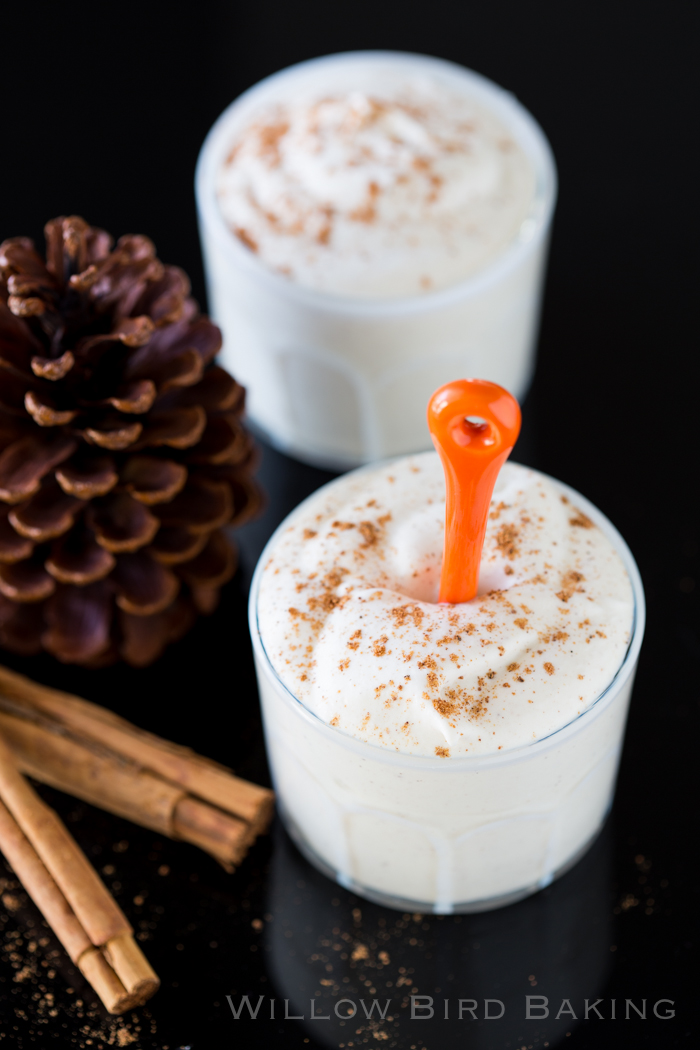 A couple of days ago one of my students came in with the cutest whalewhal (that's a whale and narwhal hybrid, duh). It was this squishy, adorable thing that she said she had "felted." Felted? Was that really a thing? Or should I just turn in my English teacher badge because my students don't know the correct past tense of verbs? Sensing my confusion, she offered to bring in her supplies and teach me how to needle felt. Apparently it was a real thing.
A few kids and I sat around a table a few days later with the sharpest needles on Planet Earth (do not ask how I know this), some foam blocks, and a ton of wool dyed in all the colors of the rainbow. The first thing I needle felted was a lopsided lump of a flower, but since then, I've been rabidly felting birds, mice, snowmen, sasquatches — whatever. Who knew there was a craft where all you had to do was stab something repeatedly? A craft that could absorb all of your stress and frustration, leaving behind only a squishy little animal? Needle felting was basically invented for me. Head over to my Instagram account to see my mess of creations so far.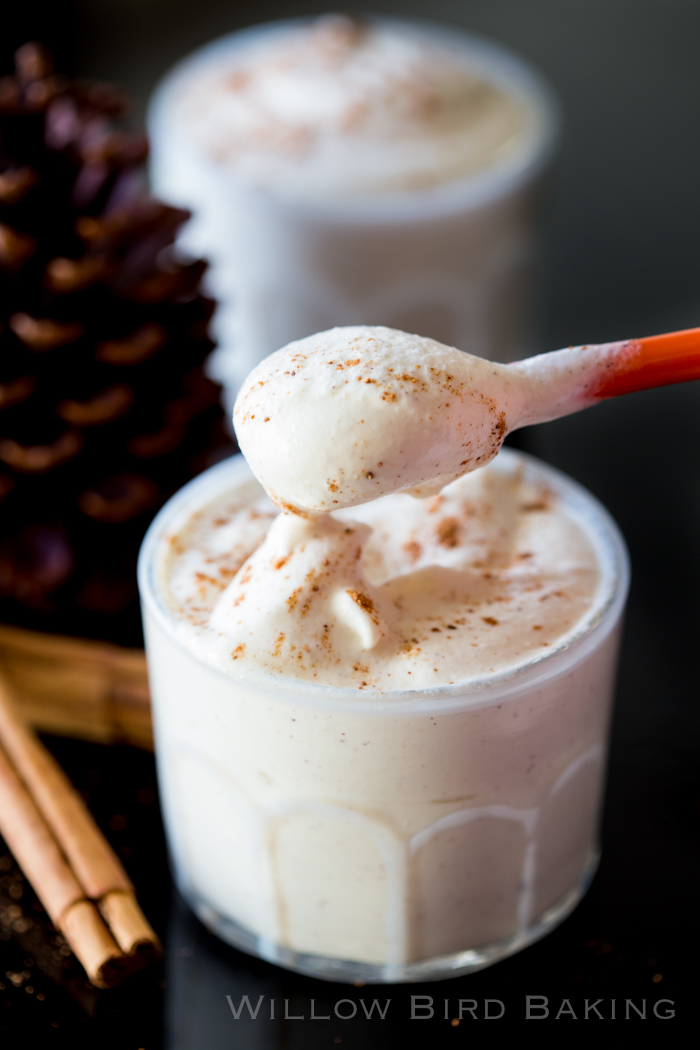 Another brick in the wall of domesticity this week has been making homemade eggnog for the first time. Like I said, I'm Martha Stewart now (except it turns out she likes her eggnog even boozier! Ha!) I based my recipe on Alton Brown's, since that dude will never steer you wrong. But I also wanted mine to be more of a traditional "spoon up" recipe — which is, quite literally, where the nog is so thick and creamy that a spoon can stand straight up in it. I tweaked Alton's recipe and came up with the perfect holiday treat. My recipe below makes a huge batch of sweet, spicy, boozy, creamy eggnog deliciousness that your Thanksgiving guests absolutely need. And if you want to felt a little turkey to sit at each place setting, I can't even make fun of you at this point.
Well, okay, I still might.
One year ago: Maple Brown Sugar Pastry Braid
Two years ago: Pumpkin Tres Leches Cake
Three years ago: Pimiento Cheese Cookies
Four years ago: Pumpkin Streusel Swirled Cream Cheese Pound Cake
Five years ago: Browned Butter Pumpkin CroquemCAKE with White Chocolate Chai Mousse
Six years ago: Homemade Cannoli

Spoon-Up Homemade Eggnog
This recipe produces thick, creamy eggnog that's just a little looser than whipped cream — so dense you can stand a spoon up in it! If you don't do alcohol, you can omit it from the recipe below or add a half teaspoon of rum extract at a time until the flavor reaches your liking.
Ingredients
4 eggs, separated
1/2 cup sugar, divided
1 teaspoon nutmeg
1 teaspoon cinnamon
1/2 teaspoon vanilla extract
1 cup whole milk
5 tablespoons Southern Comfort
3 tablespoons spiced rum
2 cups heavy cream
Instructions
In the very clean bowl of an electric mixer with a very clean whisk attachment, whip the egg whites until they're foamy. Add 1 tablespoon of sugar while the mixer continues to run. Whip the whites to stiff, glossy peaks. Set these aside.
Beat the egg yolks with an electric mixer until they're starting to lighten. Beat in the rest of the sugar slowly until the yolks are thicker and lighter in color. Beat in the vanilla extract, nutmeg, cinnamon, milk, Southern Comfort, and spiced rum. Fold the egg whites into this mixture with a whisk.
In the bowl of an electric mixer, whip the 2 cups of heavy whipping cream to stiff peaks. Whisk the whipped cream into your egg mixture. Chill and whisk well before each time you serve. Serve with a sprinkle of nutmeg on top and a "spoon up" in the middle!