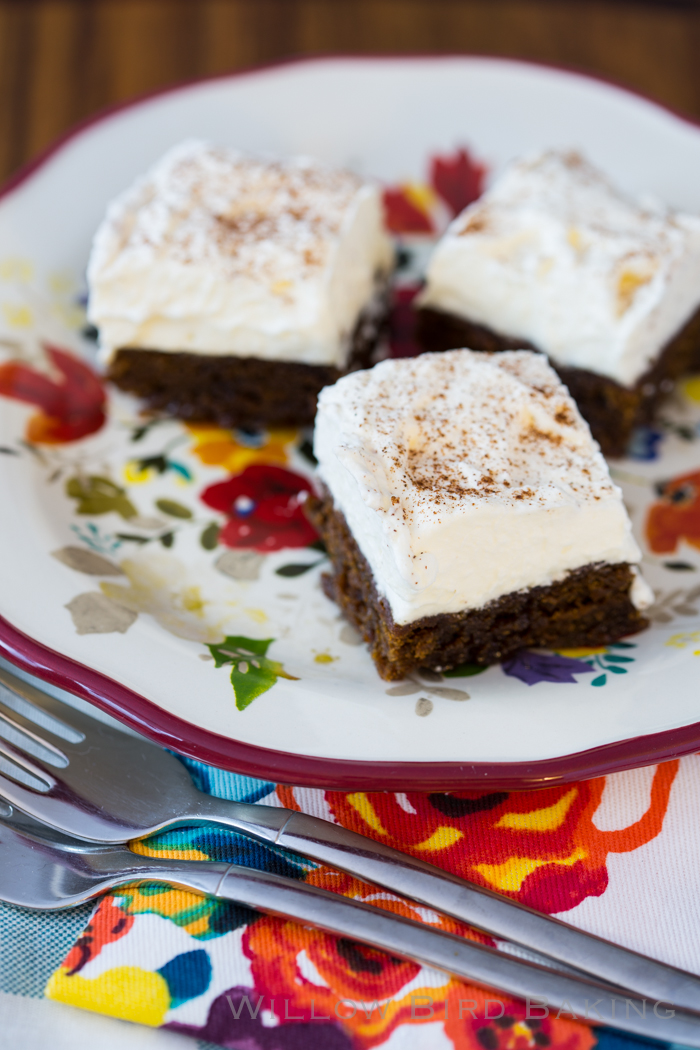 Spiked Gingerbread Cream Bars
Where do you stand on when people should start playing holiday music, wearing reindeer antlers, throwing ugly sweater parties, drinking buttered rum, and being holly jolly?
Personally, my stance is that people should do whatever they want. It's March and you get a hankering for Mariah's Christmas masterpiece? Roll down the windows and blast it. It's July and you want eggnog? Enjoy. If that doesn't take away from your own holiday spirit come wintertime, and if you're not sneaking Christmas lights onto your neighbors' houses, why does anyone care?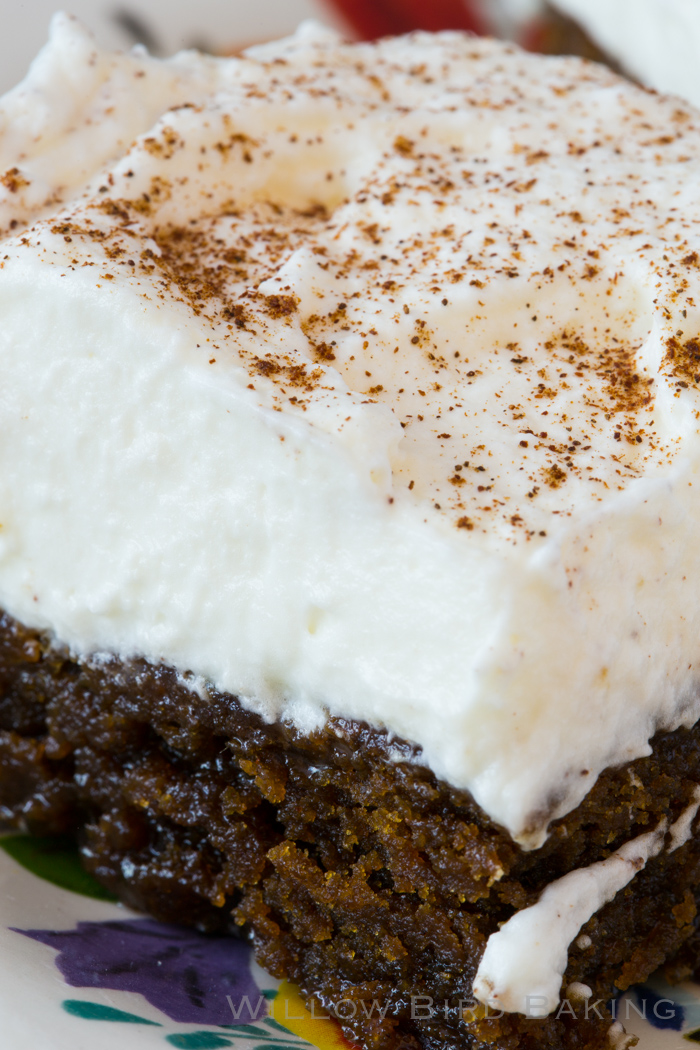 I guess the real question is when businesses should start decking their halls. I guess there's some sadness around… what? Not giving each holiday its own dedicated month or something? I don't know.
Thanksgiving and Christmas have always seemed synergistic to me. Thanksgiving might see some Christmas lights and jingle bells, and Christmas carries the feast and gratitude on to the end of the year. I don't think they lose anything by being "combined," so to speak.
Maybe you know something I don't, though. Obviously businesses are looking to make money, so I'm open to the possibility that I'm missing something sneaky and consumeristic going on here. For instance, I agree that it's a shame for businesses to open for Black Friday on Thanksgiving Day itself — though I also think Black Friday as a whole is a little gross.
Though my friend Dorothy and her daughter don matching shirts, hit brunch, and do Black Friday shopping together and the way they've twisted it into quality time makes my heart happy.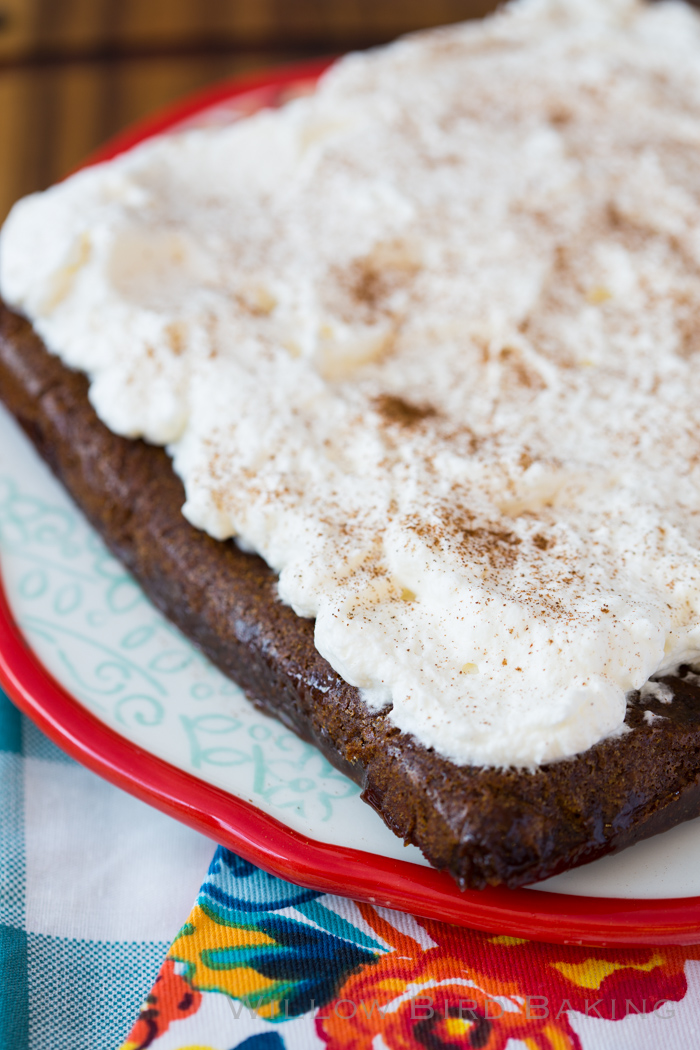 No matter what, I seem to end up at, "Do what works for you." What works for me right now is serious Christmas gingerbread. This isn't the bland version of gingerbread you find in the grocery store bakery section. This is a kicked up version specifically crafted for GINGERBREAD LOVERS.
You'll be shocked at the spice measurements (and the blackstrap molasses) in these bars, but just trust me. The result is a sweet, spicy, and — thanks to some spiced rum — boozy treat perfect for celebrating this crazy time that isn't Thanksgiving or Christmas, but smack in between!
One year ago: Cranberry Cheesecake Pastry Braid
Two years ago: Brown Butter Spice Cake with Whipped Icing
Three years ago: Brown Butter Pecan Gooey Butter Cake with Spiked Whipped Cream
Four years ago: Biscoff Spread Sandy Buddies
Five years ago: Salted Caramel Chocolate Trifle
Six years ago: Southern Pimento Cheese with Lavash Crackers
Seven years ago: Cinnamon Roll Cookies

Spiked Gingerbread Cream Bars (for SERIOUS Gingerbread Lovers)
These gingerbread bars are absolutely DELICIOUS: a spicy and intense recipe for SERIOUS gingerbread lovers doused in buttered rum and topped with spiked whipped cream. You'll love them!
Author:
Willow Bird Baking
Ingredients
Gingerbread Ingredients:
1/2 cup unsalted butter, melted
3 teaspoons ground ginger
2 teaspoons cinnamon
1 teaspoon ground cloves
1 teaspoon ground nutmeg
pinch salt
1 large egg
1 cup light brown sugar, packed
1/2 cup unsulfured blackstrap molasses (or use light if you prefer less intensity)
1 tablespoon vanilla extract
1 1/4 cups all-purpose flour
Butter Rum Glaze Ingredients:
1/4 cup butter
1/8 cup water
1/2 cup sugar
1/4 cup spiced rum
Spiked Cream Ingredients:
2 cups heavy whipping cream
1/2 cup powdered sugar
1/4 cup spiced rum (optional)
Instructions
Preheat the oven to 350 degrees F and line an 8-inch square baking pan with parchment paper (leave overhang to pull the bars out later) sprayed with a little extra cooking spray.
Melt the butter in a large bowl in the microwave for a minute. Let it cool a bit so it doesn't cook the egg. Whisk in the ginger, cinnamon, cloves, nutmeg, salt, egg, brown sugar, molasses, and vanilla extract. Stir in the flour until just combined. Pour the batter into your prepared pan and bake for 28-32 minutes, rotating the pan once halfway through, until a toothpick inserted into the middle cookie cup comes out with moist crumbs but no liquid batter. Be careful not to overbake. Set out on a cooling rack while you prepare the butter rum glaze.
Make the glaze: In a saucepan, bring butter, water, and sugar to a boil over medium heat and boil for 5 minutes, stirring constantly. Remove from heat and stir in rum carefully (mixture will bubble up). Pour over the top of the warm gingerbread and allow to soak in as it cools. Let the gingerbread cool completely (I even stick it in the fridge to help it along.)
Make the whipped cream: Beat the whipping cream, powdered sugar, and rum together to stiff peaks.