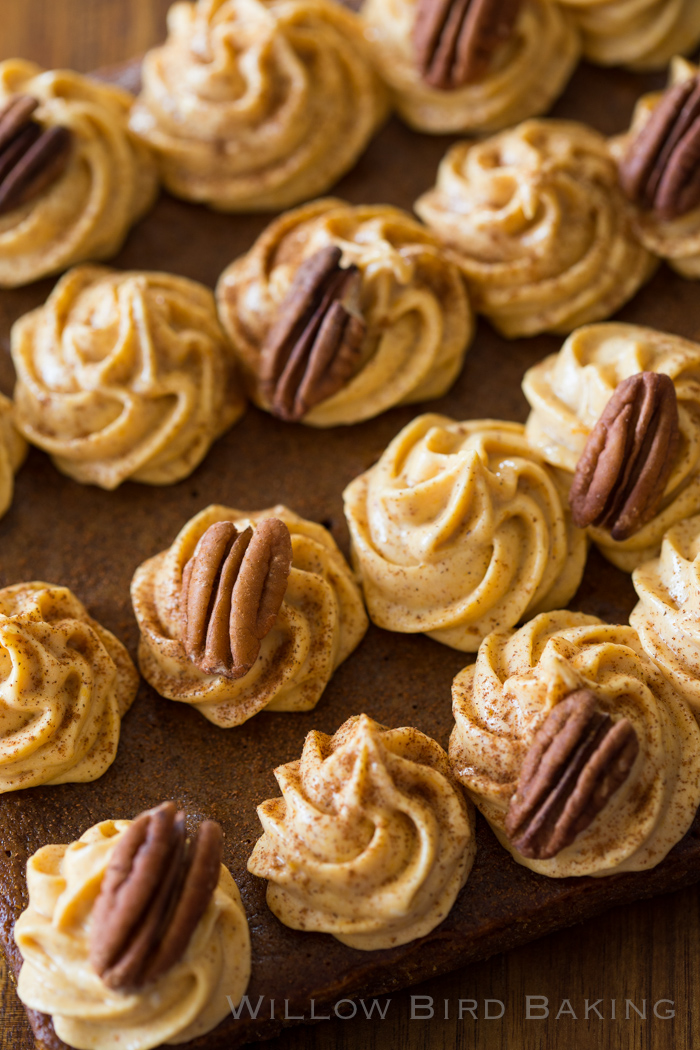 Chewy Gingerbread Bars with Pumpkin Cream Cheese Frosting
Best Guesses About What My Upstairs Neighbors Are Doing Right Now:
They've been evicted and told they only have until 3 a.m. to move their belongings out. They are bowling enthusiasts and therefore have roughly 856 bowling balls in varying shapes and sizes, including a limited edition My Little Pony ball with a bowling pin cutie mark. To save time, they're rolling, tossing, and occasionally drop-kicking their ball collection out of the apartment.

After the untimely demise of their hamster, Weeble, they decided to become nocturnal in his honor. They're international pogo-sticking champions and practice in shifts: midnight to 1 a.m., 1 to 2 a.m., and 2 to 3 a.m. After that, they cool down by jogging around the apartment in hamster balls like Weeble used to do.
One of them is completing a surprise apartment renovation for the other, who works third shift. The entire renovation has to get finished tonight, since it'd be hard to explain why the walls were ripped out and countertops were missing otherwise. Thus, a crew of 25 burly men with jackhammers are currently attacking all apartment surfaces at once.
They just adopted 1,500 ferrets, all of whom are currently running around getting to know their brand new home.

They heard I was baking Chewy Gingerbread Bars with Pumpkin Cream Cheese Frosting and they're trying to run downstairs to ask for a taste. However, they are directionally challenged and also confused about doors, so instead of actually making it down the stairs, they're just running frantically around their apartment and occasionally yelling obscenities.
I feel certain that I'm closing in on the truth here. Now, if anyone's interested, I'm willing to work out an exchange: some chewy gingerbread bars in exchange for earplugs. Anyone?
One year ago: Low-Calorie Portobello and Kale Pizza Bake
Two years ago: Baked Caramel Apple Cheesecake Dumplings
Three years ago: Broiled Pimiento Cheese
Four years ago: Naked Vegan Tacos with Corn Relish and Cilantro-Lime Slaw
Five years ago: Handmade Cheese Ravioli in Meaty Red Sauce
Six years ago: Cardamom Pumpkin Macarons

Chewy Gingerbread Bars with Pumpkin Cream Cheese Frosting
This is the perfect gingerbread: chewy, moist, and spicy! The edges of the pan are the best part (and if you love them like I do, this recipe can also be made in a muffin tin)! The sweet pumpkin cream cheese frosting on top rounds out the flavors in the nicest way, but it's a soft icing, so your rosettes won't hold up long. Pipe 'em, eat 'em! To toast pecans for this recipe, just bake them on a foil-lined baking sheet for 6-8 minutes, tossing periodically, until fragrant. Allow them to cool before using.
Author:
Willow Bird Baking, using gingerbread spice ratio from Averie Cooks
Ingredients
Gingerbread Ingredients:
1/2 cup unsalted butter (1 stick), melted
1 large egg
1 cup light brown sugar, packed
1/2 cup unsulphered light molasses
1 tablespoon vanilla extract
3 teaspoons ground ginger
2 teaspoons cinnamon
1 teaspoon ground cloves
1 teaspoon ground nutmeg
pinch salt
1 1/4 cups all-purpose flour
Pumpkin Cream Cheese Frosting Ingredients:
1 (8-ounce) package cream cheese, softened but not all the way to room temperature
2 cups powdered sugar
1/2 cup pumpkin puree
1/2 teaspoon ground cinnamon
1/4 teaspoon nutmeg
1/8 teaspoon ground cloves
toasted pecans and sprinkled cinnamon for topping
Instructions
Preheat the oven to 350 degrees F and line an 8-inch square baking pan with a parchment sling (like this, but with parchment paper) sprayed with a little extra cooking spray.
Melt the butter in a large bowl in the microwave for a minute. Let it cool a bit so it doesn't cook the egg, then whisk in the egg, brown sugar, molasses, vanilla extract, ginger, cinnamon, cloves, nutmeg, and salt. Stir in the flour until just combined. Pour the batter into your prepared pan and bake for 28-32 minutes, rotating the pan once halfway through, until a toothpick inserted into the middle cookie cup comes out with moist crumbs but no liquid batter. Be careful not to overbake. Let the gingerbread cool completely (I even stick it in the fridge to help it along.)
Make the frosting: Beat the cream cheese and powdered sugar together until smooth. Add the pumpkin, cinnamon, nutmeg, and cloves and mix until fully combined. Remove the completely cooled gingerbread from the pan to a cutting board, using the sling to help. Cut the bars into 16 squares and use a pastry bag fitted with a big star tip to pipe a rosette on each. Sprinkle with cinnamon and top with pecans (if desires) and serve immediately.