Wouldn't it be cool if bakers got to choose flashy names like WWF Wrestlers? You could be the Vanilla Villain, the Meat Tenderizer, the Mighty Masher, the Blender Blade, the Sweaty Spatula.
Ew. Nevermind that last one.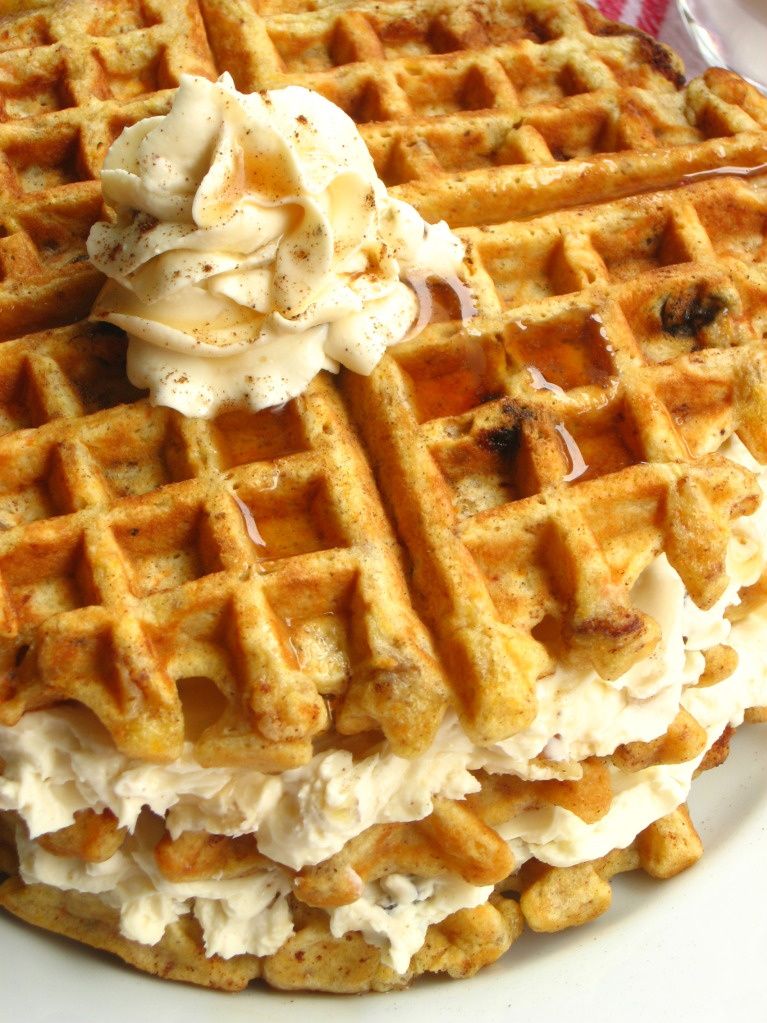 Today, my flashy baking name is the Waffle Wrangler. See, I finally acquired a waffle iron. Or . . . okay, actually I acquired it months ago. You'll forgive me for not having tried it out yet, right? Especially since I happen to know for a fact your waffle iron is sitting under a coat of dust in a dark cabinet somewhere? It's okay! No shame! You just need a reason to lug it out, wipe it off, and heat it up. I think I can help.
Despite appearances, I have been anxious to try this baby out. Waffles seem especially apt for one of my favorite culinary tricks: combining two well-known dishes into one. For instance, the recipes for Peach Cobbler Cupcakes, Peach Crisp Pie, and Blueberry Lemon Cheesecake Cupcakes each combine two desserts into a super-dessert.
So of course, I've spent the last few weeks pondering what sort of waffles to create. I could've taken a cue from this breakfast and made Pecan Maple Bacon Waffles (yum), but I had an urge to try something new. Apple or peach crisp waffles? Chocolate cake waffles? A bacon, egg, and cheese waffle sandwich? Peanut butter and jelly waffles? And then, as if Mike were sending me telepathic messages reminding me about his favorite dessert, it dawned on me . . .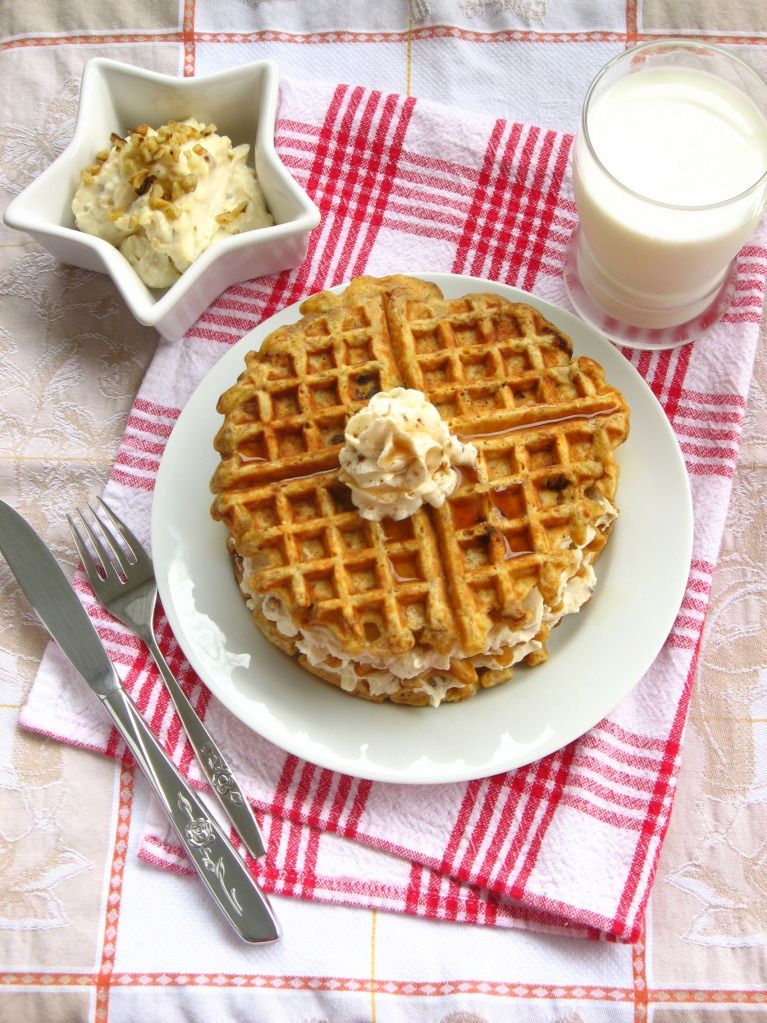 CARROT CAKE WAFFLES! I've actually been trying to think of some recipe to add carrot cake flavors to after seeing this amazing Carrot Cake Ice Cream over on Not Quite Nigella. This was my chance!
The foundation of the recipe I've spliced together is a simple but delicious buttermilk waffle recipe. To it, I've added the spice cake flavors of cinnamon, allspice, and nutmeg, bloomed in brown butter according to America's Test Kitchen's recommendation. I also added the lovely hunks you'd find in any carrot cake: raisins, chopped walnuts, and grated carrots. Finally, the waffles were topped with a schmear of Maple Nut Cream Cheese spread, which merges the main component of traditional carrot cake frosting with the familiar breakfast flavor of maple.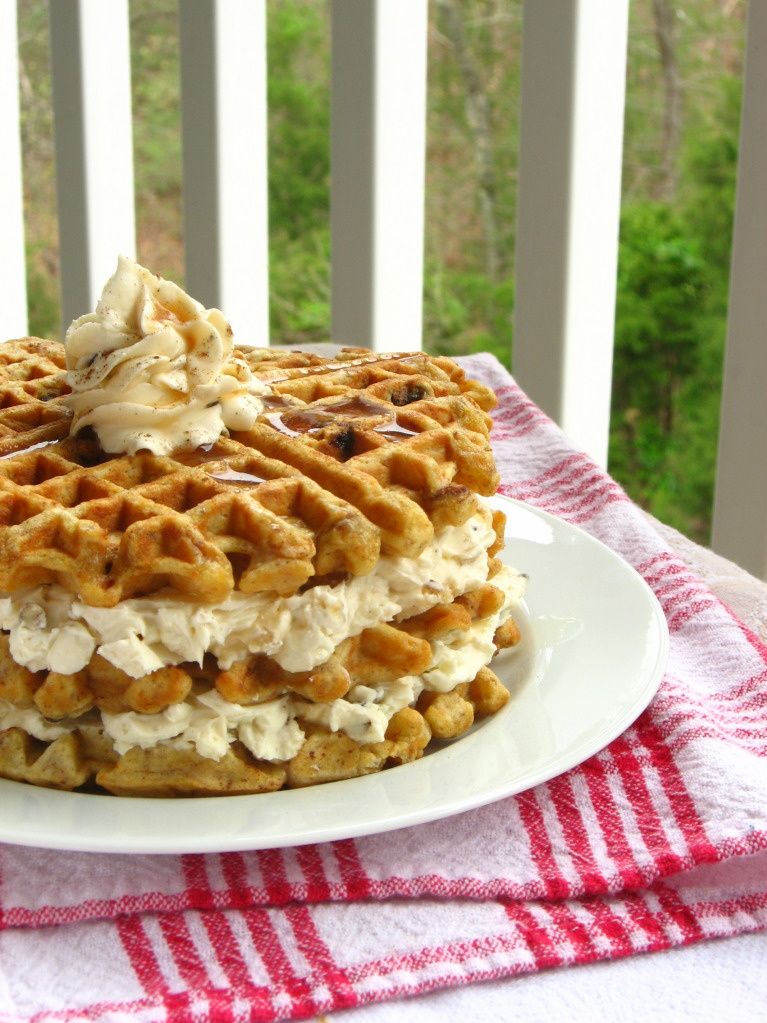 I was nervous the entire time I was mixing this batter: would it be the right consistency? Would the raisins and carrots burn? But it worked out perfectly! I did a little dance of joy (inwardly — mustn't alarm the roommate!) with each waffle I successfully wrangled off of my waffle iron.
And how did they taste? Delicious, and exactly like you might expect: like the convergence of a hunky carrot cake and a fluffy waffle! The spices were warm and aromatic, and the nuts, raisins, and carrots made for a hearty texture. And I can't forget one of the best parts: the Maple Nut Cream Cheese spread.
This Maple Nut Spread is ridiculous! If your cream cheese isn't already softening to mix some up, you should grab it out of the fridge right now. It's rich, creamy, and perfectly sweet, with the satisfying crunch of chopped walnuts. I want to spread this stuff on bagels, toast, waffles, you name it. The photos you see here (in which I tried to build a "layer cake" out of the waffles — ha ha, get it? Carrot Cake Waffles?) are only a slight exaggeration of how much Maple Nut Cream Cheese I ate with my breakfast. I'm too embarrassed to tell you how much of it I ate straight from the spoon, so just take my word for it: you're going to love it.
Okay, you have your reason — now go dust off your waffle irons! Have your cake and eat it for breakfast, too!
Carrot Cake Waffles
It's like your favorite dessert -- but it's breakfast!!
Ingredients
Waffle Ingredients:
2 cups all-purpose flour
1/2 teaspoon salt
2 tablespoons sugar
1 1/2 teaspoons baking soda
1 teaspoon cinnamon
1 teaspoon nutmeg
1 teaspoon allspice
1 3/4 cups buttermilk
2 eggs, separated
4 tablespoons (1/2 stick) butter
1/2 teaspoon vanilla extract
1 cup raisins
1 cup walnuts, chopped
1 1/2 cup finely grated carrots
Cooking spray for waffle iron
Maple Nut Cream Cheese Spread Ingredients:
8 ounces cream cheese, softened
3-4 tablespoons maple syrup
1/8 cup chopped walnuts
Instructions
Bloom the spices in butter: Heat 4 tablespoons butter in skillet over medium heat until melted, 1 to 2 minutes. Continue to cook, swirling pan constantly, until butter is light brown and has faint nutty aroma, 2 to 4 minutes. Add spices and continue to cook, stirring constantly, 15 seconds. Remove from heat and cool to room temperature, about 30 minutes.
Combine the flour, salt, sugar, baking soda.
Mix together the buttermilk (or buttermilk substitute) and the egg yolks. Stir in the spiced butter and vanilla. Spray the waffle iron well and preheat it. Stir the wet into the dry ingredients.
Beat the egg whites in a separate bowl with a whisk or electric mixer (make sure bowl and mixer are spotlessly clean) until they hold soft peaks. Stir them gently into the batter. Add carrots, walnuts, and raisins. Stir gently to combine.
Spread a ladleful or so of batter onto the waffle iron and bake until the waffle is done, usually 3 to 5 minutes, depending on your iron. Spray iron with cooking spray between waffles as needed.
To make Maple Cream Cheese spread, simply combine nuts, syrup, and cream cheese and mix well. Serve waffles immediately with a schmear of Maple Cream Cheese spread (which will get lovely and melty), or keep them warm for a few minutes in a low oven. Waffles also freeze well. You can make a big batch, allow them to cool, and freeze them for a homemade alternative to preservative-laden commercial frozen waffles.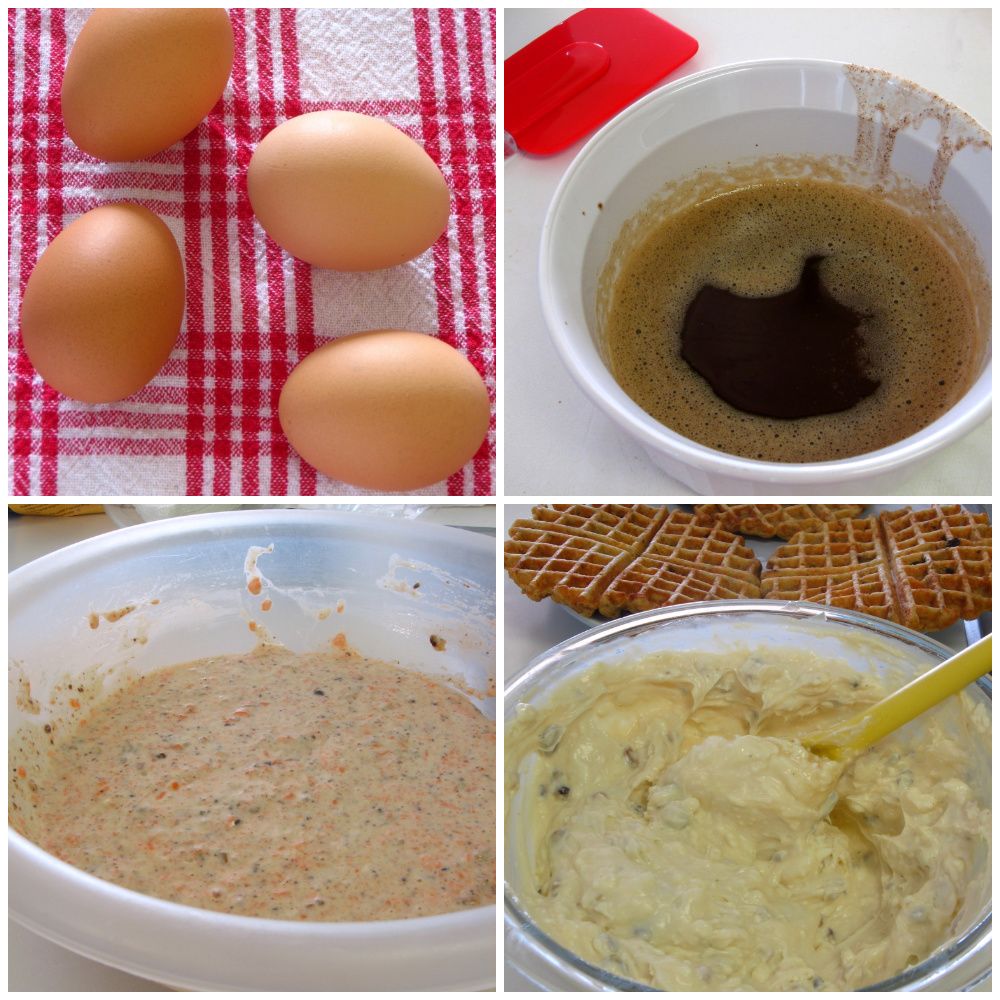 Breakfast for dessert-lovers!