This post is sponsored by Philadelphia Cream Cheese.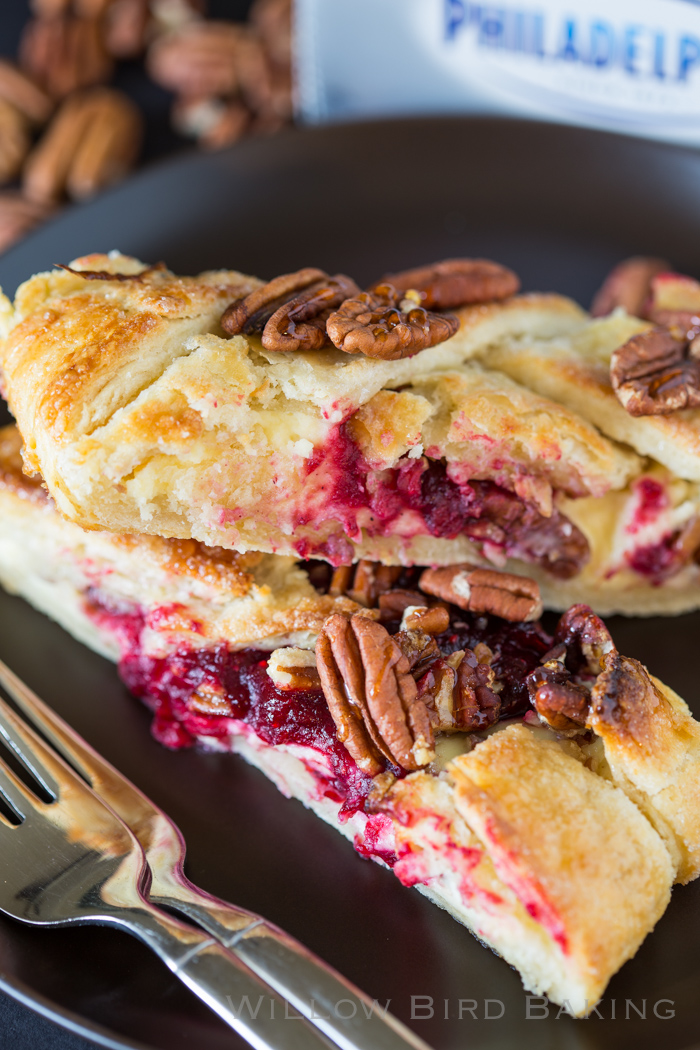 Cranberry Cheesecake Pastry Braid
You know what makes me laugh? Those videos that purport to show you a "simple hairdo for your kid's busy school days!" and instead show a mom flippin' CROCHETING her daughter's hair, strand by strand, into an elaborate representation of the Greek gods lounging around drinking wine and brandishing caduceuses. YOU KNOW, NO BIGGIE. Just a little tip for busy moms!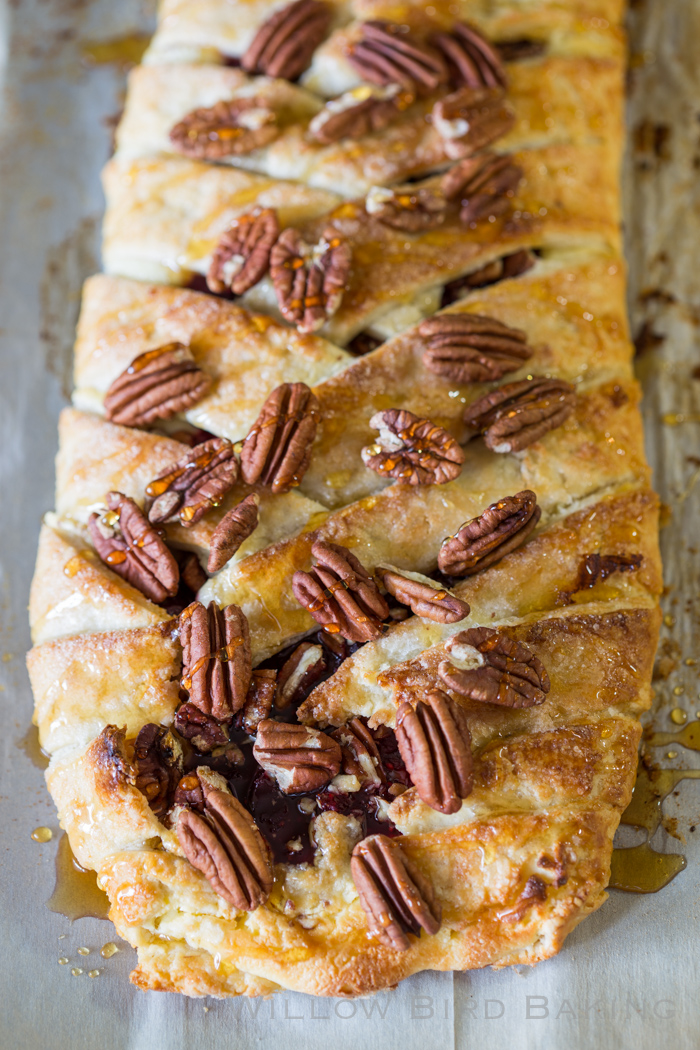 This braid is a little more honest. When I tell you this gorgeous pastry is easy to prepare, I mean it. So easy, in fact, that I'm going to recommend it for Thanksgiving. Yes, I know you already have eight dishes to prepare. Yes, I know that last year your pie crust burned because you got tied up peeling sweet potatoes. Yes, I know that Thanksgiving is the big leagues.
And yes, you can still make this appetizer. In fact, I love it so much because you can make it in advance and throw it in to bake about 45 minutes before your guests arrive.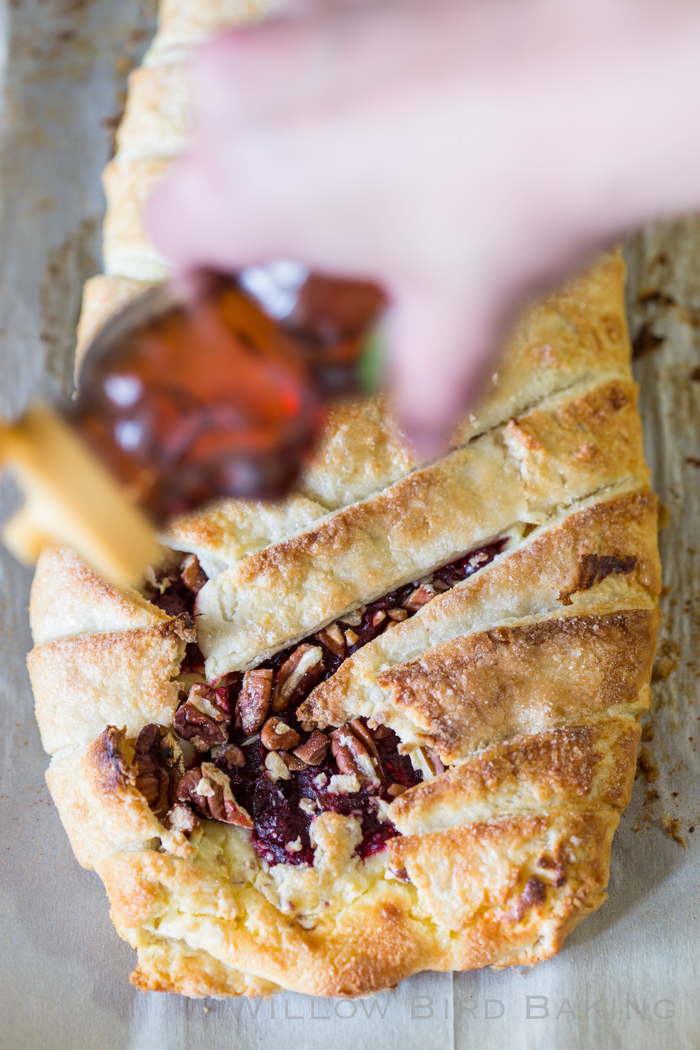 This braid could be a dessert for sure — especially if you love desserts that are complex and not too sweet — but I love it as an appetizer. Cut it into slivers and serve it with honey to drizzle. The creamy, sweet cheesecake topped with tart cranberry sauce and crunchy pecans all enveloped in a crisp pastry braid will definitely whet your guests' appetites. Philadelphia Cream Cheese is made with fresh milk and real cream, so you'll find that it's creamier than other cream cheeses. It's perfect for a recipe where cheesecake is the star!
So if you're looking for pastry braids, I've got you covered. If you're looking for elaborate kid hairdo braids, uh, I think I know someone over on YouTube who can help you out.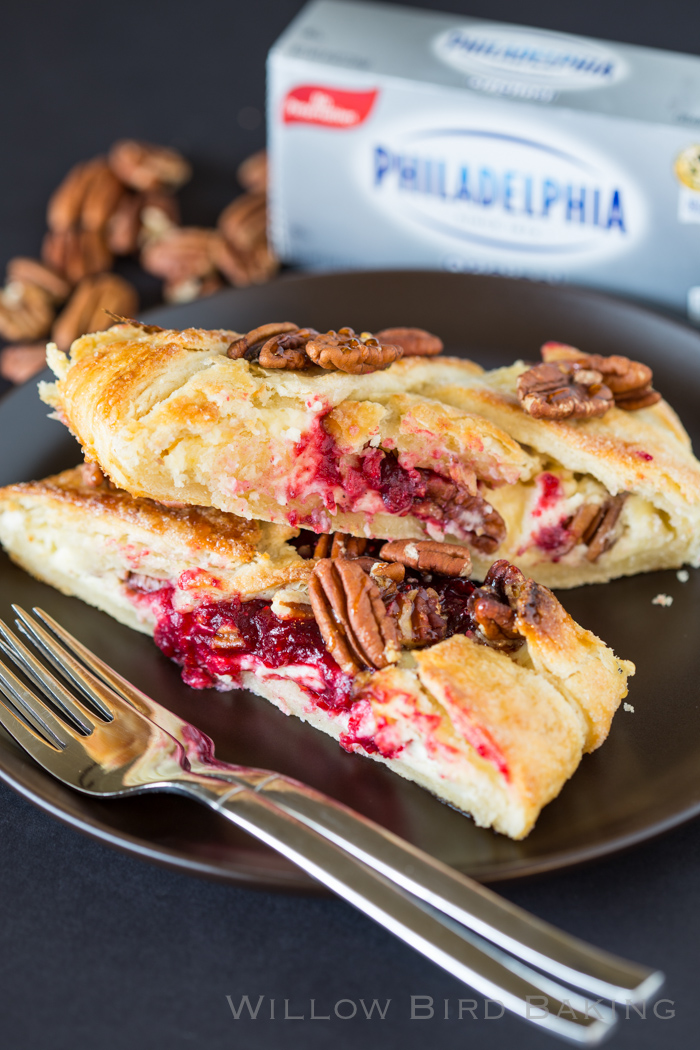 One year ago: No-Bake Pumpkin Spice Icebox Cake
Two years ago: Quick and Easy Sour Cream Apple Kuchen
Three years ago: "Magic" Chocolate, Coconut, and Pecan Pastry Braid
Four years ago: Pumpkin Cheesecake Stuffed Snickerdoodles
Five years ago: Homemade Croissant Phototutorial
Six years ago: Jack-o'-Lantern Whoopie Pies

Cranberry Cheesecake Pastry Braid
This pastry braid combines creamy cheesecake with tart and sweet cranberry sauce in a crisp, golden pastry. It's gorgeous but comes together with no fuss at all (and can even be prepared in advance!), making it the perfect appetizer for your Thanksgiving table.
Author:
Willow Bird Baking
Ingredients
Cranberry Sauce Ingredients:
1 cup fresh cranberries
3 tablespoons orange juice
2 tablespoons water
2 tablespoons honey
1/2 teaspoon ground cinnamon
1/8 teaspoon salt
Cheesecake Filling Ingredients:
1 (8-ounce) package Philadelphia Cream Cheese, softened (but not quite room temperature)
1/4 cup sugar
1/2 teaspoon orange extract
1 egg, room temperature
Pastry Braid Ingredients:
2 cups all-purpose flour
2 tablespoons powdered sugar
1 teaspoon baking powder
1/2 teaspoon salt
1/2 cup unsalted butter
3 ounces Philadelphia Cream Cheese
1/2 cup milk
1/2 teaspoon almond extract
1/2 cup toasted pecans, plus extra for topping
1 egg whisked with 1 teaspoon water for egg wash
Granulated sugar for sprinkling braid
Extra honey for drizzling
Instructions
Make the cranberry sauce: Preheat the oven to 425 degrees F. Bring cranberries, orange juice, water, honey, cinnamon, and salt to a simmer in a small saucepan over medium heat. Cook until the cranberries break down and the sauce thickens, about 10 minutes. Allow this to cool completely. I set mine in the fridge to chill after a few minutes.
Make the cheesecake filling: Cream the softened cream cheese in a medium bowl until fluffy before adding sugar, orange extract, and the egg. Mix together until well combined. Set aside on the counter while you prepare the rest of the braid.
Make pastry braid: In the bowl of a food processor, pulse the flour, powdered sugar, baking powder, and salt to combine. Add the butter and cream cheese into the flour mixture and pulse to cut the fat into the flour (about 6 to 8 pulses). Add the milk and almond extract and blend until it's just starting to come together into a loose dough. Turn the dough out onto a big sheet of lightly-floured parchment paper and press it into a rough rectangle. (Be careful not to overwork the dough or it'll be tough! Don't worry about getting it smooth — let it stay a little rough.) Very lightly flour the top of the dough and roll it out to a 10- by 12-inch rectangle. Measure and mark the dough lengthwise into thirds. Fill the middle third with the cream cheese mixture, leaving a small border at the edges. Top this with your chilled cranberry sauce and 1/2 cup of toasted pecans.
Continue assembling the braid: (Remember, there are photos below to help visualize this step!) Make diagonal cuts at 1-inch intervals on each of the long sides. Do not cut into the center filling area. Fold strips, first one from one side and then one from the other side in an alternating fashion, over the filling, brushing off excess flour as you go. It will now resemble a braid. Use the sheet of parchment to carefully transfer your braid to a baking sheet. At this point you can cover and refrigerate the braid overnight, or you can continue to the next step.
Bake the braid: Brush the pastry braid with the egg-wash mixture and sprinkle granulated sugar over the surface. Bake in the 425 degree oven for 20 to 22 minutes until the dough is cooked through and golden brown. Don't worry if a little filling oozes out. Let the braid cool for 30 minutes before generously drizzling honey over the top, sprinkling some extra pecans, slicing, and serving.


Thanks to Philadelphia Cream Cheese for allowing me to partner with them to come up with some fun and delicious recipes! I had a blast, and I hope you'll be braiding up a storm this Thanksgiving. Do you have any favorite holiday recipes using Philadelphia Cream Cheese? I'd love to hear your favorites in the comments below. For some additional inspiration, click here.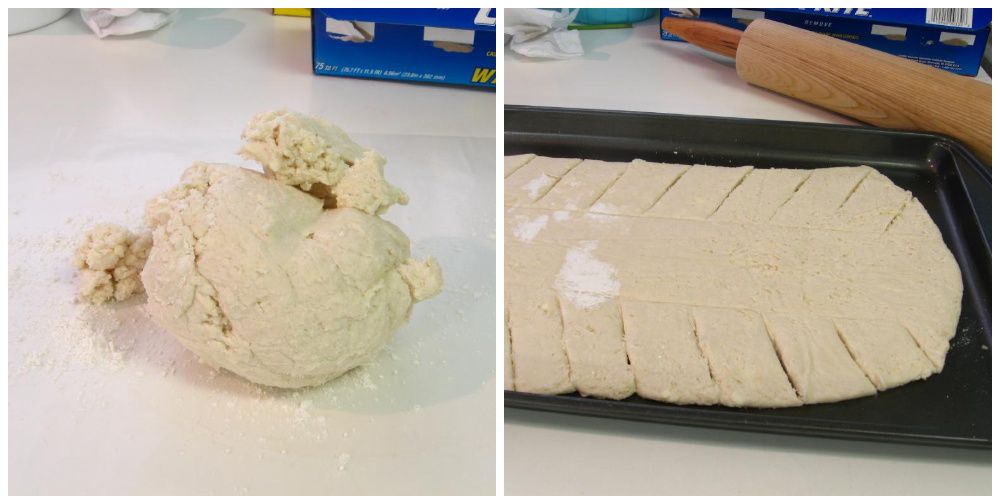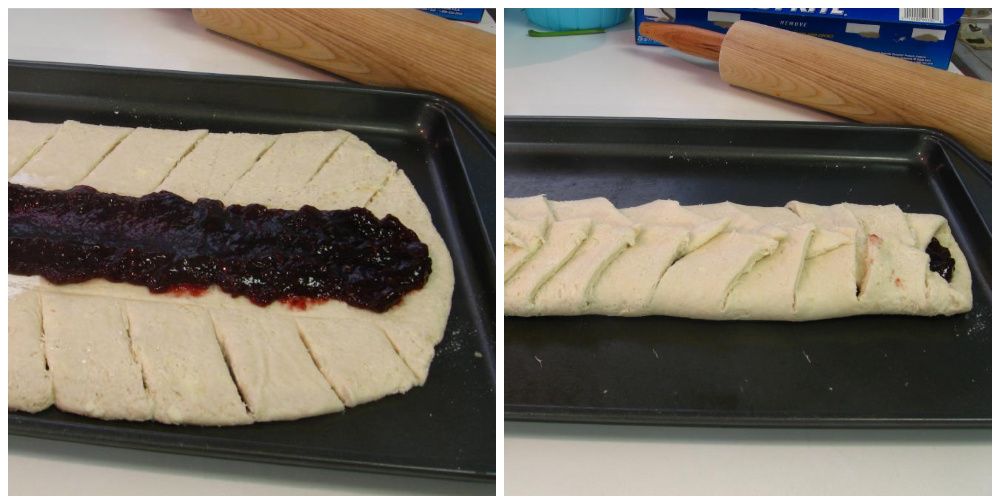 Example of how to cut and assemble braid.