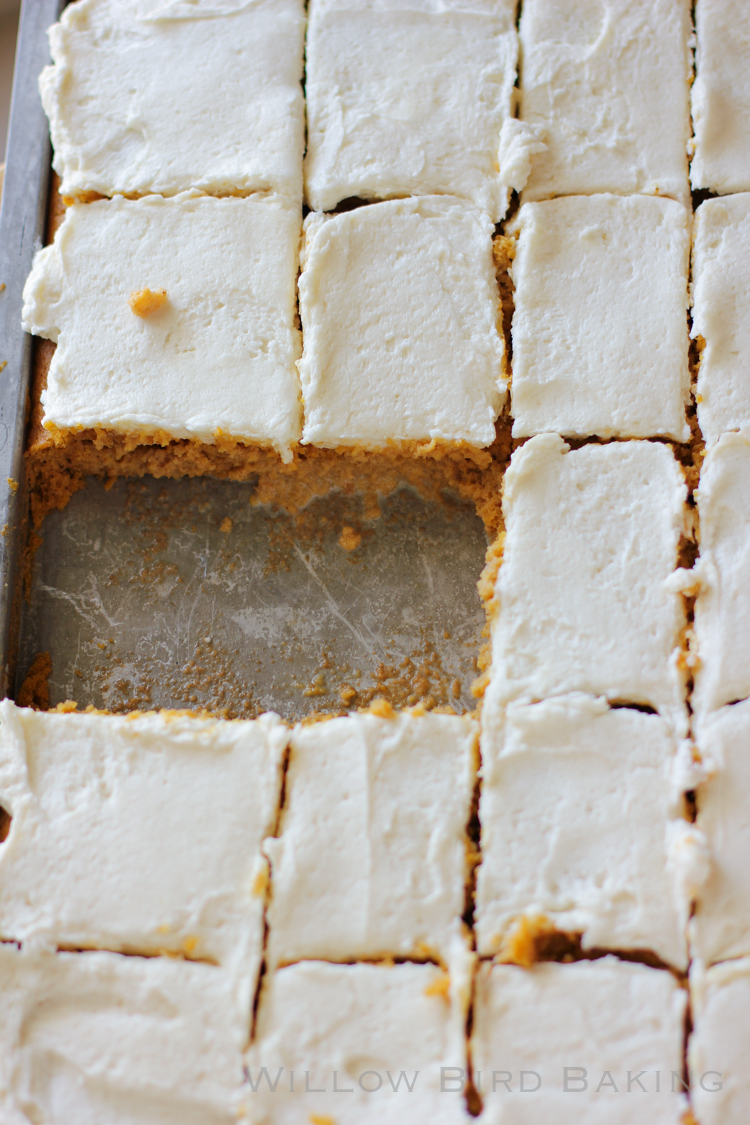 Pumpkin Tres Leches Cake
I don't feel much like telling a story today. It's dark outside way too early, colder than it should be, and altogether dreary. I do feel like listening to a story, though, or several. Get your Snuggie (you do own a Snuggie, right?! Doesn't everyone?) and some hot tea and let's share some of our favorite memories.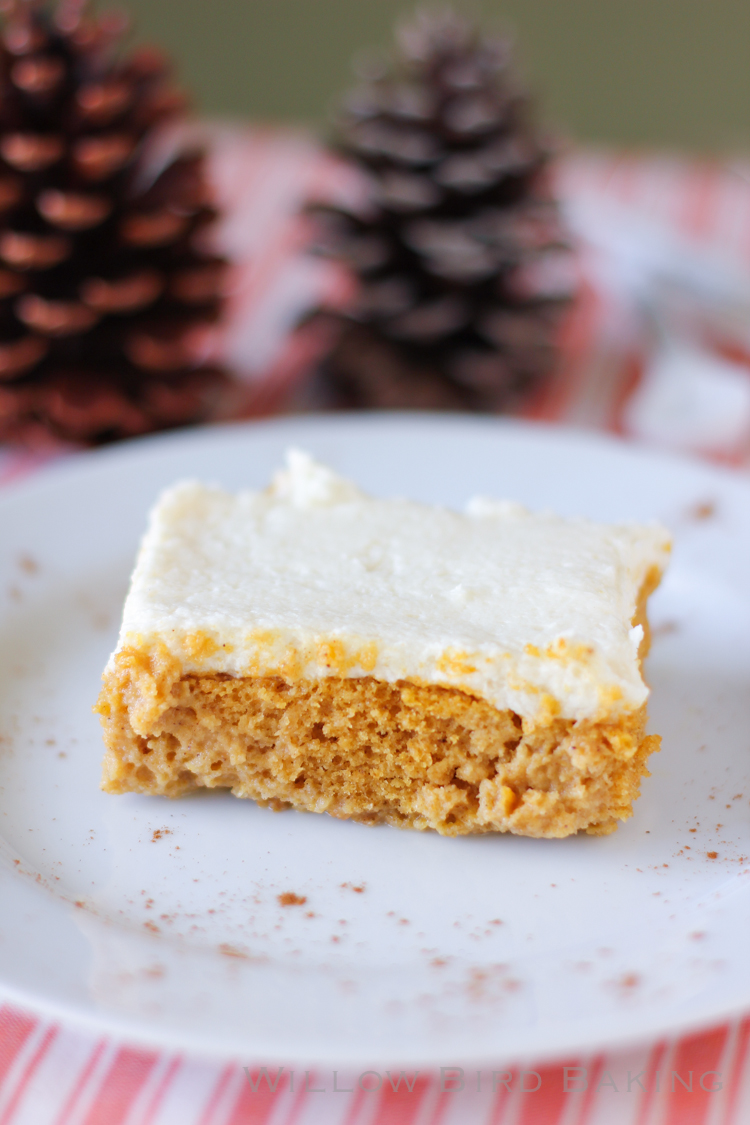 One of mine is when my mom offered to buy me any patchwork bear I chose at the Southern Christmas Show one year. I picked a cream and pink one and I believe I still have it under my bed somewhere.
Another is when a kind lady held my hand as our plane took off when I was 8 and going to the Bahamas with my family. She didn't know me from Eve, but she knew I was terrified to fly and made it her business to comfort me.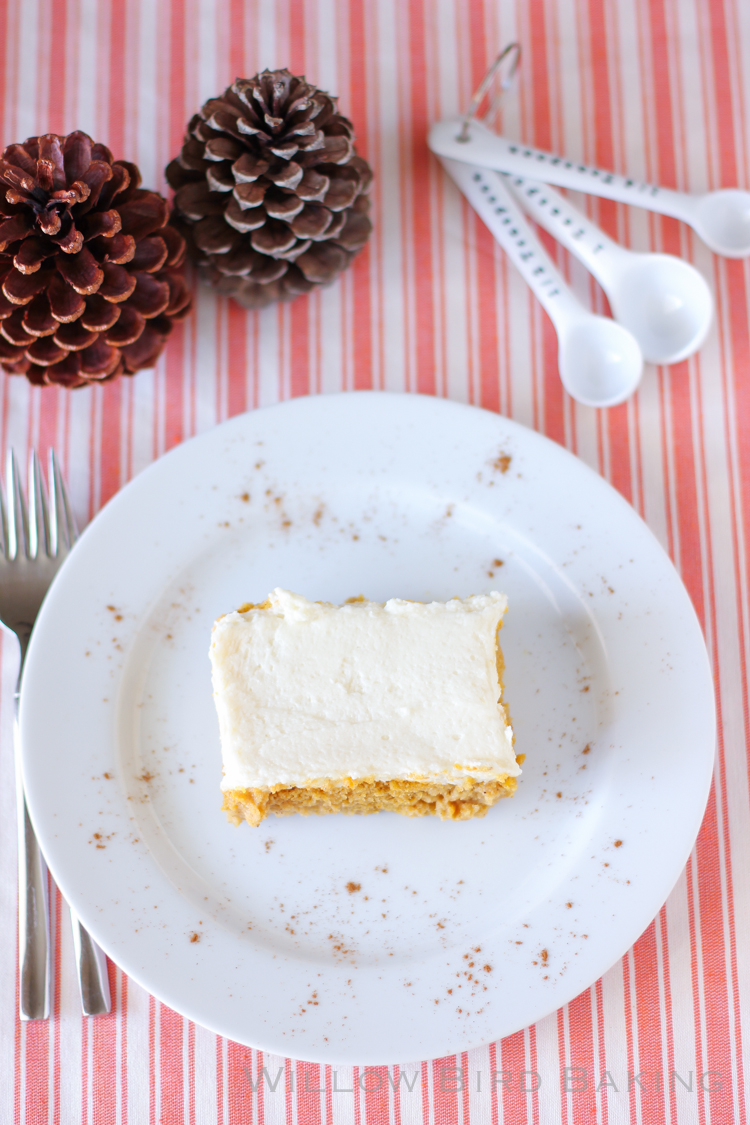 One that always makes me smile is the memory of driving home from Carolina Poodle Rescue with Byrd sleeping on my lap, wondering what she was like and how we'd get along. Do you know for about the first 3 months after I got her, I felt unsure about my decision to get a dog? Looking back, I don't know why (except that very characteristic sense of worry I always have) and I can't quite believe I was so nervous. She's certainly one of the best things to ever happen to me.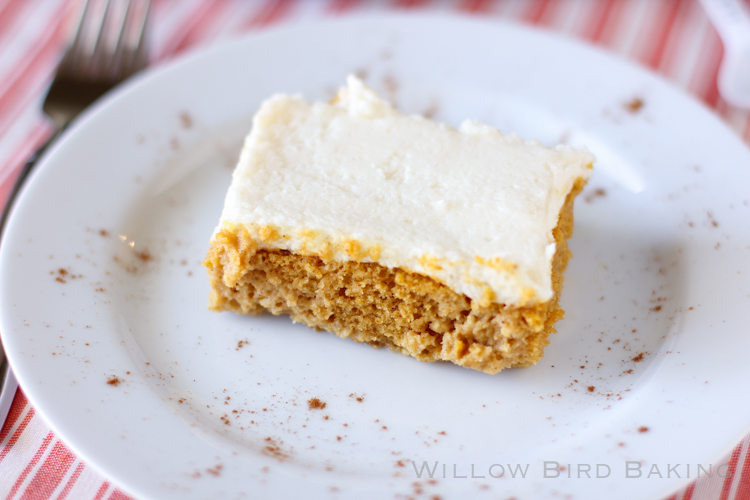 One last one is actually a recurring memory. One of my favorite times in my classroom over the past few years is choice project time, when my students propose their own project to convey their understanding of changes in the novel, Flowers for Algernon. During those workdays, my classroom was filled with kids planning, playing guitar, sculpting, composing piano pieces, filming, writing, and painting. We always ended up marveling over the creativity and sheer variety of the finished products at the end. I can't wait to see how my current students will tackle the challenge.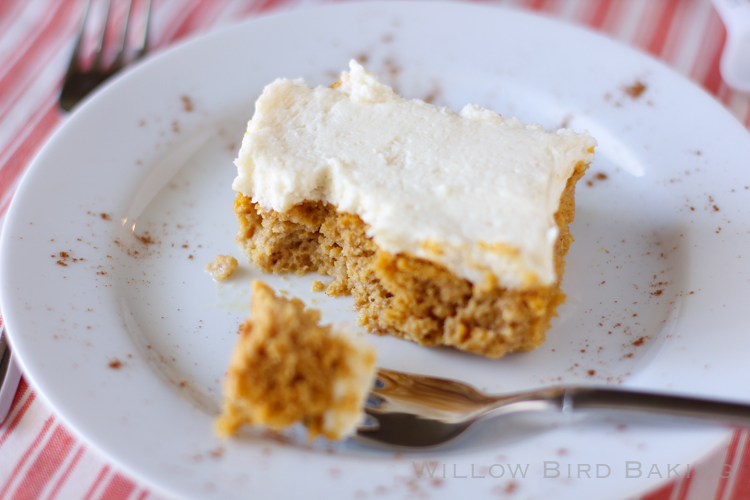 What are your favorite memories? Share a few with me and let's brighten up the dark evenings, shall we?
In the meantime, here's a really fun — and really easy — cake to bake up. If you love pumpkin and you love tres leches cake, you'll love this combination. A pumpkin sheet cake soaks up a delicious three milks mixture before being topped with my favorite fluffy whipped icing.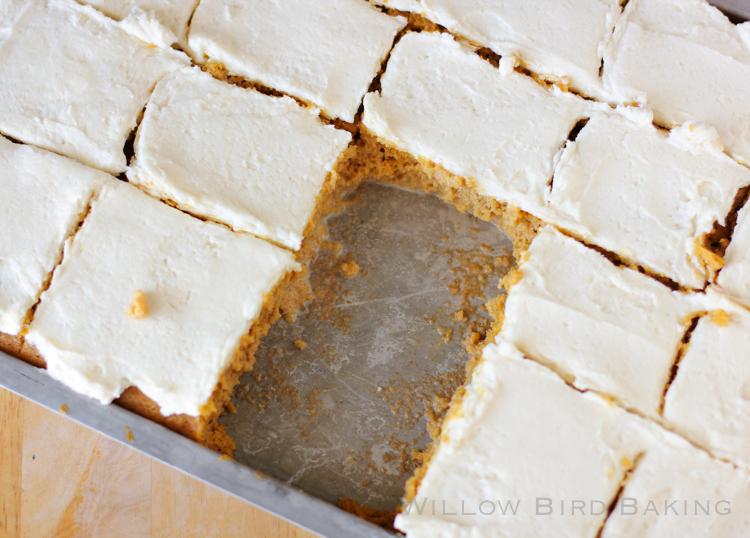 One year ago: Broiled Southern Pimiento Cheese
Two years ago: Quick Dinner: Garlicky Peanut Noodles with Crunchy Vegetables
Three years ago: How to Make 27+ Cheesecakes and Look Awesome While Doing It
Four years ago: Barefoot Contessa's Carrot Pineapple Cake
Pumpkin Tres Leches Cake

---


Recipe by: Willow Bird Baking using a pumpkin sheet cake recipe adapted from Taste of Home
Yield: 20 servings

A pumpkin spice sheet cake meets a tres leches cake! The whipped icing on this delicious, custardy cake is one of the best parts.

Cake Ingredients:
1 1/2 cups sugar
1 can (15 ounces) solid-pack pumpkin
1 cup canola oil
4 eggs
2 cups all-purpose flour
2 teaspoons baking powder
2 teaspoons ground cinnamon
1 teaspoon baking soda
1/4 teaspoon salt
1/4 teaspoon ground cloves

Tres Leches Ingredients:
1 cup whole milk
1/2 (14-ounce) can sweetened condensed milk
1/2 (12-ounce) can evaporated milk

Whipped Icing Ingredients:
1 1/2 cup milk
7 1/2 tablespoons flour
1 7/8 cups granulated sugar (not powdered sugar; note: 1/8 cup = 2 tablespoons)
3 teaspoons vanilla extract
1 1/2 cups (3 sticks) butter, at room temperature

Directions:
Preheat the oven to 350 degrees and grease a 15-inch x 10-inch x 1-inch baking pan. In a large bowl, cream together sugar, pumpkin, oil, and eggs. In a separate bowl, whisk together flour, baking powder, cinnamon, baking soda, salt, and cloves. Gradually whisk dry ingredients into wet ingredients and mix well. Pour the batter into your prepared pan and bake for 20-25 minutes or until a toothpick inserted into the center of the cake comes out with just a few moist crumbs. Cool the cake completely on a wire rack (keep in the pan). Poke holes in the cake with the back of a wooden spoon.

In a medium bowl, whisk together whole milk, condensed milk, evaporated milk. Pour this mixture over the cooled cake. Chill the cake overnight.

To make the frosting, heat the milk, flour, and granulated sugar together over medium heat, whisking constantly. Once it starts to boil, continue whisking and heating it for around 7 minutes or until it's very thick, like cake batter consistency. Remove the mixture from the heat and add the vanilla extract. Remove the mixture to a shallow pan and let the mixture cool completely (after a bit, I stuck mine in the fridge to hurry it along). Once the mixture is cool, beat the butter in the bowl of a stand mixer until soft and fluffy. Add the completely cooled mixture and beat on high until you have fluffy frosting the consistency of stiff whipped cream. Frost your chilled cake.