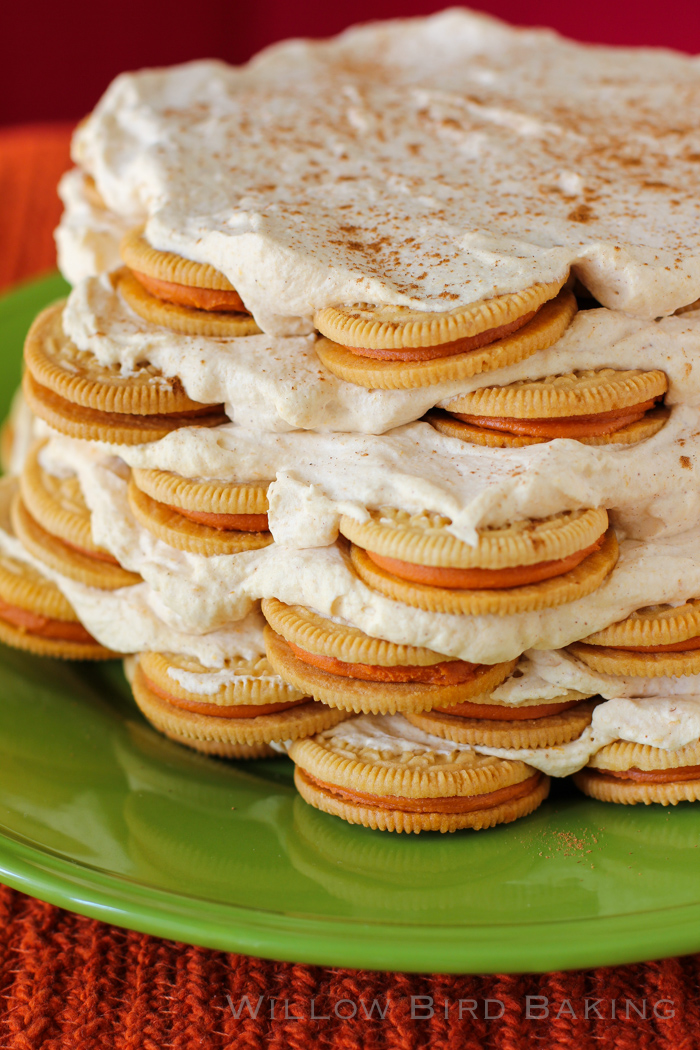 No-Bake Pumpkin Spice Icebox Cake
I mouthed the words to worship songs instead of singing until I was about 15 years old. I wasn't being disrespectful. I'd simply learned at an early age that my singing voice was terrible (dashing my baby hopes of being a pop star like Jem) and it seemed jerky to subject God to that. I mean, He's GOD and He's listening to a choir of who knows how many angels, the worship of people who can sing all over the world . . . and then there's me. Lip-syncing was the only reasonable decision.
When I was in college, Mike and I took a couple of months to try all different types of churches. I wanted a bigger picture of the Church as a whole; Mike wanted to see if there was anything out there worth exploring (he's an atheist.) We visited a Quaker Friends meeting, an extremely traditional SSPX church, a Church of Christ, a Methodist church, a Presbyterian church, a nondenominational megachurch, a nondenominational regular church. I took notes. We had great discussions. They certainly weren't all for me, but every church added something to my understanding of my own faith.
I had one particularly important experience at the Church of Christ, even though the COC faith differs from my own in significant ways. The sermon during our visit was on singing loudly. Not just singing aloud, but singing loud. I forget the verse the pastor used, but it was something like Psalm 98.4: "Shout joyfully to the Lord, all the earth; Break forth and sing for joy and sing praises." And not only did this church preach the message; they lived it! Despite not using any electric amplification, it was an energetic, LOUD worship service.
It wasn't some sort of earth-shattering thing. I didn't feel like I had made God mad or like I was going to hell or like it was particularly significant theological discovery or anything. I don't know. I just felt convicted, I guess. I'd already started singing aloud at this point, but maybe I should commit to it a little more. Maybe I should be loud. Every worship service thereafter found me throwing myself into the song. It was quite the departure from my lip-syncing childhood!
I thought of that sweet experience today because Mike and I were visiting Beaufort, NC, where I lived for a few months in college. For the past year in Raleigh, we've been going to a church that I see as kind of a "back away from the conventional churches and lick your wounds, analyze your assumptions, and evaluate your beliefs" kind of church. It's the right place for me right now, but we go to a service with no singing. So for a year, I've only worshipped in song on my own!
Today, though, we visited the conventional church I used to attend in Beaufort. Singing "Blessed Be Your Name" brought back old memories of avoiding singing, of singing aloud, of singing loud! Of how special it is, even if you often tell Him with words, and even if your heart tells Him without words, to praise God in song for the journey He's carried you on.
* * *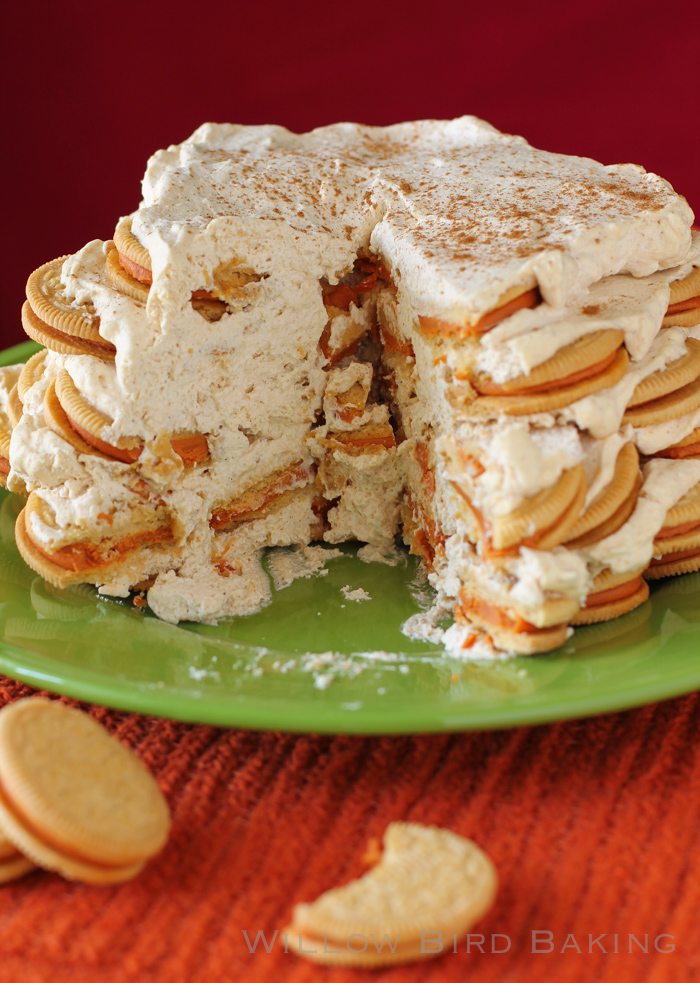 I made you a little icebox cake to celebrate fall and the new Pumpkin Spice Oreos! They're so good by themselves, but when stacked between layers of pumpkin spice whipped cream, they soften into a velvety autumn-flavored cake. What I love about icebox cakes (apart from how easy they are) is that you can really make them any size. The recipe below makes a big cake, but how cute would little personal icebox cakes be? Just a stack of 4-5 oreos with cream sandwiched between each? There are lots of fun possibilities.
Questions for my Christian readers: what has God been working on in your heart lately? And what's your favorite song to sing to Him?

One year ago: Sausage and Thyme Stuffed Mushrooms
Two years ago: Dessert Smörgåsbord with Ghirardelli Intense Dark Chocolates
Three years ago: Pumpkin Cheesecake Stuffed Snickerdoodles
Four years ago: Homemade Croissant Phototutorial
Five years ago: Jack-o'-Lantern Whoopie Pies
No-Bake Pumpkin Spice Icebox Cake

---


Recipe by: Willow Bird Baking
Yield: 15 servings

This icebox cake is delicious and full of fall flavor! The pumpkin whipped cream is just barely sweetened so the overall sweetness level is perfect. The recipe below is a basic guideline for how to assemble an icebox cake, but the yield can really be adjusted to suit your needs!

Ingredients:
2 cups heavy whipping cream, chilled
4 tablespoons Swerve Sweetener confectioners' sugar (or regular confectioners' sugar)
1/3 cup pumpkin puree
2/3 teaspoon ground cinnamon
1/4 teaspoon ground nutmeg
1/8 ground cloves
3 packages Pumpkin Spice Oreos (if you can't find these, use Golden Oreos)

Directions:
Note: Remember, to make a smaller cake or even personal icebox cakes, you can just reduce the amount of pumpkin spice whipped cream you make and the number of cookies you use. There are really no rules to icebox cakes except making sure that all the cookies get sandwiched between layers of cream!

Whip heavy cream in a chilled mixing bowl with chilled beaters to medium peaks. Add powdered sugar, pumpkin, cinnamon, nutmeg, and cloves, and beat to stiff peaks. Place 10-12 cookies on a plate and top with a large scoop of pumpkin whipped cream. Use an offset spatula to spread the cream out until it covers all the cookies. Keep layering cookies and cream until you're happy with the height of your cake. Place in an airtight cake container (or cover with plastic wrap if you don't mind things getting a little messy) and chill overnight.