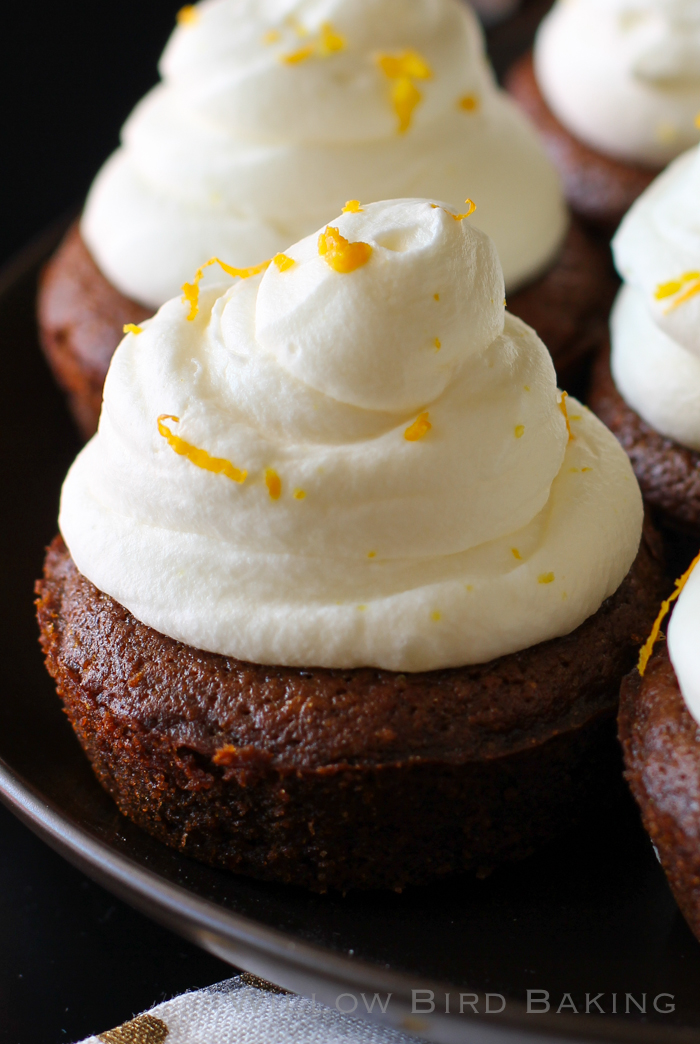 I've partnered with ALDI to try out their grocery stores and develop holiday recipes like these Gingerbread Cookie Cups with Orange Cream. ALDI has compensated me for my time and recipe development, but all my opinions are my own.
I grew up in the South, where cities tend to amble out into haphazard suburbs. Public transportation in an awkward, gangly armed city just doesn't work the same. Bus routes are segmented such that it can take hours to get from A to B. Tons of public funds can sink into a project like a light rail only to find that the train doesn't go anywhere, really. Cars are crucial for getting from place to place.
Maybe that explains why I grew up thinking of public transportation as a last resort. I imagined grimy busses ferrying people who had no other choice but to languish for hours to get where they were going. As an adult, however, I started using the bus system to travel on field trips with my students. I also traveled to cities that introduced me to the metro: San Francisco; Washington, D.C.; and Paris. Turns out public transportation is accessible, convenient, and exciting! It was a huge perspective shift.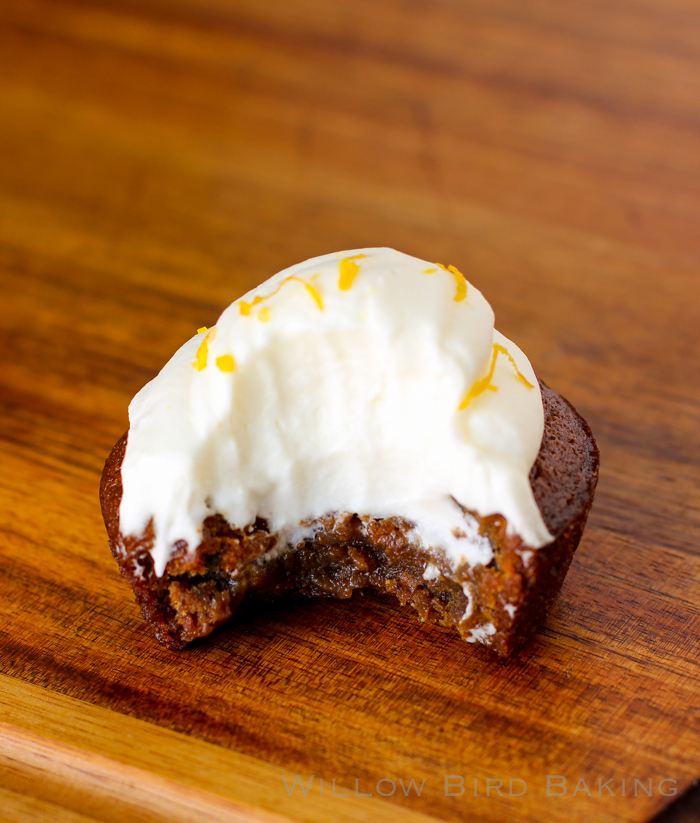 I'm pondering this because at ALDI headquarters, Sensory Expert Gail Vance Civille taught us about the "screen of expectation." There are three parts to shopping: the product itself, the screen of expectation, and the customer response to the product. The screen of expectation is how things like a product's packaging or a store environment give a customer the expectation of finding a product satisfying. Think of it like a coffee shop that creates a cozy space with hip music and big ceramic mugs. The coffee itself certainly matters, but that environment gives you the expectation of enjoyment.
My screen of expectation for public transportation was such that, if I hadn't been forced by my circumstances to experience it several times, I might have avoided it my entire life. Now I find it the absolute highlight of a city: who rides their trains? how do people interact there? what's the culture?
I had the same experience at ALDI stores, actually. Some fancier grocery stores put a lot of money into crafting that sensory expectation. They'll have bistros, gourmet food bars, carefully appointed decor, a dude in the seafood section employed specifically to discuss grouper with you. It's nice. It certainly creates the expectation of quality food. But ALDI folks made a good point: none of that is complimentary. You pay for the bags they put your food in, the fancy borderless freezer doors, the food samples, the fish dude. The company incorporates those costs into the products you buy.
Making this screen of expectation transparent for yourself allows you to really think about what you want to pay for. Personally, while I love me some borderless freezer doors, I'd rather pay less and forgo some of the fluff.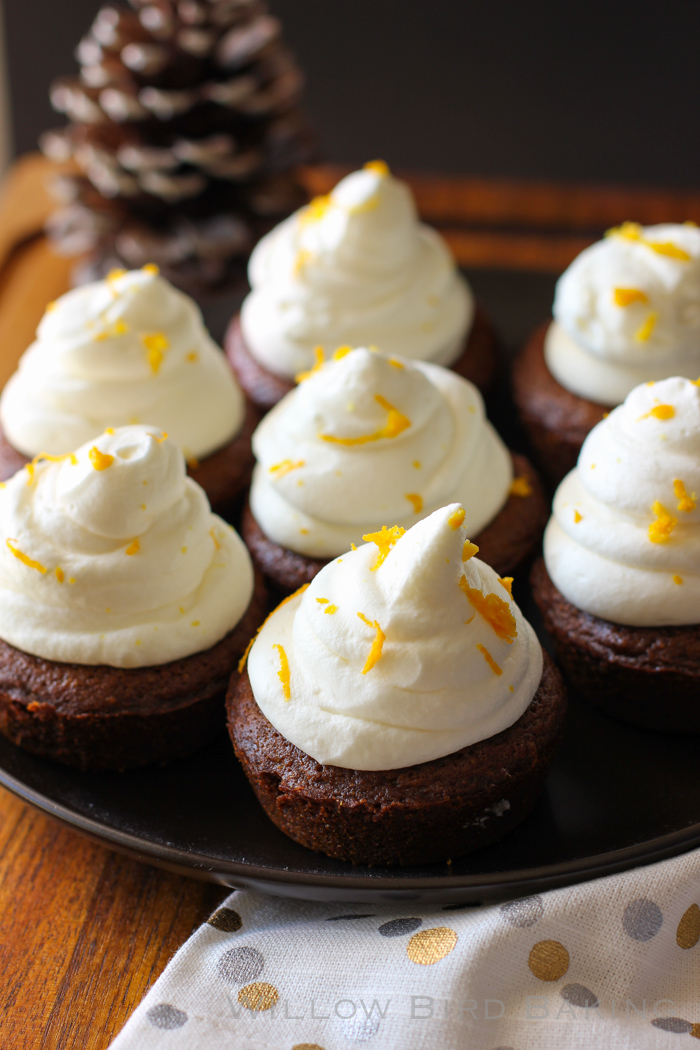 Well, the store fluff. I don't want to forgo other important fluffs. Like orange cream fluff.
There's probably no need to alter your screen of expectation to sell you these Gingerbread Cookie Cups with Orange Cream. I adapted some amazing gingerbread bars from Averie Cooks into cute gingerbread cookie cups that are crunchy outside, gooey inside. I then piped on a huge pile of gorgeous orange whipped cream. These were so festive and addictive. Enjoy!
What times can you think of where your "screen of expectation" has colored how you see reality?
One year ago: Brown Butter Pecan Gooey Butter Cake with Spiked Whipped Cream
Two years ago: Rosemary Thumbprints with Clementine Curd
Three years ago: Salted Caramel Chocolate Trifle
Four years ago: Browned Butter Pumpkin Croquemcake with White Chocolate Chai Mousse
Five years ago: Cannoli
Gingerbread Cookie Cups with Orange Cream

---


Recipe by: Willow Bird Baking using gingerbread adapted from Averie Cooks
Yield: 12 cookie cups

These Gingerbread Cookie Cups with Orange Cream start with rich, spicy gingerbread cups that are gooey on the inside. Light and sweet orange cream is piped over top. They are incredible!

Gingerbread Ingredients:
1/2 cup unsalted butter (1 stick), melted
1 large egg
1 cup light brown sugar, packed
1/2 cup unsulphered light molasses
1 tablespoon vanilla extract
3 teaspoons ground ginger
2 teaspoons cinnamon
1 teaspoon ground cloves
1 teaspoon ground nutmeg
pinch salt
1 1/4 cups all-purpose flour

Orange Cream Ingredients:
2 tablespoons water
1 1/2 teaspoons unflavored gelatin
1 3/4 cups heavy whipping cream
2 tablespoons triple sec (optional)
1/4 teaspoon orange extract
1/2 cup powdered sugar
orange zest for topping

Directions:
Preheat the oven to 350 degrees F and spray a 12-well muffin tin with cooking spray. I also added a little parchment round to each well to ensure the cups wouldn't stick.

Melt the butter in a large bowl in the microwave for a minute. Let it cool slightly so it doesn't cook the egg, then whisk in the egg, brown sugar, molasses, vanilla extract, ginger, cinnamon, cloves, nutmeg, and salt. Stir in the flour until just combined. Divide the batter evenly between the wells of the prepared muffin tin. Bake for 24-26 minutes, rotating the pan once halfway through, until a toothpick inserted into the middle cookie cup comes out with moist crumbs but no liquid batter. Be careful not to over-bake. As soon as the cups leave the oven, use a spoon to gently form an indentation in each cookie cup and a thin knife to loosen around the edges of each. Then let them cool completely in the pan before removing them.

When the cookie cups are cooled, place 2 tablespoons of water in a small bowl. Sprinkle the gelatin evenly over the water and let it stand for 10 minutes to soften. In the meantime in a chilled mixing bowl, mix whipping cream, triple sec, orange extract, and powdered sugar together on low speed. Microwave the gelatin for 15 seconds or so and then whisk to dissolve. Turn the mixer up to medium speed and add the gelatin while continuing to stir. Continue beating the cream to stiff peaks. Pipe the orange cream into the cooled gingerbread cookie cups (I really piled it high!), top with orange zest, and enjoy.