Chewy Gingerbread Bars with Pumpkin Cream Cheese Frosting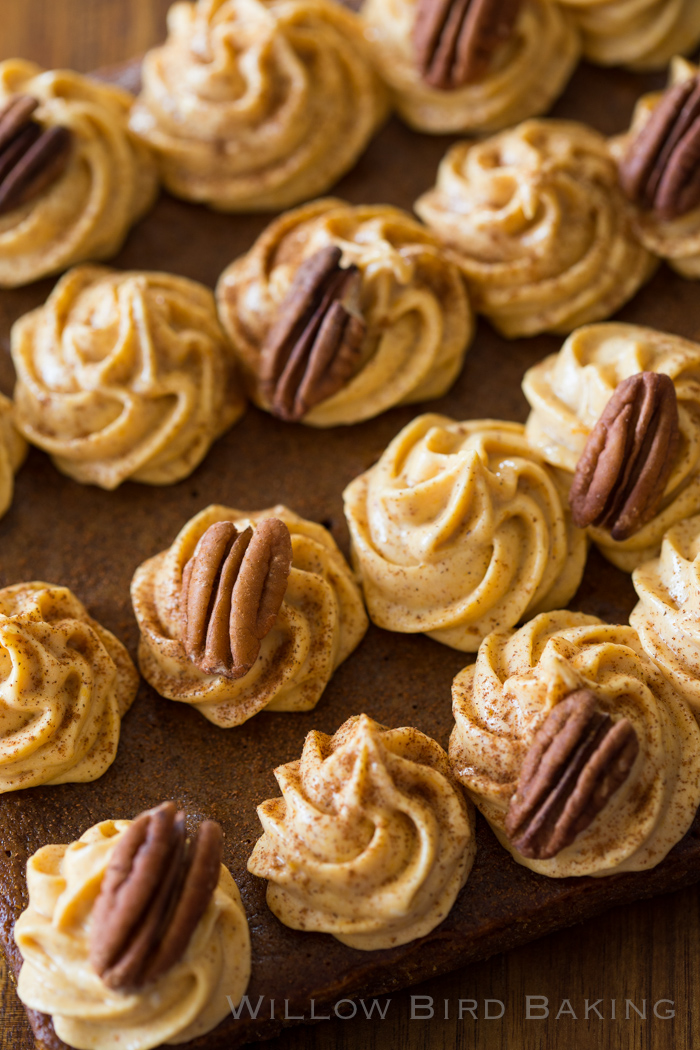 Author:
Willow Bird Baking, using gingerbread spice ratio from Averie Cooks
1/2 cup unsalted butter (1 stick), melted
1 large egg
1 cup light brown sugar, packed
1/2 cup unsulphered light molasses
1 tablespoon vanilla extract
3 teaspoons ground ginger
2 teaspoons cinnamon
1 teaspoon ground cloves
1 teaspoon ground nutmeg
pinch salt
1 1/4 cups all-purpose flour
1 (8-ounce) package cream cheese, softened but not all the way to room temperature
2 cups powdered sugar
1/2 cup pumpkin puree
1/2 teaspoon ground cinnamon
1/4 teaspoon nutmeg
1/8 teaspoon ground cloves
toasted pecans and sprinkled cinnamon for topping
Preheat the oven to 350 degrees F and line an 8-inch square baking pan with a parchment sling (like this, but with parchment paper) sprayed with a little extra cooking spray.
Melt the butter in a large bowl in the microwave for a minute. Let it cool a bit so it doesn't cook the egg, then whisk in the egg, brown sugar, molasses, vanilla extract, ginger, cinnamon, cloves, nutmeg, and salt. Stir in the flour until just combined. Pour the batter into your prepared pan and bake for 28-32 minutes, rotating the pan once halfway through, until a toothpick inserted into the middle cookie cup comes out with moist crumbs but no liquid batter. Be careful not to overbake. Let the gingerbread cool completely (I even stick it in the fridge to help it along.)
Make the frosting: Beat the cream cheese and powdered sugar together until smooth. Add the pumpkin, cinnamon, nutmeg, and cloves and mix until fully combined. Remove the completely cooled gingerbread from the pan to a cutting board, using the sling to help. Cut the bars into 16 squares and use a pastry bag fitted with a big star tip to pipe a rosette on each. Sprinkle with cinnamon and top with pecans (if desires) and serve immediately.
Recipe by
Willow Bird Baking
at http://willowbirdbaking.com/2015/10/25/chewy-gingerbread-bars-with-pumpkin-cream-cheese-frosting/