Thanks to Philadelphia Cream Cheese for sponsoring this post.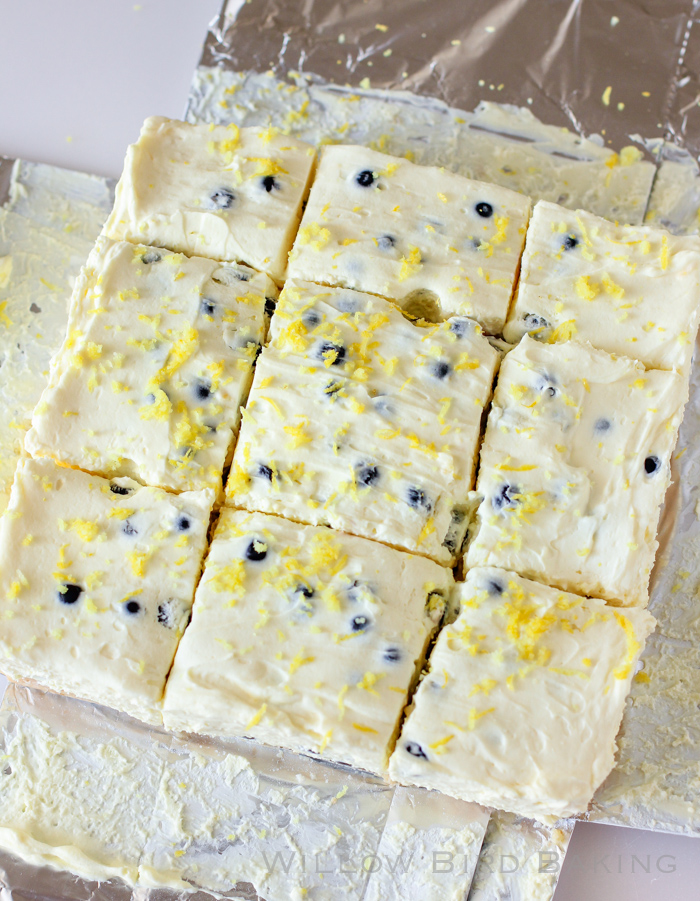 Lemon Blueberry Fluff Bars
Home Ec. messed me all up. Do you remember Home Economics class? Where you learned to wash dishes and bake cookies and parent an egg-with-a-face-drawn-on for a week? The teacher didn't realize that egg babies are easily replaced after regrettable incidents on the bus. Ahem.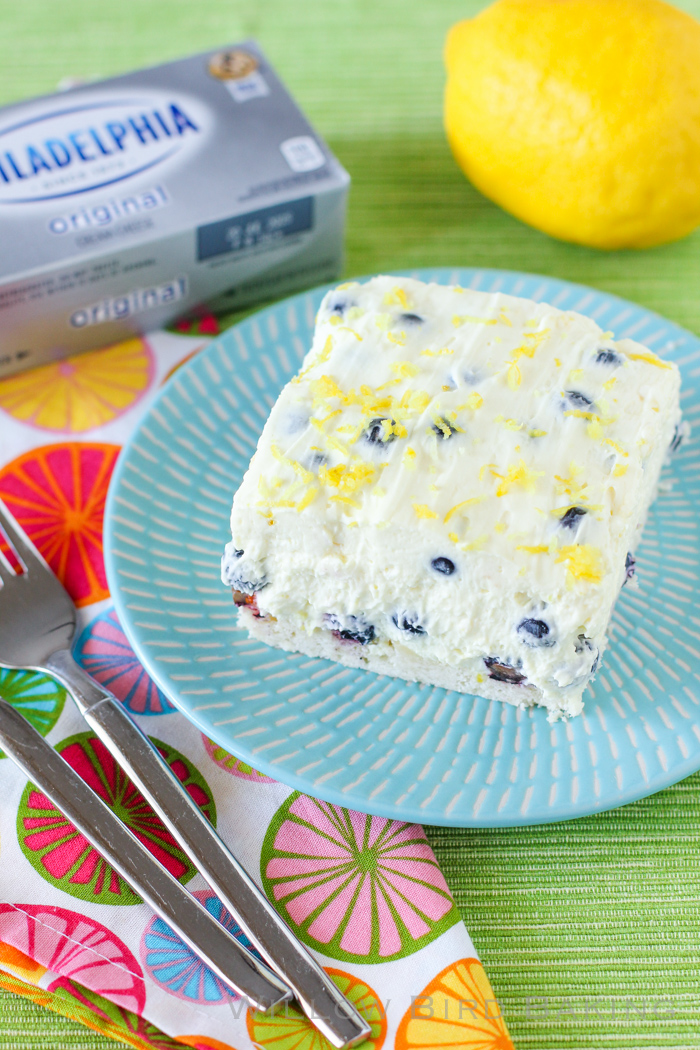 My teacher wasn't really into cooking (which is a shame, since of course we all took the class primarily to eat cookies), but she did a great job of teaching us safety and sanitation rules — with one exception.
If she had JUST said, "To put out a kitchen fire, smother it with baking soda," I would've remembered that forever. But instead she said, "To put out a kitchen fire, smother it with baking soda and NOT FLOUR. Don't use flour, but baking soda instead. Flour and baking soda look so similar, right?! Baking soda, flour. Flour, baking soda. But one of them puts out a fire and the other one explodes. Don't get them mixed up!"
Okay, so I'm paraphrasing, but it was something like that. The immediate result was that the two were all jumbled in my head. The long-term result was that I stood paralyzed in my kitchen last Sunday after accidentally setting my leftover sandwich on fire (only I could manage to set a sandwich on fire) wondering what the heck to do. The fire was inside the oven, thankfully, so I turned the oven off and took a moment to congratulate myself for remembering that much. Then I faced the real issue: flour or baking soda? Baking soda or flour?
Thankfully, we now have another valuable kitchen safety tool: Google. I called out to Mike, "GOOGLE HOW TO PUT OUT KITCHEN FIRES!"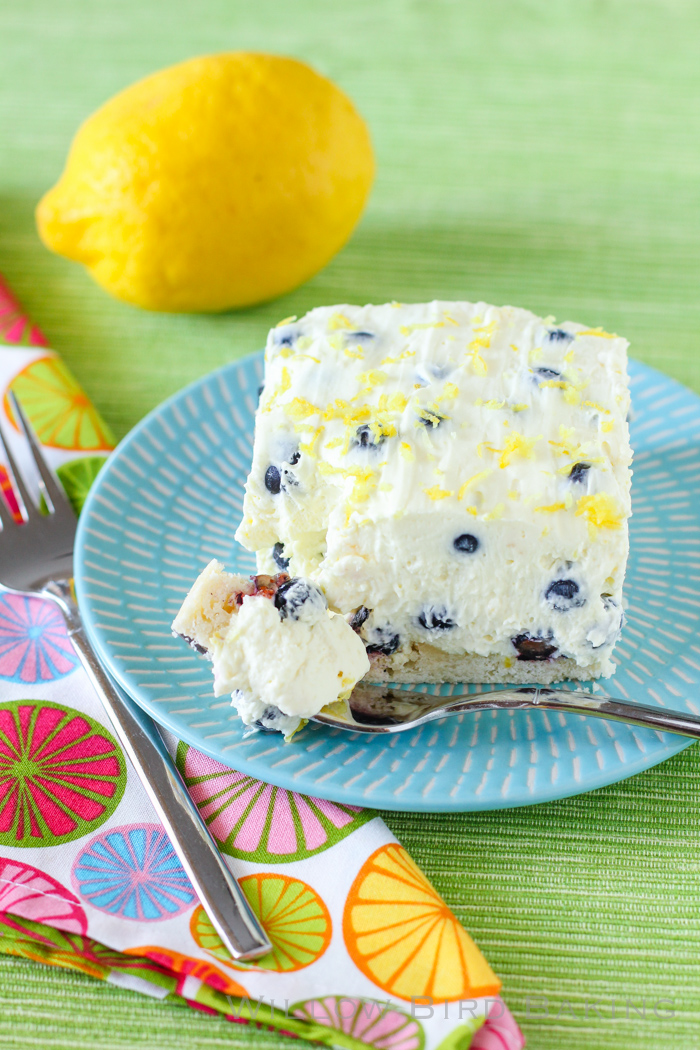 I don't think you're supposed to Google in an emergency, but the closed oven bought us time. "Baking soda," he called out from the living room. (He's apparently way too cool to run in and make a fuss.) In a few moments the fire (and my pimento cheese sandwich, wahhhh) was doused in baking soda and all was well. Except the ash and baking soda everywhere. And the fact that our apartment smelled like a bonfire for the next few days.
There are three morals to this story:
1. BAKING SODA.
2. BAKING SODA.
3. BAKING SODA.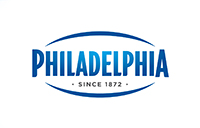 And dessert, because that's what comforted me after I legitimately mourned for my pimento cheese sandwich.
I made these fluffy, springy mousse bars specifically to shine on your Easter holiday table. They are cool, tangy, and super creamy! Thanks to Philadelphia Cream Cheese for sponsoring me to create a delicious Easter dessert recipe. This is not an original Philadelphia Cream Cheese recipe — it's all mine!
One year ago: French Silk Pie Bars
Two years ago: Almond Scones with Raspberry Jam and Clotted Cream
Three years ago: Chocolatey Red Velvet Pull-Apart Bread with Cream Cheese Glaze
Four years ago: Three Safe-to-Eat Cookie Doughs: Chocolate Chip, Sugar, and Cake Batter!
Five years ago: Oatmeal Cake with Broiled Icing

Lemon Blueberry Fluff Bars
These light and fluffy mousse bars are filled with tangy lemon and sweet blueberries, all atop an incredible shortbread crust. They're the perfect Easter dessert!
Ingredients
Shortbread Crust Ingredients:
1 cup all-purpose flour
1/4 cup powdered sugar
pinch of salt
1/2 cup butter
Filling Ingredients:
1 1/2 cups heavy whipping cream
3/4 cup powdered sugar, divided
1 teaspoon lemon extract
zest of one lemon
yellow food coloring as desired
2 (8-ounce) packages Philadelphia Cream Cheese, softened
12 ounces fresh blueberries
Instructions
Preheat your oven to 350 degrees F. Line an 8-inch square baking pan with a foil sling. Process the flour, powdered sugar, and salt together for a few seconds before adding in the chunks of cold butter. Cut the butter into the flour mixture about 6-8 pulses or until it looks like small peas. Press the mixture into the baking dish with the flat bottom of a glass or small dish. Bake for 20 minutes or until very lightly browned. Let cool completely (I stick mine in the fridge to help it along.)
In a chilled large bowl, whip the heavy cream, 1/2 cup of the powdered sugar, lemon extract, lemon zest (save a little for topping), and a couple drops of food coloring (if desired) together to form stiff peaks. In a separate large bowl, beat the cream cheese and the remaining 1/4 cup powdered sugar (and a couple more drops of food coloring — however many you used in the cream) together until fluffy and light. Whisk about 1/3 of the whipped cream into the cream cheese to lighten it up a little more. Then fold in the rest of the whipped cream very gently until the dip is well combined. Gently stir in the blueberries. Pile the mixture in dollops all around the completely cooled shortbread crust and spread it evenly. Run a thin knife around the outside edges so that after chilling, the bars will come away from the foil evenly. Chill for at least 3 hours before using the foil sling to transfer the bars to a cutting board. Cut and serve chilled.