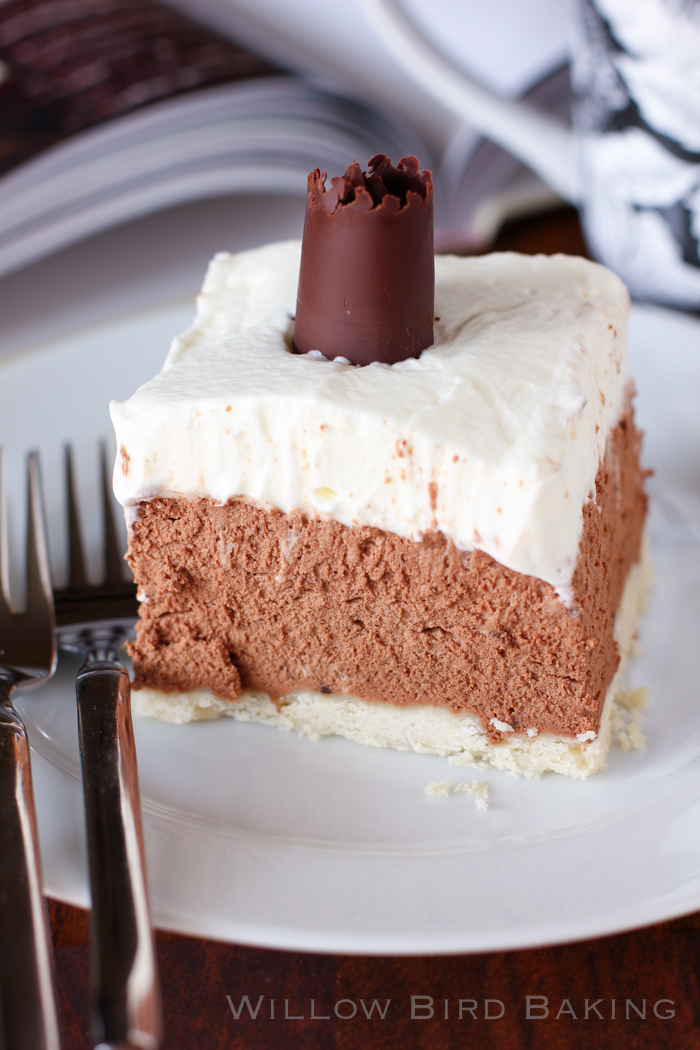 French Silk Pie Bars
Today I've got the best present for you: something that's going to reawaken your sense of kitchen whimsy. No, not these French Silk Pie Bars, though they will reawaken your sense of kitchen GIMME THAT FORK RIGHT NOW.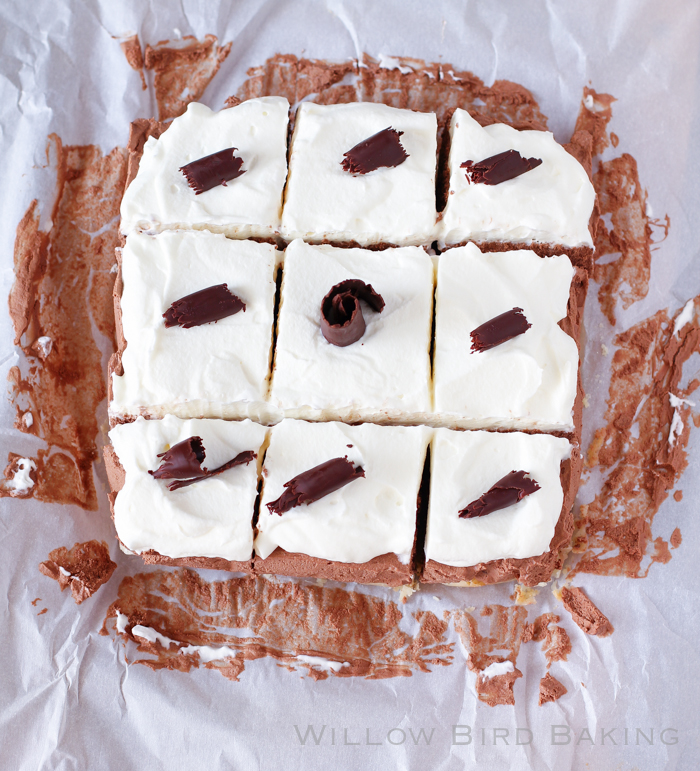 No, I mean my friend Amanda's amazing new book, Surprise-Inside Cakes.
I love flipping through cookbooks. Do you do this, too? Lie in bed and page through them like a novel, consuming the food with your eyes, doing a mental inventory of your pantry, trying to visualize yourself making each recipe? Sorting the dishes with thoughts like, "This one seems easy enough," "No way I'd make that," "I think I have almost all of these ingredients," "This sounds like a good special occasion meal"? I find it so relaxing. Surprise-Inside Cakes, with its gorgeous photos by Susan Powers and stunningly conceived cakes, is certainly great for that.
But here's the thing about this cookbook. The recipes are amazing, but best thing it gives me as a home cook isn't even in its pages.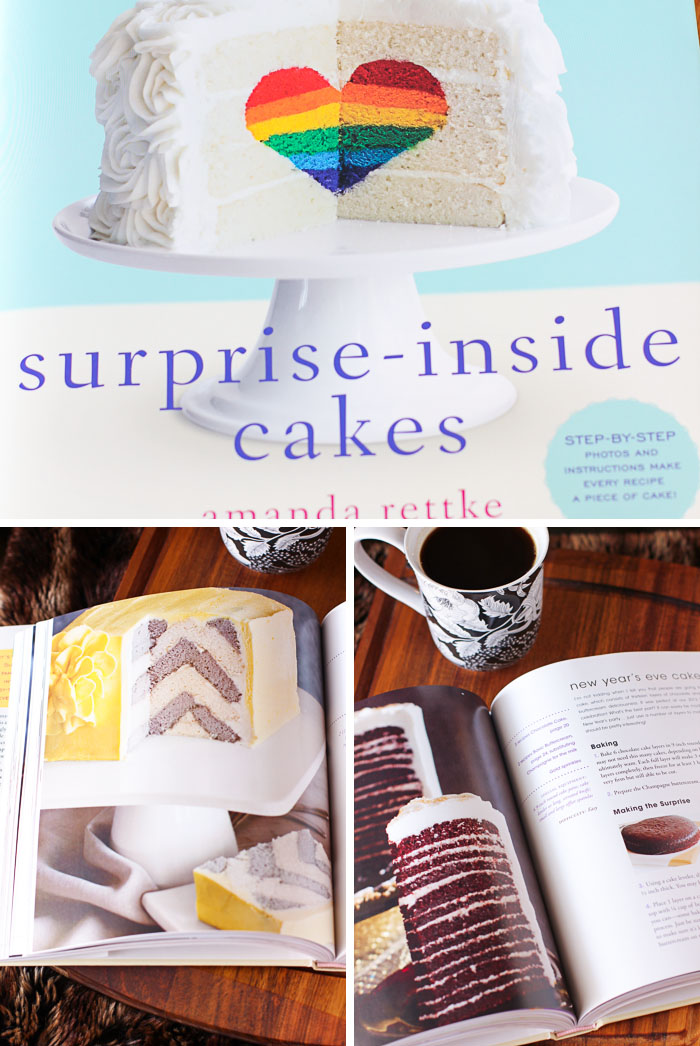 Every now and then someone writes a cookbook that doesn't just describe how to make their food, but helps you imagine creating your own food. It teaches you techniques that you could see applying to your own concept. It gives you examples of what someone — with a lot of patience and creativity — was able to create, and makes it seem accessible for you to embark on the same artistic adventure. That's what this cookbook does. It's not just a book of recipes, but a showcase and an invitation: here's what I did, what will you do?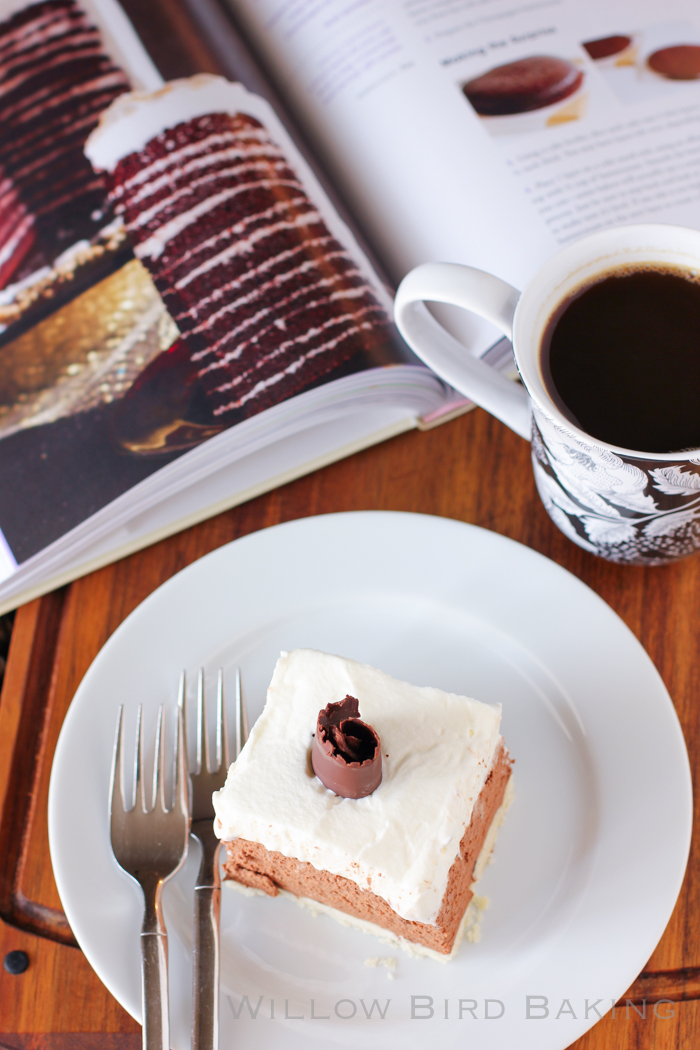 To be honest, I haven't felt this way since Bakerella started the creative cake pop craze. Amanda isn't the only person in the world to put something cool inside a cake, sure. But her innovation in the kitchen is inspiring. She makes surprise-inside cakes seem accessible to the home cook on her blog, i am baker, and now in her book as well.
So if you need me, I'll be lying in bed, flipping through these beautiful pages, dreaming of new creations. Want to join me? Not in my bed; that'd be weird. But in flipping through this new book? The Surprise-Inside publishers are offering one free copy to a lucky Willow Bird reader! Just enter using the giveaway widget below.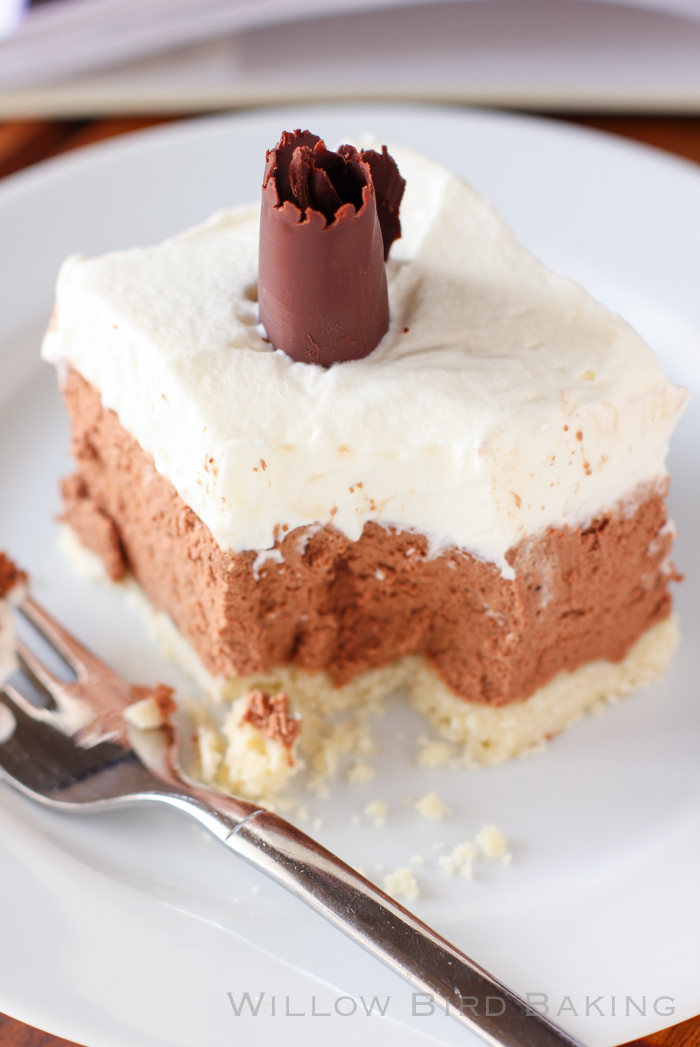 Now onto pie! I've been on a pie bar kick, in case you haven't noticed. Coconut Cream Pie Bars, Lemon Cream Pie Bars, and now French Silk Pie Bars. These things are crazy! They remind me of going to Perkins Family Restaurant as a kid and getting a huuuge slice of French Silk Pie to devour all by myself. Enjoy them with a huge glass of milk. But be sure to enter the giveaway first!
One year ago: Almond Scones with Raspberry Jam and Clotted Cream
Two years ago: My Favorite Pie Crust Dough
Three years ago: Three Safe-to-Eat Cookie Doughs: Chocolate Chip, Sugar, and Cake Batter!
Four years ago: Chocolate Sheet Cake
French Silk Pie Bars

---


Recipe by: Willow Bird Baking adapted from Brown Eyed Baker
Yield: 9 bars

If you love French Silk pie, this is your kind of dessert! A buttery shortbread crust forms the base for creamy chocolate mousse and fluffy whipped cream. Use Pioneer Woman's tutorial for making cute chocolate curls to boost the presentation!

Crust Ingredients:
1 cup (2 sticks) butter
2 cups all-purpose flour
1/2 cup icing sugar

Filling Ingredients:
1 cup heavy cream
8 ounces bittersweet chocolate, finely chopped
3 eggs
¾ cup granulated sugar
2 tablespoons water
1 tablespoon vanilla extract
8 tablespoons unsalted butter, at room temperature, cut into ½-inch pieces

Topping Ingredients:
1 cup heavy whipping cream
1/2 teaspoon gelatin
2 tablespoons cold water
4-5 tablespoons powdered sugar
chocolate curls (optional)

Directions:
Make shortbread crust: Preheat your oven to 350°F. Prepare an 8-inch square baking dish by lining it with parchment paper. Cut the butter into the flour and icing sugar and press into the baking dish (I used a food processor to cut the fat into the flour — about 6-10 pulses — and then the bottom of a glass to press the mixture into the pan). Bake 18-20 minutes or until light brown. Set on a wire rack.

Make the filling: Melt your chocolate by heating in 30-second intervals on half power, stirring between each. Once melted, set the chocolate aside as you complete the filling. In a chilled bowl, beat the heavy whipping cream to stiff peaks. Place it in a bowl in the fridge to chill until it's needed. In the heatproof bowl of a stand mixer, beat together eggs, sugar, and water for 5 minutes until pale yellow and slightly thickened. Set the bowl over a saucepan of simmering water to form a sort of double boiler. Heat, whisking occasionally, until a candy thermometer reads 160 degrees F.

Put the bowl onto the stand mixer carefully and beat on medium speed until cooled to room temperature and thickened, about 8 minutes. While beating, add in the chocolate and vanilla. My chocolate almost seemed to stick to the bowl and get difficult here, but I just turned the mixer up for a few seconds and all was well. Beat in the room temperature butter a piece at a time, mixing between each. Fold in the whipped cream until no white streaks remain, and then pour the mixture over your cooled shortbread crust and smooth the top. Cover and chill the bars for at least 3 hours or overnight.

Make the topping: In a small bowl, sprinkle the gelatin over the 2 tablespoons cold water to soften for 2 minutes. Heat for 15 or so seconds in the microwave, whisking to dissolve the gelatin. Whip 1 cup heavy whipping cream to stiff peaks, adding the gelatin and powdered sugar halfway through. Chill in the fridge until set.
Want to see some of my own "surprise inside" cakes? I'll be honest: I use a special pan to craft my heart-shaped creations. Amanda's book will help you to be much more crafty!