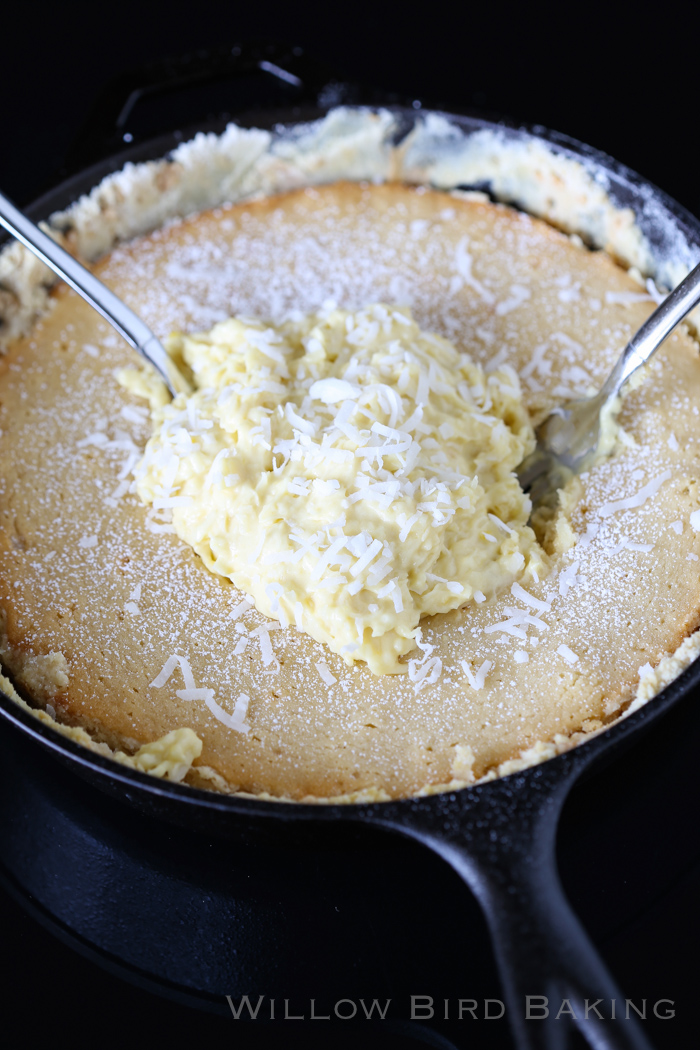 Coconut Cream Gooey Butter Cake
A definite perk of being a teacher is that you never stop getting excited for school breaks. Spring break is usually glorious, since it ushers in the best time of the year. Everything is weaving thoughtfully and productively toward the luxurious summer.
It's usually glorious. But this past week was my spring break, and I was sick for over half of it. Like, someone's-stabbing-my-tonsils-repeatedly sort of sick.
I shouldn't complain. I had a fantastic winter break and winter breaks are notoriously awful for teachers — right smack in the middle of the most depressing point in the school year when no one is quite sure that anything will work out, everyone has the flu, and pocketbooks and patience are stretched thin.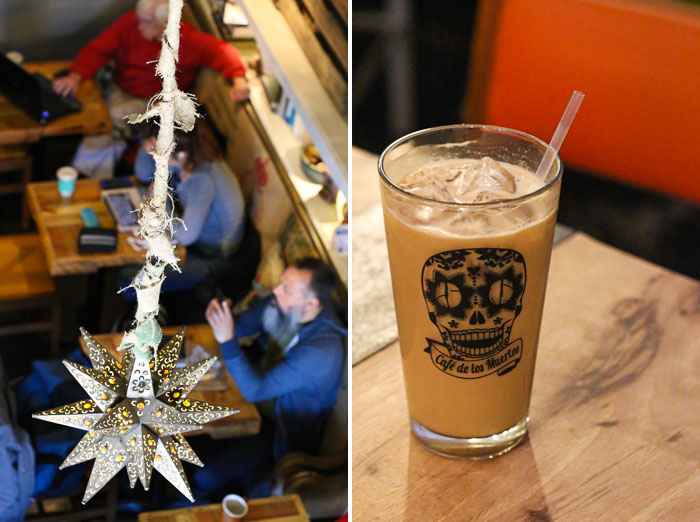 Permitting myself one little whine (WAAaaaahhhh) and moving on, I should acknowledge that the break wasn't a total waste. Sure, I spent most of it languishing like a lump on the couch, watching Teen Mom and eating microwave breakfast burritos at all hours of the day and night, but I also managed to get out and try a new coffee shop.
I had planned on trying a popular shop downtown but it was swamped with people, so I took a walk looking for a different option. I stumbled into Café de los Muertos, a shop that uses coffee sourced from Mexico and Central America. I don't know anything about coffee, as you know, except when it tastes good — and my giant shaken latté tasted very good.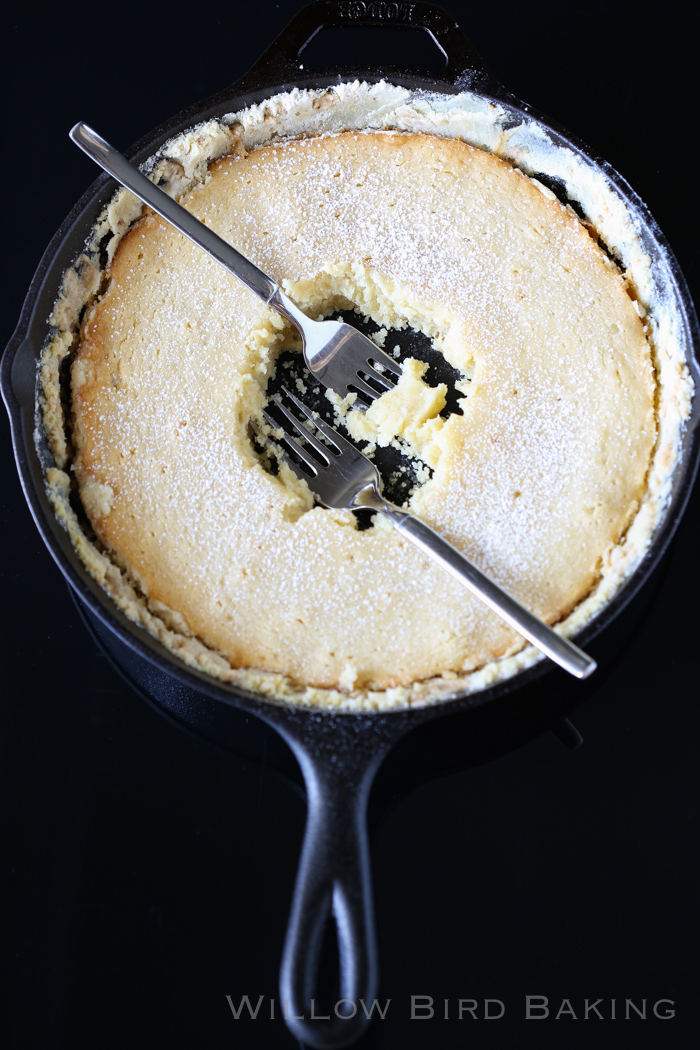 Ah, it was so nice. I spent hours writing, editing photos, planning projects, and drinking a big latté while an artist painted a mural on the wall in front of me. Like I said, I shouldn't complain. A long day in that comfy spot definitely balanced the rest of my days spent gulping breakfast burritos down my sore throat.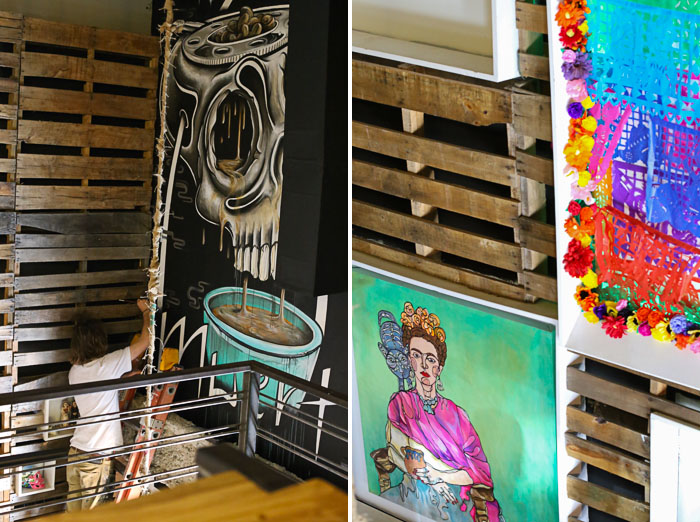 Being sick also had its surprise benefits! I'd planned on filling my days with extra grading and recipe testing, but instead I got tons of sleep, which I truly needed.
No worries about a recipe shortage, though. I made you this Coconut Cream Gooey Butter Cake last week. It combines two of my favorite things: Gooey Butter Cake (made in a skillet, of course) and a light, fluffy coconut pastry cream. It's the perfect amount of cream to get a bit with every bite and balance the amazing flavors. Enjoy it straight from the skillet so I can live vicariously through you — the novelty has worn off for Mike, who now insists we eat from real plates like civilized people. How boring!
Happy spring!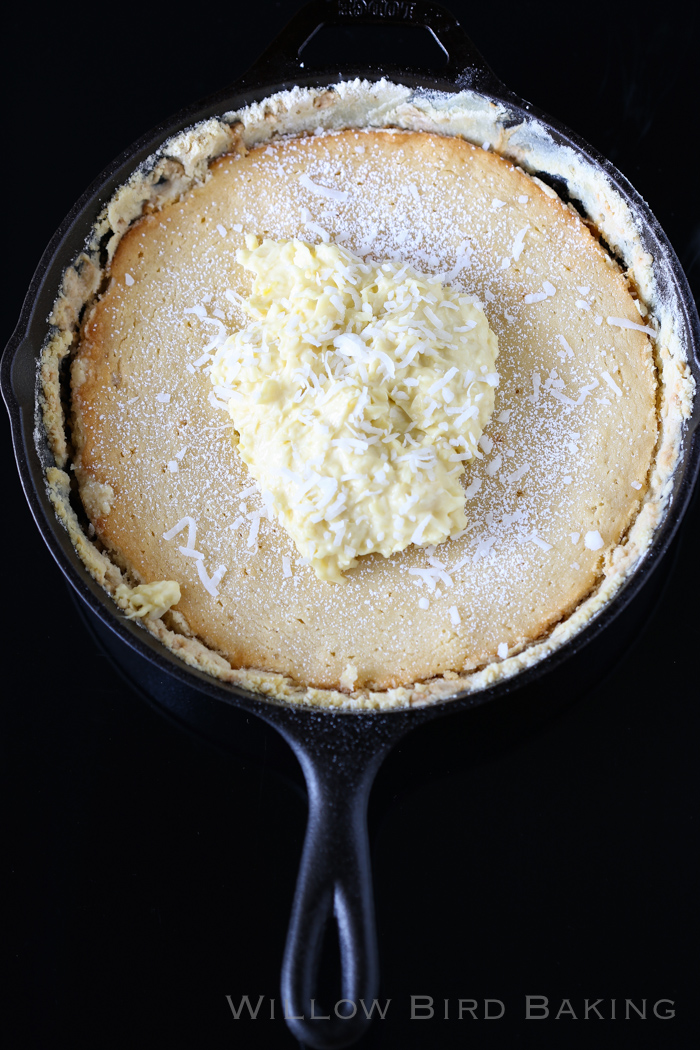 One year ago: French Silk Pie Bars
Two years ago: Almond Scones with Raspberry Jam and Clotted Cream
Three years ago: Chocolatey Red Velvet Pull-Apart Bread with Cream Cheese Glaze
Four years ago: Three Safe-to-Eat Cookie Doughs: Chocolate Chip, Sugar, and Cake Batter!
Five years ago: Oatmeal Cake with Broiled Icing

Coconut Cream Gooey Butter Cake
This is a coconut lover's dream: a super easy gooey butter cake with a ton of fluffy coconut cream in the middle! If you don't have a skillet, I believe you can bake this in a greased 9-inch square baking dish (I'd use a glass one if you have it, and check it early and often. Remove when there's some jiggle left.) Let us know how it goes if you try it this way for all the other skilletless people!
Author:
Willow Bird Baking, using coconut pastry cream adapted from Zoë Bakes
Ingredients
Crust Ingredients:
1 cup cake flour
3 tablespoons granulated sugar
1/3 cup butter, cold
pinch of salt
Filling Ingredients:
3/4 cup (1 1/2 sticks) butter, softened
1 cup granulated sugar
1 egg
1 cup all-purpose flour
2/3 cup evaporated milk
1/4 cup light corn syrup
1/2 teaspoon vanilla extract
1 teaspoon coconut extract
powdered sugar for dusting
Coconut Cream Ingredients:
1/2 of a 14-ounce can unsweetened coconut milk (about 3/4 cup)
6 tablespoons sugar
pinch kosher salt
1 teaspoon vanilla extract
2 large egg yolks
1 tablespoon corn starch
1 tablespoon unsalted butter
1/2 cup sweetened coconut flakes
1/4 cup whipping cream
coconut for topping
Instructions
Make the crust: Preheat oven to 350 degrees. Whisk together cake flour, sugar, and salt in a medium bowl. Cut in the butter with a pastry cutter or two knives until the mixture resembles fine crumbs and starts to cling together. (Alternatively, you can pulse the mixture in the food processor 6 times or so — this is how I usually cut fat into a flour mixture.) Press the mixture into the bottom (this step is a lot harder than it sounds, but be patient and use the back of a spoon to help spread/press the mixture down. I also stuck mine in the fridge for a bit to make the butter less sticky) and up the sides of a 10-inch cast iron skillet.
Make the filling and bake: Cream together the butter and sugar until fluffy and pale yellow (about 2-3 minutes). Mix in the egg until just combined. Alternate adding the flour and evaporated milk, mixing after each addition. Mix in the corn syrup, vanilla extract, and coconut extract. Pour the filling into the crust and sprinkle the top with icing sugar. Bake for 25 to 35 minutes or until cake is nearly set (mine was probably ready around 30). Some jiggle is fine — do not overcook! It'll finish setting up as it cools. Sprinkle some more powdered sugar on top. Let the cake cool in the skillet for 2 hours.
Make coconut cream: While the cake bakes and cools, make the coconut cream. Heat the coconut milk, sugar, salt and vanilla in a medium saucepan over medium heat. In a bowl, whisk together the egg yolks and corn starch. Add 1/4 cup of the hot cream slowly to the yolks, whisking as you add. Then pour the yolk mixture into the pot of hot cream and whisk. Continue to whisk with heat on medium-high for 3 more minutes. The mixture will turn thick and bubble. You need to continue to whisk for the full 3 minutes or the pastry cream will separate once it is cool. After the 3 minutes, whisk in the butter. Add the coconut flakes. Pour into a shallow dish to cool.
Cover with plastic wrap pressed right against the pastry cream. This will prevent a thick skin from forming on the surface. Refrigerate for at least an hour or freeze for 30 minutes. Once it is cold, stir the pastry cream to loosen. Whip the 1/4 cup cream to medium peaks. Stir in a third of the whipped cream to the pastry cream to lighten. Fold in the remaining cream until the pastry cream is nice and light. Chill until ready to use.
Assemble the cake: Pile coconut cream into the center of your cake, top with extra shredded coconut, and serve.