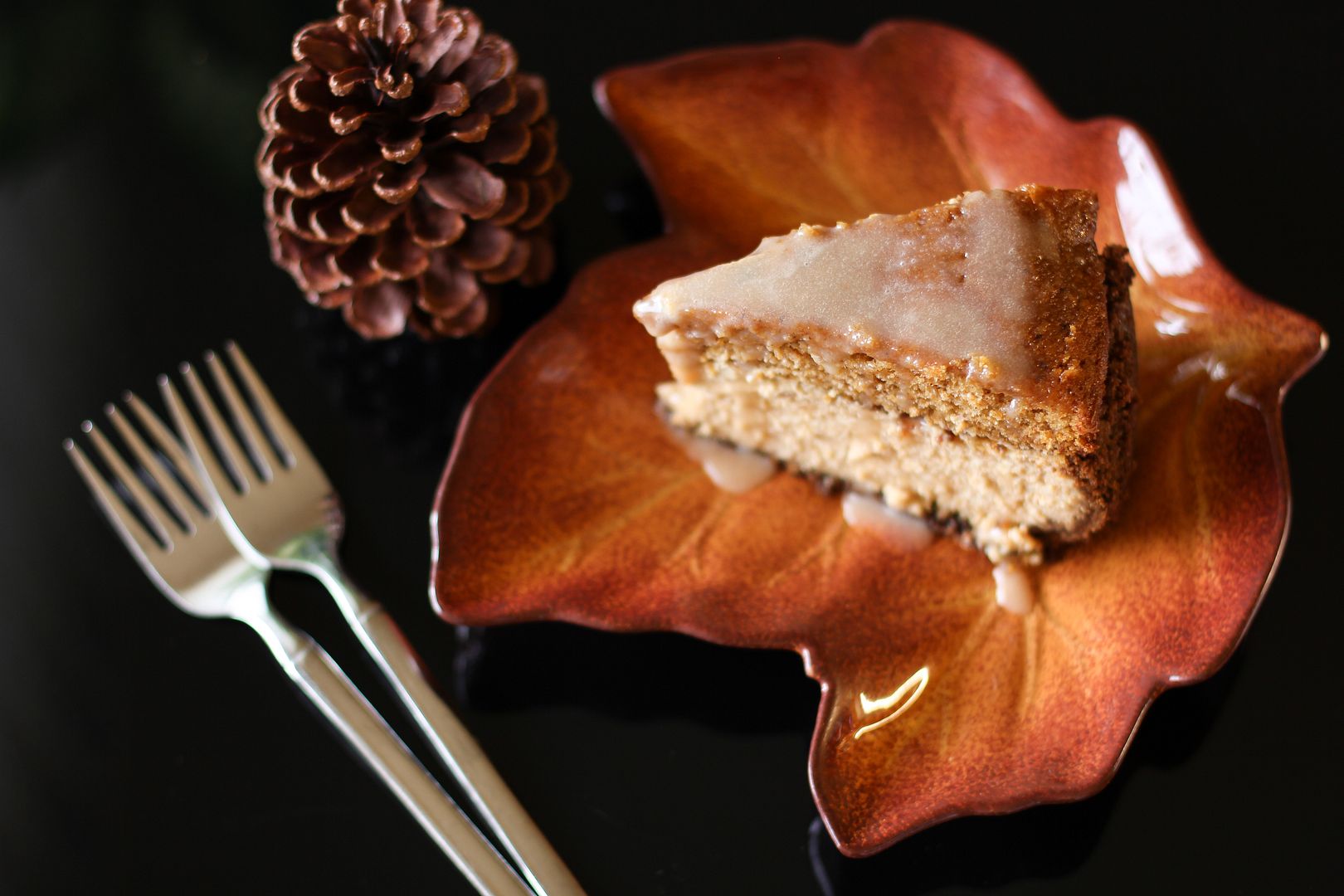 Um, this is a humble-looking cake.
That's a polite way of saying, "Look, I know this cake is ugly." It's brown cake on a brown cheesecake with some brown caramel drizzled on top. It has holes where I poked it with a toothpick. It's kinda crooked. Whatever. That's okay.
I've been thinking about ugliness and prettiness a lot lately. I teach 7th graders, and the issue comes up often with them. Sometimes they explicitly address it, but more often, I see girls meticulously adjusting their hair in a window, rolling their shorts up a little shorter than their parents would allow, reapplying perfume and lip gloss in the hallway, making passing comments about the importance of mascara to their friends, and joining in a group gripe session about what shoes they can and cannot wear at school. The pull to be pretty is incredibly strong.
These are not those teenage girls you see in movies, either — those vain, flighty girls who have never seen the inside of a novel. They aren't stereotypes. These girls are brilliant, fun, athletic, witty, strong, independent. They're all those great things — and they still feel the pressure. Does my body look like everyone else's? Do my clothes seem stylish? Do I need to wear makeup? Does my outfit look all right? Even as they're boldly marching to their own drum, they're hearing the one that TV shows, movies, magazines, and the millions of sexualized images contained therein beat for them every day. The one that says: "You don't look quite right. You should buy something to fix the problem."
(Before we go on, I should warn you that the rest of this post could be triggering to those with eating disorders.)
I've never been a man, so I can't speak for them. But as a woman, I can tell you that there's a naked, humiliated discomfort that creeps up through your chest sometimes when you look around a room. It's cold and withering. Suddenly you want to wiggle your pants a little lower, adjust your shirt, slick your tongue across your dry lips, smooth any frizzies in your hair, suck in your tummy, push your shoulders back.
As we get older, we practice resisting the serpentine siren song of self-hatred. We engage in positive self-talk. We tell ourselves that strong is the new skinny. We decide to think of food as fuel, not an emotional tool. We support body-positive advertising campaigns. We stop counting calories or weighing ourselves if those things present a problem. We try to resist fashion trends that perpetuate the cycle of objectification (even though "everyone's wearing them!" — sigh). We do this for ourselves and for our daughters, hoping that they grow up with a mindset of self-love and a measure of comfort with their own bodies.
But it's still hard. And from what I remember and what I hear, it can be even harder for adolescents.
I won't harp on this next point. It's not some dramatic reveal; it's my life. It's a fact about me, just like it's a fact that I love my dog and would drive miles out of my way for a fountain Coke Zero. It just happens to be a fact I don't particularly relish discussing. I've thought about telling you for months — every time someone asks, "How do you stay fit eating all that cake?" — and now I'm just going to, because there's no shame in saying what I'm about to say: I've struggled with disordered eating since high school. My mindset about food and my body has never been healthy — and there's a gap between my self-image and my physical reality that causes a lot of emotional distress for me. Lady Gaga just acknowledged this same thing to destroy the shame and stigma attached to the issue, and to blow the issue wide open.
I've obviously known about my own issues for years (and addressed it in appropriate ways), but hearing the occasional student discussing calorie counts, hearing about people who have been targeted because of their weight, hearing a student say the really scary F-word, and seeing the body-anxiety people are admitting to on Lady Gaga's website makes me realize: it's time to get angry (this article contains some offensive language).
I'm angry that anyone decided they could turn my physical appearance into an emotional game to earn more money. I'm angry that they create illusions to manipulate us (slathering heavy makeup onto rail-thin girls; pouring them into tiny clothing; sexualizing them and emphasizing their body parts as objects for consumption; contorting them into the shapes of inanimate objects; photographing them; airbrushing them into oblivion; and slapping their photos across roadways, shopping malls, televisions, movie screens, magazines, and the internet). I'm angry that they target us — they target older women (aren't you tired of those wrinkles?), they target fat women (don't you want to smooth out your body shape?), they target thin women (don't you want a push-up bra?), they target young women (here are the newest, skinniest skinny jeans), they target moms (when will you get back to your pre-pregnancy jeans?). I'm angry that while we're telling our 12- and 13-year-old girls how fantastic and smart and capable they are, they're hearing from dozens of other sources that they're not good enough.
But anger can be productive. Angry girls can stop buying products made by companies who try to hurt them. They can say, "My body was not created to for the sole purpose of looking sexy for others," and wear the clothes that make them happy and comfortable. They can decide to focus on the food that fuels them well and the exercise that energizes them, not the number on the scale. They can politely refute peers who try to convince them they should be worrying about clothes, makeup, and being attractive. They can enjoy fashion choices as tools for expression and not for marketing themselves. When they're angry, they have the strength of their indignation supporting them when they say, "This has gotta stop. This will stop with me!"
(P.S. Here's a pretty awesome example of a girl who said just that (strong language).)
* * *
It's kind of problematic to talk about health, weight, and body image on a blog where I post decadent desserts every week, so I wanted to take a moment to tell you what I think about eating. Not those disordered thoughts that sometimes hold me back, but the wholesome thoughts I trust. My ideal — one that I am spotty about conforming to for lots of reasons — is that you should eat, mostly, to fuel your body with healthy, humanely-produced food. Eating should be about positive provision for yourself, not about negative restrictions. Sweets, however — especially particularly decadent ones like this cake — should be an every-now-and-then treat, one that you refuse to deny yourself, but also one that you don't let enslave you.
When you're looking for one of those every-now-and-then treats, this cake is the perfect choice. What it lacks in, ahem, visual appeal, it makes up for tenfold in taste. The brown butter pumpkin cake layer is nutty, spiced, and delicious atop the smooth, sweet pumpkin cheesecake. A gorgeous salted caramel sauce is poured on each slice just before serving.
What is your food philosophy? How do you boost your own self-confidence in the face of all the industries trying to tear it down for profit?

One year ago: Pumpkin Cheesecake Stuffed Snickerdoodles
Two years ago: Blueberry Stuffed French Toast Bowls
Three years ago: Best Ever Cream Cheese Pound Cake with Easy Caramel Frosting and Spiced Apples
Brown Butter Pumpkin Cake Cheesecake with Salted Caramel

---


Recipe by: Willow Bird Baking, with a pumpkin cake layer adapted from Fine Cooking, salted caramel from Martha Stewart, and a cheesecake adapted from Betty Crocker
Yield: 10-12 servings

Pumpkin cheesecake alone is delicious, and even moreso if it's settled into a gingersnap crust. But top that cheesecake with a layer of brown butter pumpkin cheesecake (and then drizzle on some salted caramel for good measure) and you have yourself a downright masterpiece. This cake would be perfect for Thanksgiving!

Browned Butter Pumpkin Cake Ingredients:
3/4 cup pumpkin puree
3/8 cup (6 tablespoons) unsalted butter
1 cup unbleached all-purpose flour
3/4 teaspoon baking soda
3/4 teaspoon ground cinnamon
1/2 teaspoon ground ginger
pinch table salt
1/8 teaspoon ground cloves
3/4 cup granulated sugar
1/3 cup firmly packed light brown sugar
1 large egg
2 tablespoons and 2 teaspoons buttermilk

Pumpkin Cheesecake Ingredients:
3 cups gingersnap cookie crumbs (this was about 45 cookies for me)
1/2 cup and 2 tablespoons butter
pinch of table salt
3 tablespoons all-purpose flour
1/2 teaspoon cinnamon
1/2 teaspoon ground ginger
1/2 teaspoon nutmeg
1/8 teaspoon ground cloves
2 tablespoons brandy, if desired
1 1/3 cup pumpkin puree
3 packages (8 ounces each) cream cheese, softened
3/4 cup packed brown sugar
1/2 cup granulated sugar
3 eggs

Salted Caramel Sauce Ingredients:
3/4 cup sugar
1/8 (2 tablespoons) cup water
1/2 cup heavy cream
1/8 cup (2 tablespoons) creme fraiche or sour cream
1/4 teaspoon pure vanilla extract
Pinch of coarse salt

Directions:
To make browned butter pumpkin cake: Preheat oven to 350 degrees F. Grease one 9-inch cake pans very thoroughly Cut a parchment round to fit in the bottom and then grease that too. Melt the butter in a saucepan over medium heat and cook it, swirling occasionally, until it's golden brown with a nutty aroma, around 4 minutes. Remove it from heat and pour it into a bowl to cool for about 15 minutes.

Whisk or sift together flour, baking soda, cinnamon, ginger, salt, and cloves in a small bowl. In a separate, large bowl, whisk together 3/4 cup of pumpkin puree, granulated sugar, brown sugar, egg, and buttermilk until well combined. Use a spatula to stir in the dry ingredients until just combined, and then whisk in the browned butter. Pour batter evenly into prepared cake pans.

Bake the cake until a toothpick inserted in the center comes out with just a few moist crumbs, around 28 minutes. Turn the oven down to 325 degrees F to prepare it for the cheesecake. Let cake cool in their pan until mostly cool before turning it out onto wax paper to wrap and freeze. Freeze at least 30 minutes or until firm.

Make the cheesecake crust: Place the gingersnap cookie crumbs and salt in a small bowl. Melt the butter in a saucepan over medium heat and cook it, swirling occasionally, until it's golden brown with a nutty aroma, around 4 minutes. Remove it from heat and pour it over the cookie crumbs. Toss with a fork to moisten all of the crumbs. Press into a thin layer covering the bottom and sides of the springform pan (at least 3 inches up the sides). It's hard to get the crust up that high, but keep pressing the crumbs up from the bottom with a smooth-sided glass (twisting the glass as you do so, so the crumbs don't stick) and working them around — you'll want it that high to hold the cake layer. Patience helps with this step. Bake the crust for about 8 minutes.

Make the cheesecake: In a small bowl, mix the flour, pumpkin pie spice, brandy, and pumpkin and set this aside. In the bowl of a mixer, mix cream cheese, brown sugar, and regular sugar until well blended and creamy. Add the eggs one at a time, mixing between each, and continue mixing until combined. Add the pumpkin mixture and continue mixing until combined. Pour mixture into prepared crust and smooth the top with a spatula.

Bake for 1 hour 15 minutes to 1 hour 25 minutes or until center of cake is almost set. The top may crack, but it doesn't particularly matter, since you'll be covering it anyway. When it's ready, turn the oven off and leave the door open at least 4 inches. Let the cheesecake sit in the oven for 30 minutes. Place the cheesecake on a wire rack to fully cool. When almost cool, place it in refrigerator to chill.

Make caramel sauce: Prepare an ice-water bath. Heat sugar and water in a medium saucepan over medium-high heat until mixture boils and sugar dissolves, washing down sides of pan often with a wet pastry brush to prevent crystals from forming. Reduce heat to medium, and cook until sugar turns dark amber (about 345 degrees on a candy thermometer), 5 to 7 minutes more. Immediately remove from heat, and carefully whisk in 1/2 cup cream. Return to medium heat, and cook until sugar melts completely and mixture boils.

Remove from heat, and pour into a bowl set in ice-water bath. Let caramel cool, stirring often, for 10 minutes. Stir in creme fraiche, vanilla, and salt. Cover and refrigerate until you're ready to use it.

Assemble the cake: Smear a layer of caramel sauce on top of the cheesecake and carefully place your pumpkin cake layer on top. Pour the rest of the salted caramel on top of the cake layer. Chill for at least 3 hours before serving. Top with toasted pecans.
If you liked this post, please:
–Subscribe to Willow Bird Baking
–Follow Willow Bird Baking on Twitter
–Follow Willow Bird Baking on Facebook