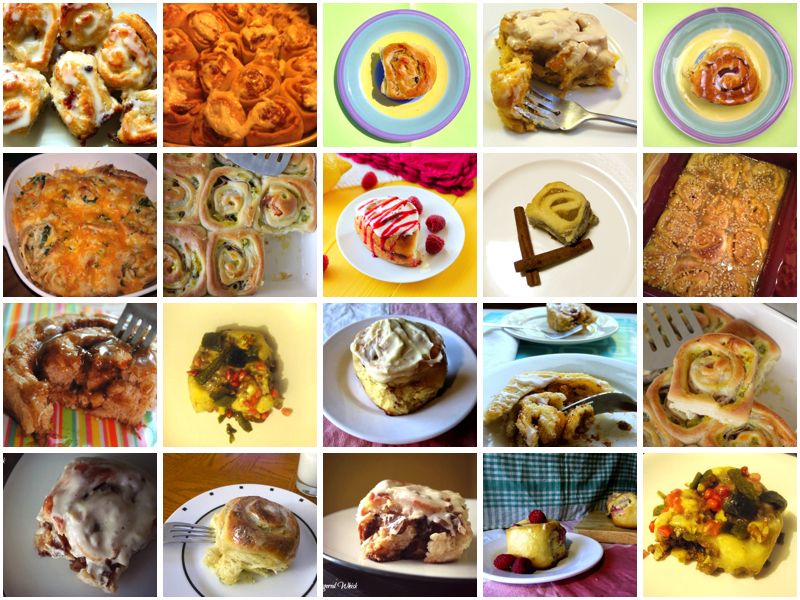 Willow Bird Baking Challenge is a 5-week series wherein I introduce a new challenge each week. The challenges require you to get creative and innovative in the kitchen. You create your dish, bake it, and send me a photo before the following weekend, when I show off the masterpieces on Willow Bird Baking!
Challenge #1 was to innovate "cinnamon" rolls. I provided a yeast dough recipe that participants had to fill, top, and/or glaze with creative new combinations. I was amazed at what you all came up with! Just see for yourself:
---
Kelly
Kelly Made: Guava & White Chocolate Cream Cheese Rolls and Plantain & Bacon Rolls
Comments:"After waiting 100 years for my plantains to ripen, I was FINALLY able to make my rolls […] Thank you so much for this challenge. I'm always wary of making cinnamon rolls because my dough is always too sticky and I can never roll them properly. But I did it. I made two types since I had a lot of dough – Guava & White Chocolate Cream Cheese and Plantain & Bacon. Both very delicious."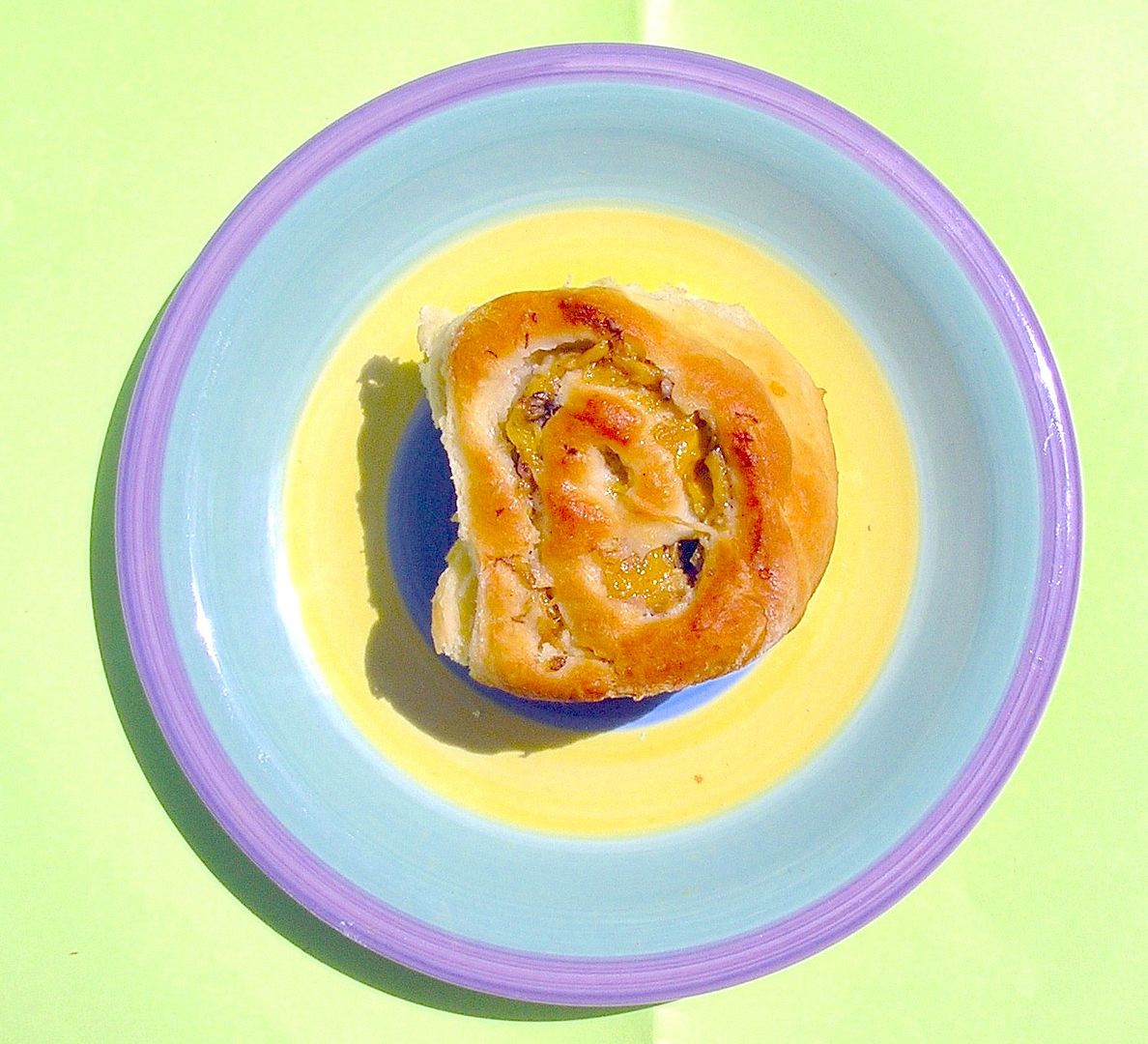 ---
Amy H.
Amy Made: Toffee Ginger Pumpkin Cheesecake Rolls (see more on her Google Doc, here)
Comments: "The first thought I had was pumpkin. Yuuuum, pumpkin. […] Then I thought, cream cheese. Well actually, it was more like creeeeaaamm cheeese. Pumpkin cheesecake. I picked myself up off the floor and googled pumpkin cheesecake. What I found knocked me back on the floor. GINGER pumpkin cheesecake. Now we're talking. A new google search and up it came, the magic ticket, Crunchy ginger pumpkin cheesecake with toffee topping. SOLD!"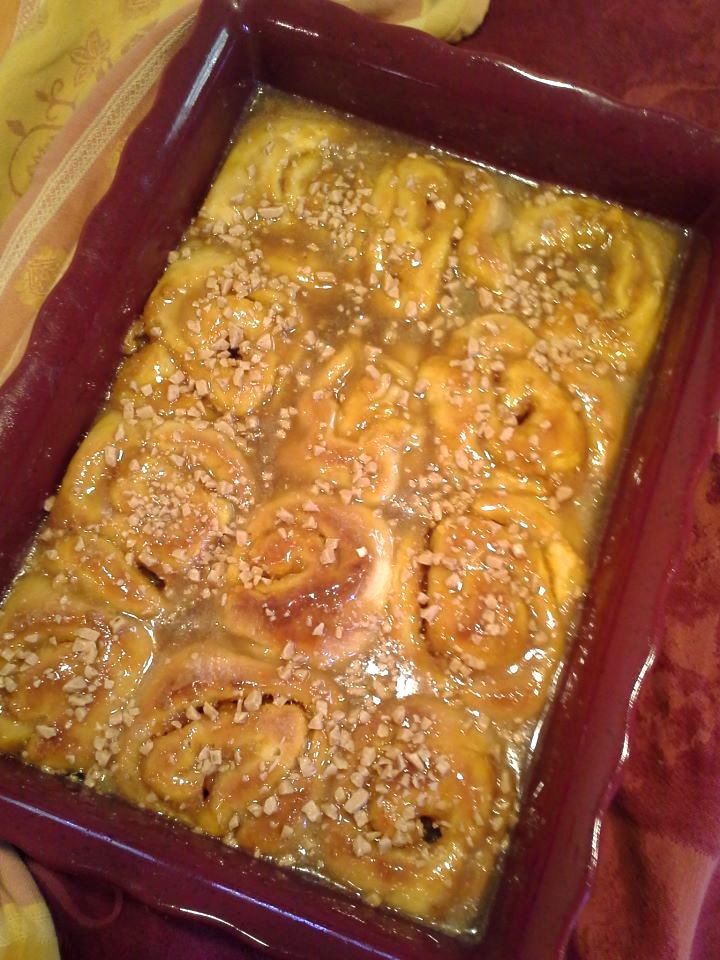 ---
Trudy
Trudy Made: Pineapple Ginger Rolls
Comments: "They're done!! They came out as minis since I rolled the dough so thin. They taste delicious!!! Thanks again for even thinking of these challenges."
---
Natalie
Natalie Made: Raspberry Lemon Curd Rolls (see more at her blog, Life Made Simple)
Comments: "Stephen and I have been loving all of the fresh berries we've been eating and since I had a couple of lemons sitting around it just seemed like the natural choice. In order to create a 'filling' I decided on curd, something that would make them nice and gooey inside. […] These sweet rolls are absolutely perfect in every way! Enjoy! Also thanks Julie for such a fun challenge, I'm already looking forward to the next one!"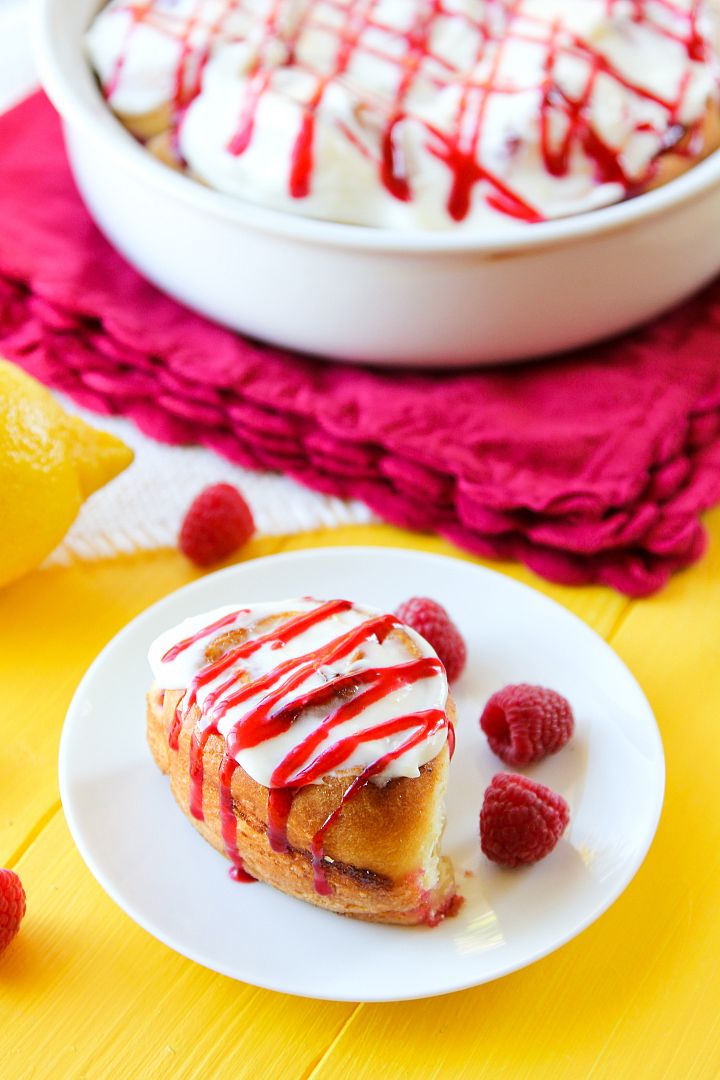 ---
Shelley C.
Shelley Made: Pumpkin Brown Butter Apple Cinnamon Rolls with Maple Frosting (see more at her blog, C Mom Cook)
Comments: "Funny enough, I wanted to make something just like these, and was going to use your pumpkin pull-apart bread dough for them (which I made last year, by the way, and it was AWESOME)… then I saw this challenge! […] Thank you SO much for a really fun baking experiment. I can't wait to see what next week's challenge will be!"
---
Jenni
Jenni Made: Caramelized Apple Cinnamon Rolls (see more at her blog, The Gingered Whisk)
Comments: "I can't wait to see all the awesome rolls that were made! This was such a great idea! Can't wait to see what next week will be (my husband is already complaining about sabotaging his diet..haha!)"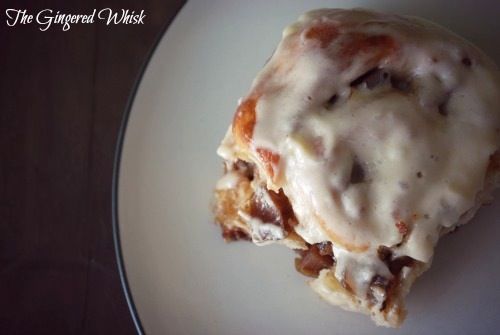 ---
LeAndra
LeAndra Made: Orange Cranberry Cardamom Rolls (see her blog Love & Flour)
Comments: "I simply used orange jam, a sprinkle of cardamom, and chopped dried cranberries for the filling. Thanks for the encouragement!"
---
Gaby
Gaby Made: Chiles-en-Nogada Cinnamon Rolls (see more at her blog, The Gab Housewife Chronicles)
Comments: "Chiles en Nogada is a very traditional Mexican dish, very ancient. And very elegant, and actually, expensive. It has a lot of ingredients, and it's very time consuming to prepare them. So I made some in September for Mexico's Independence DAy and I had chile's filling leftover, and I filled the cinnamon rolls with it, and tried to give the glaze a little "nogada" (walnut sauce) flavor. They usually are garnished with pomegranate seeds, so I added those too."
---
Stephanie
Stephanie Made: Pumpkin Pie Rolls with Cream Cheese Topping and Chicken & Cheese Rolls
Comments: "I loved this challenge concept and the savory example you gave reminded me of a recipe my mom used to make. I made both a sweet and savory cinnamon roll. Mainly because I am a savory person and my spouse is a sweet person. Thank you for giving me something to do today besides homework. I read 5 chapters for my credential program while everything was sitting (raising dough) and cooking."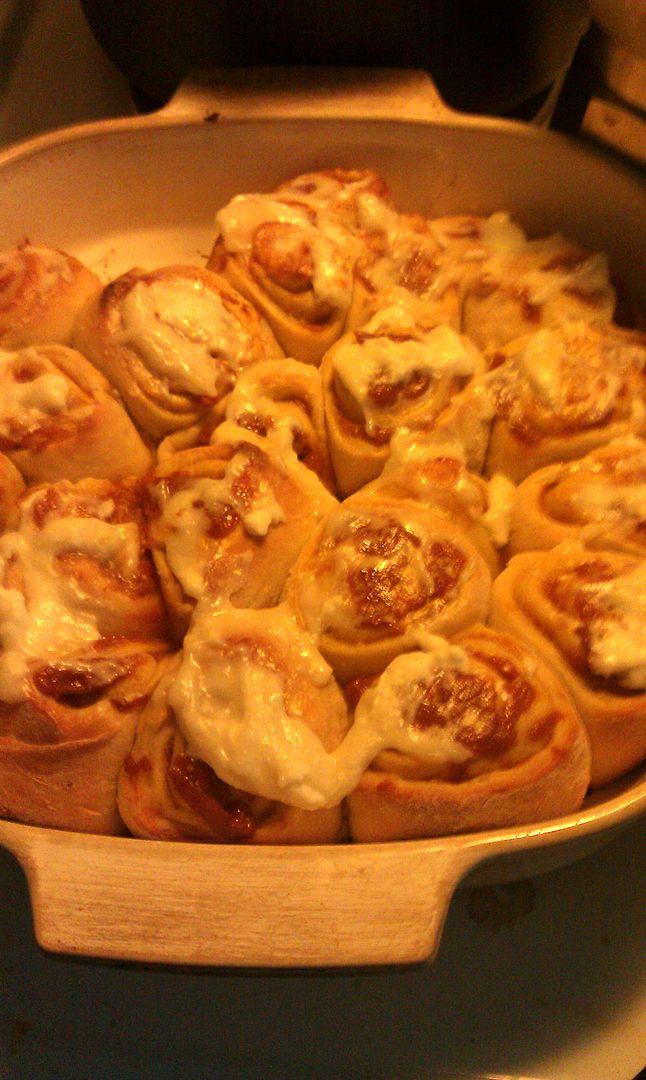 ---
Robyn
Robyn Made: Apple Cinnamon Chip Buns (see more at her blog, Almacucina)
Comments: "I'm new to your site and glad I found it! These buns are amazing; here's my entry (I guess apples are on everyone's mind this time of year) to Challenge #1."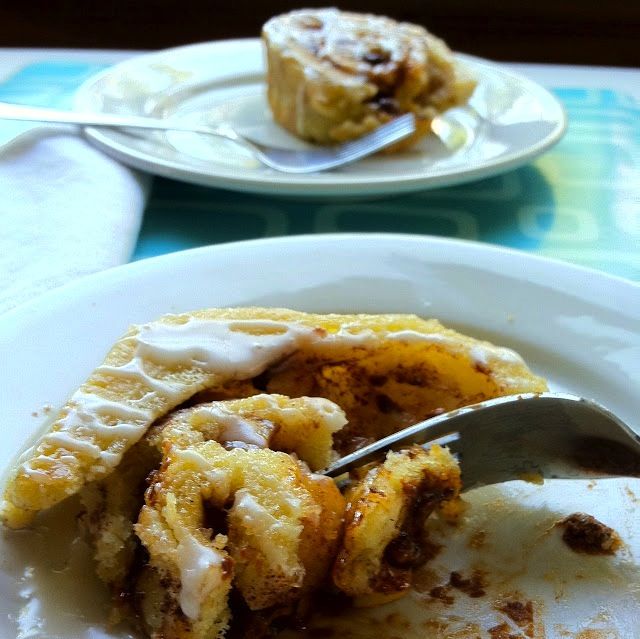 ---
Amy
Amy Made: Oatmeal Apple Cinnamon Rolls with Vanilla Bean Caramel Glaze (see more at her blog, Snozzberries? Who Ever Heard of a Snozzberry?)
Comments: "They are yummy and I'm calling them almost healthy because they have oatmeal in the dough and apples in the middle – those two things are healthy, right? They totally counteract the gallon of melted butter in it, right? Right?"
---
Dianna
Dianna Made: Cuban Sandwich "Cinnamon" Rolls (see more at her blog, The Kitchen Prep)
Comments: "Ok… I did it. I really went outside the box here: Cuban Sandwich "Cinnamon" Rolls. (Do we still call them cinnamon rolls if they don't actually contain any cinnamon whatsoever!?) They are totally perfect for representing me, a South Florida girl with a Cuban heritage. Thanks so much for challenging us and for adding a new recipe to my arsenal that I just KNOW will be well loved!"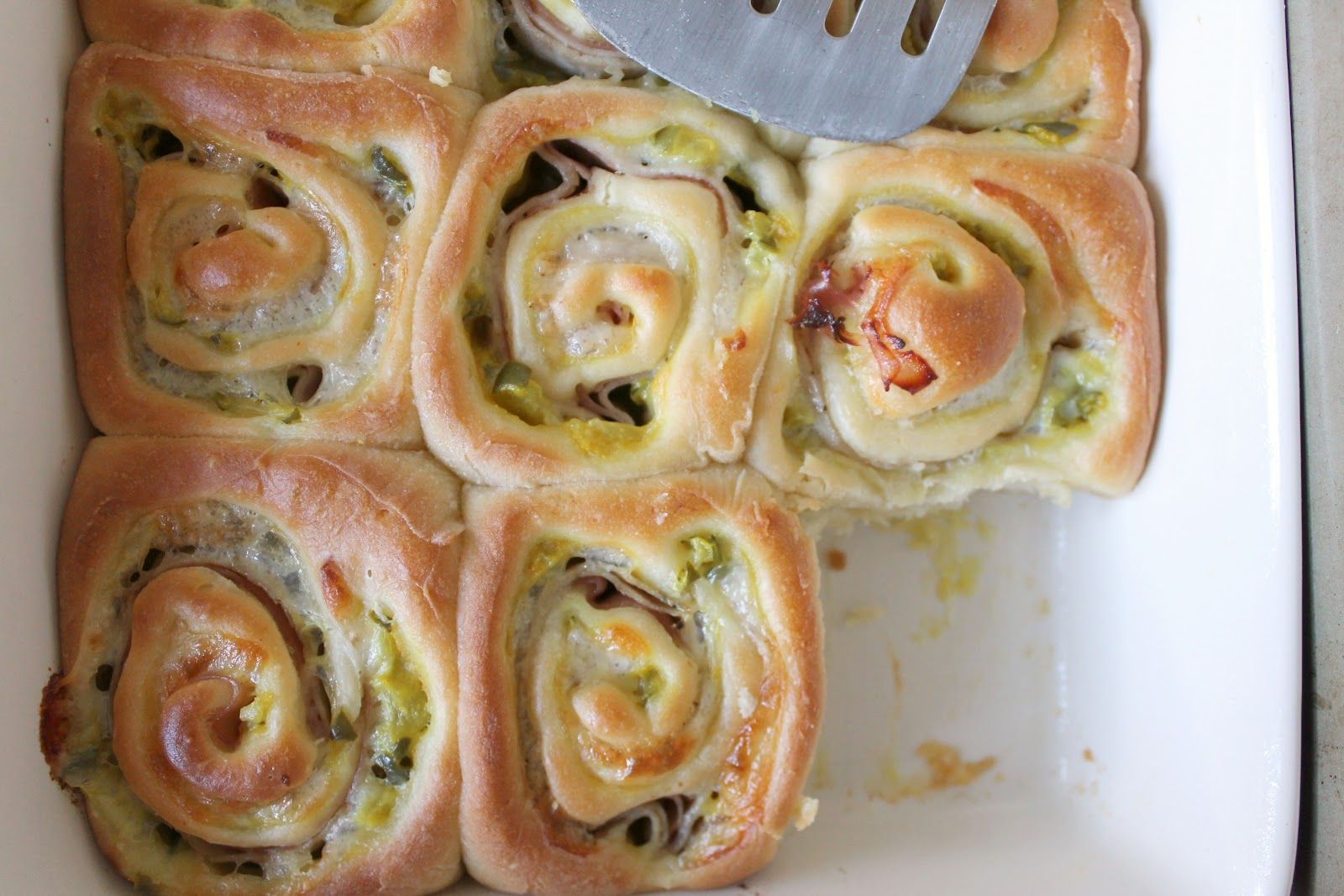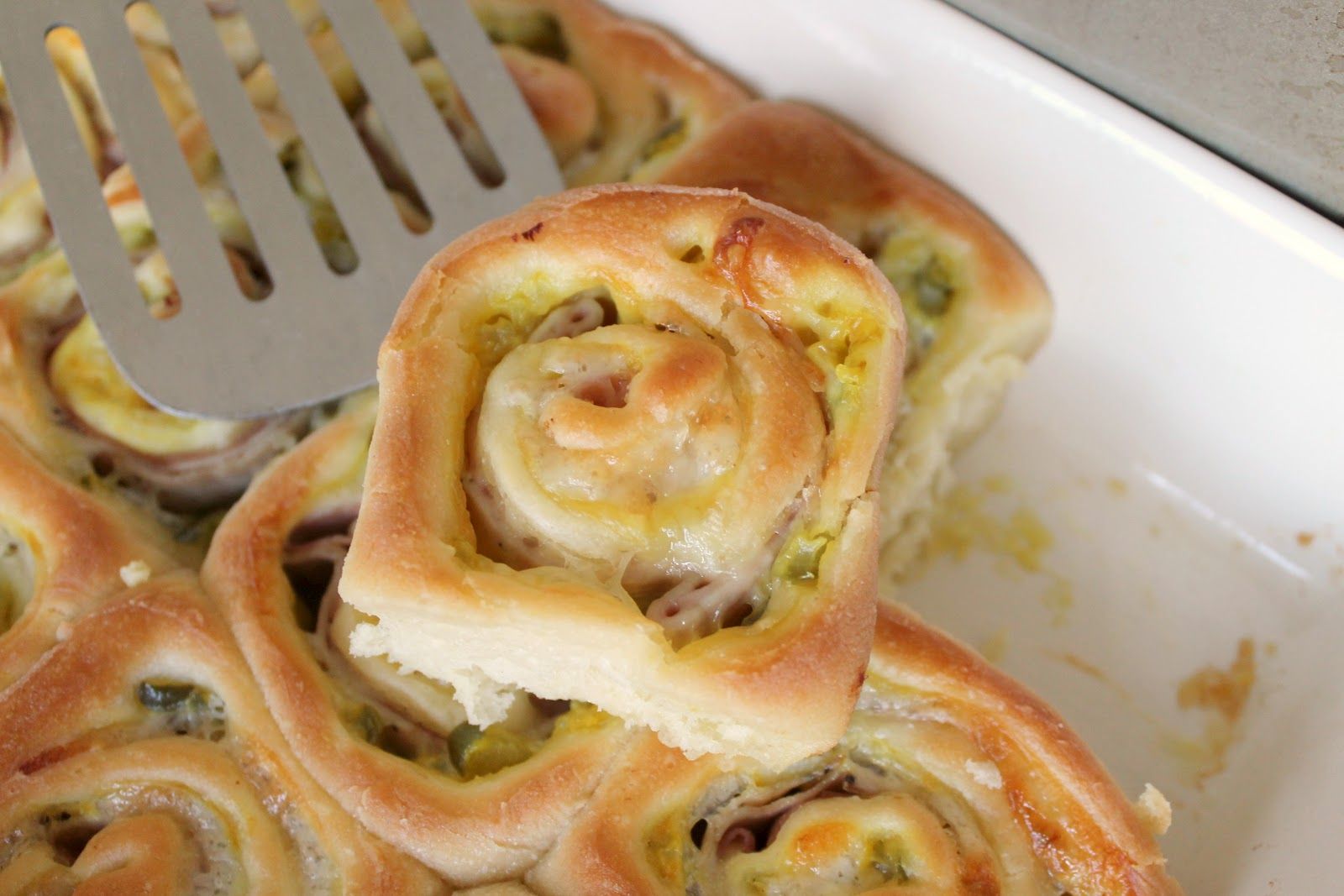 ---
Eric
Eric Made: Ricotta, Honey, & Dill Buns (see more on his Google Doc here)
Comments: "[…] in the end – totally worth it! The ricotta and honey soaked into the bread, and the dill flavor shone through just enough. With some honey butter slathered on top of these, they border on being decadent, while still tasting fresh from the herbs! All in all, while I may have a little less hair than I started the weekend out with, I deem the challenge a success! Thanks!"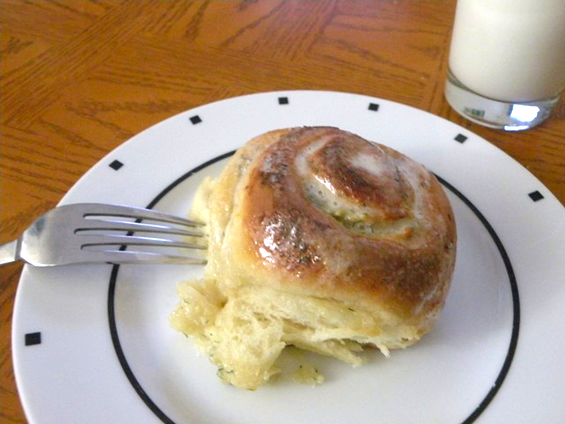 ---
Ala
Ala Made: "Sorry, It's Still Summer" Raspberry Cheesecake Rolls with Lemon Icing (see more at her blog Wallflour Girl)
Comments: "With the plethora of pumpkin and autumnal recipes hitting the web these days, I thought we all needed a little reminding that it is not, in fact, autumn everywhere in the world. In some places, it's legitimately springtime, and in others, it's legitimately autumn but actually not because it doesn't feel like autumn. It feels, in fact, like summertime. Still. In October."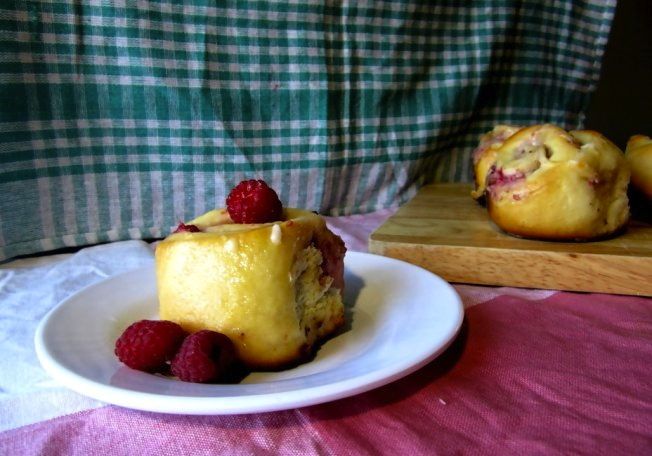 ---
Ready for Challenge #2?
Last night, Trudy and Kelly jumped on Google Hangout with me to introduce Challenge #2, and here it is!
You can find the braid dough recipe here — but the fillings, glazes, and toppings are up to you! Let's get baking!
Congratulations to all of the participants of Challenge #1 for their fantastic work!
If you liked this post, please:
–Subscribe to Willow Bird Baking
–Follow Willow Bird Baking on Twitter
–Follow Willow Bird Baking on Facebook