This is a two-post kind of day, y'all. You don't mind, do you?
Good. Because this recipe involves some of my favorite things: French toast, blueberries, and cream cheese. Oh my goodness, I love cream cheese.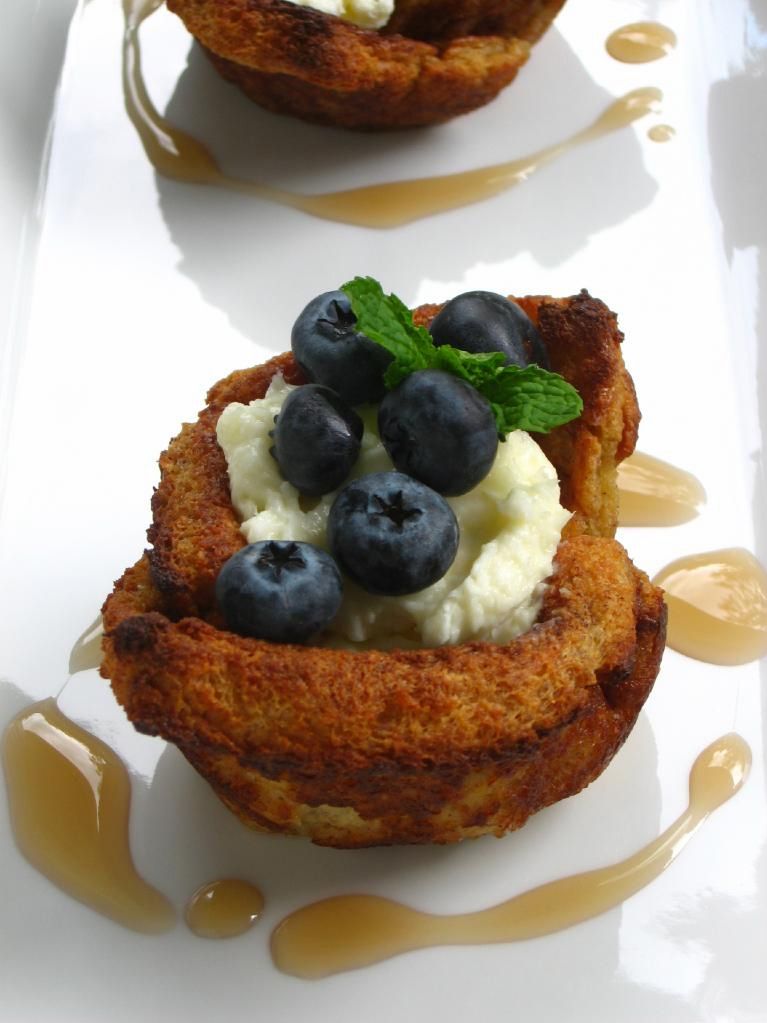 Nature's Pride bread is an official sponsor of the Foodbuzz Blogger Festival this year, and as such, they issued a challenge to Featured Publishers to create a recipe using their products. I want to go to San Francisco as much as anyone, so I decided to give it a go. I pondered and brainstormed and debated and considered until, finally, I decided that I couldn't think of a creative recipe and I gave up.
What? Don't look at me like that! I was planning a ginormous dinner party, after all; cut me some slack!
It bothered me, though. When I was picking up supplies for the dinner party, I stuck some marshmallow cream and peanut butter in my basket, thinking perhaps I'd make a chocolate-covered fluffernutter. It still didn't seem original enough, however, and in the shower this morning before church, I had almost convinced myself to give up again — when it hit me.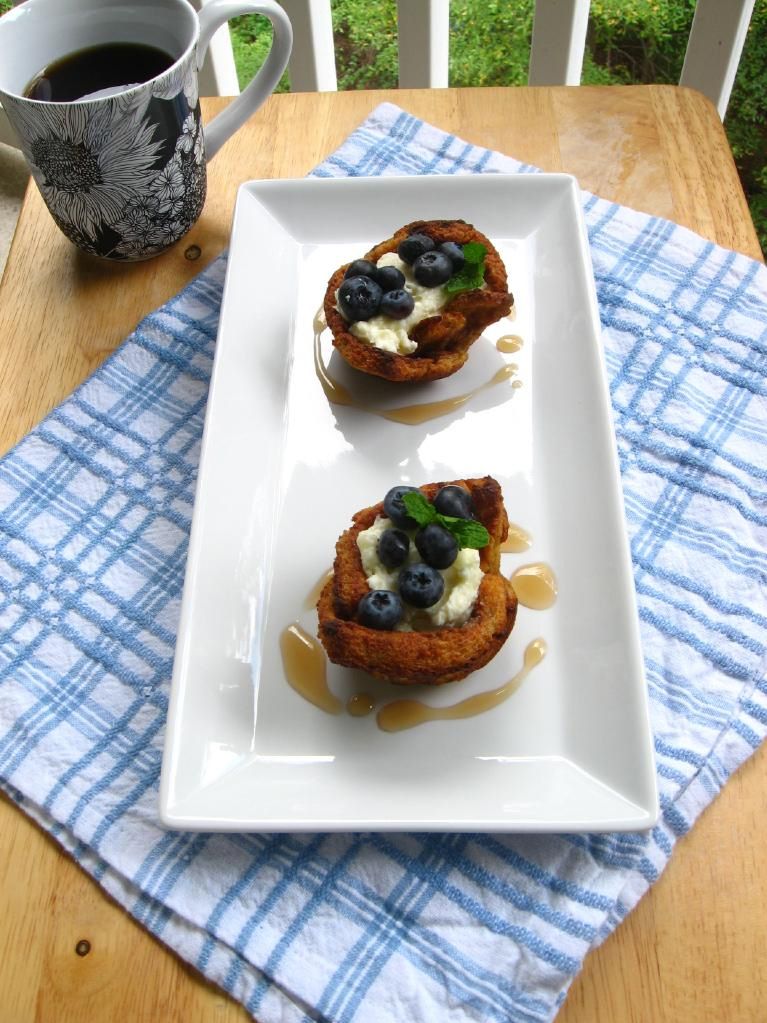 I'd already thought of and rejected stuffed French toast because sandwich bread is sliced too thin to cut open and stuff. Someone did it last year with two slices of bread, but I wouldn't want to replicate something that had been that'd already been done.
Sometime between shampooing and conditioning, I realized that I could bake French toast into sweet little breakfast cups and fill them instead of stuffing them. They'd be topped with fresh berries with some maple syrup on the side for drizzling or dipping. Suddenly, a breakfast star was born.
There were still some obstacles — like how to create the French toast cups. In my first attempt, I dipped the bread into the custard and placed it uncooked into the muffin tin. I can't really even describe the outcome, but they were something like soggy, bulbous custard balloons. Not San Francisco-worthy.
But my second attempt? Save me a seat on the trolley, because they were amazing! In this version, I cooked my French toast completely before cooling it and baking it into French toast cups. I then filled it with the sweetened cream cheese filling and berries to finish the dish.
Here's hoping I win a trip to San Francisco to schmooze with some of my food blog faves, and that YOU make some stuffed French Toast Bowls immediately! Mike just polished off the last one for dessert, and if his reaction is any indication, you won't regret it.
Blueberry Stuffed French Toast Bowls


---


Recipe by: Willow Bird Baking, with inspiration from Alton Brown
Yield: 8 bowls, or about 4 servings

Ingredients:
1/2 cup heavy cream
1/2 cup milk
3 large eggs
2 tablespoons honey, microwaved for 20 seconds (but not while still IN THE BEAR, y'all!)
1 teaspoon cinnamon
1/4 teaspoon salt
8 slices day-old or stale sandwich bread (I used Nature's Pride Honey Wheat Bread)
4 tablespoons butter
2 8-ounce packages cream cheese, room temperature
4 tablespoons sugar
blueberries
maple syrup, for serving

Directions:
Preheat oven to 400 degrees F. In medium bowl, whisk together the milk, cream, eggs, honey, cinnamon, and salt (this step can be done the night before and refrigerated). When you're ready to cook your French toast, pour this mixture into a cake pan or pie dish.

Prepare your bread: remove crusts and roll with a rolling pin to slightly flatten. Dip the bread into your custard mixture for about 8-10 seconds on each side before carefully removing it with a spatula to a cooling rack over a sheet pan. Allow excess moisture to drain off of the slices for 1-2 minutes.

Melt 1 tablespoon of butter over medium heat in a skillet. Put 2 slides of bread at a time into the pan to toast gently to golden brown (about 2-3 minutes per side). Remove the French toast to a cooling rack to cool completely. Repeat with all slices of bread.

While French toast cools, make your stuffing mixture by combining cream cheese and sugar into a bowl and mixing until fluffy. (When I tasted this at first, it was grainy, but then the sugar seemed to dissolve. I was going to suggest using confectioners' sugar instead, but since the graininess was completely gone when we ate it, I don't think there's a need). Set aside.

Take each piece of cooled French toast and gently tuck into the well of a greased muffin tin, forming a bowl. Bake at 400 degrees F for 10-12 minutes, watching carefully. Pull them out of the oven and allow the bowls to cool in the pan for at least 10 minutes. Remove them to cool on a cooling rack (the first time I did this, they started to fall apart because I pulled them out of the oven too soon, so I baked them a little longer and they were perfect). Once cool, fill them with the cream cheese mixture, top with berries, and serve with maple syrup for dipping.
Note: As part of Foodbuzz's Tastemaker program, I received a coupon for a free package of Nature's Pride Bread. But, um, actually I left it in my mailbox, so I bought this loaf with my own money. So I don't know why I'm telling you this. Except that I may snag the coupon now and use it for another loaf to make hummus sandwiches. Ahem.
If you liked this post, please:
–Subscribe to Willow Bird Baking
–Follow Willow Bird Baking on Twitter
–Follow Willow Bird Baking on Facebook
–Give this post a thumbs up on StumbleUpon
Other ways to share this post with friends!