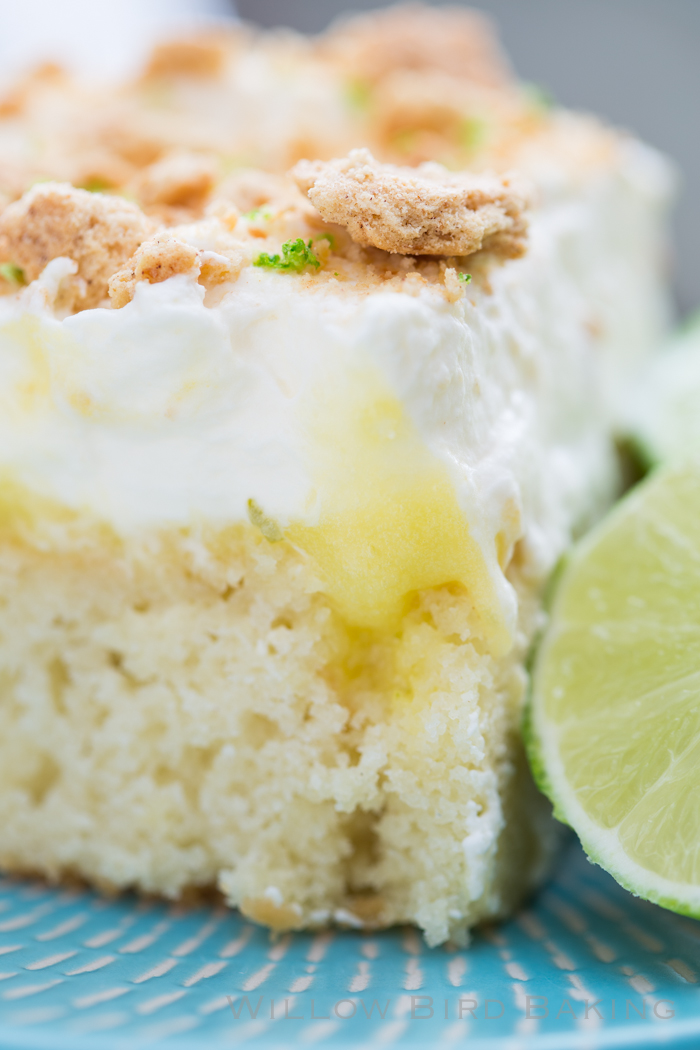 Key Lime Pie Sheet Cake
I first tasted key lime pie when my family took a trip to Florida when I was in middle school. My mom had been dying to get the real deal key lime pie straight from the source, and her excitement was infectious. The first bite of sweet-but-tart key lime on sweet graham cracker crust with an abundance of fluffy whipped cream seemed to slice right through the muggy Florida heat and made me a key lime believer.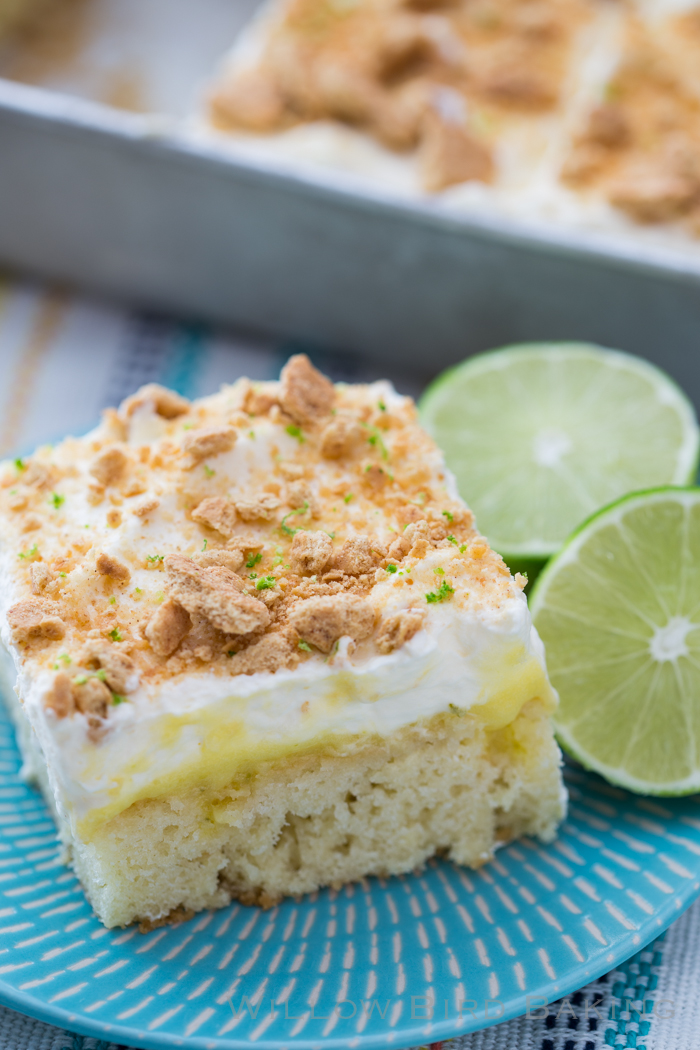 Given that happy memory, it's surprising to me that I only have one other key lime recipe on Willow Bird (but it's definitely a good one): Key Lime Pie Cheesecake with Sky-High Meringue. I'm fixing that today!
If you love that delicious key lime pie flavor, this recipe is for you.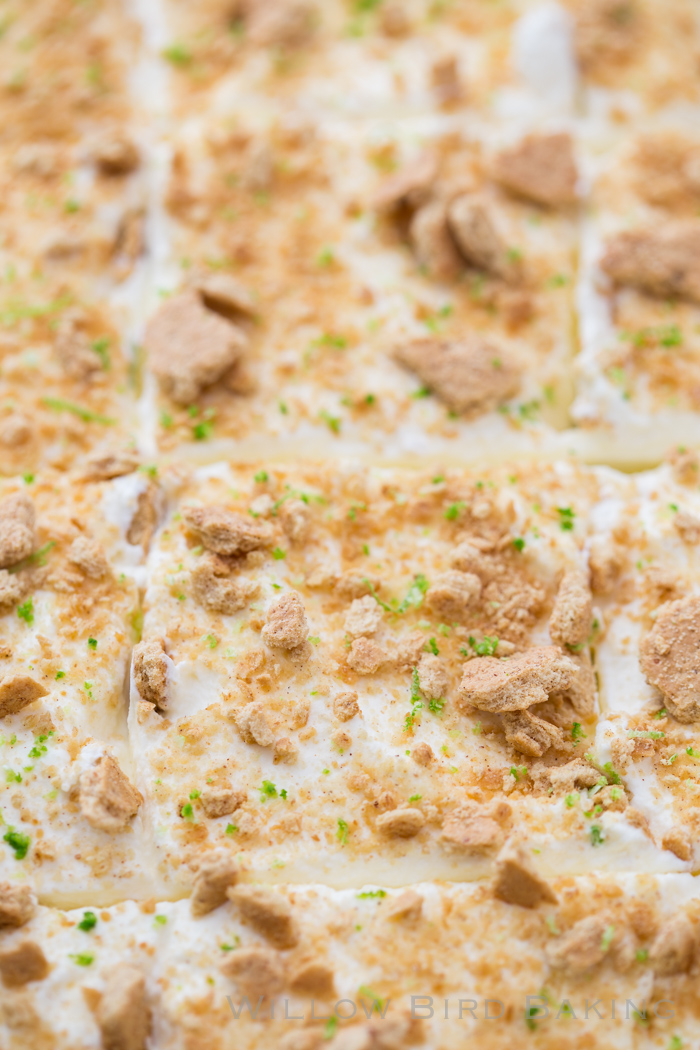 Since I made this for a 4th of July barbecue, I wanted a giant dessert to feed a crowd. I also wanted to take key lime pie and make it a little more substantial. I settled on a giant Key Lime Pie Sheet Cake, a moist and buttery yellow cake soaked in sweet and tart key lime curd and topped with fluffy whipped cream and graham cracker crumbs.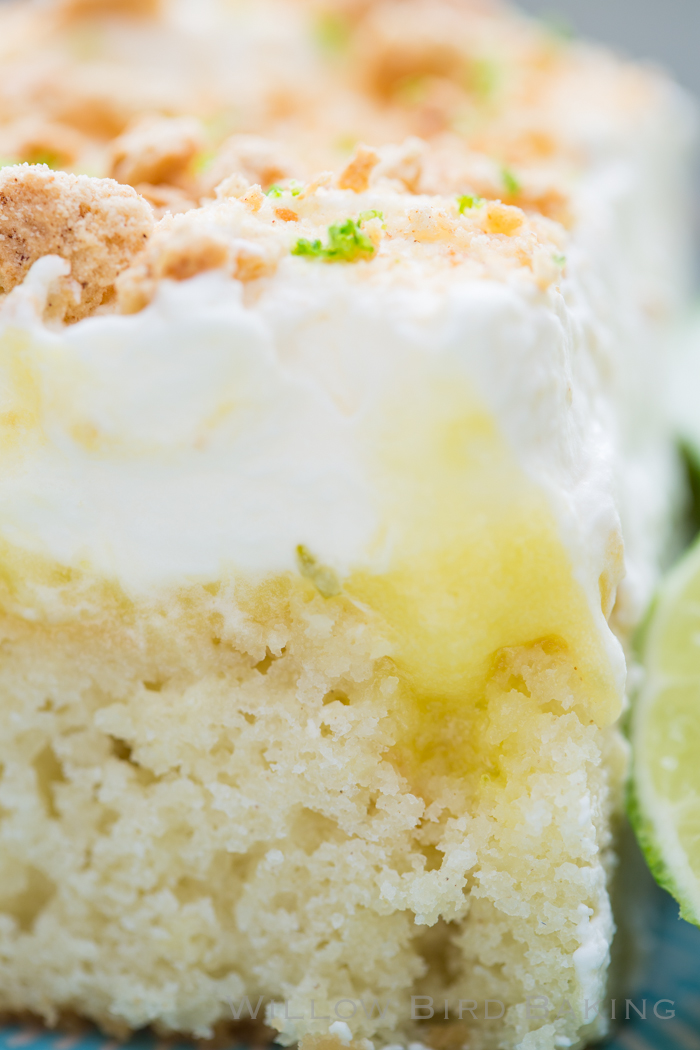 And here's a secret: if you can't find key limes, it's okay to use regular limes too and it won't kill the flavor profile. Some people swear they can tell but honestly, they're quite similar. Enjoy!
One year ago: Strawberry Cobbler with Lemon Cream
Two years ago: Chile Baked Salmon with Lime Butter
Three years ago: Chipotle Shrimp Tacos with White Sauce
Four years ago: Raspberry Frosé
Five years ago: Buttermilk Cranberry Scones
Six years ago: Shredded Wheat (or Weetabix) Breakfast Scramble
Seven years ago: Cherry Lemon Rosemary Shortbread Cookies

Key Lime Pie Sheet Cake
If you love key lime pie but want a little more substance or a bigger dessert to feed a crowd, this cake is perfect for you! This Key Lime Pie Sheet Cake features a moist yellow cake soaked in tart and sweet lime curd, frosted with fluffy whipped cream, and topped with crushed graham crackers.
Ingredients
Cake Ingredients:
1 cup butter
1 cup water
2 1/4 cups cake flour
2 cups white sugar
1 teaspoon baking soda
1 teaspoon salt
2 eggs, lightly beaten
1/2 cup sour cream
1/2 teaspoon almond extract
1/2 teaspoon vanilla extract
Lime Curd Ingredients:
3 large eggs
3/4 cup sugar
Pinch of salt
1/2 cup key lime juice (or regular lime juice)
Zest of 1 large or two key limes (or regular limes)
4 tablespoons unsalted butter, diced
Whipped Cream Ingredients:
4 cups heavy whipping cream
3/4 cup powdered sugar
crushed graham crackers for topping
lime zest for topping
Instructions
Make the lime curd: In a heavy, medium saucepan, whisk together the eggs, sugar, salt, lime juice, and zest. Set the saucepan over medium-low heat and cook, stirring constantly, until it has thickened and coats the back of a wooden spoon. This took about 10 minutes for me, but you can keep cooking and adjust the heat as necessary until it reaches the desired thickness without allowing it to boil (remember that it will continue to thicken as it cools). Once it has thickened, stir in the butter until smooth. Pour the lime curd into a shallow dish and cover with a piece of plastic wrap pressed against the surface to prevent a skin from forming. Chill until completely cool (I did this a day in advance and just left it in the fridge overnight).
Make the cake: Preheat the oven to 375 degrees and spray an 11 x 15-inch baking pan with cooking spray. In a medium saucepan over medium heat, bring the butter and water to a boil. In the meantime, in a separate large bowl, whisk together the cake flour and sugar before adding the eggs, sour cream, almond extract, vanilla extract, baking soda, and salt. Mix to combine. While mixing, slowly pour in the boiling butter and water mixture. Mix to combine completely. Your batter will be very runny. Pour the batter into the prepared baking pan.
Bake at 375 degrees for 16-22 minutes or until a toothpick inserted in several places comes out with a few moist crumbs (don't wait for the top to get golden brown, necessarily — mine stayed pale). Poke holes in the cake with the handle of a wooden spoon and cover with lime curd. Cool completely (I chill mine for a couple of hours).
Make the whipped cream: In a large bowl, beat the whipped cream and powdered sugar together to stiff peaks. Frost the cake, top with crushed graham crackers and lime zest, and serve.