Thanks to Green Giant for sponsoring the development of this recipe featuring their new Green Giant Riced Cauliflower & Sweet Potato! All opinions are my own.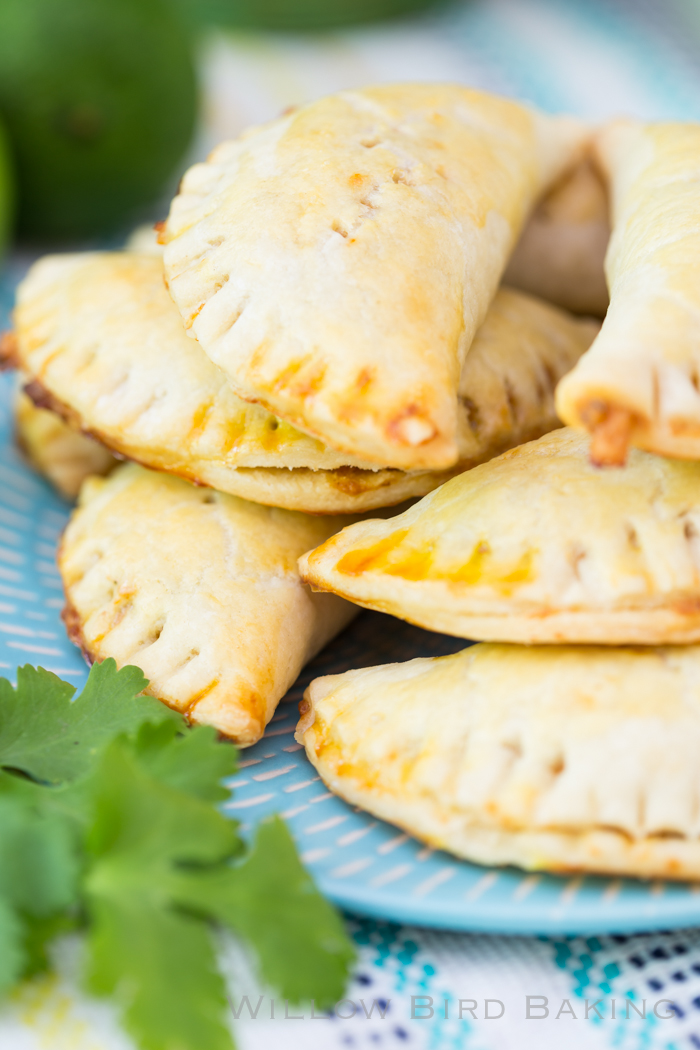 Quick & Easy Vegetarian Taco Pockets
HIII TACO TUESDAY! I've been so psyched to develop this recipe for vegetarian taco pockets. We haven't been able to enjoy our old recipe for taco pockets now that Mike is pescatarian. And it was the perfect opportunity to use Green Giant's new Riced Cauliflower & Sweet Potato.
I riced cauliflower on my own once, and it's easy but the mess in my food processor and countertops has steered me away from doing it again. I don't have time to deal with all of that while I'm in grad school (with no dishwasher, wahh!) this year, so I'm all about easy recipes right now.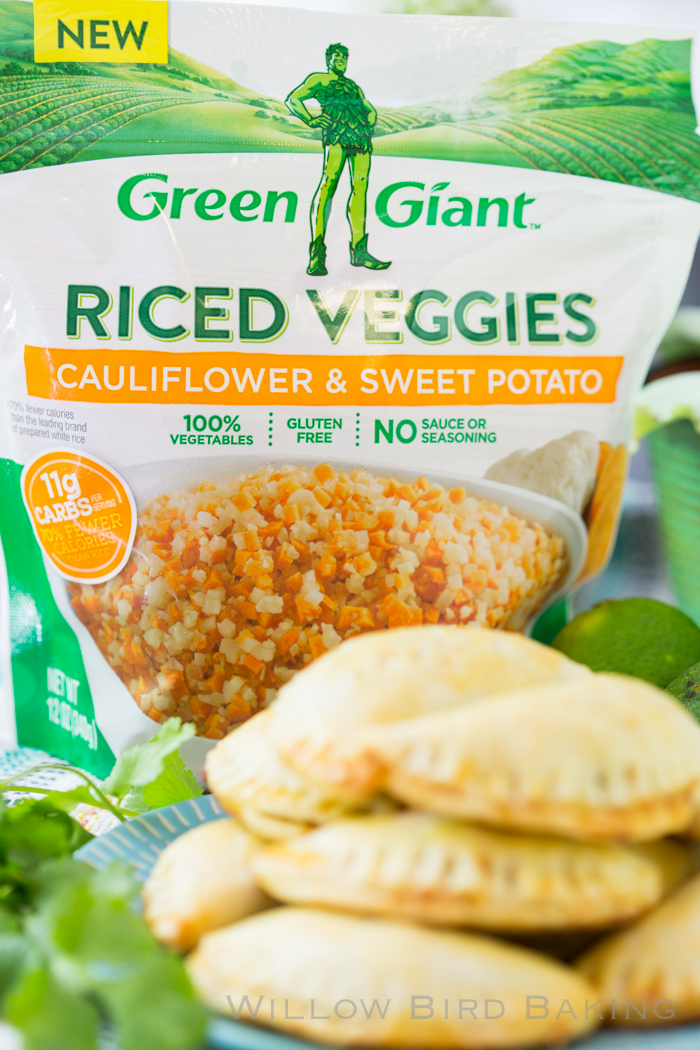 Have you seen the frozen veggie aisle lately? To be honest, I abandoned it a few years ago when I got bored with the selection, but it's apparently exploded recently. When I grabbed my pack of Green Giant Riced Cauliflower & Sweet Potato from Walmart, I noticed lots of other new products as well. Green Giant now has Veggie Tots, mashed cauliflower, roasted veggies, and riced veggies in the freezer section — perfect for carb swapping if you're trying to eat fewer potatoes and less rice. I love that the product I chose includes sweet potato, too — one of my faves.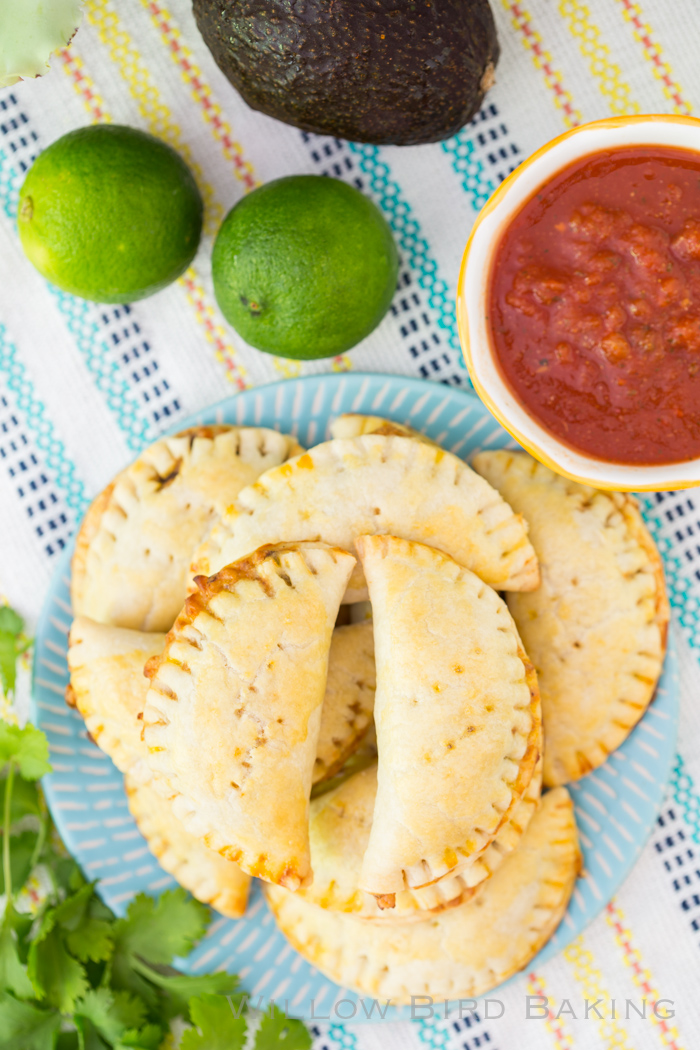 You can steam the Green Giant Riced Cauliflower & Sweet Potato right in the bag, but I opted to sauté it with black beans, garlic, and taco seasoning before mixing it with salsa, cream cheese, and cheddar cheese (the sharper the better!) to stuff inside these taco pockets.
What are your favorite convenient tricks for eating healthy when you're super busy? Bonus points for vegetarian ideas!
One year ago: Twice-Baked Sweet Potato Egg Boats
Two years ago: 5-Minute Sesame Shrimp
Three years ago: Coconut Cloud Fruit Dip
Four years ago: Buttery Coconut Almond Pull-Apart Bread (with Heavenly Coconut Cream Glaze)
Five years ago: Thick Chocolate Cake with a Big Red (Velvet!) Heart
Six years ago: Bright, Fun Blackberry Trifle
Seven years ago: Best Blueberry Pie with Foolproof Pie Dough

Quick & Easy Vegetarian Taco Pockets
I'm finding allll the uses for riced veggies now that I don't have to mess up my food processor ricing them myself! These quick & easy vegetarian taco pockets use Tex-Mex seasoned black beans, Green Giant Riced Cauliflower & Sweet Potato, and premade pie crust to create a delicious meal! Feel free to make your own dough if you prefer homemade -- these taco pockets use a homemade yeast dough, or try homemade pie crust.
Author:
Willow Bird Baking
Ingredients
2 packages (2-count) refrigerated pie crusts (4 crusts total)
4 ounces cream cheese, softened
4 ounces sharp cheddar cheese, shredded
3 tablespoons salsa
1 tablespoon olive oil
1/2 teaspoon minced garlic
1 tablespoon taco seasoning
juice of 1 lime
1 cup Green Giant Riced Cauliflower & Sweet Potato
1 (15-ounce) can black beans, drained and rinsed
1 egg, lightly beaten with 1 teaspoon water for egg wash
Instructions
Preheat the oven to 425 degrees F and line two baking sheets with parchment paper. Unroll the refrigerated pie crusts one at a time and use a 3 1/2-inch round cookie cutter to cut out as many circles as possible. (I got 7 circles from each crust, for a total of 28 circles.) Set these aside. Place cream cheese, cheddar cheese, and salsa in a large bowl and set aside.
In a medium saucepan, heat olive oil over medium-high heat. When the oil shimmers, add the garlic and taco seasoning, toasting for a few seconds until fragrant. Add the beans, Green Giant Riced Cauliflower & Sweet Potato, and lime juice and cook until everything is heated through, about 5-8 minutes. Pour the hot mixture over the cream cheese, cheese, and salsa and let sit for 2 minutes to make everything melty. Gently mix until you have a creamy filling with everything evenly distributed.
Place a scant tablespoons this mixture into the center of each pie crust circle and old the pie dough over into an empanada shape, sealing together the edges with a fork. (Some of the filling will inevitably ooze out as you crimp, but don't worry! They'll still bake up super cute.) Poke a couple of small vents into each pocket with a fork and brush them with the egg wash.
Bake the bites for 14 to 15 minutes, or until golden brown. Remove to a cooling rack to cool. Serve with avocado, salsa, sour cream, lime wedges, and cilantro.