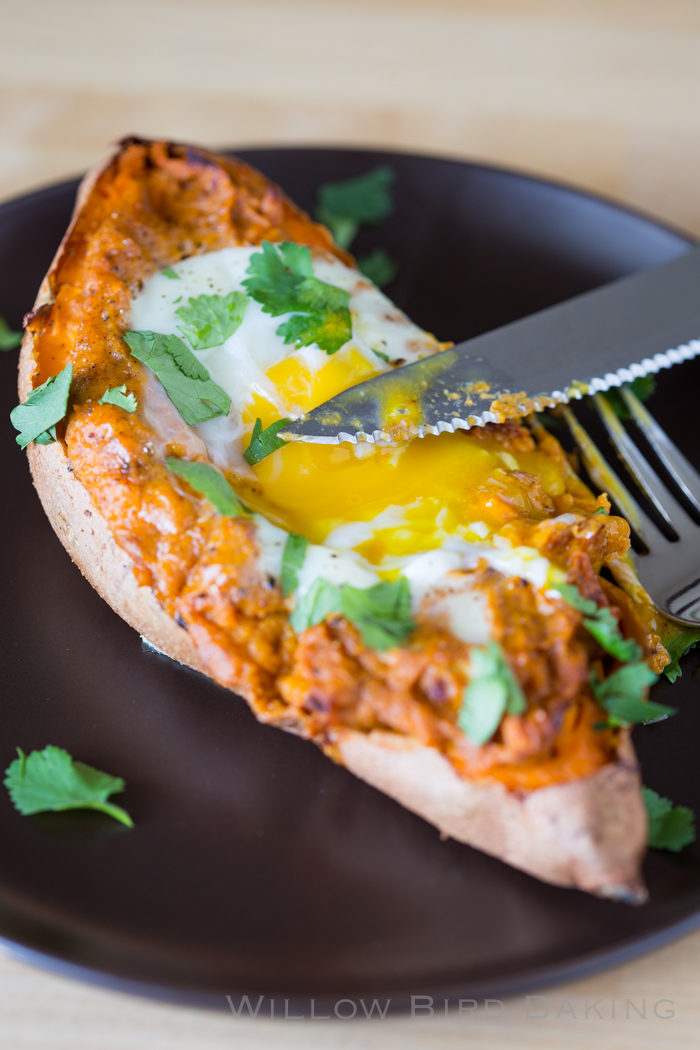 Twice-Baked Sweet Potato Egg Boats
How's your fitness going lately?
After illness, a battle with my menstrual cup (I'll spare you details), and some other issues, I've had three weeks now where I've only exercised once per week in a hot yoga class. In some ways it was a good break — my knees were a wreck and it gave them a chance to rest. But it also got me out of my morning workout habit. I don't know why, but whenever I take a break, I get anxious about starting up my workouts again! It's like I think I won't be able to do it after taking some time off. This morning, though, I finally got myself to the gym to lift weights for the first time in three weeks.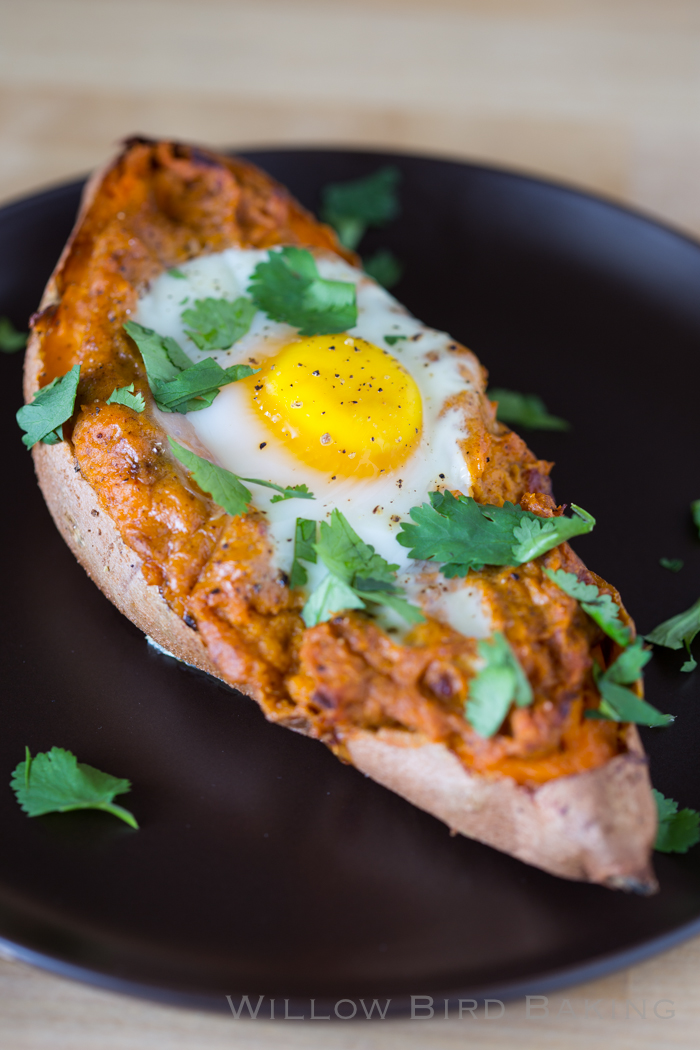 My current (ideal) routine is weightlifting (squats, presses, rows, and glute machine) on Mondays, hot yoga/pilates mix on Tuesday, weightlifting on Wednesdays, a break on Thursdays, intense hot yoga or weightlifting on Fridays, and hot yoga/pilates mix on Saturdays. Eventually I might switch things up to try a circuit class on Saturdays and a hot yoga/circuit mix on Thursdays instead of the current schedule.
For now, though, I'd be happy to just actually fulfill my ideal schedule! Before my break, I was still only hitting 3-4 of my workouts each week. That isn't bad, especially since when I first moved here and took my current job, I had to knock my workouts down to just once per week for an entire school year. I know I'm doing better than I was! But I also know how much better I feel when I work out each morning, so I have to keep trying to improve.
How about you? What's your ideal fitness schedules? Are you hitting your goals right now?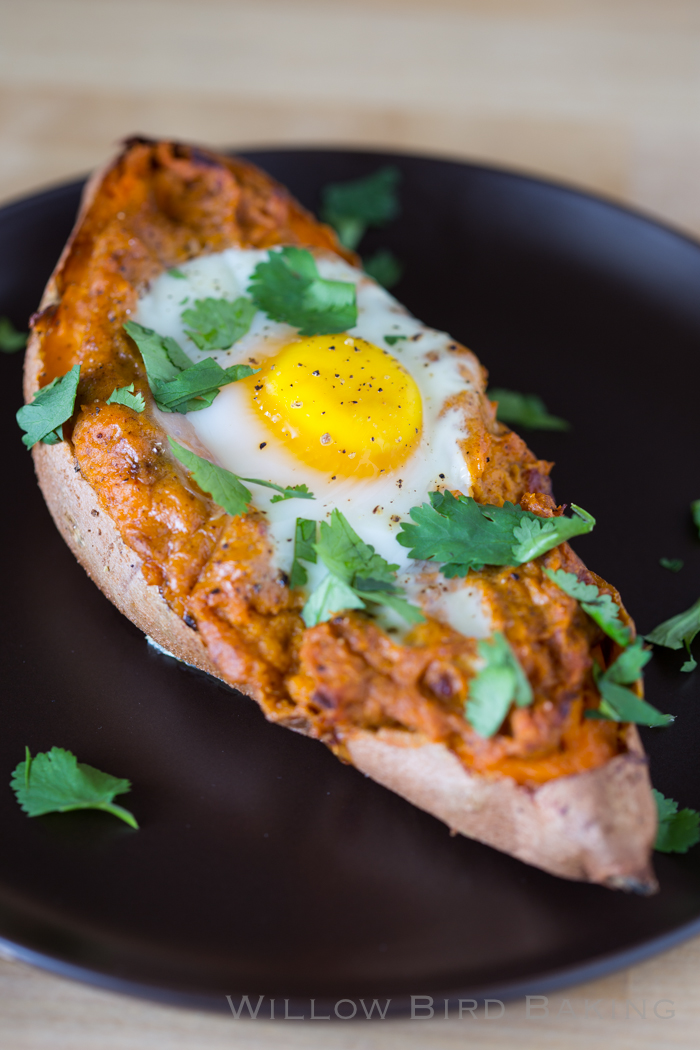 This delicious recipe won't help you exercise, but it'll help you with the healthy eating piece! I love sweet potatoes, but these take it to the next level with a spicy, twice-baked sweet potato mixture topped with a runny-yolked egg and fresh cilantro. Share one of these for lunch or enjoy it as a filling main course for dinner. Enjoy!
One year ago: Salmon Tacos with Cilantro-Lime Slaw
Two years ago: Coconut Cream Pie Bars
Three years ago: Key Lime Pie Cheesecake with Sky-High Meringue
Four years ago: Chocolate & Coconut Cream Pie Bars
Five years ago: Bright, Fun Blackberry Trifle
Six years ago: Red Berry Pie

Twice-Baked Sweet Potato Egg Boats
A spicy, delicious, decadent twice-baked sweet potato is topped with a glossy baked egg and fresh cilantro. The perfect lunch to share or dinner entrée! As a bonus: you can prepare these twice-baked potatoes in advance and add the egg and bake just before serving.
Author:
Willow Bird Baking
Ingredients
2 large sweet potatoes (look for ones that are shaped like a fat oval)
2 tablespoons olive oil
1/2 teaspoon cumin
1/2 teaspoon chili powder
1 teaspoon brown sugar
1/2 teaspoon salt
2 tablespoons butter
2 tablespoons and 1 teaspoon half & half, divided
2 tablespoons chopped chipotles in adobo sauce
2 teaspoons of adobo sauce from can
more salt and pepper to taste
2 eggs
chopped cilantro for garnish
Instructions
Preheat the oven to 400 degrees F and cover a baking sheet with foil. Poke each sweet potato 5-6 times with a fork and rub them with olive oil. Bake for 1 hour or until a knife poked into them meets no resistance. While they bake, mix the cumin, chili powder, brown sugar, and salt.
Let the baked sweet potatoes cool for 10 minutes before slicing the top third off of each potato. Use a spoon to carefully scoop out the flesh (leave about 1/8 inch of flesh in the skin to give it some sturdiness). Mix the sweet potato flesh in a medium bowl with the butter, 2 tablespoons half and half, spice mixture, chopped chipotles, and adobo sauce. Return the mixture to the potatoes, packing it in and creating a well in the center. You will have a little of the mixture left over to enjoy as a snack, since all of it won't fit back into the potato. (At this point you can cover the potatoes and refrigerate overnight if you wish. If you do, just let them come to room temperature before topping with an egg and baking them the next day.)
Break one egg over each sweet potato and lightly salt and pepper the egg. Pour the last teaspoon of half and half over the yolk of the egg. Bake for 20-25 minutes, or until the egg whites are opaque and the yolks have firm edges and are soft in the center. Remove from the oven, sprinkle with cilantro, and serve immediately.